Pepperoni Parmesan Chicken Rolls: gooey cheese, pepperoni, and chicken tenders wrapped inside a crescent roll makes an awesome little snack or quick dinner.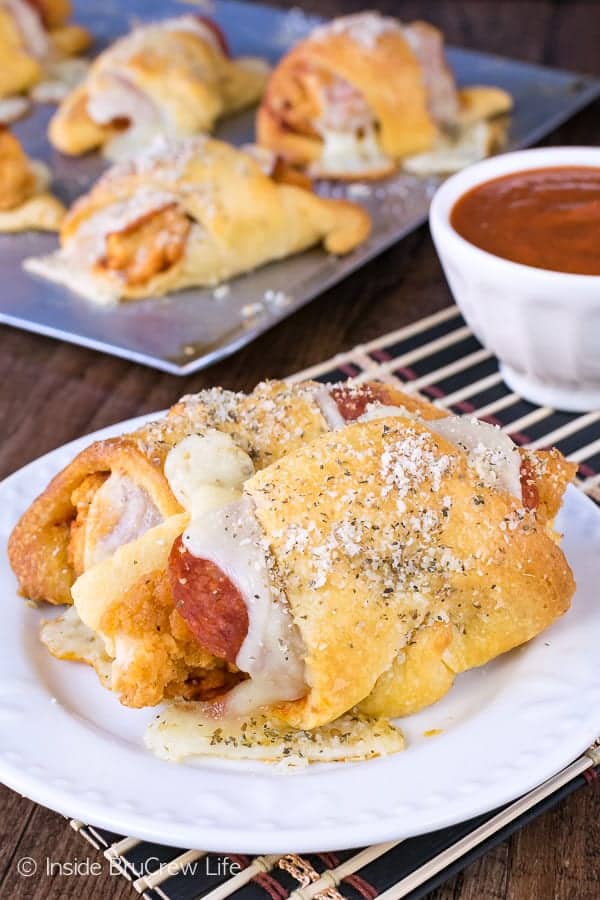 "What's for dinner?" and "I'm hungry." are the most over used phrases in our house. You would think we starve our children because they are ravenous when they get home from school each day.
Of course, I would be hungry too if I had lunch at 10:30 am, and then didn't eat again until after 2:30 pm. We try to get the kids to take cappuccino chip granola bars and fruit in their bags because they are allowed to eat in most of their classes.
But they never do. So part of me isn't too worried about them. I figure if they are hungry enough they would probably start taking extra food with them.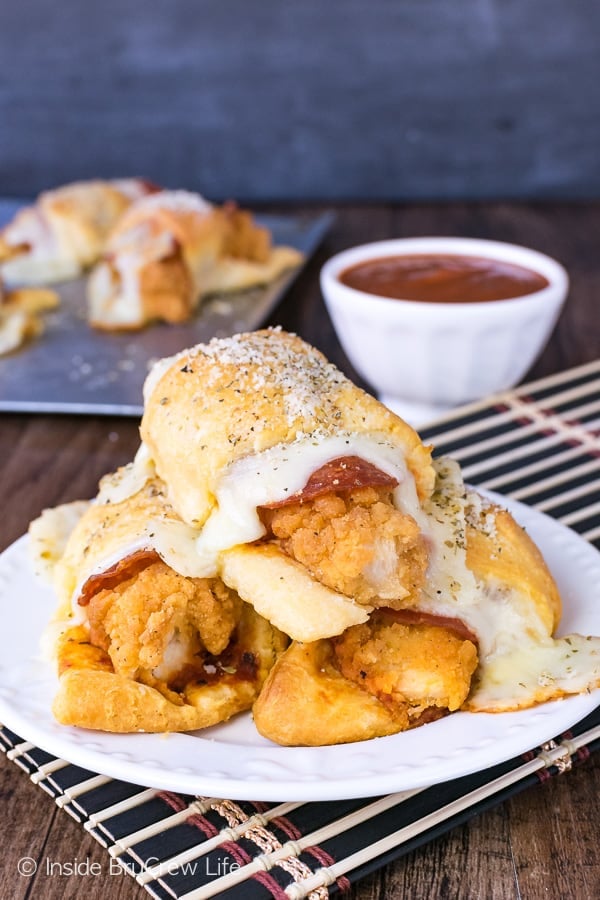 Then the mama in me comes out, and I get creative and make some fun after school snacks for the little monsters. They love appetizers like philly cheesesteak dip or this basil tomato dip!
The other over used word in our house is pizza. Seriously. The kids ask for it just about every other night. I'm starting to think they just like to say the word. Or they are just super boring in their food choices.
Not that I blame them. Pizza is one of my favorite foods too. I just don't want to eat it all the time because I like all the foods.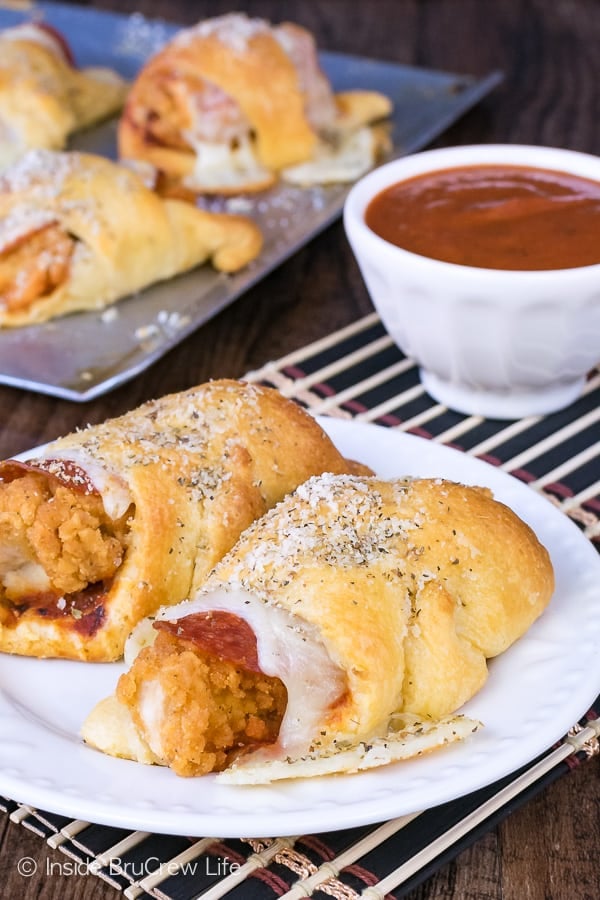 Since they love pizza so much, I have made quite a few after school snacks that were all about pizza. These stuffed crust pepperoni pizza bites were a huge hit, and our daughter asks for them all the time. A batch of these easy pepperoni cheese pretzels were another fun one that they liked too.
I know that if it has pepperoni, cheese, and some type of a crust, the kids are going to love it. So, I decided to make some little sandwiches for them to enjoy last week.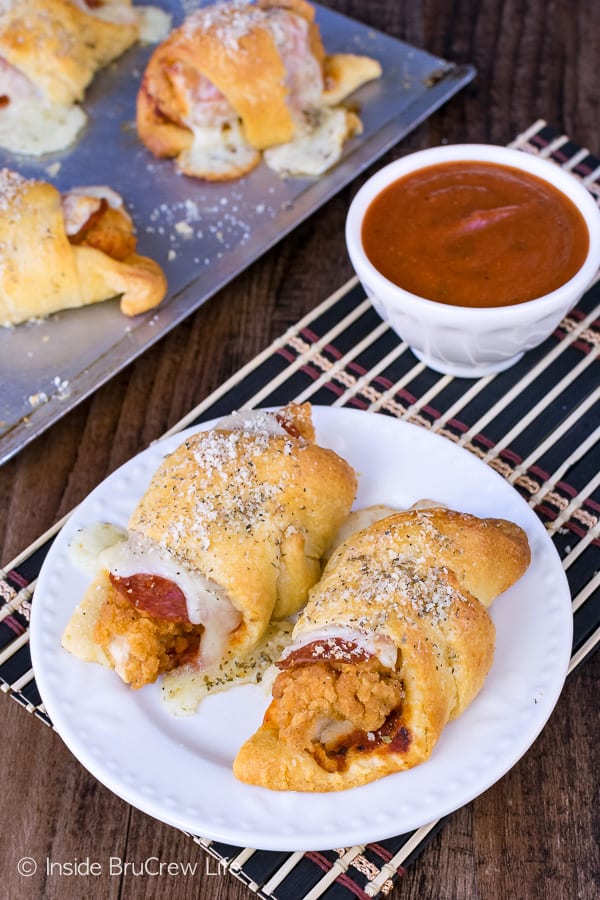 Top Tips When Making These
Preheat your oven and set out all your ingredients before you get started.
Unroll the dough and separate each one.
Spoon the homemade pizza sauce onto the wide end of the rolls.
Top each one with a frozen chicken tender, some pepperoni, and a slice of mozzarella cheese.
Fold the smaller end over the top. You will need to use your finger to hold everything in place because it falls apart easy.
Roll it all up and place it on a baking sheet with the pizza sauce side on the bottom.
As soon as the rolls come out of the oven, brush them with melted butter and sprinkle some seasonings and cheese on top.
Serve warm with the remainder of the pizza sauce.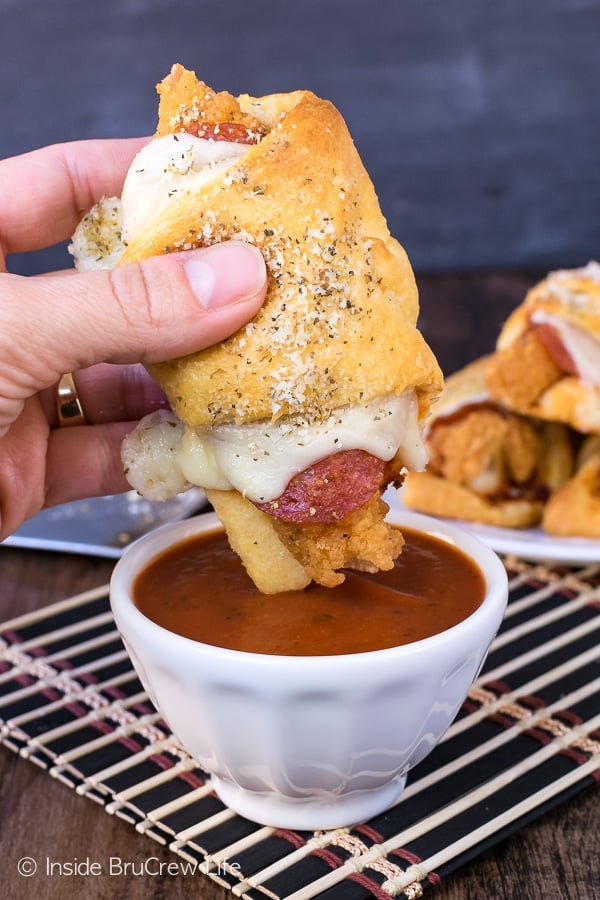 More Appetizers
CLICK HERE TO PIN THIS RECIPE FOR LATER!

SaveSave
SaveSave
SaveSaveSaveSave
SaveSave
SaveSave
SaveSave