These easy Pepperoni Cheese Pretzels are a fun snack to make for after school or to go with a bowl of soup. Either way they will disappear in a hurry.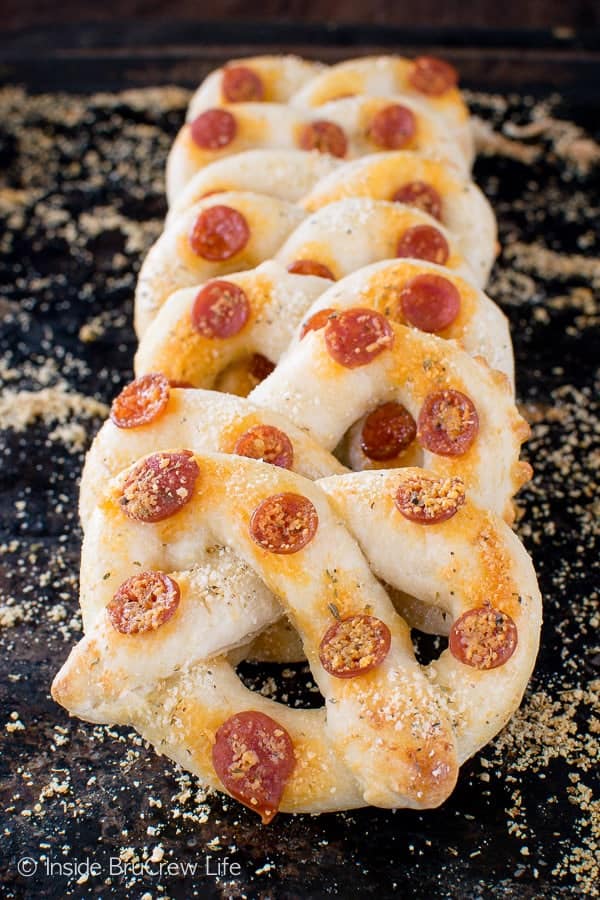 The kids are always "starving" when they get home from school, so last week I made these fun little breadsticks in the shape of pretzels for after school.
It was a win, win for everyone. I'm calling it a win for me because my little recipe idea turned out pretty good. And it was a win for the kids because they got a snack as soon as they walked in the door. Those little pretzels didn't stand a chance against 3 hungry kids!
Pizza anything pretty much gets rave reviews from everyone in our house. Well, unless I hide mushrooms under the sauce. I thought mixing them in the sauce and covering it all in cheese was a good idea. Nope. The kids still figured it out and gave me dirty looks. From now on the mushrooms stay on my side!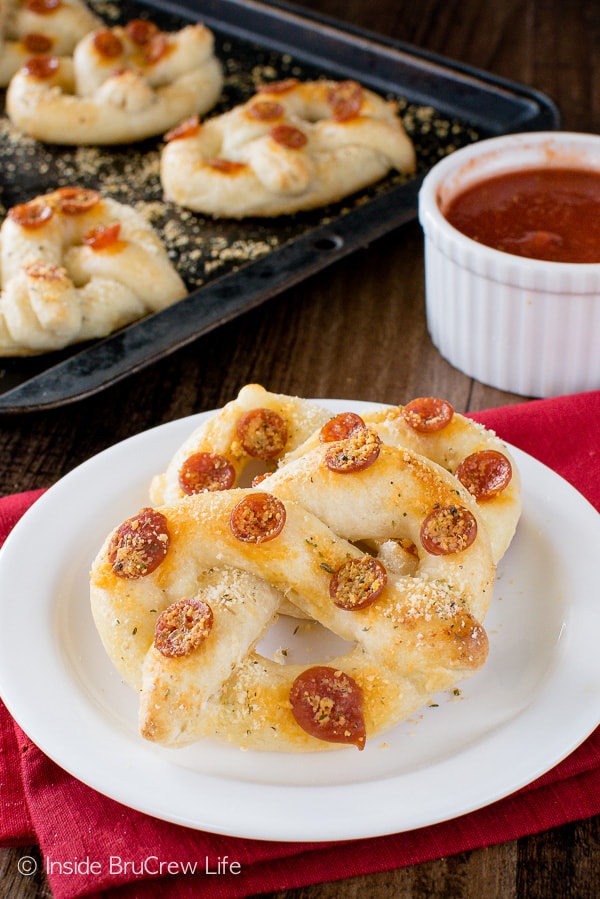 Over the years, we have made this homemade pizza dough many, many times. Friday is usually pizza night around here, although we have been known to change things up and have pizza on a Tuesday. Things have been a little busy lately though, so we have slacked a little on having homemade pizza. Time to fix that because traditions like that are good to keep.
But until then having a big pot of pizza minestrone soup and these easy pepperoni cheese pretzels will have to give us our pizza fix.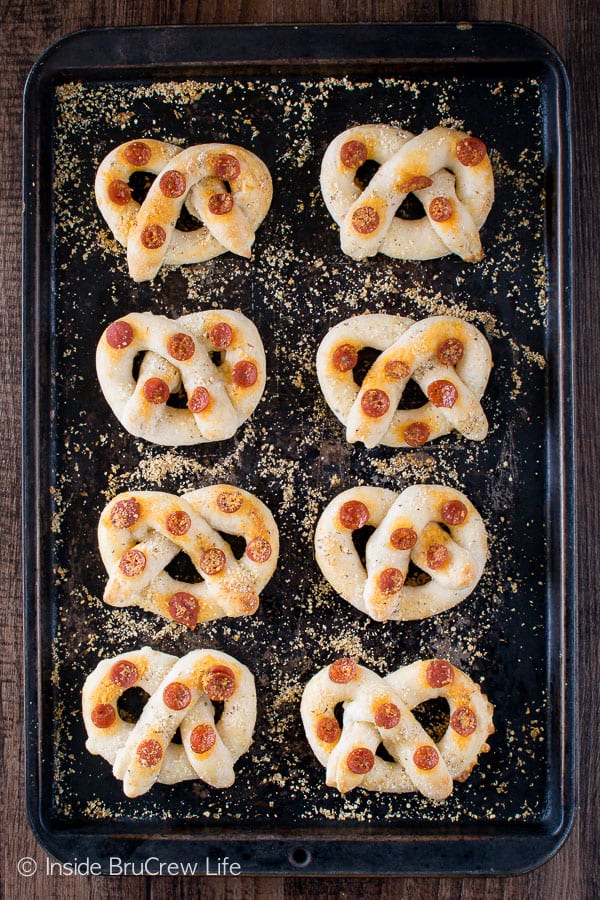 I love how easy these little pretzels are to make. And yes, I realize that I am calling them a pretzel based on their shape only. Go ahead and dip them in some hot baking soda water before topping them so you can have that pretzel taste if you like.
Press the breadstick dough out and fill it with a cheese mixture. I chose to mix a little cream cheese with the shredded cheese because it made it easier to work with. Plain shredded cheese likes to fall out as you are trying to pinch the dough closed. Trust me...I know!
For the record, these are not a super gooey, cheesy filled breadstick. You can use sliced cheese sticks in place of the mixture if you need to see that hot cheese pull. If you use string cheese, it will be harder to shape the dough into the pretzel shape.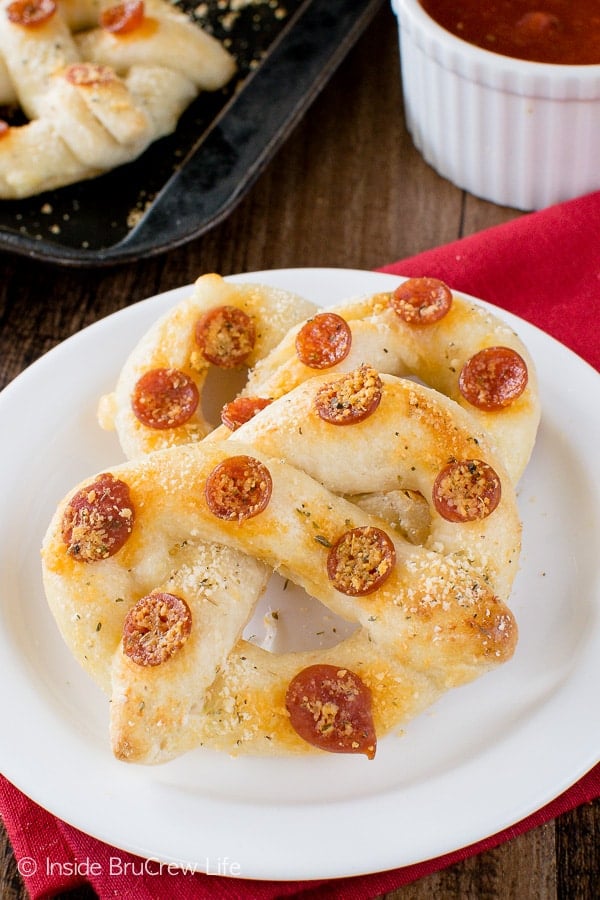 How to make Easy Pepperoni Cheese Pretzels
Use canned breadsticks to make these in record time. If you cannot find the breadstick dough, substitute canned pizza crust or make homemade dough. (If you used the canned thin crust pizza dough, do not press the dough out as it is already thin enough.)
Separate the 12 breadsticks and press them out so you have room for the cheese.
Mix together cream cheese and shredded cheese and spoon it down the middle of each breadstick.
Fold the dough over and pinch the seam closed. You will need to do this gently so you do not tear the dough.
Roll each dough log into a rope about 17-18 inches long. Fold it into a "u" shape and bring the ends over and down to create a pretzel shape. Pinch the ends and press them down.
To keep the pretzels from sticking, place them on a baking sheet lined with parchment or a Silpat.
Brush with an egg wash because it will help the toppings stick and give them a better color as they bake.
Serve the pretzels hot from the oven with this meat lover's pizza skillet ravioli and watch all the pizza goodness disappear in a hurry.
Dip them in this tasty pizza sauce.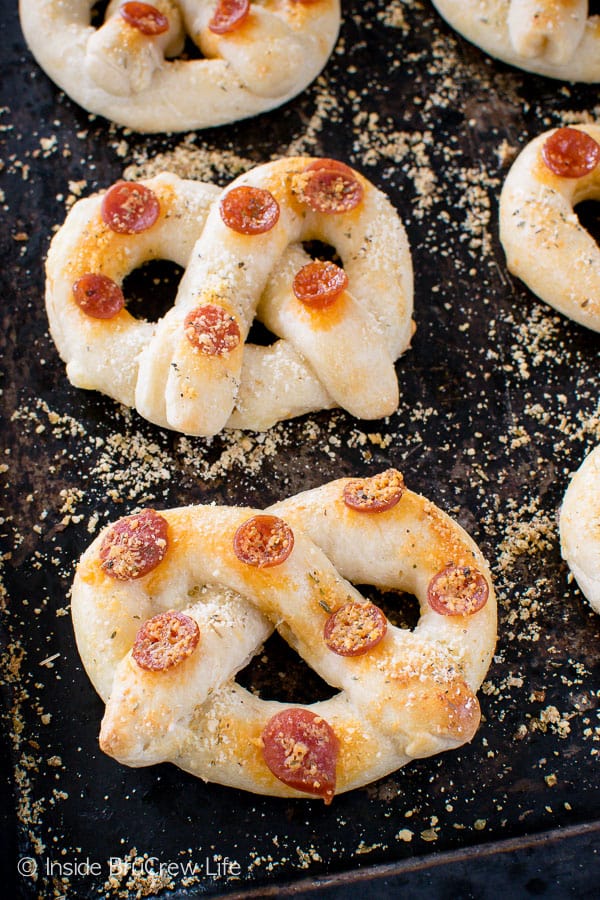 *This post contains affiliate links. We may receive a small percentage from sales made through these free referral links. As always, these do not cost you any extra. Thank you for letting us share products we use and love this way.