Learn how to make Pizza Sauce with Tomato Sauce in just 5 minutes using 7 simple ingredients. Years ago, my husband's family used this homemade pizza sauce in their restaurant, Bru Brother's Pizza. It's a family favorite, and you won't need another recipe after trying this no-cook version.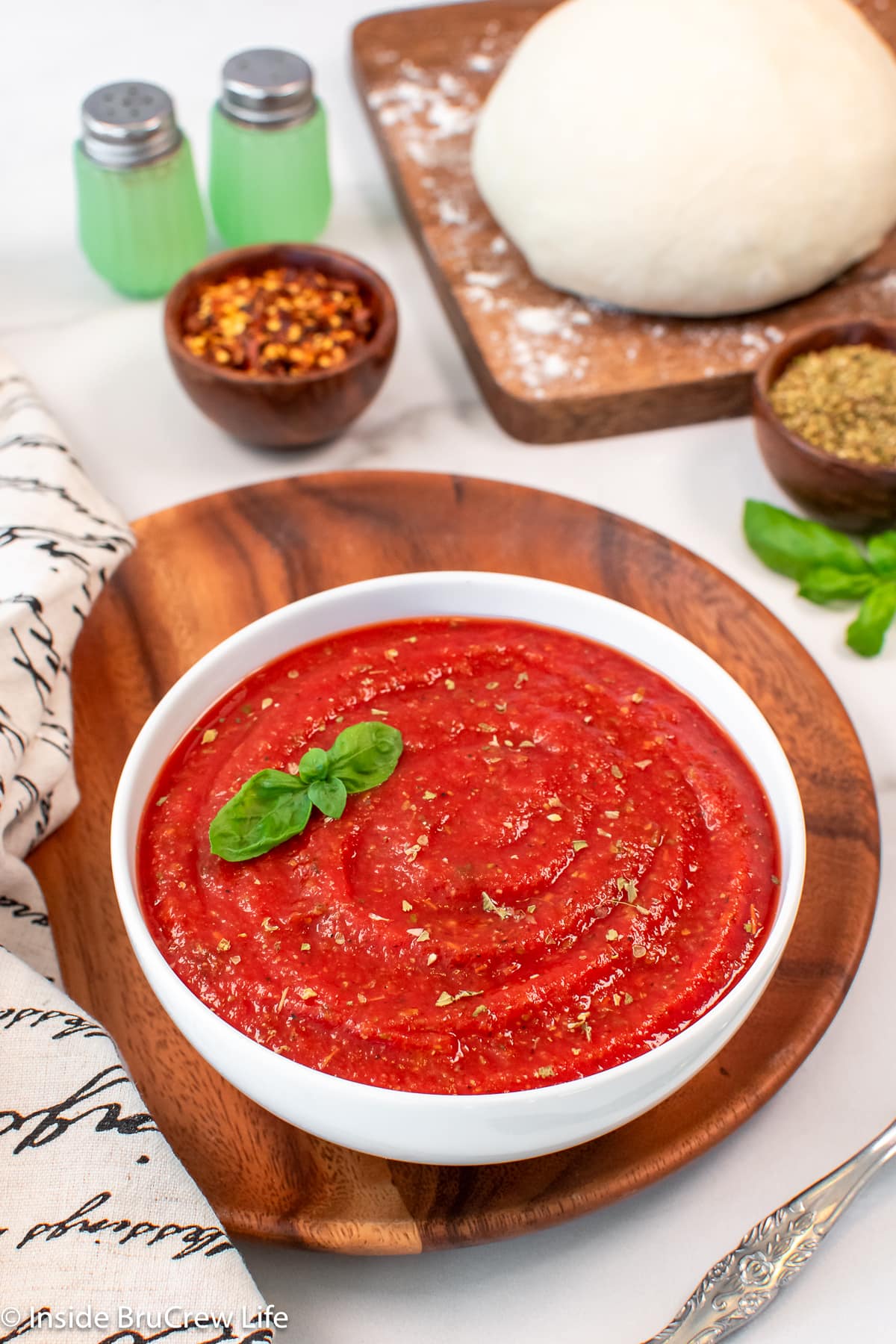 Pizza night was one of our favorite family traditions when our kids were younger. The children had a great time helping, and we saved money by not ordering delivery.
My husband learned how to make the best pizza sauce from his dad, so naturally, this homemade recipe is our go-to for the best flavors.
It also makes an excellent dip for pizza bites, breadsticks, and more! You'll be hooked once you see how incredibly easy it is!
Of course, every pizza sauce needs a great base. Try our homemade pizza dough for a chewy, flavorful crust that tastes fantastic with the fresh tomato sauce.
Jump to:
Why You Will Love This No-Cook Pizza Sauce Recipe
My husband's family recipe for pizza sauce is quick, affordable, and bursting with flavor without any cooking! The secret is jazzing tomato sauce and paste with seasonings.
So easy to make. If you can open a few cans, you can make this pizza sauce in 5 minutes. Stir the ingredients together and let them rest while you prepare the dough.
Incredibly affordable. Thanks to a few basic ingredients like canned tomatoes and dried herbs, you can make a big batch of this homemade sauce without breaking your budget. Perfect for a big family!
Full of flavor. This homemade pizza sauce recipe has excellent taste and perfect texture despite being made with simple ingredients. You won't be compromising in any way!
Easy to freeze. Make a large batch and freeze it for future pizza nights, then thaw when needed!
What You'll Need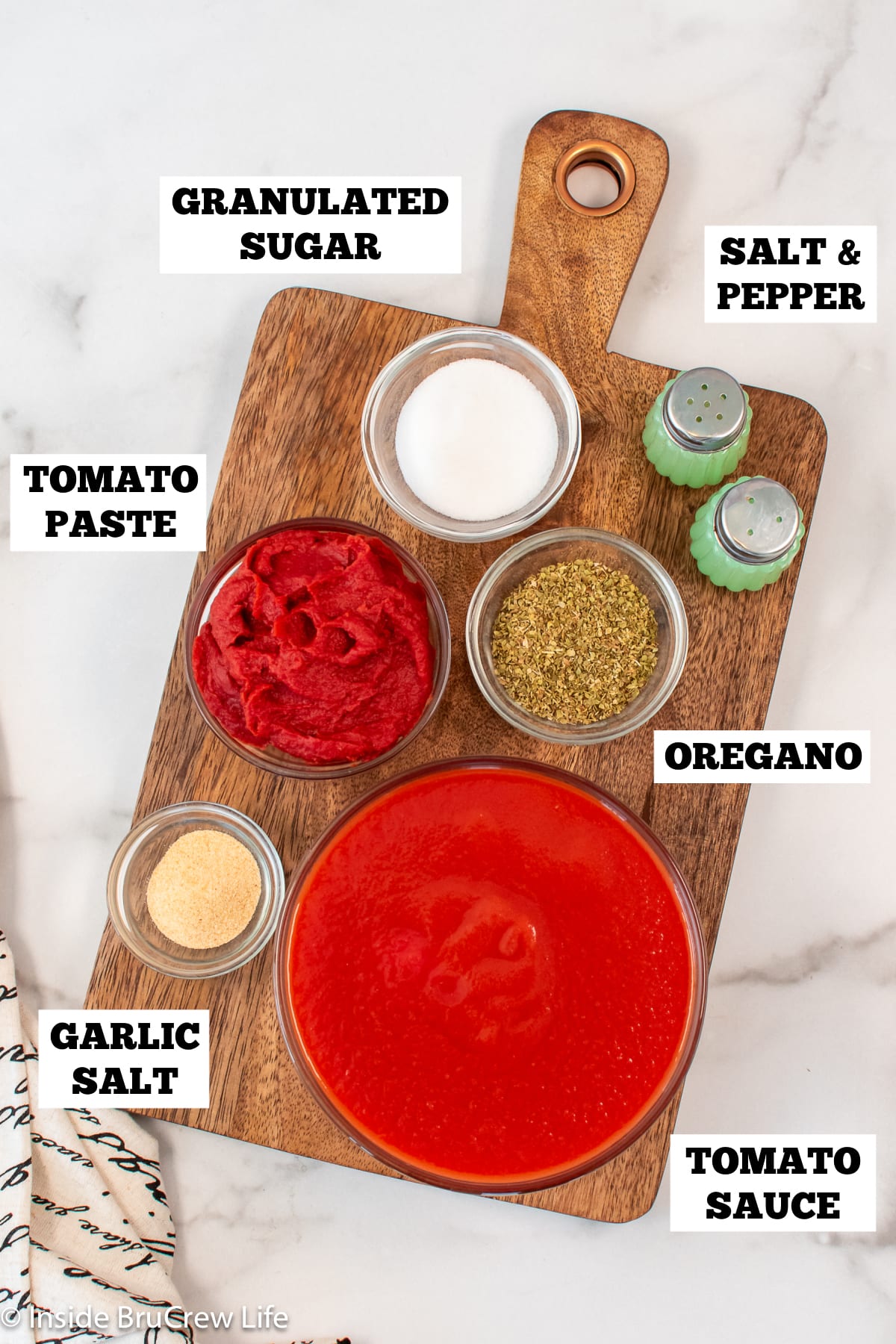 There are several ways to make pizza sauce, but our recipe uses tomato sauce and paste for the perfect texture and flavor.
Tomato Sauce - You will need one large can or a few smaller cans. This concentrated tomato base is excellent for pizza sauce. Alternatively, you can use tomato purée or blend diced tomatoes until smooth.
Tomato Paste - Tomato paste has the most concentrated tomato flavor and will thicken the sauce's texture without heat. This is important because you don't want a runny sauce ruining the surface of your dough.
Granulated Sugar - Sugar mellows the tomato flavor and adds a subtle sweet note that tastes great when paired with cheese and your favorite toppings.
Garlic Powder - Grab your favorite garlic powder or granulated garlic to add flavor.
Dried Oregano - We prefer using dried herbs as they are easy to store and always available. Feel free to substitute Italian seasoning or dried basil.
Salt - You need a pinch of salt to enhance the flavors of the tomatoes and give the sauce a full flavor.
Pepper - This adds a little heat and a savory kick.
How to Make Pizza Sauce with Tomato Sauce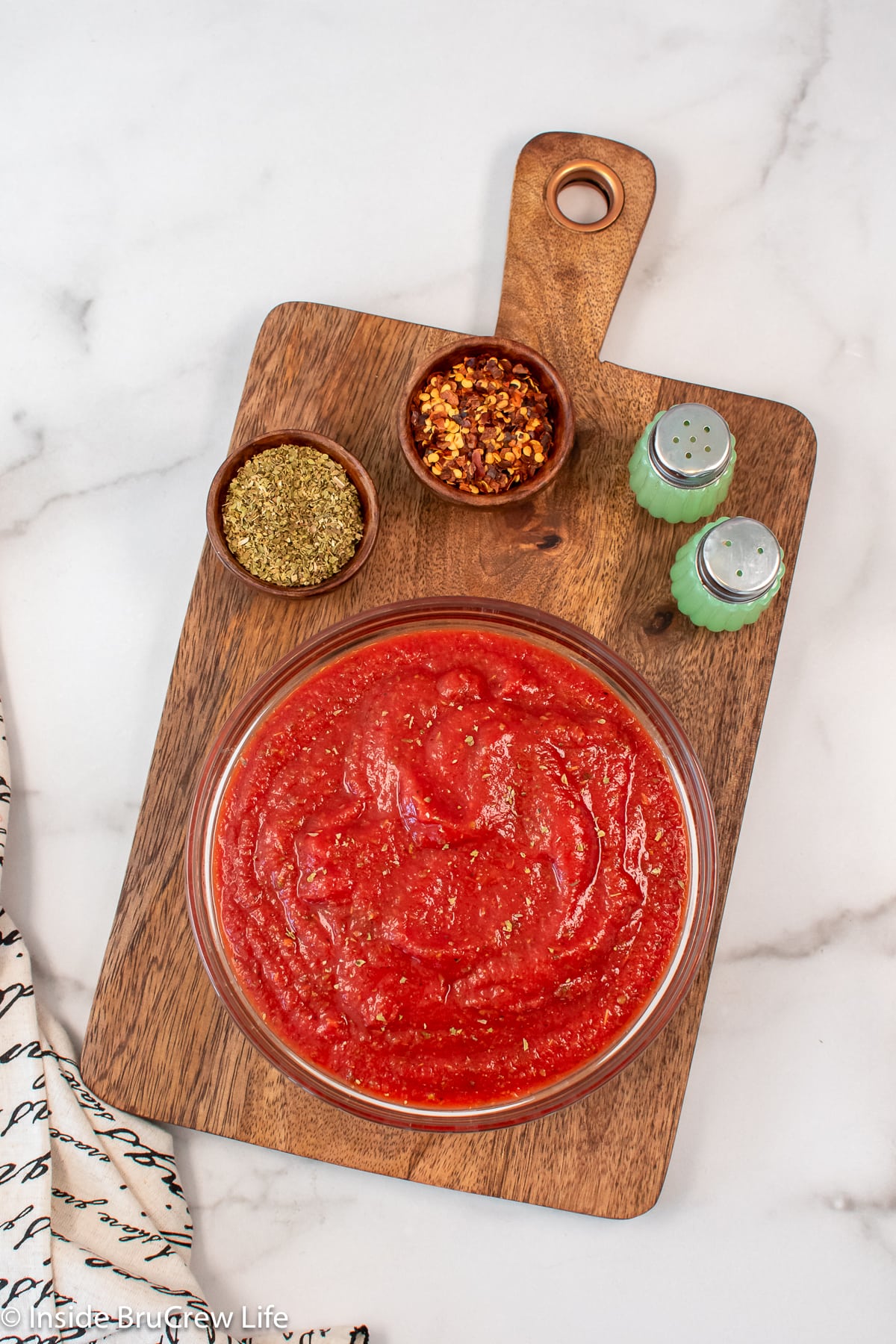 This uncooked sauce is ready to use in just 5 minutes. It's easy to make using canned tomatoes and has a flavorful taste! You only need a can opener, a bowl, and a whisk.
Whisk together the canned tomatoes until smooth.
Add the spices, salt, and pepper and stir until evenly distributed.
Refrigerate until ready to use. This gives it time for the flavors to come together, although unnecessary.
Use as much as you like on your preferred pizza crust or as a dip for appetizers.
Variations
Make it spicy. 1-2 teaspoons of red pepper flakes will add a kick of flavor.
Cook it. You can use fresh garlic cloves or fresh herbs instead of the dried spices in the recipe. Sauté the garlic in extra virgin olive oil, then add the fresh herbs, spices, tomatoes, and other ingredients. While it's not necessary to cook the mixture, this method will enhance the flavor of this type of sauce.
Substitute other tomatoes. If you cannot find tomato sauce or prefer to use the ingredients you already have, blend a can of whole or crushed tomatoes in a food processor. (San Marzano tomatoes give a great flavor.) Then, cook the blended tomatoes until they thicken and have a similar consistency to canned tomato sauce.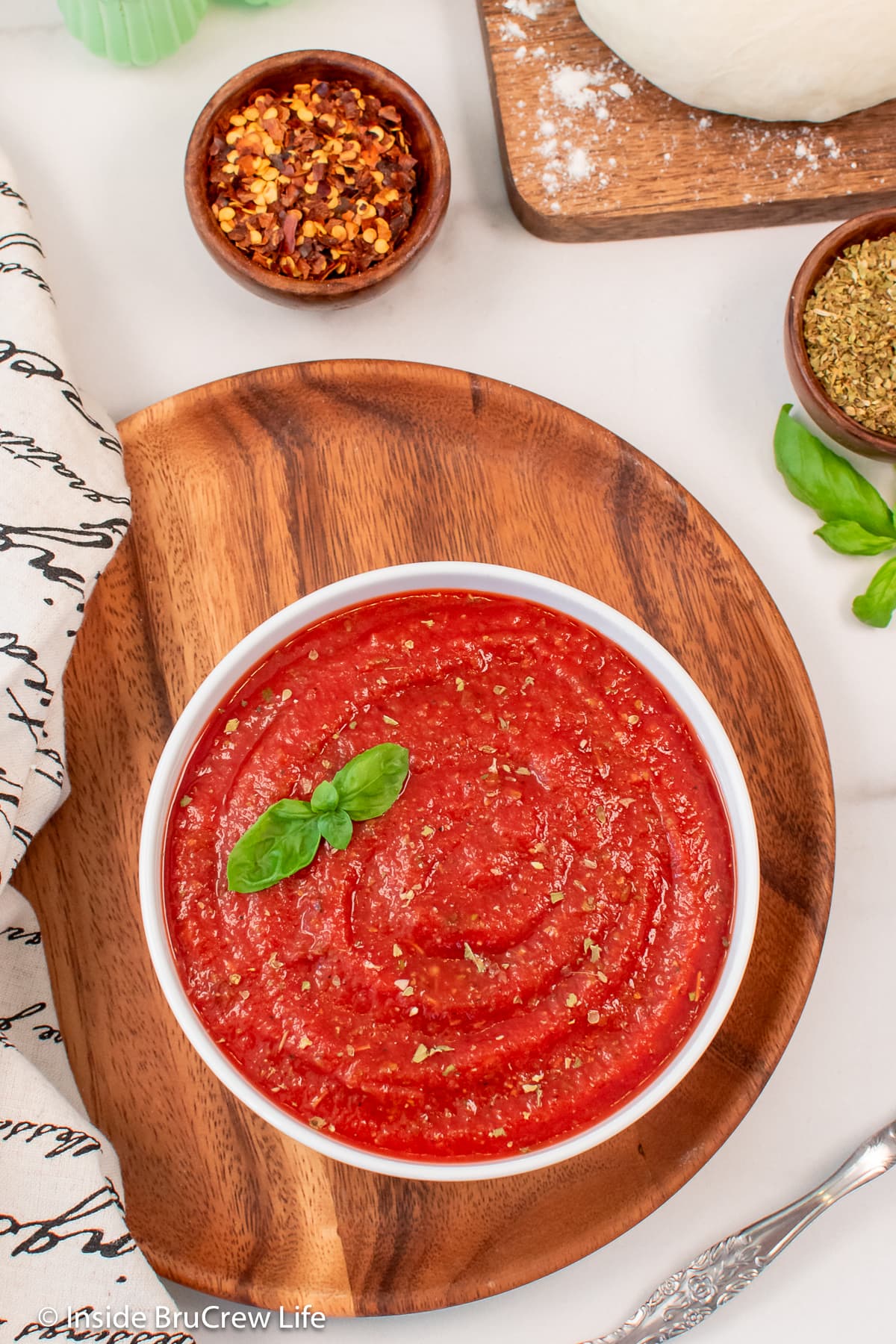 Serving Suggestions
This recipe is versatile and delicious, perfect for different types of pizza or as a dip for other recipes. Here are a few ways we enjoy using it.
Storage Recommendations
In the Refrigerator - Store pizza sauce in a tightly covered glass bowl or jar in the fridge for up to 2 weeks.
In the Freezer - Spoon the leftover sauce into freezer containers or bags and freeze for 2-3 months. To use, let the sauce thaw in the fridge overnight. Remove and allow it to reach room temperature before spreading it on the dough.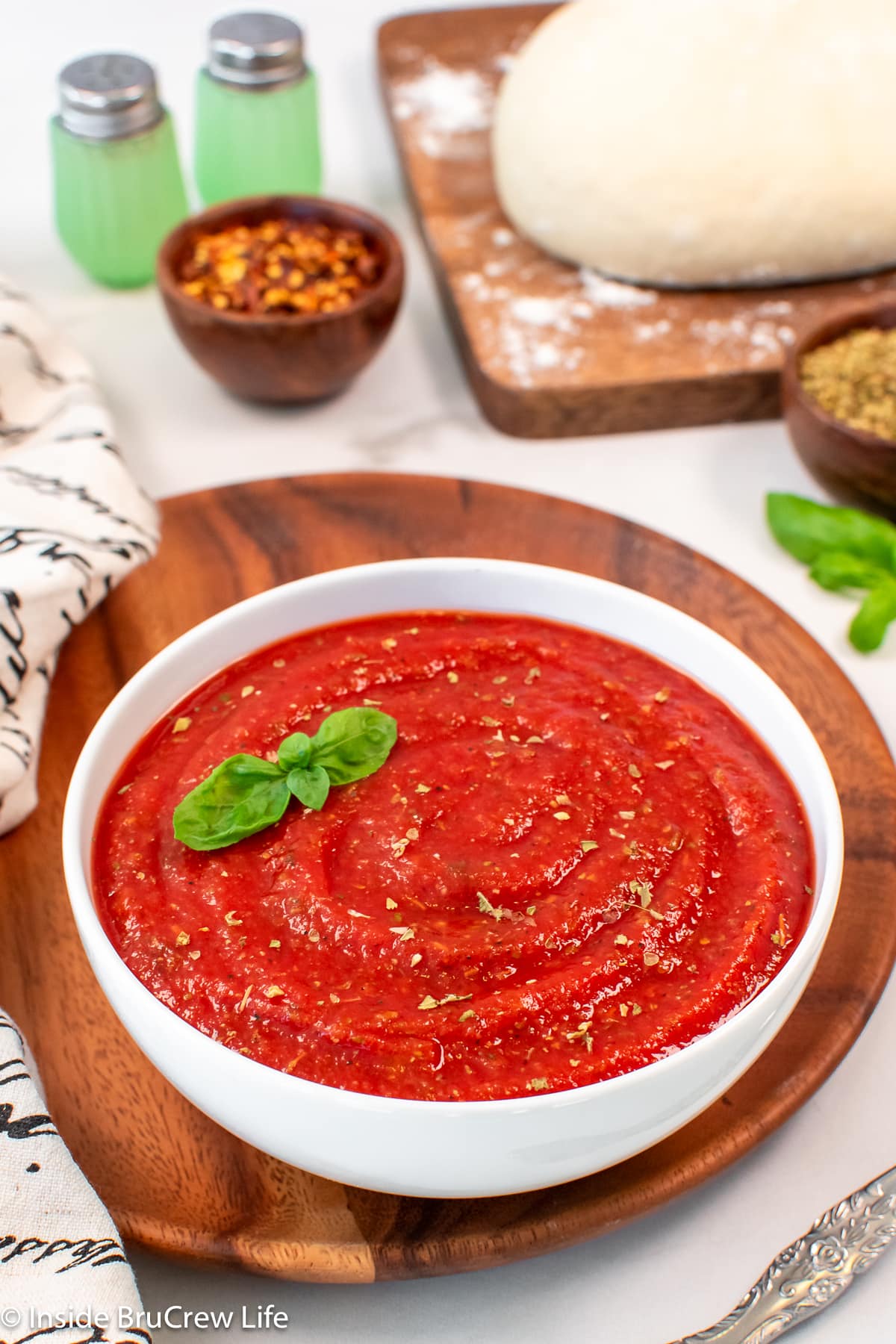 Tips and Tricks
Don't skip the salt and sugar. Pizza sauce should balance sweetness, acidity, and savory flavors. To achieve this balance, add a bit of sugar to the tomatoes as you taste and adjust the seasoning accordingly.
Adjust the sweetness. We prefer a lightly sweet sauce but adjust sweetness to taste. Honey can also be used instead of sugar.
Taste as you go. Taste the tomatoes and adjust the seasoning to your liking. Remember, adding more seasoning than fixing an over-seasoned sauce is easier.
Use dried herbs sparingly. If using dried herbs, add a little bit at a time as they are more concentrated than fresh.
Freeze for later. Since this classic red sauce is so easy, make a double or triple batch and portion it out, then freeze it for future use.
FAQs
How much does this make?
This recipe makes enough sauce to make 2-3 large pizzas.
What is the difference between pizza sauce and spaghetti sauce?
These sauces contain similar ingredients, but the difference is how they are made. While pizza sauce is uncooked, pasta sauce is simmered and cooked.
Can I use other tomatoes in this recipe?
Feel free to use whole, diced, or pureed tomatoes instead of the sauce. Adjust the amount of paste according to the tomatoes you're using.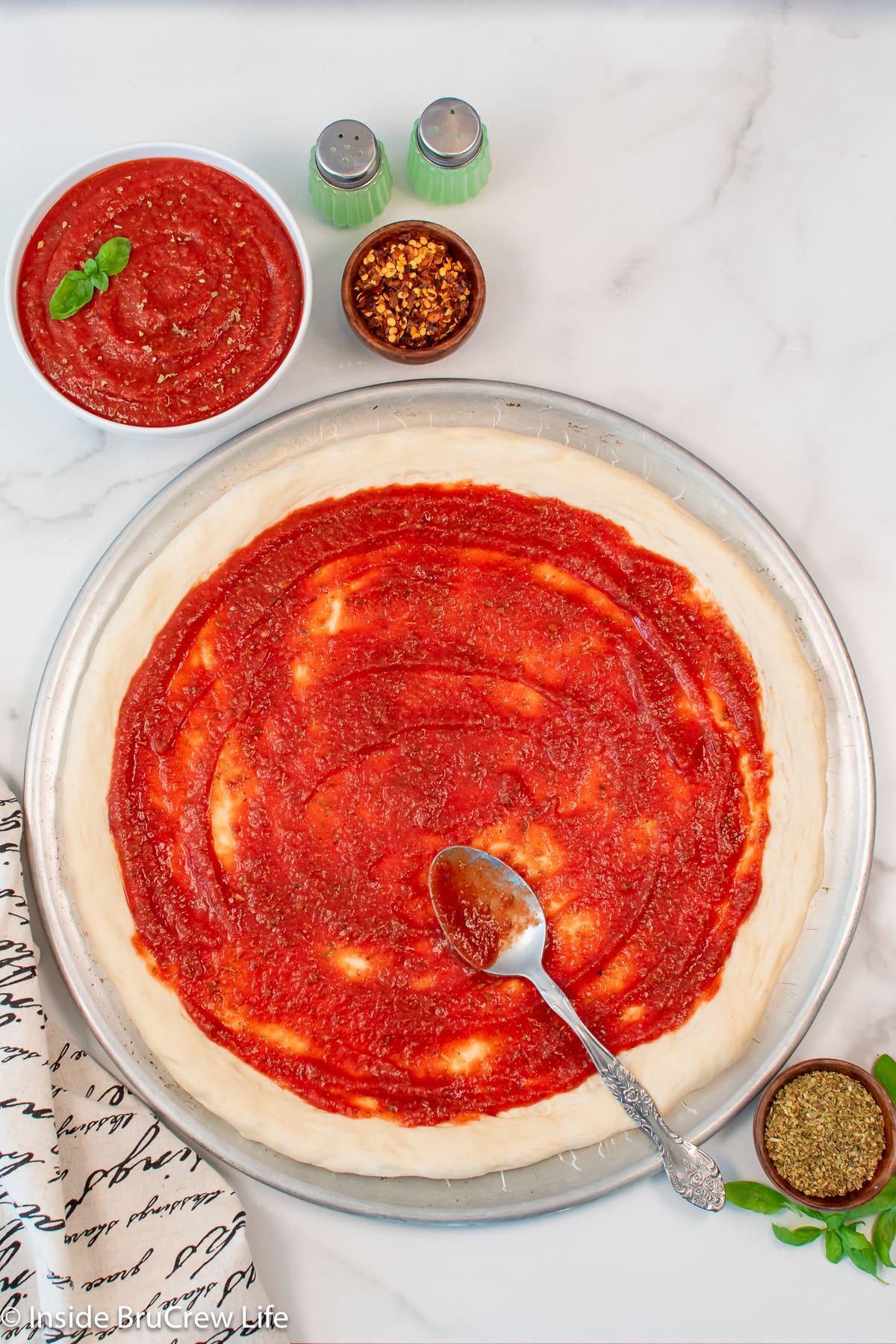 Other Ways to Enjoy Pizza
Do you love a recipe you tried from Inside BruCrew Life?
Please leave a 5-star ⭐️ rating and a review in the comments section below.
*This post was first shared in January 2018. The photos were updated, and then it was republished in October 2023.