Use this easy Homemade Pizza Sauce for on pizza dough or for dipping pizza appetizers into it! Either way it is delicious and everyone loves it.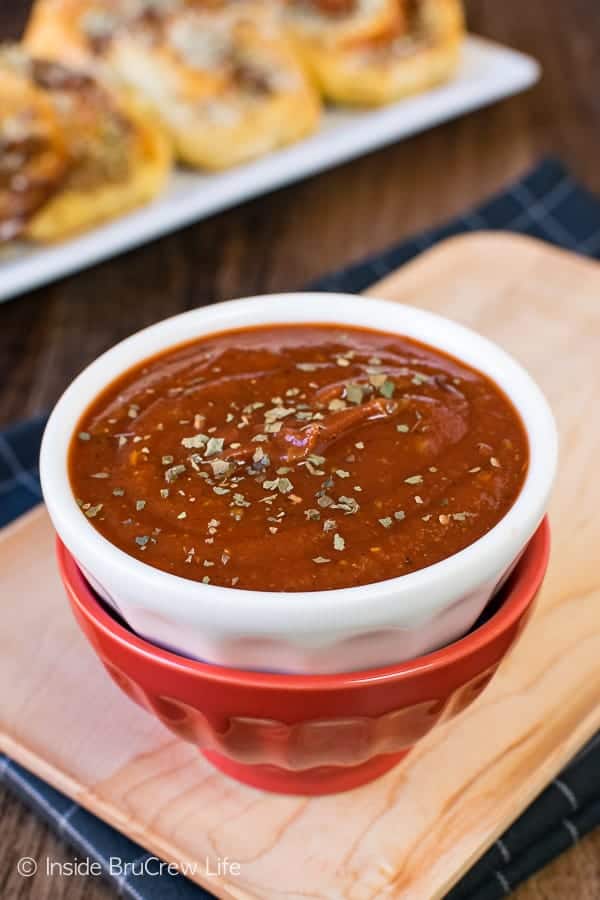 So the other day my husband was talking to some old friends from high school. As a certified health coach he has started connecting with more people from his past, and he absolutely loves being able to speak into their lives and help them lose weight.
As they were talking, the other guy brought up our old pizza place and asked if it was still in business. It has been closed for years now. But oh, my did that ever bring up some old memories of that place. My husband his brothers and dad opened up a small pizza place called Bru Brother's Pizza back in 2001. We didn't make a whole lot of money in the year and half that it was open, but we ate good every night.
Pizza, calzones, sandwiches, and appetizers happened pretty much weekly in our house because I had little babies and I didn't want to cook then. Then there were the nights that my mother-in-law watched the two kiddos while I helped out with deliveries because they were extra busy. Talk about stressful. I'm not a big fan of driving at night and I'm directionally challenged, so those were interesting nights for sure.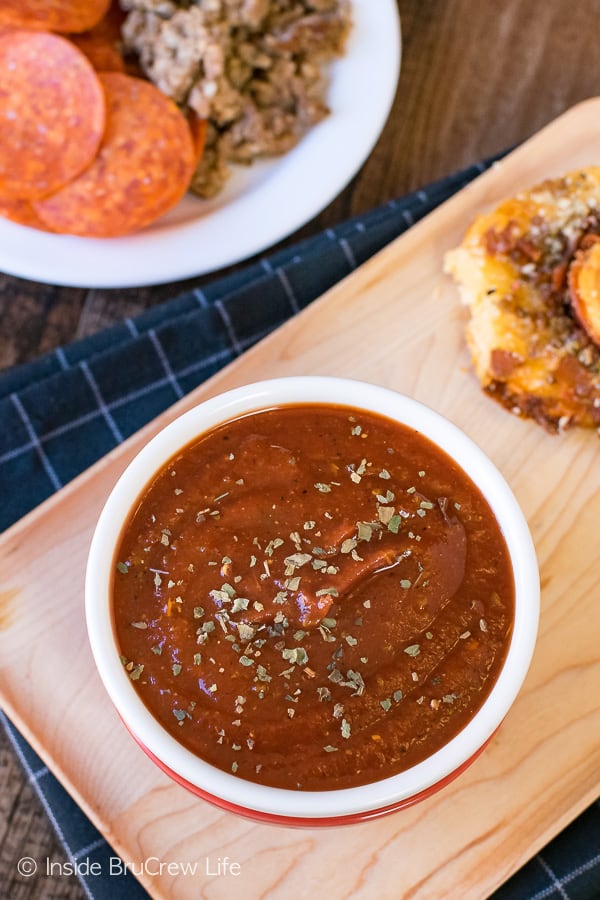 I realized that over the past few years, I have only shared the recipe for our homemade pizza dough, but never my husband's secret sauce. Honestly, it's because he doesn't believe in recipes. Yes, I know. The husband of a food creator who won't use a recipe ever. It's kind of frustrating for me.
Over the years, I have had to watch extra carefully as he made things just so I could share them with you. He complains that I am cramping his food style when I make him measure. But hey, how can I share goodness like this easy homemade salsa without a recipe, right?
We made some easy tortilla pizzas a few months ago. So, I stood right at my husband's elbow as he made the sauce. I was going to get this recipe this time. He grumbled a little as I had him measure the ingredients, but he let me write everything down.
The secret to this homemade pizza sauce is jazzing up tomato puree and paste with seasonings.
Adding a few more things like oregano, garlic, and sugar gives it the unique taste that our family loves. I hope you enjoy it as much as we do. It's the perfect sauce for homemade pizzas or for dipping these stuffed crust pepperoni pizza bites into.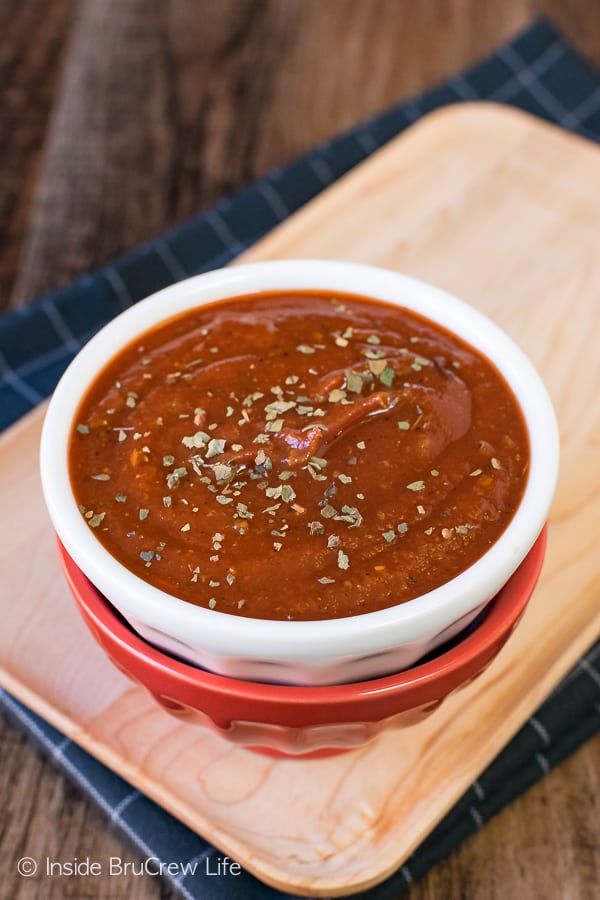 More recipes that would be great to dip into this sauce:

SaveSaveSaveSaveSaveSave
SaveSave
SaveSave
SaveSave
SaveSave
SaveSave