There are so many reasons to love canned chicken. It's quick, it's affordable, and you can use it in all kinds of recipes. For busy families, that's a huge win! These easy Canned Chicken Recipes are a convenient way to get dinner on the table quickly.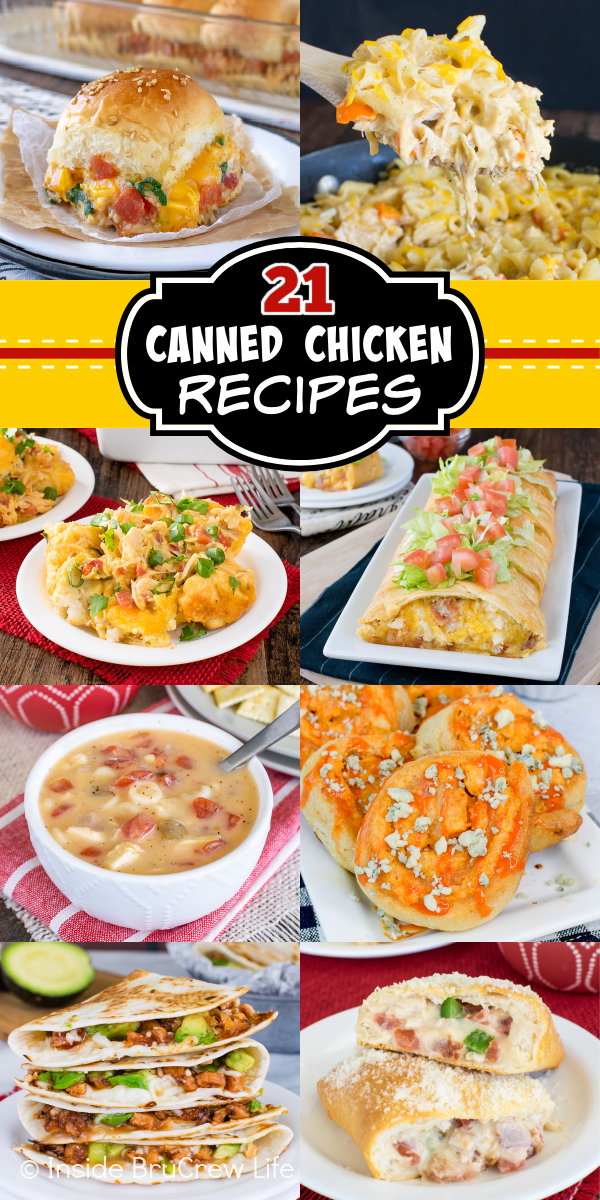 I don't know about you, but we always have canned chicken in our pantry. It's a great protein to eat, and it's so versatile! We love using this easy pantry item because it saves time and money.
Chicken from a can is a time saver in our kitchen. We can pull a can out of the pantry and use it to make dinner in about 20 minutes. And it is much quicker than cooking from scratch or taking the time to thaw and cook a whole bird.
In fact, even rotisserie meat from the grocery store has a longer prep time. Pulling everything off the bones takes so much time. It may already be cooked, but sometimes you just don't want to deal with all the mess.
Why We Love These Recipes
Canned chunk chicken breast can be used in almost any recipe that calls for cooked shredded meat. We love to use it in soups and casseroles because it makes them so quick to throw together.
You can also use this canned meat for sandwiches or wraps and to top salads and pasta dishes. It's a great way to add protein to your meal when you don't have time to cook something from scratch.
Canned Chicken vs Rotisserie Chicken
Often people say that a rotisserie is just as quick and easy to use in recipes as a can of chicken. This is true in some ways, but not in others. Here are some pros to both types.
Chicken in a Can
Precooked and canned.
Already boneless, skinless, and shredded.
Shelf life of 3 years.
Best when added to a recipe.
Super convenient.
Not as salty as rotisserie.
Always able to find at your local grocery store.
Rotisserie Chicken
Precooked at your local grocery store.
Needs to be taken off the bone and shredded.
Use within 3 days or freeze for 3-4 months.
Great stand alone protein.
Fairly convenient.
Pre-seasoned and can make recipes pretty salty.
Not available at all grocery stores.
These two popular choices can be used in just about every recipe that calls for shredded chicken. Really, it comes down to what you prefer and what you have on hand. For us, a can of chunk chicken provides the nutrition and convenience for our busy lifestyle.
Frequently Asked Questions
Is canned chicken real meat?
Of course. This is usually white chicken that has simply been sealed in a can like tuna. This can be a more affordable way to eat protein, and it works great in recipes calling for chicken.
Do I need to cook chicken from a can?
No, it is actually already cooked. You could eat it right out of the can or add it to your favorite recipes. This is a time saver since you do not need to precook the meat.
Is chicken from a can good for you?
All chicken is high in protein and has zero carbs. This a great choice for low carb diet plans or for building lean muscle.
How long does it last?
If the can is not opened it has a shelf life of a few years. Once it is opened it can be stored in the refrigerator in a different container for 3-4 days.
How do I reduce the sodium content?
Chunk white meat is generally a little higher in sodium than raw or uncooked meat. If you were to cook your own chicken breast you could control the amount of sodium you put on it. Rotisserie chickens usually contain a lot of sodium in the flavors and seasoning as well.
One trick to reduce the sodium is to drain and rinse it. Rinsing it with clean water will reduce the amount of sodium. Once it is rinsed, you can add it to your favorite recipe.