These Healthy Pulled Pork Burrito Bowls are full of lean and green veggies and an easy pork that has cooked in your crock pot all day. Layer it with some Easy Cauliflower Rice and all the toppings for an easy dinner recipe that everyone will love.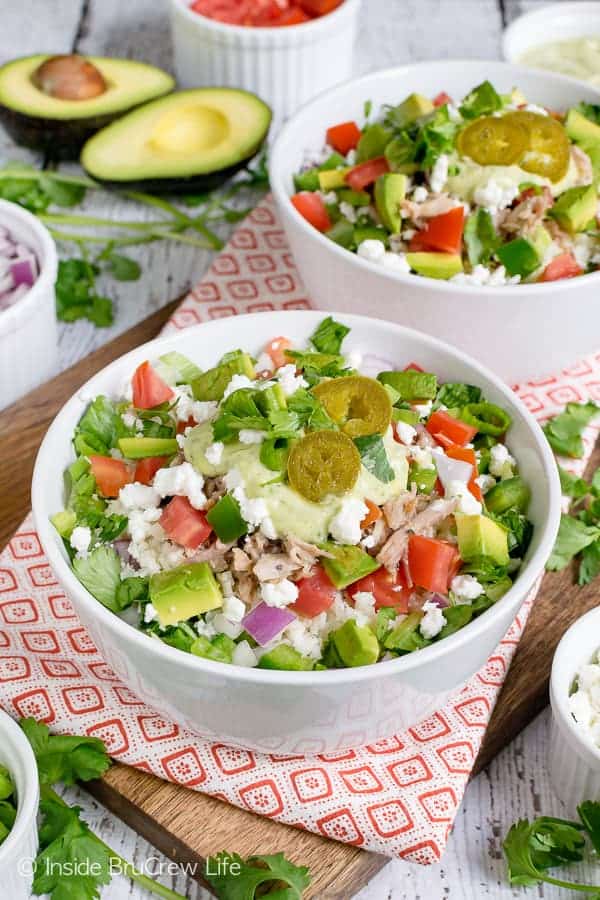 Our kids are officially counting down the days until school is out. They are ready for sleeping in and long lazy summer days. I can't believe that we are this close to summer already It's seems crazy that April is almost over.
Of course, if you are like me that gets you thinking about shorts and swim suits. Hmmm. That means hitting the gym and eating right should really move to the top of my to do list.
The number one question I get asked is how we stay trim with all the desserts in the house and on our plates. I know that I share a lot of desserts and treats here on the blog. It's just what I love to make and photograph the most, but we actually eat lean and green meals most of the time.
Eating healthy meals and sweets in moderation coupled with exercise is the key to the lifestyle that we have adapted to over the past year.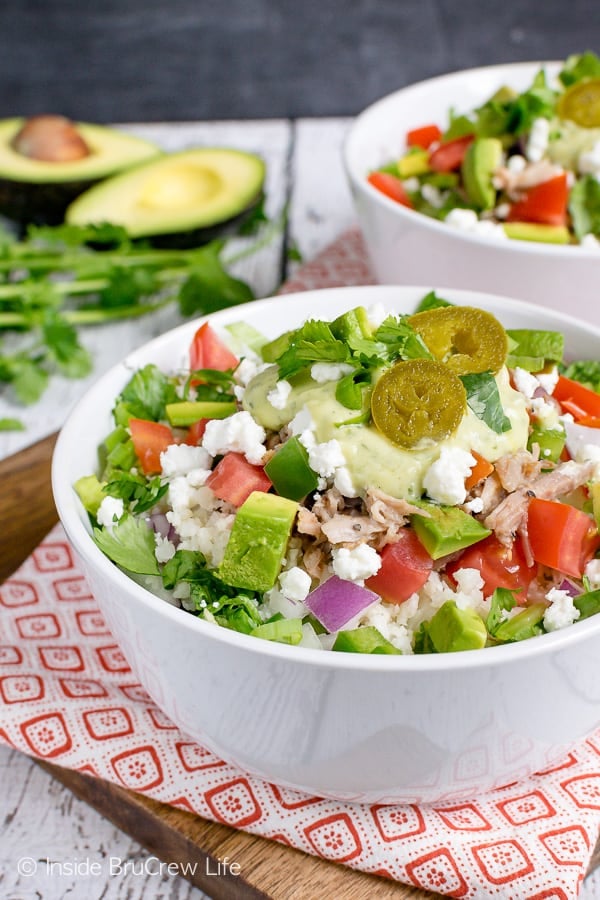 Our youngest son is our pickiest eater. He would live on ramen, pizza, and macaroni and cheese if he could. Obviously, those are not the healthiest options, so we step in and add veggies and proteins to his plate. He doesn't mind the veggies, but meat is another story.
One of his favorite places to eat out is Chipotle where he orders a veggie burrito bowl. As long as he adds some beans for protein, I'm good with that. Now for me, I head right for pork carnitas every time.
The other day I got a craving for a big bowl loaded with lots of veggies and pork. Now you can find pulled pork or pork carnitas in your local grocery store, or you can start this Easy Slow Cooker Pork first thing in the morning. Either way works and will make these Healthy Pulled Pork Burrito Bowls come together in a flash.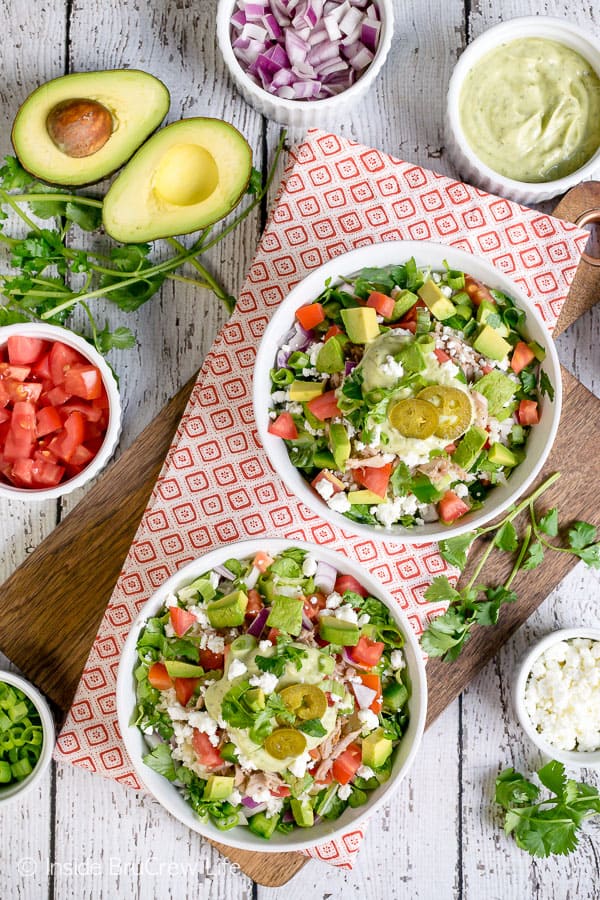 What goes in Healthy Pulled Pork Burrito Bowls:
Honestly, I say load all the veggies in a bowl. But the most common ingredients are lettuce, rice, tomatoes, onions, avocados, cheese, and sour cream.
Start by placing your lettuce in a bowl. Top it with rice. If you are cutting out carbs, use cauliflower rice instead. It is easy to make your own, or you can find it in the freezer at the grocery store.
Add 4 ounces of pulled pork and then whatever toppings you are feeling that night. You can have all the toppings in different bowls and have everyone put together their own burrito bowl creations. You can also use this Easy Homemade Salsa instead of fresh tomatoes if you want a spicier flair to your bowl.
We like to serve ours with a drizzle of Avocado Lime Salad Dressing in place of sour cream. The homemade dressing comes together in minutes in a food processor.
You can use whatever cheese you like on these burrito bowls. These bowls taste great with cheddar, feta, goat, queso fresco, cotija, or pepper jack. It's honestly up to you.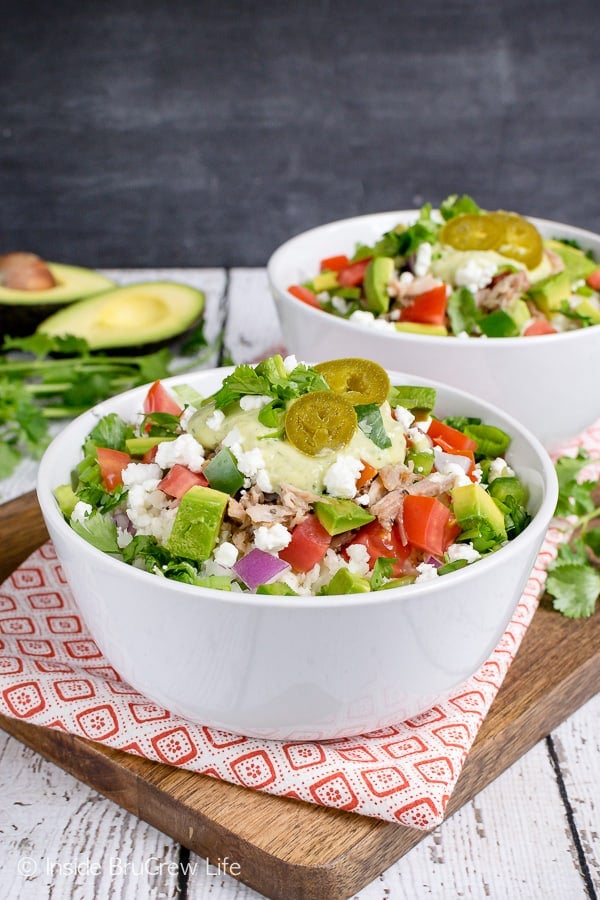 The great thing about this meal is that once you prep all the ingredients, you can put together this easy healthy meal in minutes. You could also fill individual containers with all the ingredients and have grab and go lunches for all week.
We ate this dinner two days in a row, and I'm still craving more of it. You know the recipe is a keeper when your daughter is looking over your shoulder while you are editing photos and saying this was a good dinner. Winner winner, healthy dinner!
More dinner ideas that use pulled pork:

Tools used to make this Healthy Pulled Pork Burrito Bowls recipe:

*This post contains affiliate links. Inside BruCrew Life may receive a small percentage from sales made through these free links. As always, these links do not cost you any extra. Thank you for letting us share products we use and love this way.