Treat your family to a delicious treat with Homemade Cinnamon Rolls. Their soft, fluffy texture combined with a gooey cinnamon sugar swirl makes these cinnamon rolls a must-have for special occasions or even just a cozy weekend breakfast.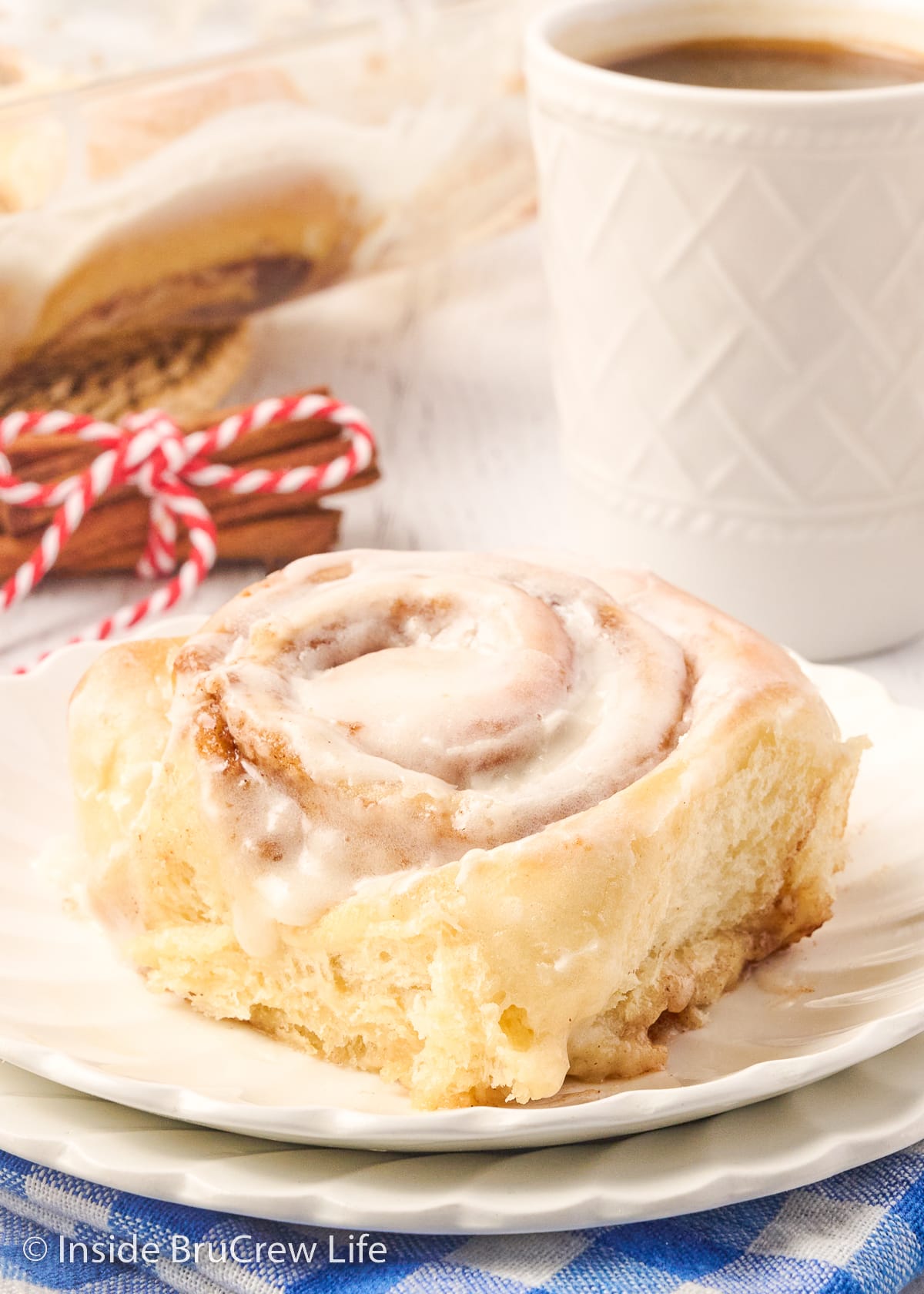 Jump to:
One of our favorite family traditions is having cinnamon rolls for breakfast on Christmas morning. For years we baked Pillsbury rolls from a can because I was afraid to bake with yeast.
I know that a lot of people are like me and scared to make recipes with yeast. Trust me, you can do this. This is an easy cinnamon roll recipe that anyone can make at home.
Why You Will Love These Rolls
The homemade yeast dough is easy to make and only needs one rise time, so this is a great recipe for beginners.
The sweet rolls bake up soft and fluffy with a sweet cinnamon sugar swirl inside.
A sweet vanilla frosting melts down into the cracks and makes the rolls extra gooey.
You can prep them ahead of time, so you can enjoy overnight rolls for breakfast the next day.
Our kids have declared these the best cinnamon rolls ever. So, our new holiday tradition is to make homemade cinnamon rolls for special holidays, birthdays, and Christmas morning.
Key Ingredients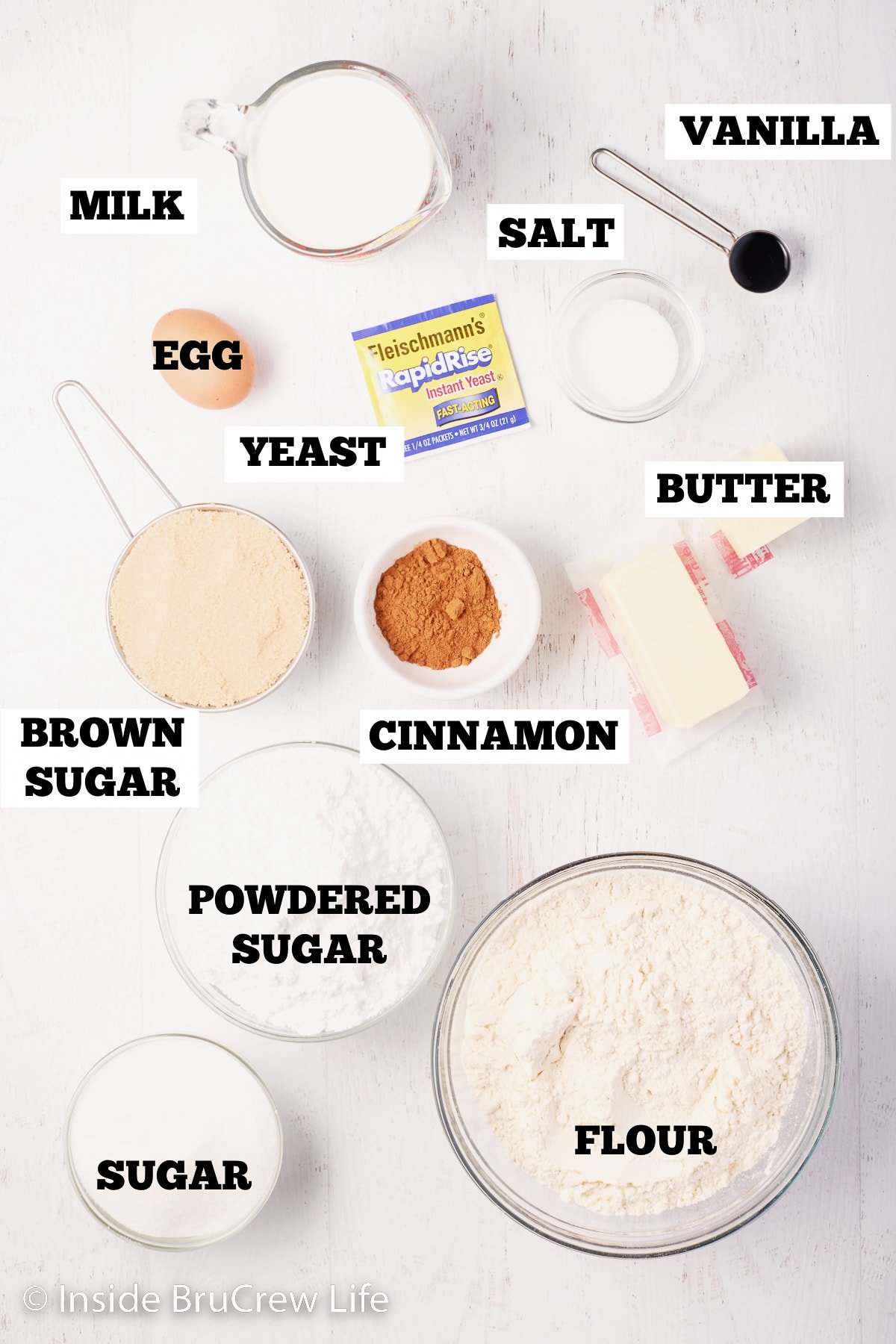 Once you see how to make this recipe for cinnamon rolls you might never open a store bought package again. These simple ingredients come together easily to make an incredible sweet roll.
Milk - I use whole milk for the richest flavor, but you can use any milk you prefer.
Butter - An additional fat that gives you a nice soft roll.
Yeast - Use rapid rise yeast, so you don't have to let it proof. It will allow the rolls to rise faster.
Flour - All purpose flour gives structure to the soft dough. Follow these tips for the best way to properly measure flour.
Sugar - 3 types of sugar makes these easy cinnamon rolls sweet and delicious.

Granulated sugar in the dough feeds the yeast.
Brown sugar in the center gives the gooey filling.
Powdered sugar creates the cinnamon roll frosting.

Filling - The combination of softened butter, sugar, and cinnamon makes a crowd pleasing sweet roll recipe.
Frosting - A simple powdered sugar frosting gets spread on top of the warm rolls, so that it soaks in.
How to Make Cinnamon Rolls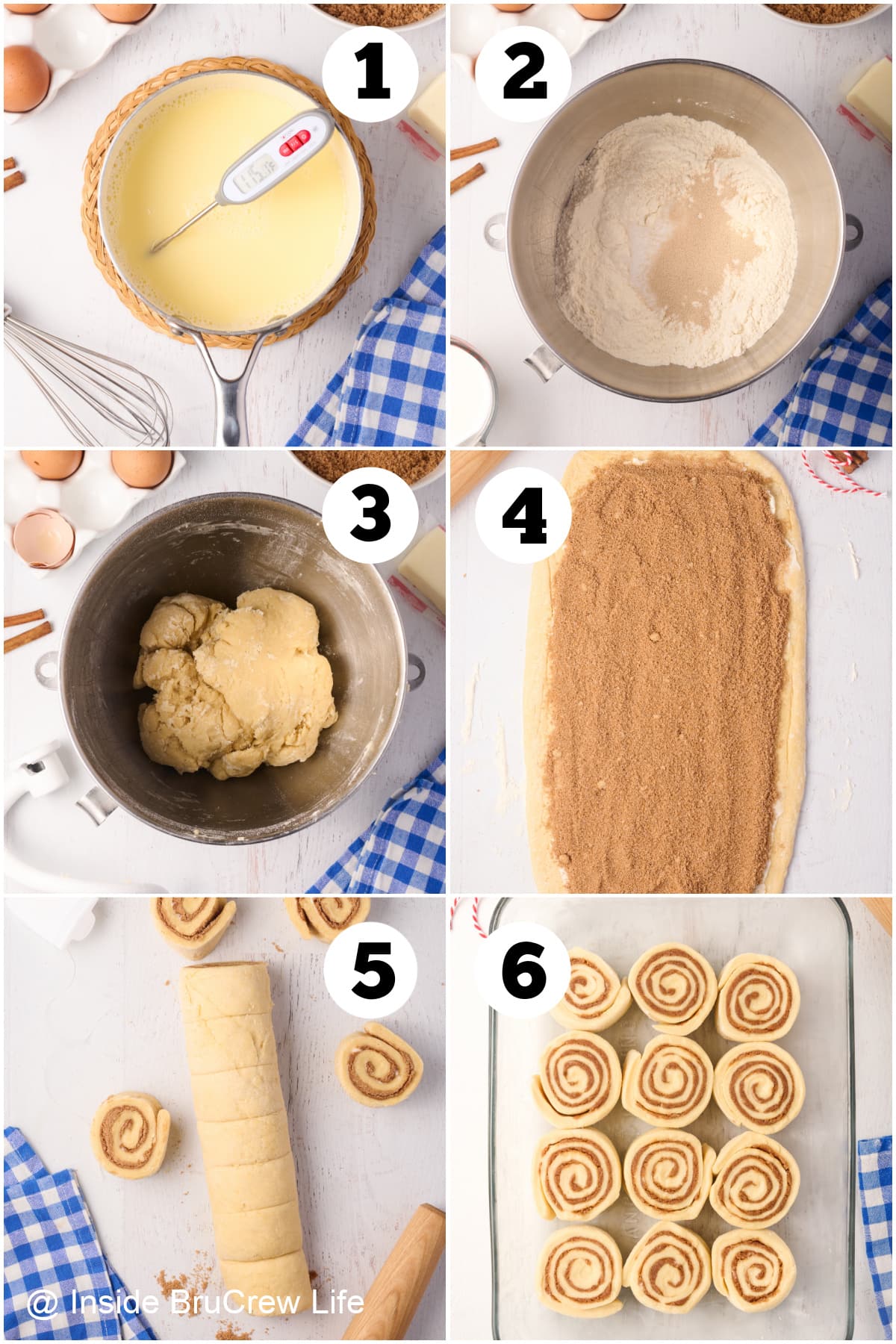 You can prepare these easy cinnamon rolls in under 30 minutes. Once they are prepped, allow about 60 minutes for the yeast dough to rise before baking.
Cinnamon Roll Dough
Place the milk and butter in a small pan over low heat. Heat and stir until melted together. Use a thermometer to check the temperature. You want it to be between 110°-115°.
Mix the dry ingredients in a stand mixer bowl fitted with a dough hook. Add the warm milk and egg and start mixing everything together. Use a spatula from time to time to scrape the sides of the bowl. Add additional flour and mix until it becomes tacky.
Place the dough ball on a floured surface and knead until smooth. After kneading, cover the ball and let it rest for 10 minutes. This gives the flour time to hydrate and the gluten time to relax, so the dough can rise properly.
Cinnamon Roll Filling
Combine the filling ingredients in a small bowl until it looks like wet sand.
Roll the dough out to a rectangle using a rolling pin. Spread the filling evenly, leaving a ½ inch border all around. This leaves room to seal the dough together when you roll.
Roll the dough up slowly from the longest side. Slice into 12 even spirals.
The secret to perfectly cut rolls is to use unflavored dental floss. Slide the string under the log, pull the ends up and cross like you are tying the string. Tightly pull until it slices through the dough cleanly.
Place the sweet rolls in a buttered pan and cover with foil or a kitchen towel. Place the pan in a cool draft-free place for around an hour or until double in size.
Once the rolls have doubled, bake in a preheated oven until puffy and golden brown.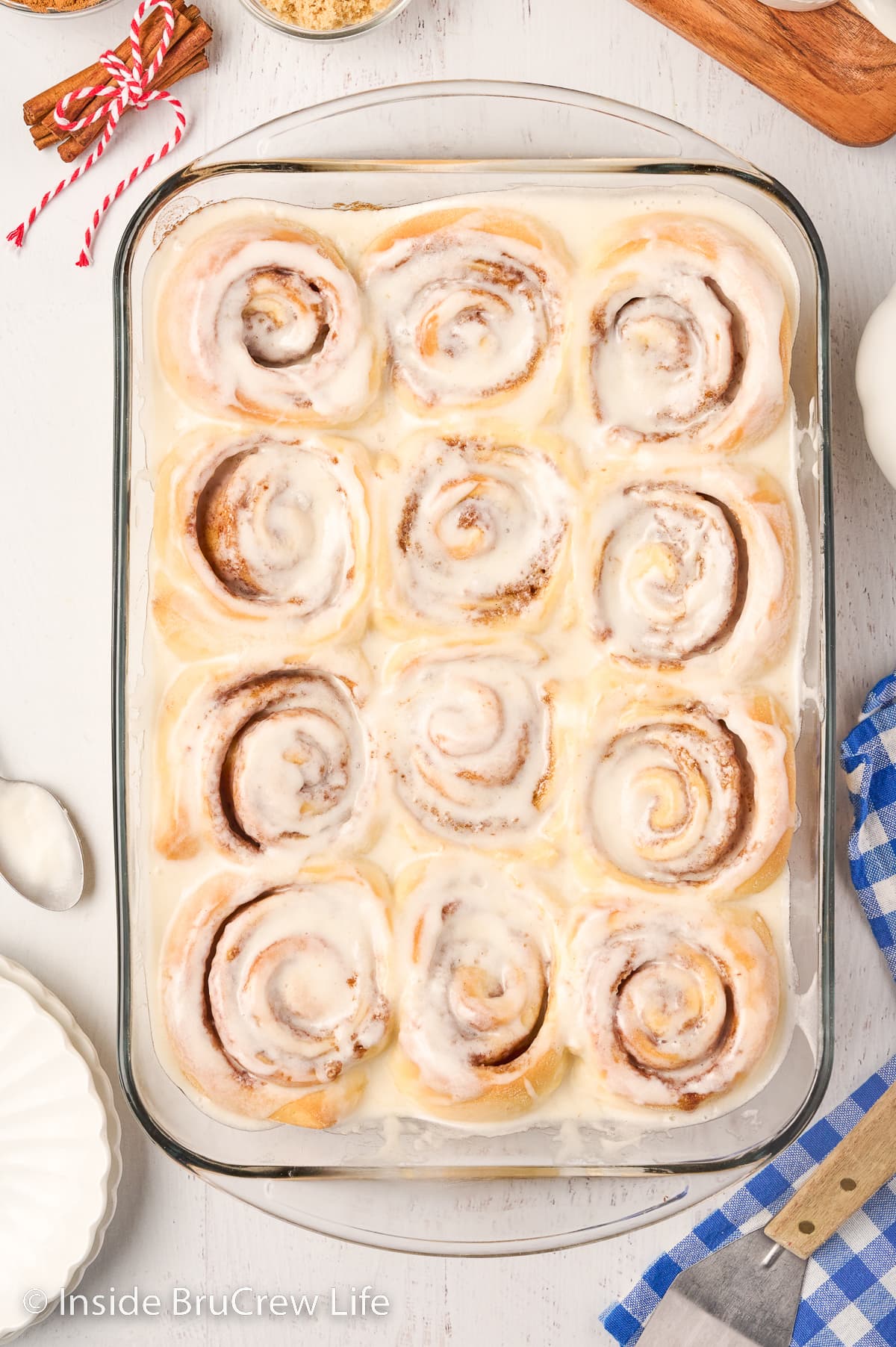 Cinnamon Roll Frosting
As soon as the cinnamon rolls come out of the oven, mix together the softened butter, vanilla extract, powdered sugar, and milk in a small bowl until smooth and creamy.
Spread the vanilla frosting on the rolls while they are still warm. The frosting will melt and go down into the cracks making them extra gooey and delicious.
BruCrew Tip: Use cream cheese icing or canned vanilla icing instead of making a homemade frosting.
Storage Recommendations
Keep the baked rolls in a covered container at room temperature for 2-3 days. Reheat each one in the microwave for 15-20 seconds for a soft and gooey cinnamon roll.
You can also turn these into overnight rolls. Roll and cut the dough as instructed. Place them in a baking dish, cover with plastic wrap, and refrigerate.
When you are ready to bake the cinnamon rolls, remove them from the refrigerator, bring to room temperature, and let them rise for 45-60 minutes before baking.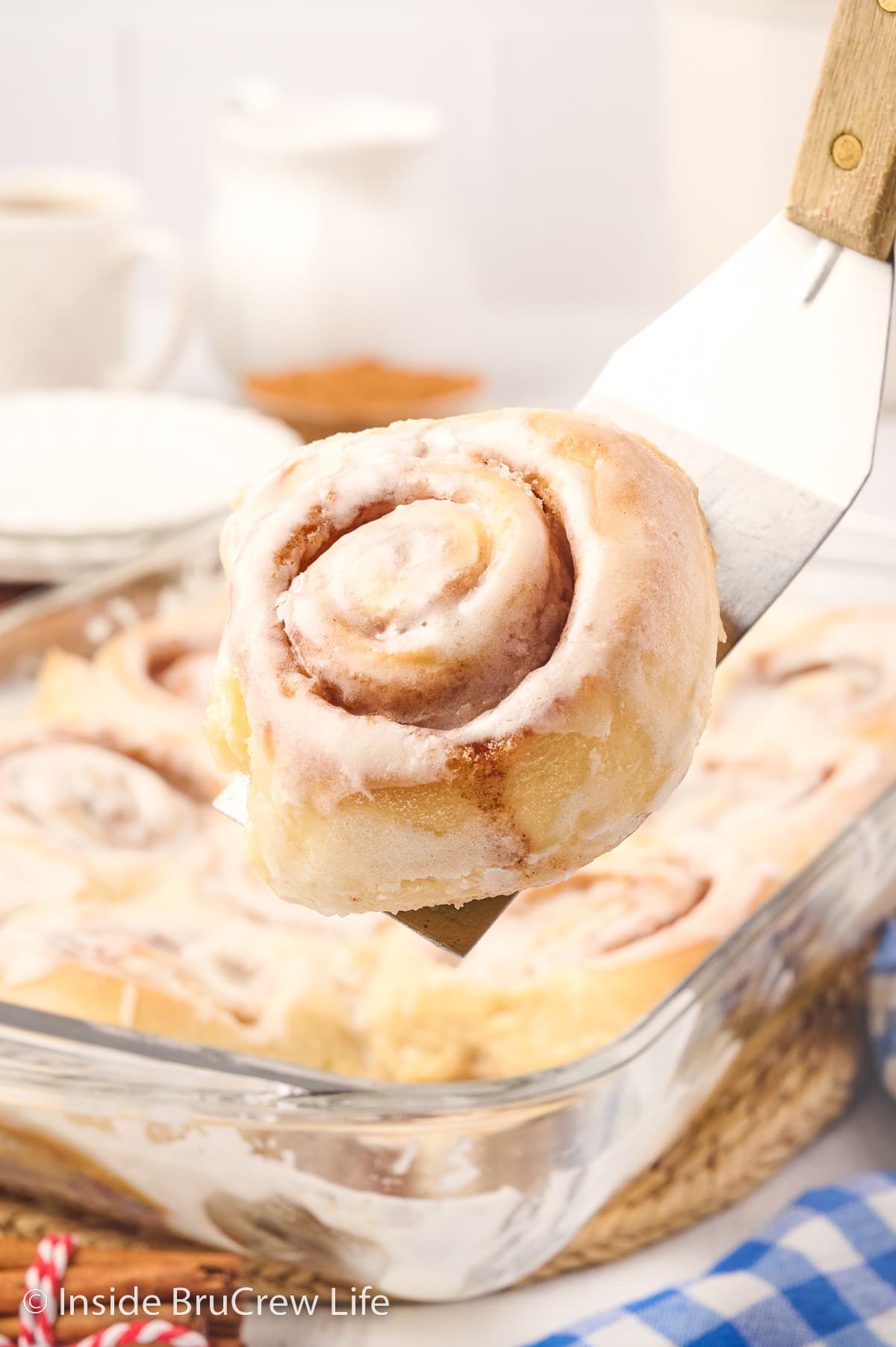 Tips and Tricks
Check the expiration date on your packet of yeast before starting this recipe. Expired yeast will not rise properly.
Do not over heat the milk. You want it warm enough to active the yeast, but not so hot that it kills it. Use an instant read thermometer to watch for 110°-115°. If it is too hot, wait a few minutes until it cools slightly.
A cold egg can affect the rise time of the dough. Place it in a bowl of warm water to bring it to room temperature.
A stand mixer with a dough hook is an easy way to mix dough, but you can also use your hands. It will just be a lot more work.
The dough should be tacky to the touch. This means it should stick to your finger but will pull away easily without leaving any residue.
Do not add too much flour to the dough or knead too much into it. Dry dough = dry cinnamon rolls.
Knead the dough on a well floured surface to keep it from sticking.
Add mix-ins such as nuts, raisins, or other spices to the cinnamon roll filling.
Cut the dough log easily with unflavored dental floss to keep the roll from squishing.
Let the rolls rise in a warm, draft-free place like a pantry or closet. The top of the refrigerator is another great spot.
Air conditioning can affect the rise time, so I usually bump ours to around 76° when making yeast dough.
Recipe FAQS
Why aren't my cinnamon rolls fluffy?
It can be a number of reasons such as weather, humidity, expired yeast, and temperature of milk. The most common reason is not letting the dough rise long enough. It should double in size before you bake them.
What yeast is best for cinnamon rolls?
There are two different kinds that you can choose from. Active dry yeast needs to be hydrated in liquid and proofed before using. Rapid rise yeast can be added to dry ingredients with no proofing needed.

Either type of yeast will work, it is just important to use the proper liquid temperature.
How long do you knead yeast dough?
You want to knead it several times until the dough ball becomes smooth and elastic. You can do a finger test to see if the dough is ready.

If the indent stays, you need to continue to knead it. If it springs back, the dough is ready to rest.
More Sweet Roll Recipes
Do you love a recipe you tried from Inside BruCrew Life?
Please leave a 5-star ⭐️ rating and a review in the comments section below.
*The post for homemade cinnamon rolls was first published December 2012. It was updated and republished December 2022.
**We participate in the Amazon Services LLC Program, an affiliate program designed to provide a means for us to earn fees by linking to Amazon.com .