This Blueberry Pancakes Recipe is the perfect thing to make for breakfast or brunch. Using pantry staples makes these pancakes come together so quickly. Serve them with butter, drown them in syrup, or eat them hot off the griddle.
The golden edges, fluffy centers, and juicy berries makes this easy pancake recipe a must make.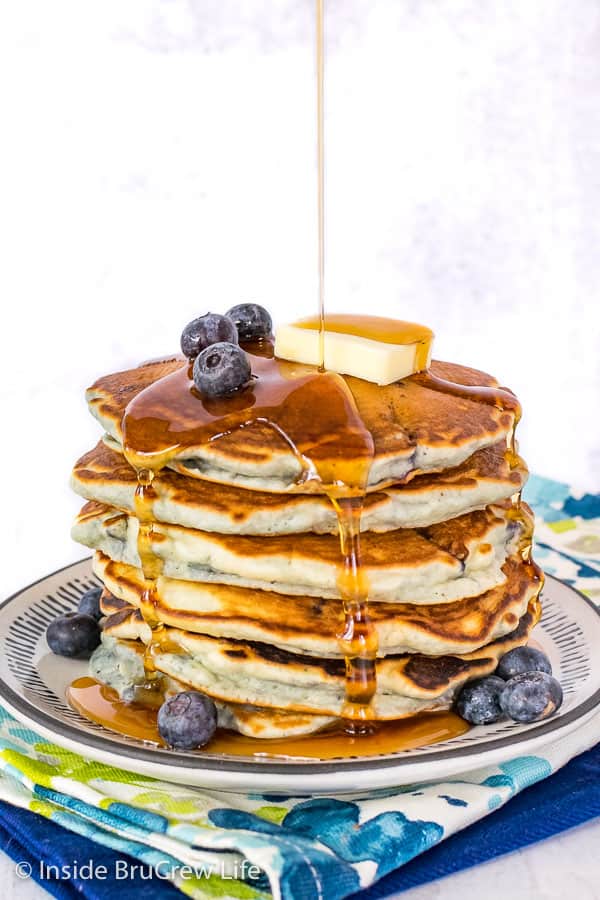 Blueberry Pancakes
Nothing beats a big stack of hot blueberry pancakes drizzled with lots of maple syrup for breakfast. These light and fluffy pancakes are not too sweet and loaded with lots of juicy blueberries.
Our kids have always loved having hot pancakes for breakfast. Me on the other hand have never loved standing over a hot stove first thing in the morning to make said pancakes.
So, my solution has to always make pancakes the day before and either refrigerate or freeze a big batch of pancakes for the kids to enjoy. To be honest, the ONLY time I make hot fresh pancakes for them is when someone requests them for their birthday.
You can imagine my daughter's surprise earlier this year when we had family visiting, and she woke up to find me making fresh pancakes for her cousins. She couldn't believe that I was actually making pancakes first thing. Trust me, girl. It will not happen often.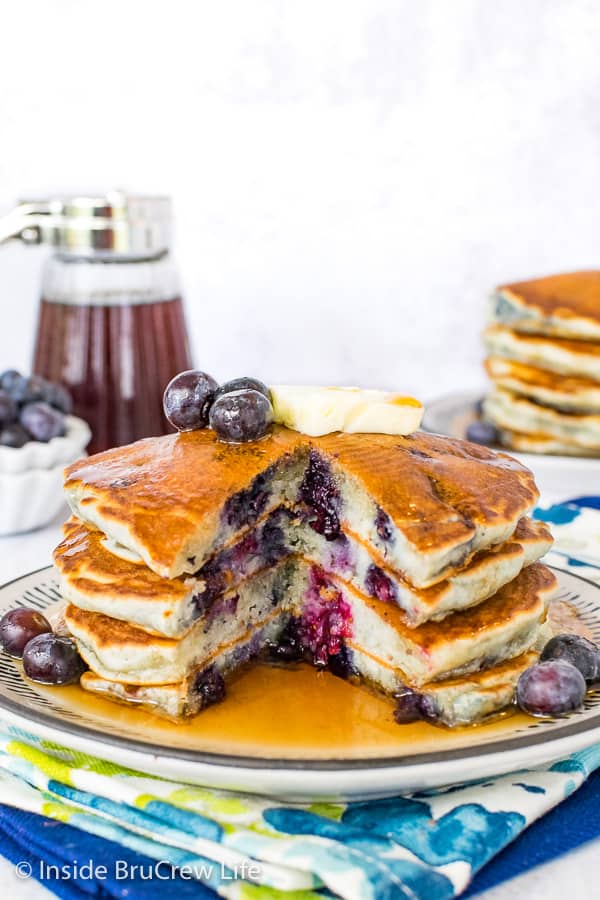 Bisquick Pancakes
We usually keep a few jars of this Bisquick Substitute in our fridge, so we can make pancakes, biscuits, or this Easy Cornbread. This all purpose baking mix can be used for any recipe that calls for Bisquick.
Using it for pancakes is probably the most common way we use it the most though. Adding blueberries to pancake mix makes the most delicious breakfast treat!
To be fair, you can use any berry that you have on hand, and they will still be amazing.
What You'll Need
You only need five ingredients to make a batch of these easy blueberry pancakes for breakfast or brunch.
Baking Mix - store bought or a homemade
Sugar - adds just a little bit of sweetness
Milk - provides the moisture
Eggs - gives structure to the batter, so the pancakes will rise
Blueberries - fresh or frozen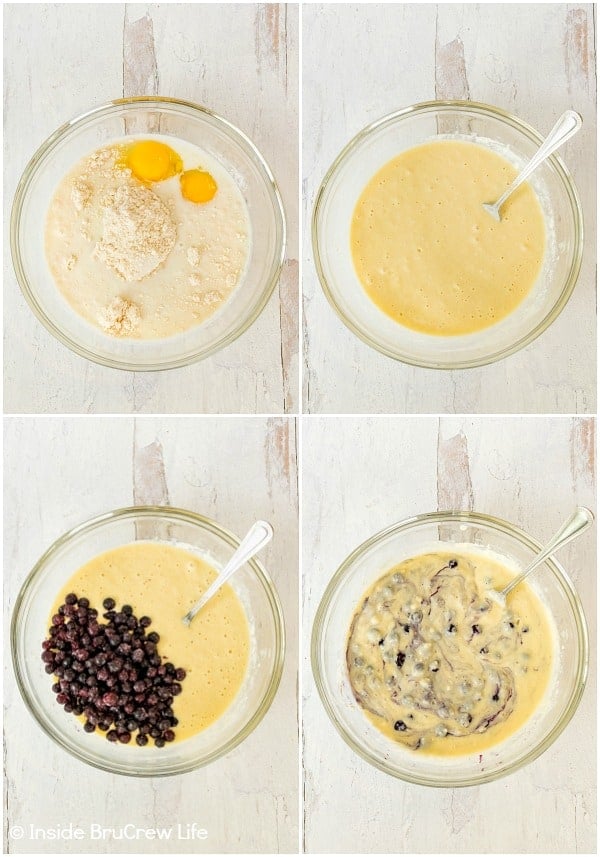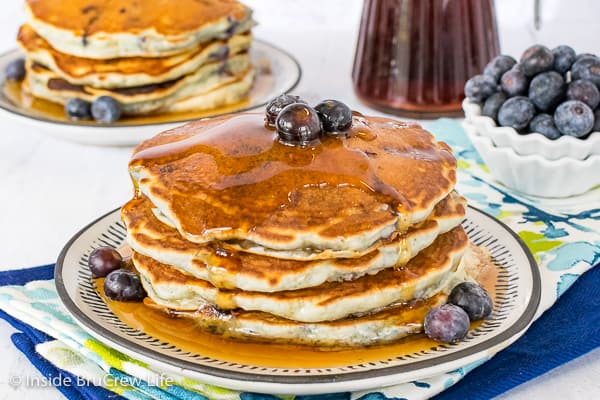 How to make Blueberry Pancakes
This blueberry pancakes recipe comes together in minutes. Mix everything in one bowl, then cook on a hot skillet.
Place baking mix, sugar, milk, and eggs in a large mixing bowl.
Use a fork and gently stir the ingredients together. Do not over mix.
Add frozen blueberries and lightly stir them into the wet ingredients.
Drop ¼ cup of pancake batter on a buttered pan on medium heat. Cook until edges are dry. Turn; cook until golden brown. (about 1 minute per side)
Serve hot blueberry pancakes with butter and maple syrup. They are also delicious with a spoonful of this Blueberry Syrup with Honey.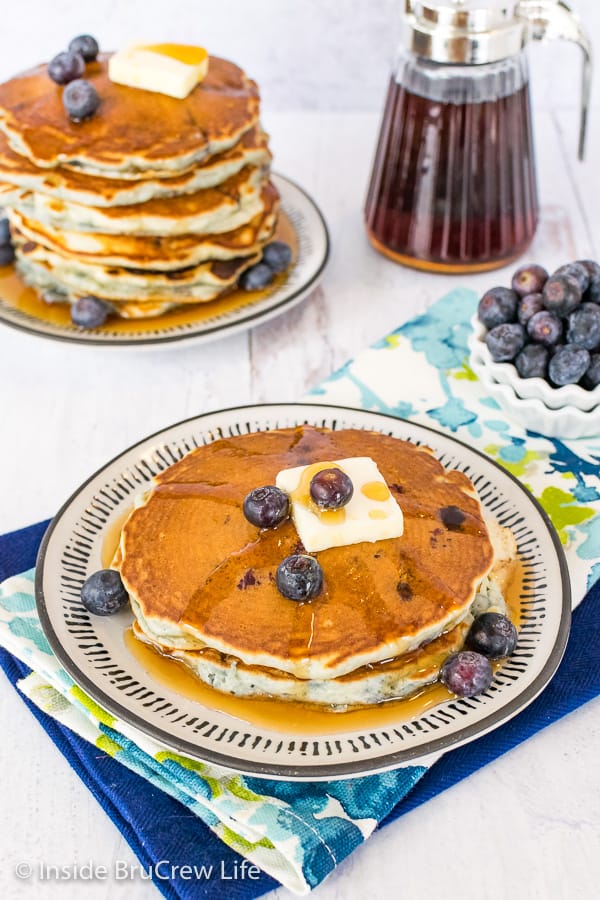 Frequently Asked Questions
How do you keep homemade blueberry pancakes from turning blue?
Using fresh blueberries will keep your batter from turning blue. But blueberries are not always available, so frozen blueberries are a great way to enjoy blueberry pancakes. The frozen berries will add streaks of blue as you stir them in.
Do not over stir and your batter should be fine. Here a few other options for using frozen blueberries.
Rinse the frozen berries in cold water a few times - until the water is lighter when you drain them. Dry the tops and bottoms of the blueberries very well with paper towels.
Toss the frozen blueberries with flour to help keep your batter from turning blue.
How do you keep pancakes warm without getting soggy?
Keep pancakes warm by placing them on a baking sheet in a 200 degree oven until you are ready to serve them.
Avoid stacking the pancakes on top of each other, which can make steam form and cause the pancakes to lose their crisp exterior.
Can blueberry pancakes be frozen?
Make the pancakes and let them cool completely. Layer them between sheets of wax paper in a freezer bag and keep in the freezer for up to 2 months.
How to Reheat Frozen Pancakes
Microwave - Place frozen pancakes on a microwave safe plate and heat on high for one minute.
Oven - Place pancakes on sheet pan and cover with foil. Bake at 375 degrees for 8-10 minutes or until hot.
Toaster - Place frozen pancakes in toaster and heat on lowest setting. You may need to to toast them twice to heat through.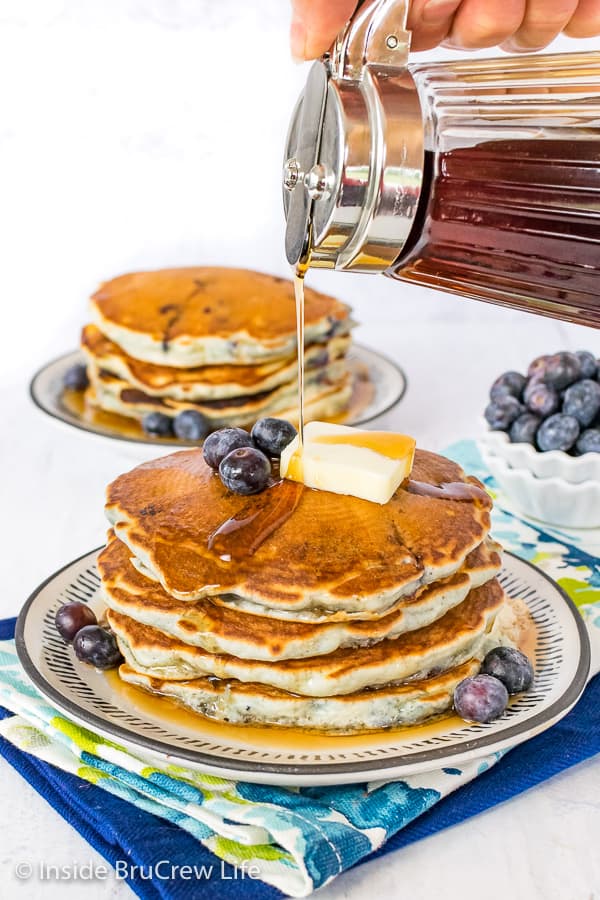 More Blueberry Recipes
Here are some of our favorite breakfast recipes made with fresh blueberries.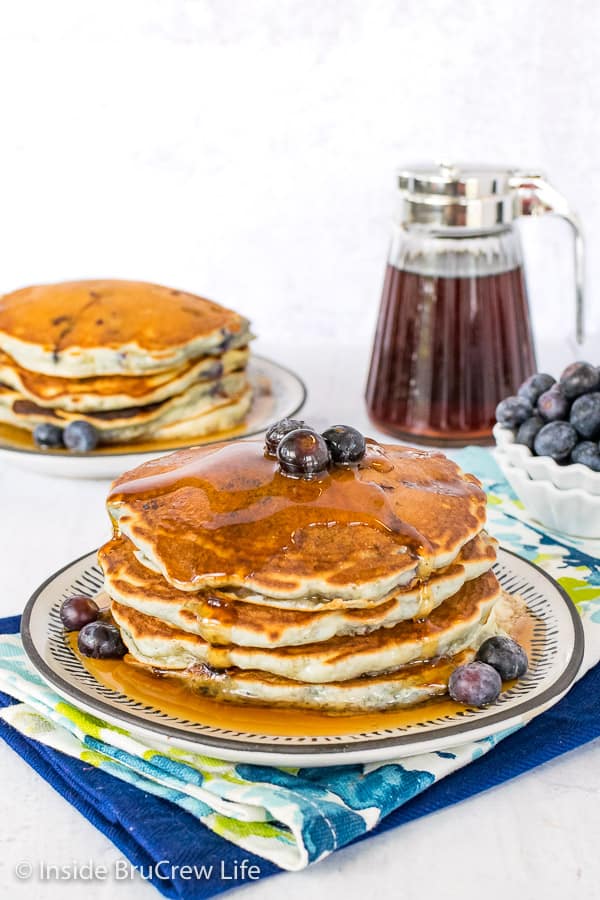 Love a recipe you tried from Inside BruCrew Life? Please leave a 5 star ⭐️ rating in the recipe card below and/or a review in the comments section further below.