A pan of this Easy Skillet Cornbread goes so well with any meal. It is simple to make with ingredients from your pantry. Add some butter and a drizzle of honey and you will fall in love with this homemade cornbread recipe.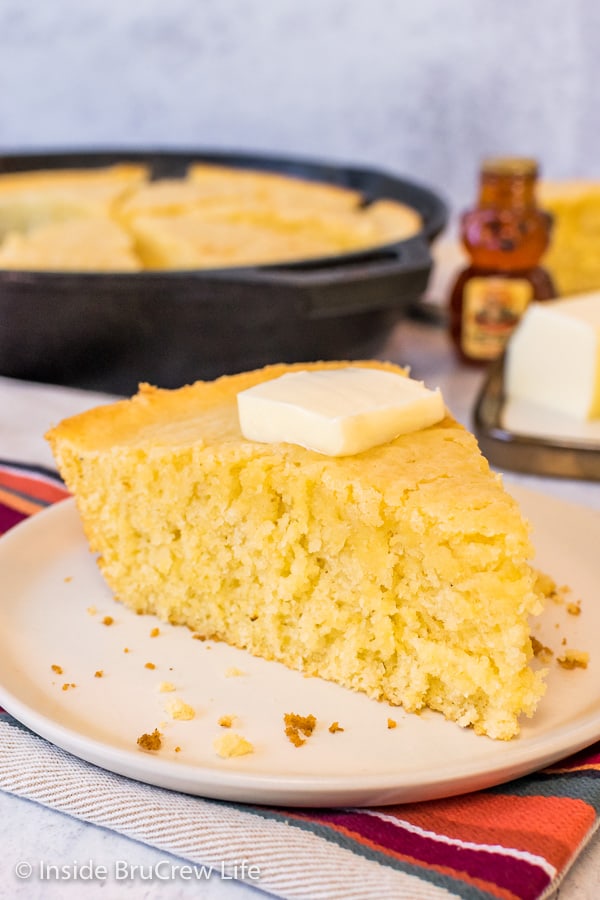 It has been warm for quite a while now here in Florida. And I'm not complaining one bit. The older I get, the more I want to stay far, far away from the cold.
Although, the other day we woke up to some pretty chilly temperatures. Ok, ok. So, 65 degrees may not be chilly to some of you, but that's a brisk morning here. It was really a welcome change of pace for the day.
The sun came out, but it didn't really get any warmer than about 78 degrees. We have to take advantage of these "cooler" days and enjoy soups and chili when we can. So, of course we mixed up a big pot of chili and some skillet cornbread for dinner.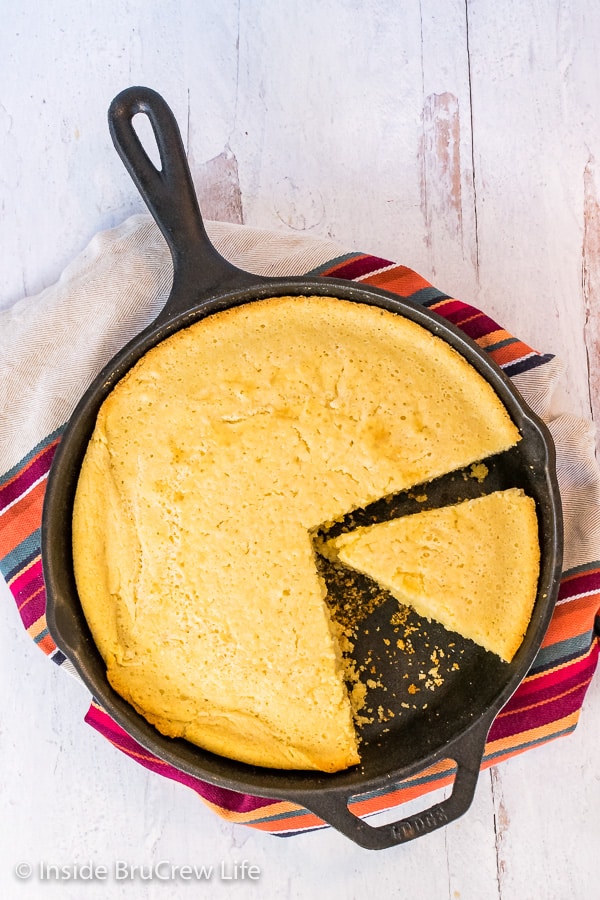 Now honestly, growing up all the cornbread I ever ate came out of the Jiffy boxes. I'm just now realizing how much boxed stuff my parents bought. Not that I have a problem with boxed mixes at all. Most of the cakes I bake are from a box too. LOL!
I had some leftover Homemade Baking Mix from the other day, so I decided to turn it into a pan of slightly sweet cornbread.
What is Cornbread?
Cornbread is just a quick bread containing cornmeal. It is a popular Southern dish and is known for its sweet smell and crumbly texture.
There are also two different varieties, depending on where you live.
Northern style cornbread has little to no sugar and a higher cornmeal to flour ration.
Southern style cornbread is sweeter and more cake like and has a buttery finish.
I grew up in the North, but I definitely prefer my cornbread from the South. This homemade cornbread is definitely on the sweeter side. It's not so sweet that I would call it cake though. It has just the right sweet flavor to pair great with savory dishes.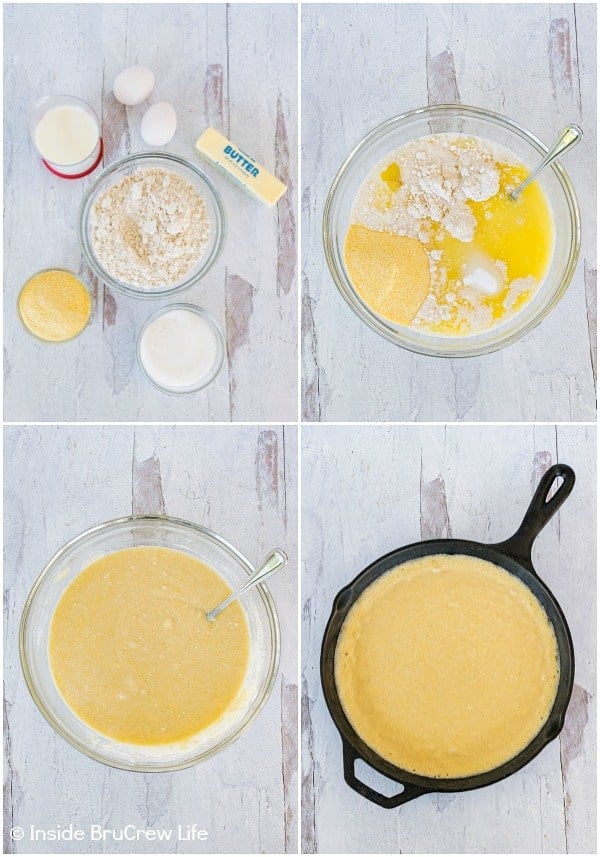 Homemade cornbread is very easy to make with ingredients that you have in your pantry.
How to make Easy Skillet Cornbread:
Place a 10 inch cast iron skillet in a preheated oven. (full recipe at bottom of post)
Stir together baking mix, cornmeal, sugar, melted butter, eggs, and milk in a large bowl. Do not over mix!
Add butter to the skillet that is heating in the oven. Let it melt.
Remove the skillet from the oven and move it from side to side to coat the bottom and sides of the hot skillet.
Pour the cornbread batter into the skillet and bake for 30 minutes.
Remove and let cool 10 minutes before cutting into wedges.
Pro Tip: Cornbread can be made with water, milk, buttermilk, or any milk substitute that you prefer.
Can Easy Skillet Cornbread be baked in other pans?
This easy cornbread can also be baked in a variety of pans. I like to bake it in the 10 inch skillet because it gets a nice crust on the edges.
It can also be baked in an 8 inch square pan for 35 minutes or in muffin tins for about 15-20 minutes.
Different sized pans will affect the baking time, so make sure to watch your cornbread as it bakes.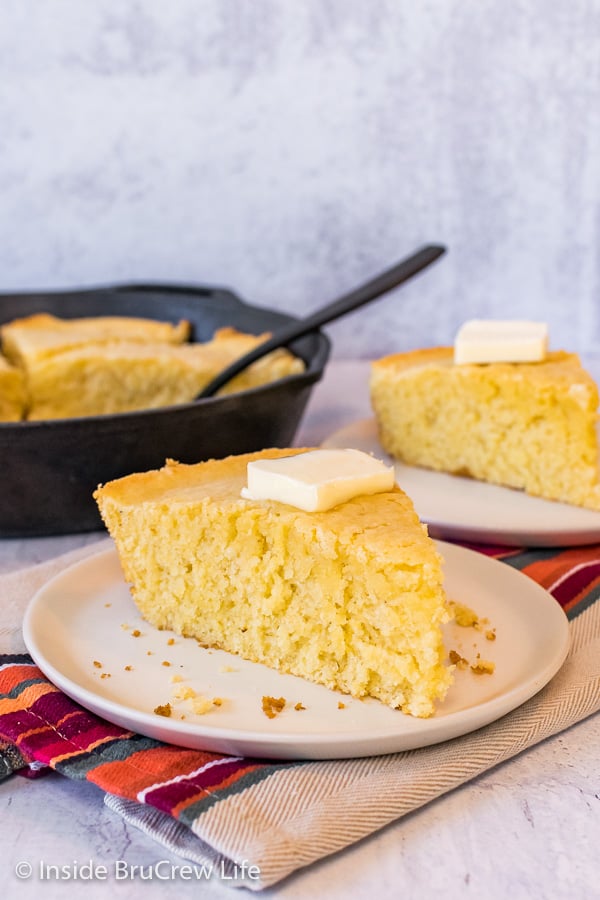 Why does my cornbread fall apart?
Cornbread is by nature supposed to be a little bit crumbly, but it should not crumble into a pile of crumbs when you cut or bite into it. I find that my recipe for cornbread has the perfect crumb texture and tastes so moist and delicious.
Over mixing your batter will cause more glutens to form in the flour and the results will be a drier cornbread.
If you use more cornmeal than flour, your cornbread will end up as a drier, crumbly bread because there is not enough gluten to bind it together.
Cornbread Additions:
Most of the time I prefer to eat my cornbread plain. But there are so many fun and delicious things you can add to change up the flavor of the batter.
A drained can of diced green chiles
Shredded cheddar cheese
A few slices of crumbled cooked bacon and 1-2 tablespoons maple syrup
One cup of fresh, frozen, or canned corn
Dried fruits and nuts
Fresh berries such as raspberries or blueberries with lemon zest
Herbs and spices - rosemary, thyme, sage
Green onions or olives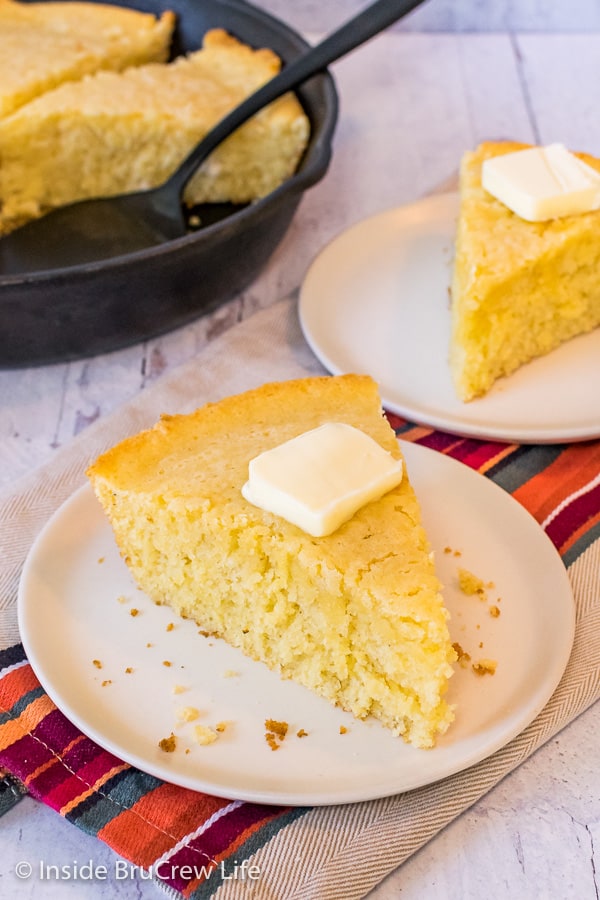 The most popular way to eat cornbread is with a big bowl of chili. But there are so many different ways you can enjoy a slice of this soft and tender sweet cornbread.
One of my favorites is a little butter with a big spoonful of these Homemade Seedless Blackberry Preserves.
How to serve Skillet Cornbread:
Butter
Honey
Jelly, Jams, or Preserves
Apple Butter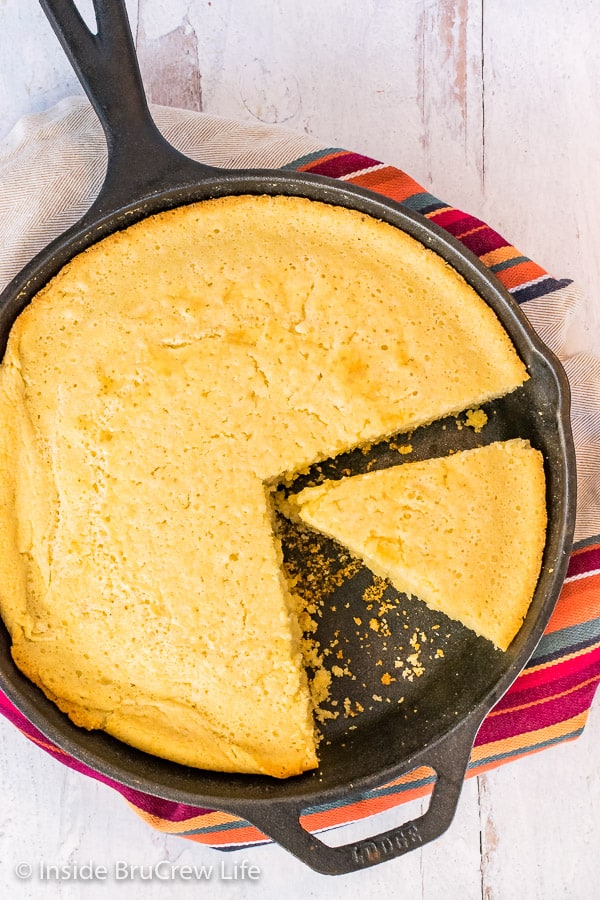 What goes with Cornbread?