Enjoy the flavor of your favorite summer treat all year long. This sweet and gooey S'mores Pie has a graham cracker crust, creamy chocolate center, and a marshmallow topping with toasted marshmallows. No camping or campfire required!
* I am partnering with Dixie Crystals to bring you this delicious and easy S'mores Pie recipe.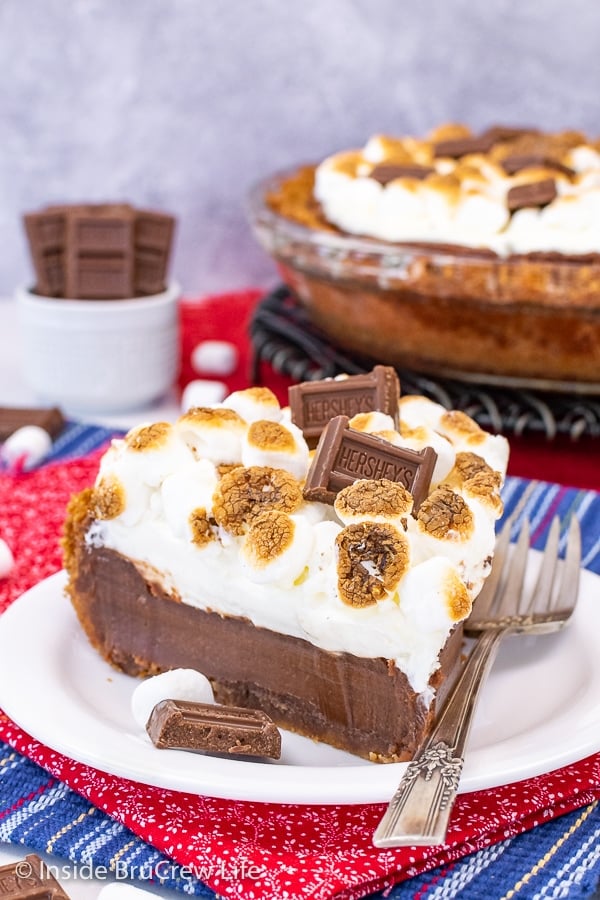 Indoor S'mores
Do you love s'mores ? There is something so delicious about the combo of toasted marshmallow and melted chocolate sandwiched between crunchy graham crackers. The only thing I'm not fond of is the mess that comes along with making s'mores. And I'm not really a camping kind of girl...
I'm all for roasting marshmallows around a campfire once in a while in our backyard. But what I really love is finding ways to enjoy s'mores indoors in the comfort of my home. No smoke, no bugs, no sticky messy fingers!
This gooey chocolate pie was inspired by the classic campfire treat. It has all the flavors of s'mores - graham cracker crust, creamy milk chocolate filling, and gooey toasted marshmallows in a pie form. It is the best way to enjoy a s'mores dessert in my opinion.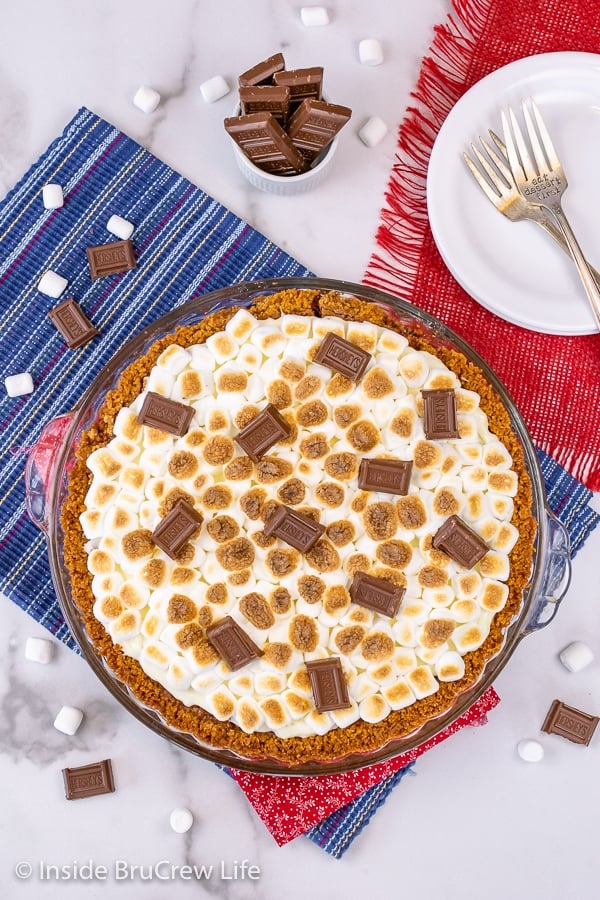 S'mores Pie Ingredients
The filling in this easy chocolate and marshmallow pie only uses a few simple ingredients. This s'mores dessert is the perfect summer recipe to share at picnics or potlucks. Totally mess free because you eat it with a fork instead of your fingers.
For the Chocolate Filling
Butter - 1 stick of unsalted butter. If you are using salted butter, skip the extra salt in the recipe.
Chocolate - We used milk chocolate chips for the filling and mini Hershey bars on top.
Eggs - Thickens the filling as it bakes.
Granulated Sugar - Sweetens the pudding filling.
Heavy Cream - Use real cream for best results.
Vanilla Extract & Salt - Adds flavor and balances out the sweetness.
For the Marshmallow Mousse
Cream Cheese - Set it out ahead of time so it is softened to room temperature.
Marshmallow Cream - Adds a creamy marshmallow flavor to the topping. This may also be called marshmallow fluff depending on what brand you buy.
Cool Whip - Give the mousse a fluffy texture. You can also use this Homemade Whipped Cream, if you prefer.
Marshmallows - Miniature marshmallows cover the topping easier. Large marshmallows cut in half can also be used.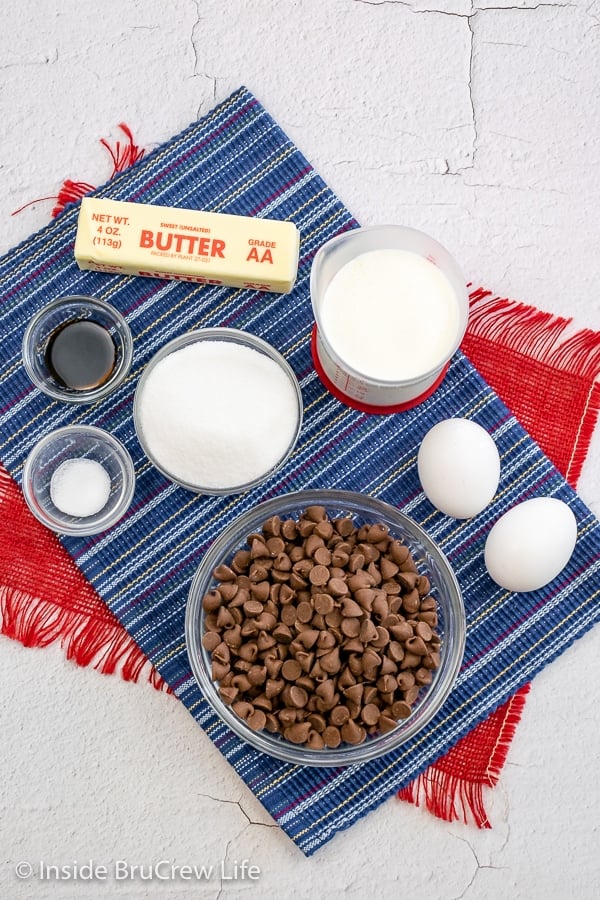 How to make S'mores Pie
The layers in this homemade chocolate s'mores pudding pie come together easily. The hardest part is allowing each layer to chill before digging into the gooey s'mores goodness!
Step One: Make Graham Cracker Crust
Stir together graham cracker crumbs and melted butter until mixed.
Press evenly into the bottom and sides of a 9 ½ inch deep dish pie plate.
Refrigerate the pie crust until needed.
BruCrew Tip: For a fun and delicious variation, use chocolate graham crackers to make the crust.
Step Two: Melt Chocolate
Place chocolate chips and butter in a microwave safe bowl.
Heat for 30 seconds. Stir and heat again for 20-30 seconds.
Stir until melted and creamy.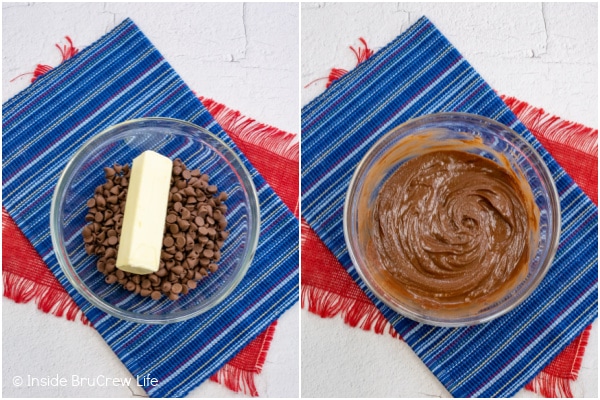 Step Three: Chocolate Filling
Place granulated sugar, eggs, heavy cream, vanilla, and salt in a large mixing bowl.
Beat the ingredients until light and frothy.
Add the melted chocolate and beat until thick and creamy.
Pour the chocolate filling mixture into the prepared graham cracker crust.
Bake for 45 minutes. The filling will look wiggly, but the pie will thicken as it cools.
Remove the pie from the oven and place on a wire rack to cool for 1-2 hours.
Refrigerate the chocolate pie until it is cooled completely. The center will sink as it cools.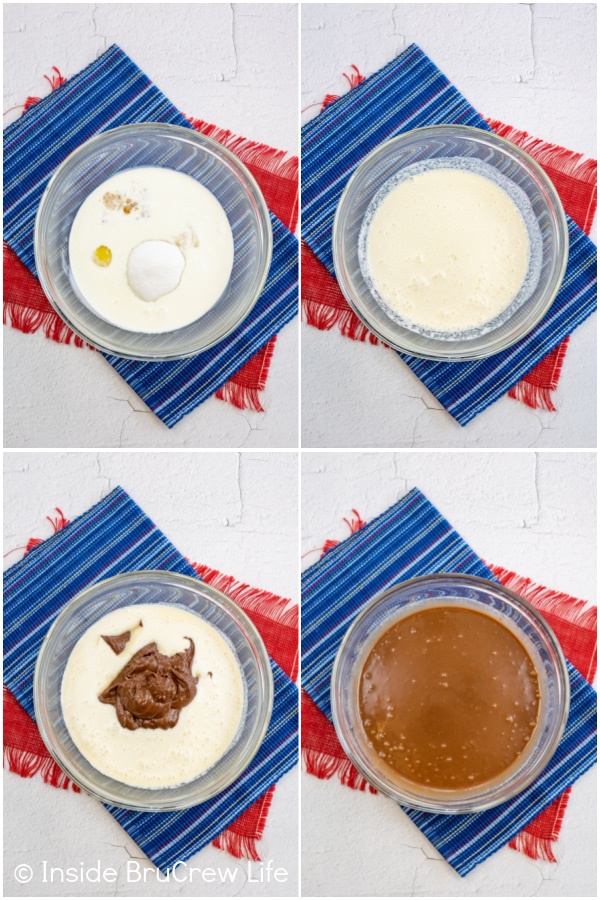 Step Four: Marshmallow Topping
Place the cream cheese and marshmallow cream in a mixing bowl.
Beat with a mixer until creamy.
Fold in the Cool Whip until light and fluffy.
Spread the marshmallow mousse on top of the chilled chocolate pudding pie.
Refrigerate for at least one hour, so the marshmallow mousse topping can set up.
Sprinkle the top of the pie with miniature marshmallows.
Place the pie under the broiler for 20 seconds, watching very carefully. Trust me, do not take your eyes off for even a second. Don't ask me how I know!
Remove immediately. Press mini Hershey's chocolate bars into the toasted marshmallows right away.
BruCrew Tip: You can also use a kitchen torch to toast the marshmallows instead of broiling the top of the pie. We found this method did not make the tops of the marshmallows as golden and toasty as the oven did though.
SEE THE FULL RECIPE:
I am sharing the ingredient list and full directions for this S'MORES PIE RECIPE over on Dixie Crystals website.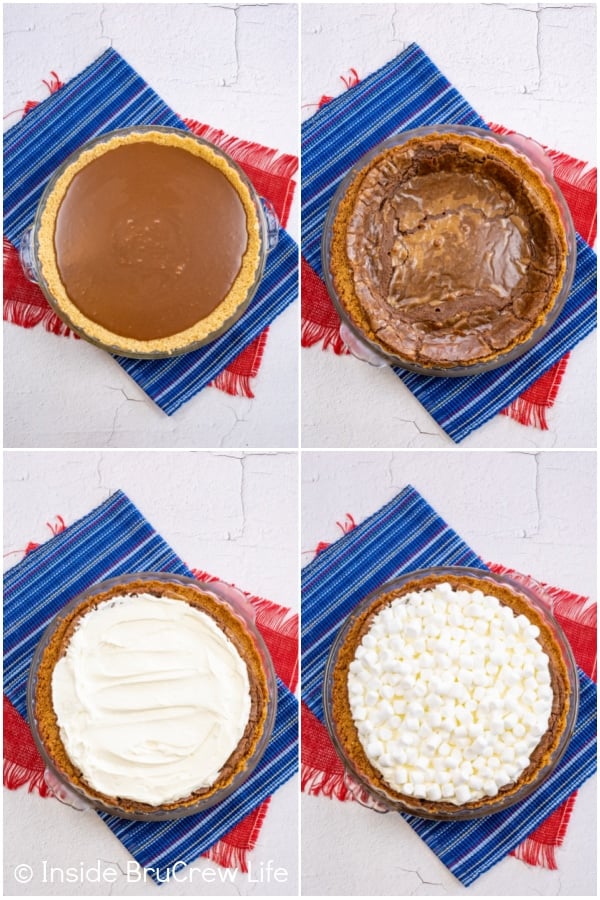 Frequently Asked Questions
Can this s'mores pie be made ahead of time?
Yes, this chocolate marshmallow pie can be made ahead of time. I recommend it because the chocolate pie does need time to chill. Wait to add the mini marshmallows, then toast them right before serving the pie.
How do you store s'mores pie?
This chocolate pie needs to be kept in the refrigerator in a tightly sealed container. It is best served within 24 hours of making it, but it will keep for 2-3 days in the fridge.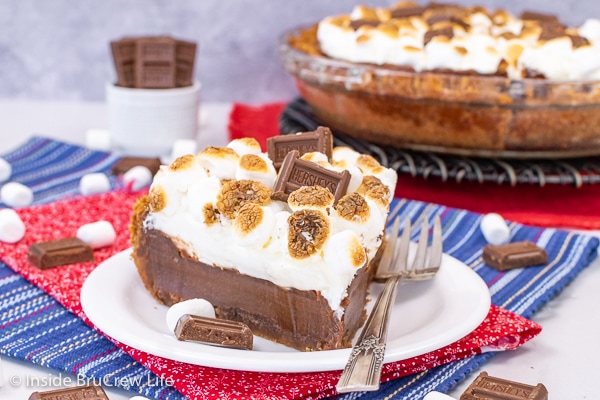 More S'mores Recipes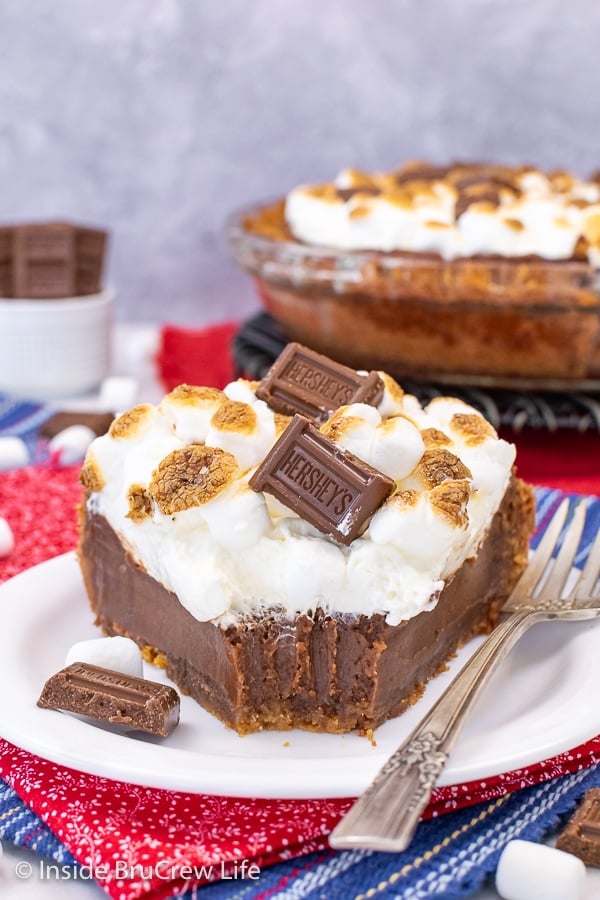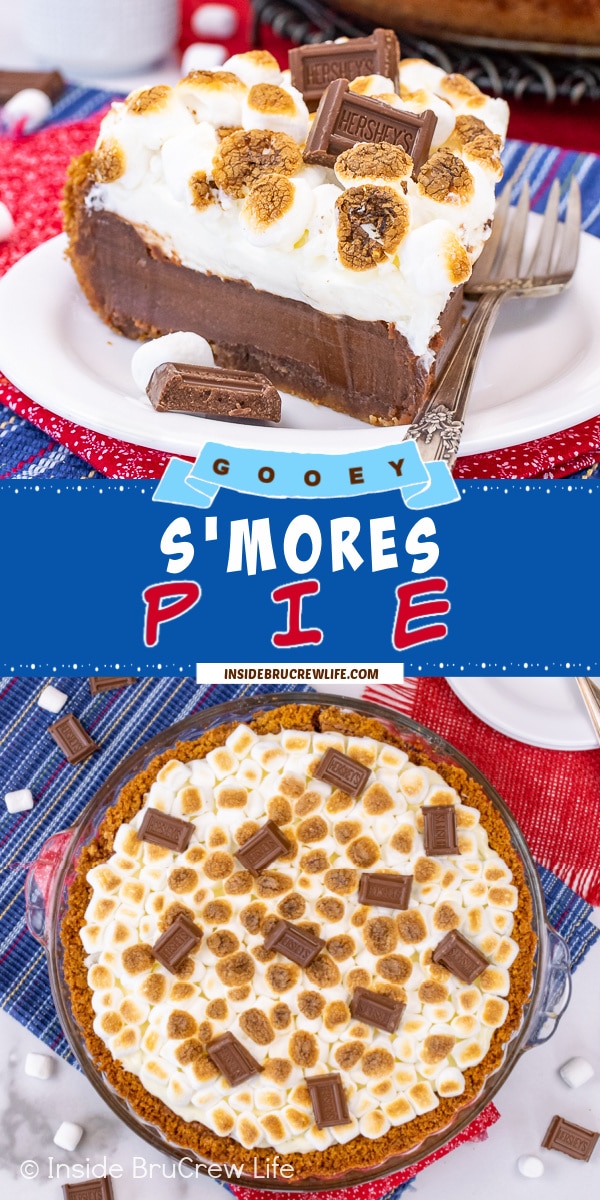 *Dixie Crystals has sponsored this recipe and post. All opinions expressed are 100% my own. Thank you for letting me share products and brands we use and love. See my disclosure policy for more information.*