Wanna get away without leaving home? Whisk yourself to a tropical paradise with the incredibly refreshing flavors of this Key Lime Cheesecake. With only 7 ingredients, you will see how easy it is to make a homemade cheesecake.
Love key lime desserts? You have to try these Mini Key Lime Pies, Key Lime Pound Cake, and this Coconut Lime Cake too.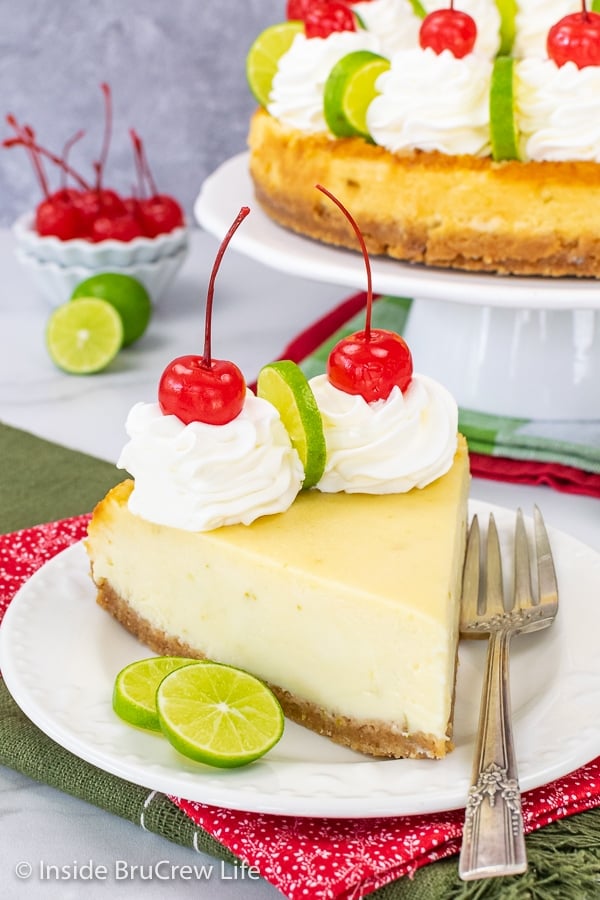 Key Lime Pie Cheesecake
Have your tastes changed as you have gotten older? I used to avoid lemon and lime desserts at all costs, but slowly over time I have come to love them. It all started with these Best Lemon Bars and these Key Lime Bars. Now I actually look forward to citrus desserts.
Our oldest son loves key lime pie. But this time he requested a key lime cheesecake when he was home for his birthday. I decided to tweak the recipe for the key lime cheesecake bars in our Cheesecake Love cookbook. All it needed was a few changes and a graham cracker crust to make it into a full sized cheesecake.
This easy cheesecake combines the creaminess of a traditional cheesecake with the tropical flavor of key lime pie. It's definitely the best of both worlds.
The key to the intense flavor in this key lime cheesecake comes from key lime juice and key lime zest.
Now I know what you are thinking. Nobody has the patience or time to juice a whole bag of those tiny Florida key limes. And I totally agree. In order to get enough juice for this cheesecake recipe, I like using a bottled key lime juice.
Nellie and Joe's Famous Key West Lime Juice is what I rely on when I make key lime desserts. It is delicious, tart, and adds a refreshing flavor to key lime recipes without any extra work.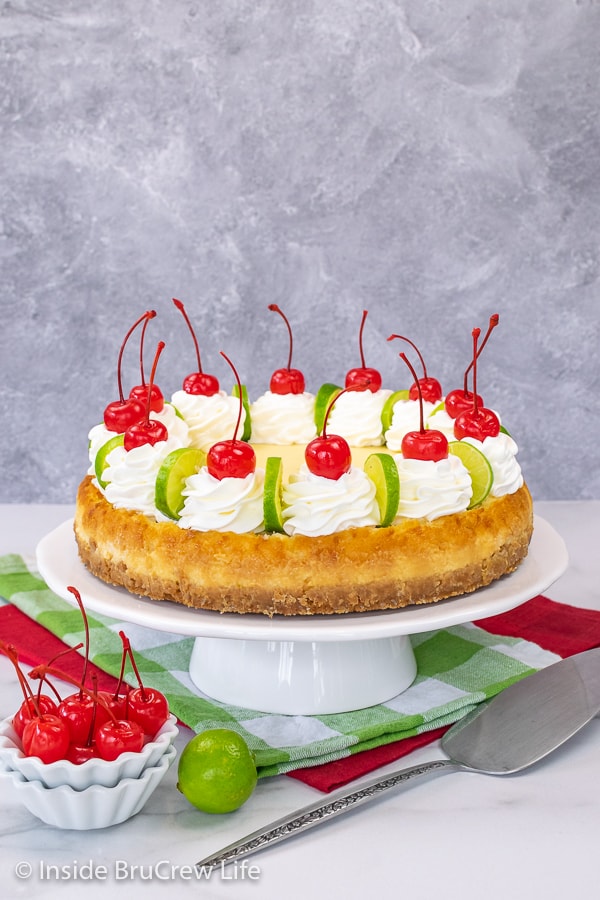 Ingredients for Key Lime Cheesecake Recipe
With just 7 simple ingredients, you can make this filling for this creamy key lime cheesecake. See the full printable recipe at the bottom of the post.
Graham Cracker Crust - Made with graham cracker crumbs, sugar, and melted butter.
Cream Cheese - 3 blocks of full fat cream cheese that has been set out ahead of time.
Granulated Sugar - Sweetens the filling and helps to make the cream cheese creamy.
All Purpose Flour - Stabilizes the cheesecake batter and keeps the center from cracking.
Key Lime Juice & Key Lime Zest - Bottled key lime juice and fresh zest from 4 key limes adds the amazing flavor to the key lime pie cheesecake.
Eggs - Gives cheesecake the rich and smooth texture.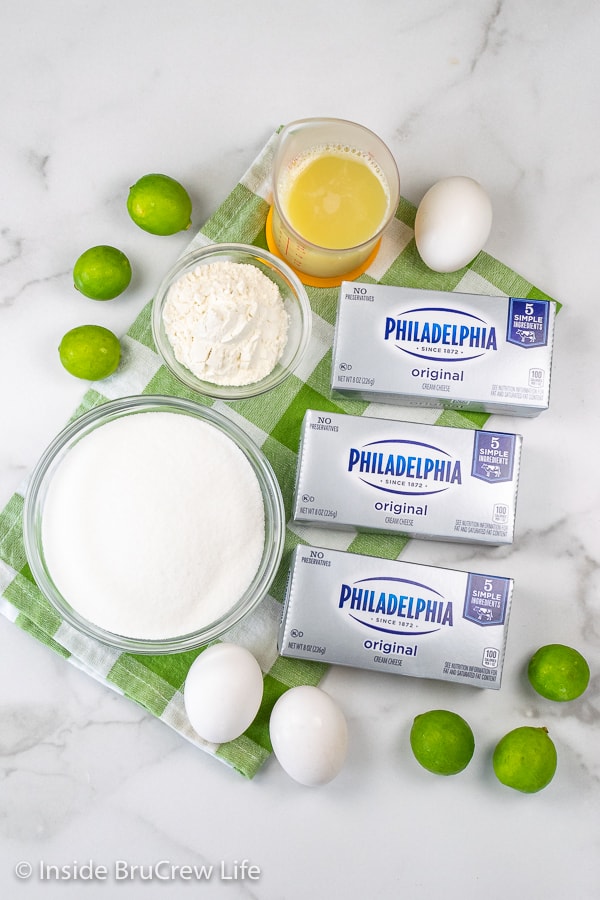 How to make Key Lime Cheesecake
This key lime cheesecake really does come together in minutes. The hardest part is waiting for the baked cheesecake to chill completely, so you can dig in. If you have ever had the Cheesecake Factory's Key Lime Cheesecake, you will absolutely love this copycat recipe.
Step One: Graham Cracker Crust
Line the bottom of a 9 inch springform pan with parchment paper.
Mix together the graham cracker crumbs, sugar, and melted butter in a mixing bowl.
Press the mixture evenly in the bottom of the prepared cheesecake pan.
Step Two: Key Lime Cheesecake Filling
Beat the softened cream cheese and sugar in a large bowl until very creamy.
Add the flour and key lime juice and mix again with an electric mixer until smooth.
Whisk the eggs to break the yokes apart. Add the eggs and key lime zest and gently beat until mixed in.
Pour the batter into the prepared pan and bake.
Turn oven off and open oven door for 5 minutes.
Remove cheesecake and run a knife around the outside edge of the cheesecake to loosen it from the pan.
Place the baked key lime cheesecake on a wire rack and cool 1 hour.
Refrigerate 6-8 hours or until chilled through.
Step Three: Decorate and Serve
Remove the springform pan ring and gently lift the cheesecake off the bottom.
Peel the parchment from the bottom and place the key lime cheesecake on a plate.
Pipe swirls of Homemade Whipped Cream around the outside edge with key lime slices in between each one.
Add maraschino cherries with stems right before serving.
CLICK HERE TO PIN THIS RECIPE FOR LATER!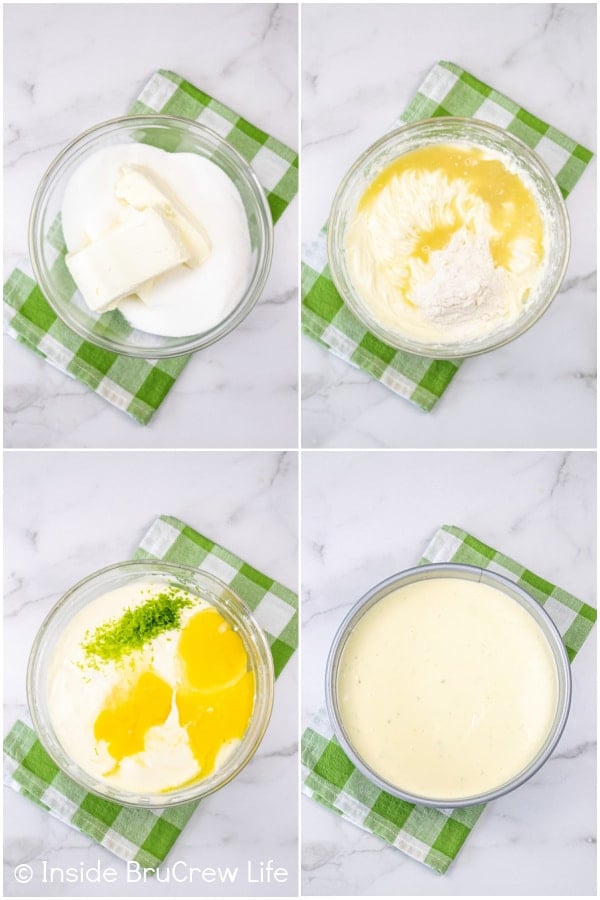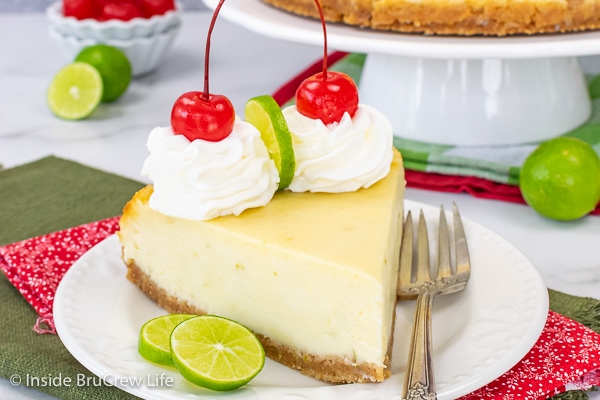 Recipe Tips
Set the cream cheese out ahead of time. Room temperature cream cheese is easier to beat into a smooth cheesecake filling.
Whisk the eggs in a separate bowl before adding them to the cheesecake filling. This will help reduce the mixing time after adding the eggs.
Do NOT over beat the cheesecake filling once you add the eggs. Beating the eggs too much will result in adding air to the batter. This extra air makes the cheesecake puff up as it bakes. Once it cools, it can fall and crack.
Skip the stress of a water bath. Place a baking pan filled with water on the very bottom oven rack to create a STEAM BATH. The steam in the oven will create the creamiest cheesecake texture as it bakes directly above it.
Do you live in a hot and humid area? Air conditioning can affect the end result of a cheesecake. If you remove the hot cheesecake immediately from the oven and place it in a chilly room, the cheesecake will likely crack because of the contrast in temperatures. In order to acclimate the cheesecake, turn the oven off when the cheesecake is done baking and open the door. Let the cheesecake rest in the oven for 5-10 minutes, then remove it and place on a wire rack.
Frequently Asked Questions
What is the difference in limes and key limes?
Florida key limes are seasonal, so they are harder to find in stores. They have a smaller round shape and have more of a sweet tart flavor.
Persian limes are more commonly sold in grocery stores and are available all year long. They have bigger oval shape and have more of bitter tart flavor.
Can you substitute lime juice for key lime juice?
Yes, you can, but the flavor will be different. Key lime juice is really recommended for key lime desserts to get that true flavor of Key West. If you cannot find it in the stores, try a 50/50 mixture of lime and lemon juice.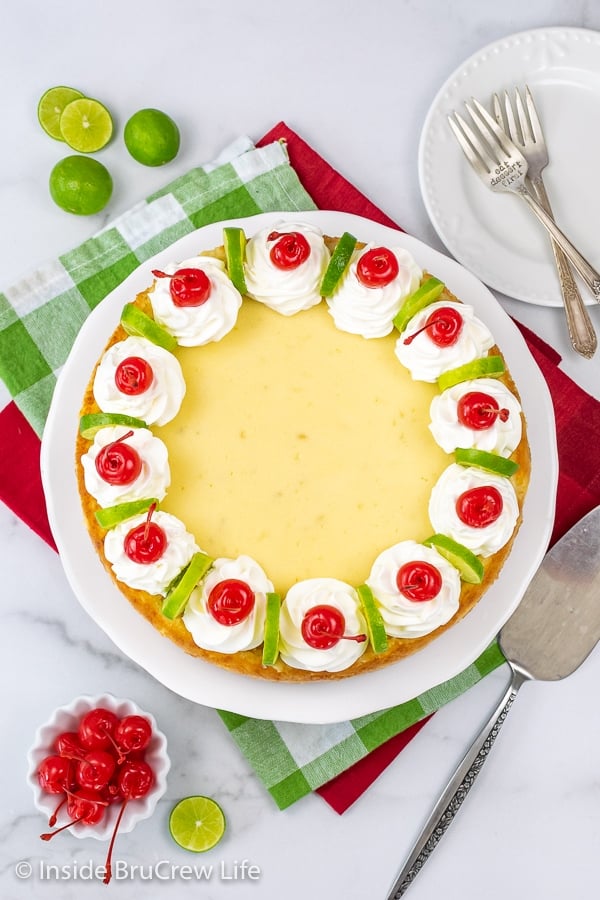 How do you store a key lime cheesecake?
Refrigerator: Place the key lime cheesecake in a covered container and refrigerate for 4-5 days. If it lasts that long without being eaten.
Freezer: Cool the cheesecake completely. Wrap the chilled cheesecake in layers of plastic wrap and place in a freezer safe bag or container. Freeze for 1-2 months. Place in the refrigerator 24 hours ahead of time to thaw before adding toppings and serving.
Can you fix a cracked cheesecake?
Press the crack together with clean hands once the cheesecake is completely chilled.
Use a hot spatula to smooth the cheesecake together.
Cover it with a chocolate ganache, pie filling, or whipped cream.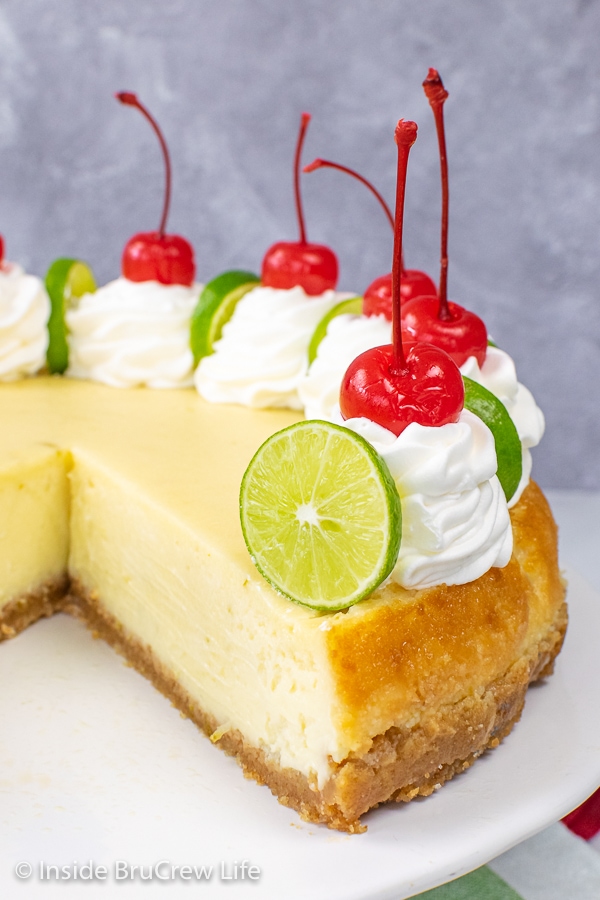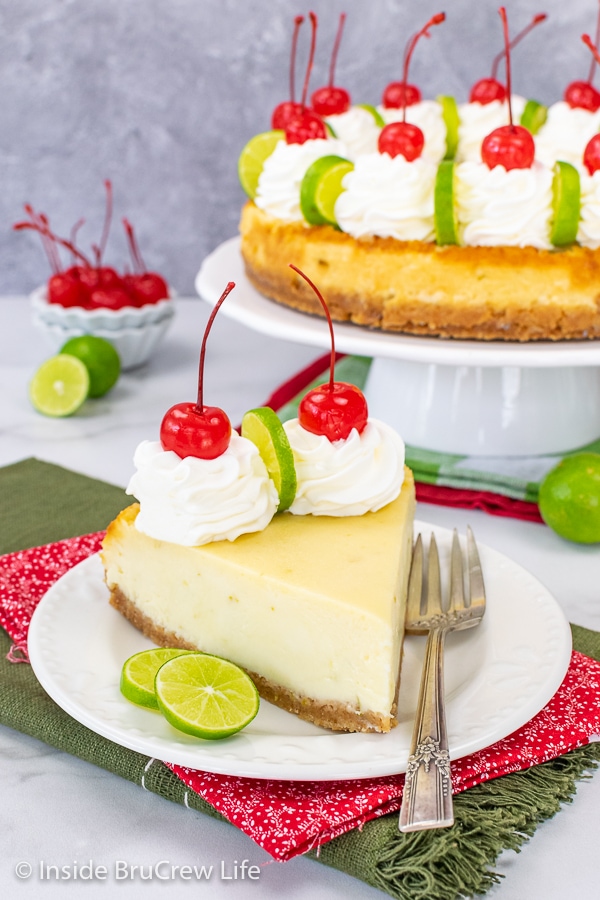 Love a recipe you tried from Inside BruCrew Life?
Please leave a 5 star ⭐️ rating in the recipe card below and/or a review in the comments section further below.