Lemon curd and fluffy marshmallow meringue frosting make this Lemon Meringue Cheesecake the perfect dessert for lemon lovers. Enjoy a creamy cheesecake with the taste of lemon meringue pie.
Every bite is creamy, delicious, and bursting with lemon flavor. This lemon cheesecake is great for summer time picnics or parties.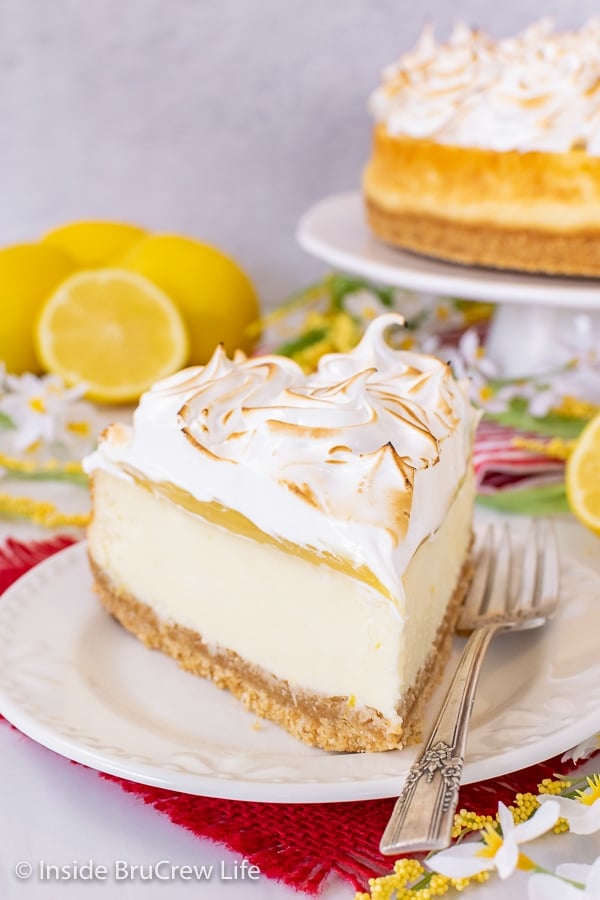 Lemon Meringue Cheesecake
This lemon cheesecake will be a dream come true for the lemon lover in your life. It is creamy, delicious, and has the perfect lemon flavor from lemon juice baked in it and the ribbon of homemade lemon curd on top.
Does making cheesecake intimidate you? Trust me. I get it I used to steer clear of cheesecake desserts because I worried that I would mess it up, or the baked cheesecake would crack like crazy. What I realized is that cheesecake is actually quite easy to make with just a few ingredients and some tips and tricks.
A few years ago I made a lemon cheesecake for our cookbook Cheesecake Love. That lemon cheesecake was topped with lemon curd and fresh fruit and was absolutely delicious. But this time I wanted the lemon cheesecake to have more of a lemon meringue pie taste, so I used a graham cracker crust and added a toasted meringue topping.
Wow!!! It was absolutely amazing! The lemon flavor from the lemon cheesecake and lemon curd was perfect, and the topping was so fluffy and creamy. No one will be able to resist a slice of this lemon meringue cheesecake when you share it with them!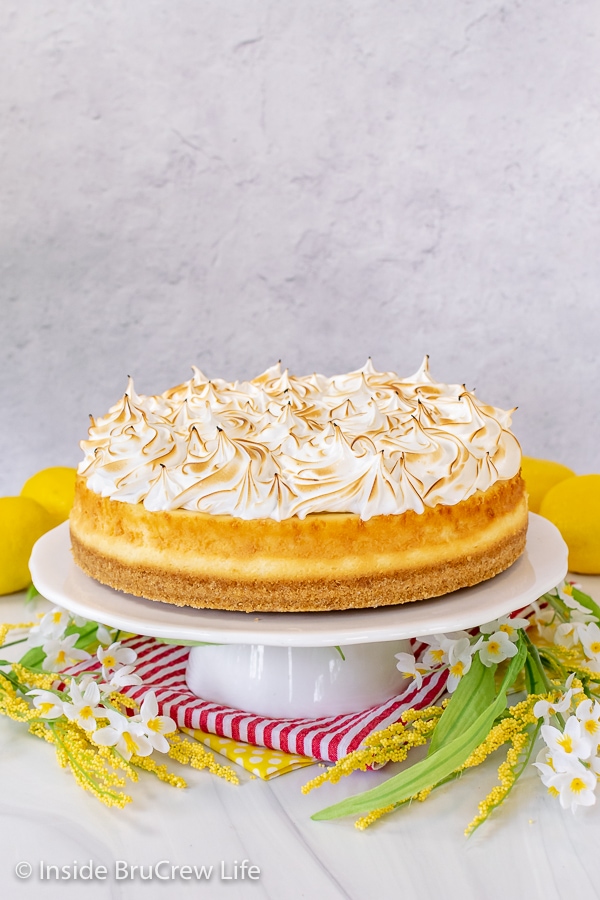 What You'll Need
It may seem like a lot of ingredients for one cheesecake dessert, but each step comes together easily. Make sure the cream cheese is set out ahead of time, so it is room temperature. This is key to making a smooth and creamy cheesecake.
For the Graham Cracker Crust:
Graham Crackers - crush into fine crumbs
Sugar - sweetens the crust
Butter - melted to keep everything together
For the Lemon Cheesecake:
Cream Cheese - softened to room temperature
Sugar - to sweeten the batter
Sour Cream - adds a creamy tang to the cheesecake
Lemon Juice and Zest - gives it a great lemon flavor
Flour - helps stabilize the cheesecake to keep it from cracking
Eggs - do not over beat the cheesecake filling once you add the eggs.
For the Lemon Curd:
Store-bought - you will need 2 jars of lemon curd for the topping.
Homemade - Make one batch of my Easy Lemon Curd.
For the Meringue Frosting:
Egg Whites - gives it the light and fluffy texture
Sugar - sweetens the meringue
Cream of Tartar - stabilizes the meringue
Vanilla - adds a splash of flavor
How to make Lemon Meringue Cheesecake
The lemon meringue cheesecake does take some time to put together because of all the steps, plus baking and chilling time. But trust me, when you take the first bite you will realize it was totally worth all the work.
Step One: Graham Cracker Crust.
Crush graham crackers in food processor. Use a plastic bag and rolling pin if you don't have one.
Stir in granulated sugar and melted butter.
Press the mixture evenly in the bottom of a 9 inch springform pan lined with parchment paper.
Note: Use vanilla wafers or gingersnap cookies to give it a different flavor.
Step Two: Lemon Cheesecake Filling.
Beat room temperature cream cheese and sugar until very creamy.
Add lemon juice and zest, flour, and sour cream and beat until creamy again.
Whisk the eggs, then pour into the filling. Beat until just combined.
Pour onto prepared graham cracker crust.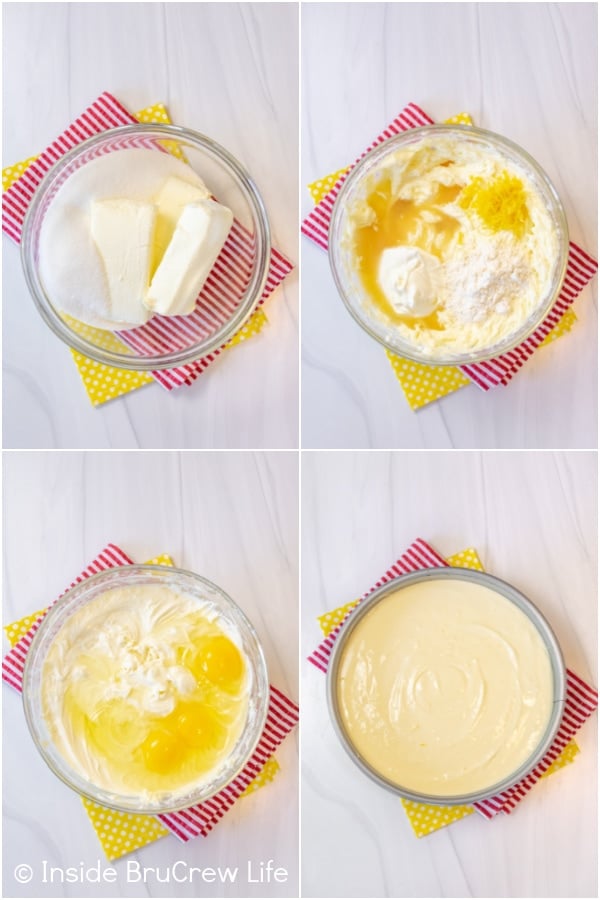 Step Three: Bake and Chill.
Bake for 50-60 minutes. The sides will be set and the center should jiggle like Jello.
Turn the oven off and open the door for 10-15 minutes.
Remove the cheesecake from the oven and place on wire rack on the counter for 1-2 hours.
Refrigerate until chilled through. (6-8 hours or overnight)
Step Four: Meringue Frosting.
Stir the egg whites, sugar, and cream of tartar in heat proof bowl.
Place over the top of saucepan of simmering water. Make sure the bowl does not touch the water.
Whisk for 5 minutes. The sugar should be dissolved and the egg whites should be at 140°.
Remove from the heat and beat on high for 8-10 minutes, or until stiff, glossy peaks form.
Step Five: Decorate the Lemon Cheesecake.
Spoon lemon curd onto the top of the chilled lemon cheesecake and spread out.
Spread the meringue frosting over the lemon curd, using an offset spatula to create peaks.
Use a kitchen torch to toast the top of the meringue topping.
Refrigerate until ready to serve.
Note: You can also toast the meringue under a broiler for 2 minutes. Make sure the meringue completely covers and seals in the lemon curd and cheesecake before toasting.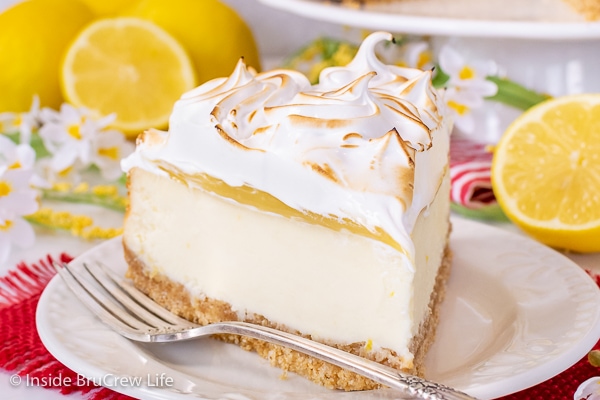 Frequently Asked Questions
Why does cheesecake crack?
Room temperature cream cheese is important in making a creamy, crack free cheesecake.
Do not over beat the cheesecake batter once you add the eggs. Over mixing can add air to the batter which can cause the cheesecake to puff up as it bakes, then crack as it shrinks and cools.
Use a steam bath to bake the cheesecake. Place a pan of water on the very bottom rack of the oven as it preheats. The steam creates the creamiest cheesecake texture and also keep it from cracking.
Over baking the cheesecake will result in cracks and dry cheesecake. A cheesecake is done when the sides are set and the center moves like Jello when you shake it gently.
Open the oven door once the cheesecake is done baking. This helps the cheesecake to not cool too fast. This is very important if your house is cold from weather or air conditioning. Cold air can cause a hot cheesecake to crack.
Cool on a wire rack for 5 minutes, then run a knife around the outside edge of the cheesecake to loosen it from the sides of the pan. Cheesecake shrinks as it cools. If it attached to the sides of the pan as it cools, it will pull and crack.
How do you fix a cracked cheesecake?
Chill the cheesecake completely. Use clean hands to press it together as much as possible.
Place an offset spatula in hot water. Dry it off and run it over the top of the cheesecake. Clean the spatula and repeat until the crack is gone.
Cover it with a chocolate ganache, pie filling, or this Whipped Cream recipe and no one will ever know it is there.
How do you store cheesecake?
Refrigerator: Keep the lemon meringue cheesecake in a covered container in the refrigerator for 3-4 days. The meringue topping will get soft and loose the toasted texture, but it still tastes great.
Freezer: Place the cooled lemon cheesecake (without toppings) on a sheet pan and freeze for 30 minutes. Wrap tightly in plastic wrap and foil, then place in a freezer safe bag or container. Freeze for 1-2 months. To thaw, place in the refrigerator 24 hours before you need it. Add lemon curd and meringue topping an hour before serving.