The sweet layers in this Hot Chocolate Cheesecake Brownie Cake will have you declaring this the best dessert of all time. A fudgy brownie and no bake cheesecake creates a stunning and delicious treat.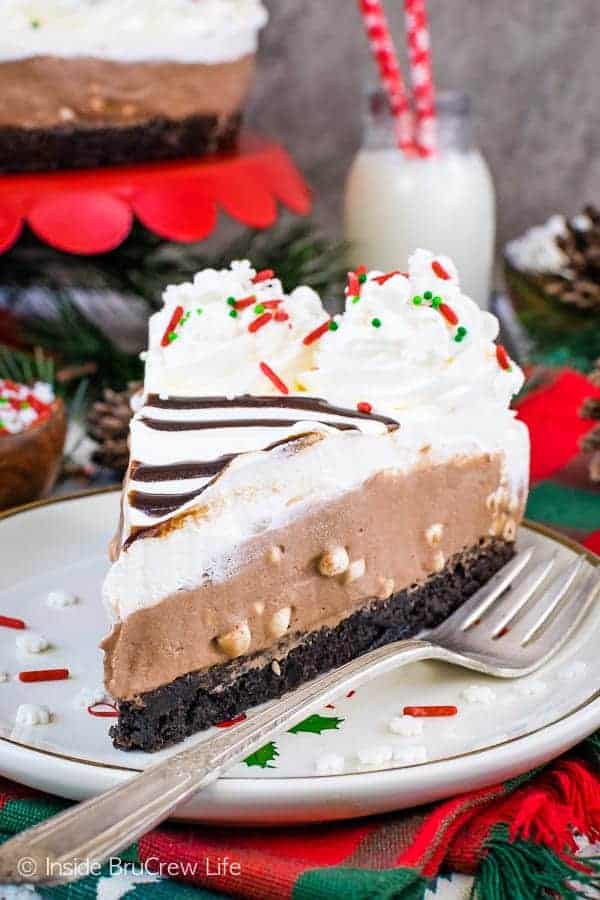 Well, guys. Say hello to my new favorite dessert. For now anyway. My favorite dessert is subject to change from month to month.
As a dessert blogger, I am constantly trying new sweet combos in our kitchen. Someone pinch me because this is quite the dream job!!! Some of these desserts end up being meh, and you don't see them. Some are good, and make it to a photo session that will someday reach the blog, and then some are out of this world amazing and I have to share it with you ASAP.
The layered brownie cake you are staring at is one of those AMAZING creations! It was one of those desserts that makes your eyes light up and makes you slow down as you savor each bite. True story!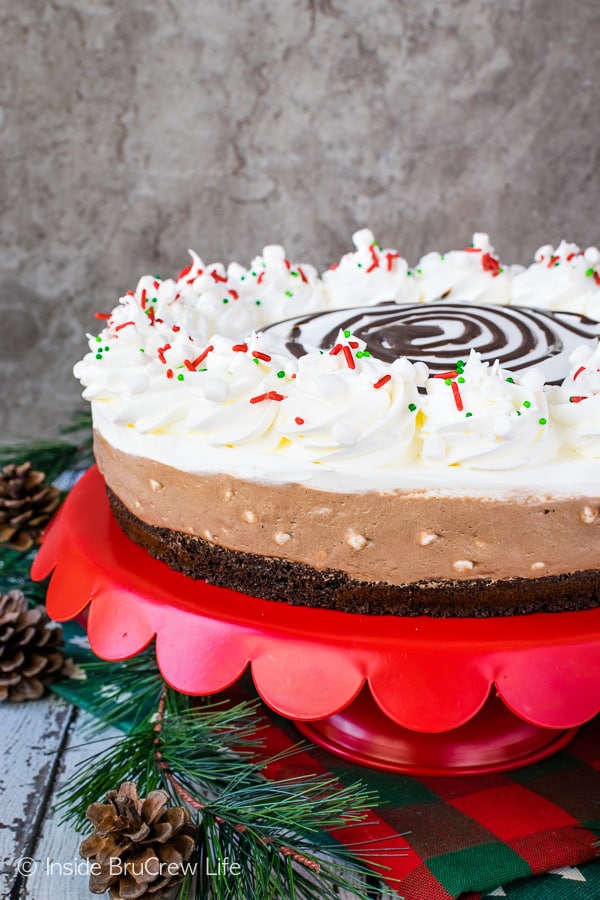 So, yesterday day I made the mistake of going into Walmart. Big mistake when it is the week before Christmas. It was crazy town in there. Of course, I expected it to be like that, so I went in prepared for the worst.
Our daughter wanted to do little gifts for her friends at school, so I volunteered to pick them up while she studied for finals. I'm not sure which was the lesser of the two evils. Studying a whole semester of history and chemistry notes or shopping the week before Christmas. Both sound horrible. LOL!
An hour and a half later I emerged from the store with most of the items on the list. For some reason the q-tip shelf was empty. Ok, it wasn't completely empty because the cheaper knock-off ones were there.
But if I come home with those, my hubby lets me those aren't the right ones. He says the cheaper ones don't feel the same, but I think he is a little nutty because they feel fine to me. Since I love him, I left the store without any.
I did remember to buy some more hot chocolate mix and Cool Whip though because I can't wait to make this Hot Chocolate Cheesecake Brownie Cake again this week.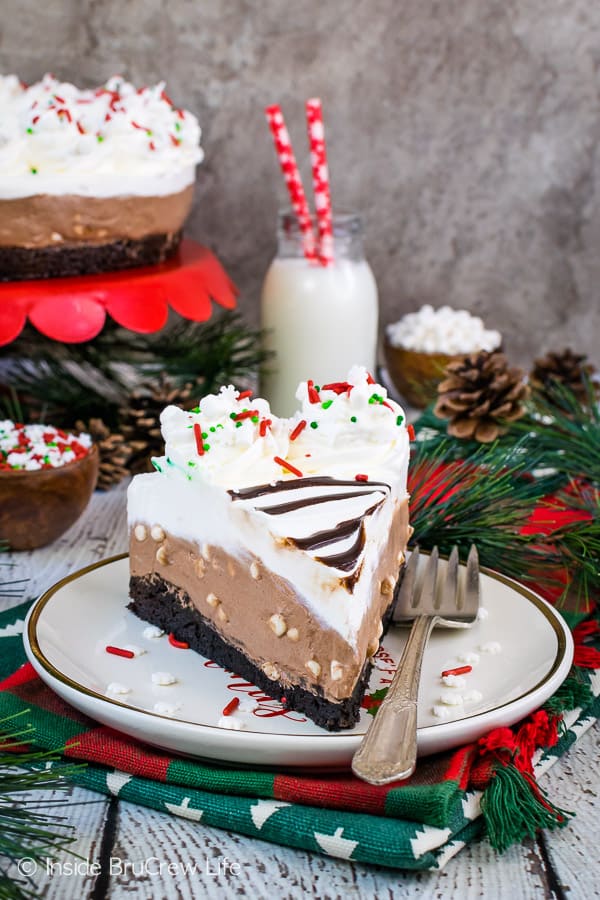 Brownie cakes are one of my favorite desserts to make. Actually, I think layered desserts are my favorite thing to make. Something about different layers of textures and colors makes me so happy.
A few years ago I made this Hot Chocolate Cheesecake Dip, and it went crazy online after just a few days. I get it though. That sweet creamy dip is pretty amazing with cookies, crackers, and fruit.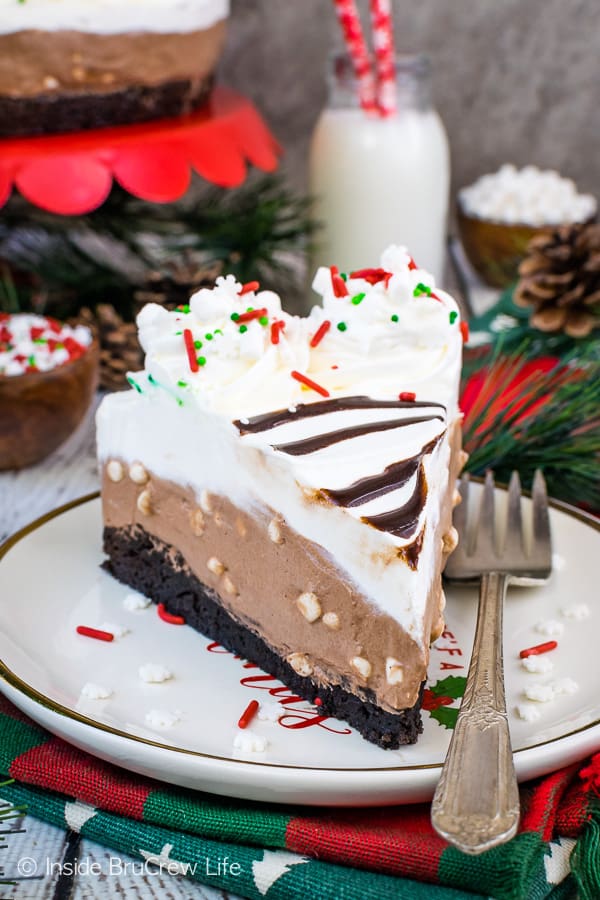 A few weeks ago I decided to combine that dip with this Thin Mint Cheesecake Brownie Cake. Yup, best idea ever!!!
Ingredients and Supplies for a Hot Chocolate Cheesecake Brownie Cake:
You will need the basic baking ingredients such as butter, eggs, sugar, vanilla, salt, baking powder, and flour. Here are the additional extra things you will need.
dark cocoa powder (regular is fine too, but the brownie layer will be a little lighter)
cream cheese
marshmallow fluff
hot chocolate mix
Cool Whip (a stabilized homemade whipped cream will work too)
mini marshmallow bits (the kind that you find in hot chocolate mix)
9-inch springform pan
parchment paper
decorating bag and icing tip 1M
colored sprinkles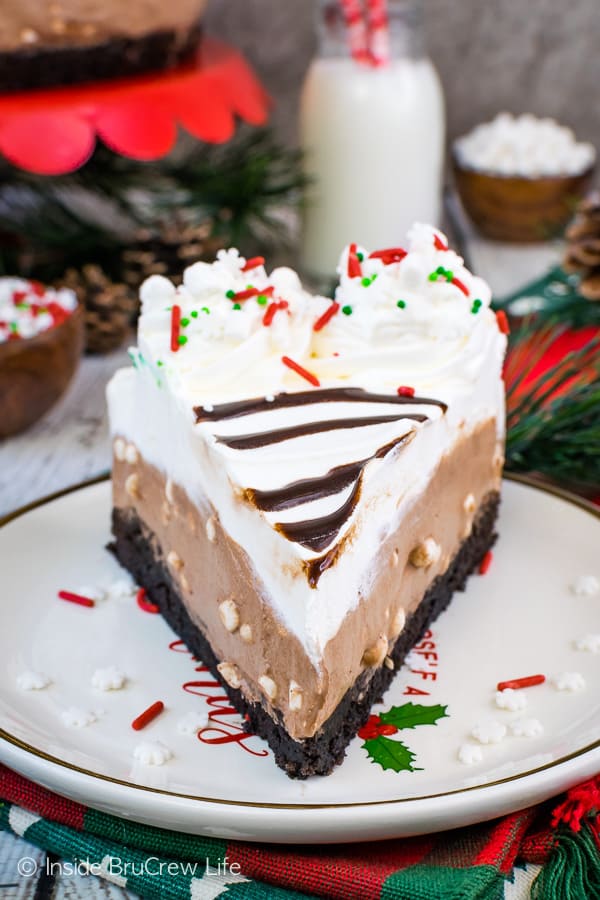 Tips for making a Hot Chocolate Cheesecake Brownie Cake:
Line the bottom of a 9-inch springform pan with parchment paper. This will keep your homemade brownie from sticking to the pan and making you cry later. Make sure to spray the sides of the pan with nonstick baking spray too.
Stir together the melted butter and dark cocoa powder and set aside.
Beat the eggs, sugar, and vanilla until frothy. Add the butter mixture and beat again.
Stir in the flour, baking soda, and salt and mix until just mixed in. Do not over mix the batter. Spread it in the bottom of the prepared pan and bake for 25 minutes.
Remove and cool completely. Unlatch the sides of the pan and flip the brownie over onto a plate. Pull off the parchment paper and flip it back onto the bottom of the springform pan. Place the sides back on and close the pan.
Beat the cream cheese and marshmallow fluff until creamy. Add the dry hot chocolate mix and beat again.
Fold in 2 cups of Cool Whip and 1 cup mini marshmallow bits gently. Spread this no bake hot chocolate cheesecake on top of the cooled brownie.
Spread another 2 cups of Cool Whip on top of the hot chocolate cheesecake layer. Refrigerate for a few hours before removing the sides of the pan.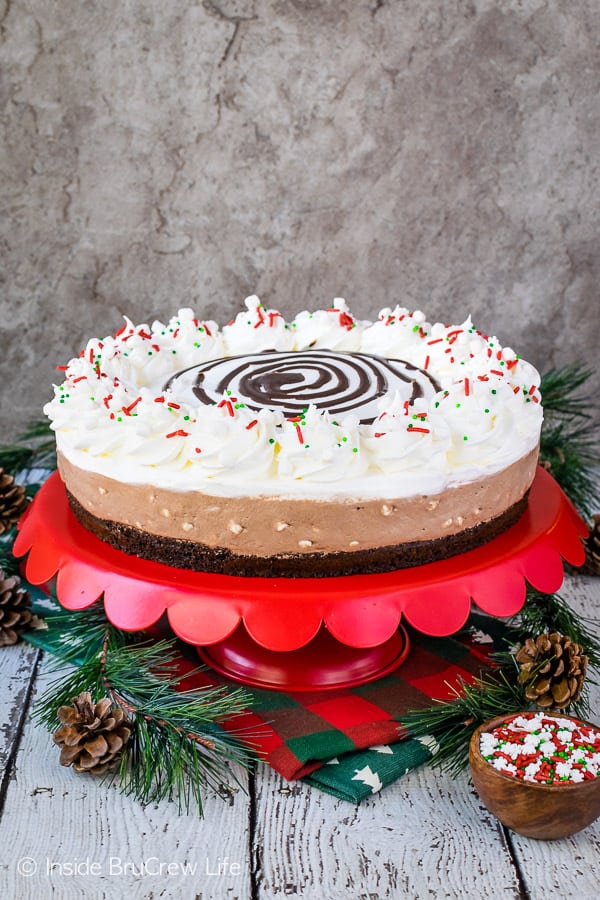 Run a knife under hot water and dry it off. Run it around the edge of the cheesecake before unlatching the sides of the pan and placing the cake on a plate.
Use a piping bag and icing tip 1M to pipe Cool Whip swirls around the edge of the brownie cake. Add some fun colored sprinkles that match the current holiday or occasion.
Right before serving, swirl the chocolate syrup on top of the cake. You can drizzle it in a circle, a criss cross pattern, or back and forth. There is no wrong way to add more chocolate to this awesome Hot Chocolate Cheesecake Brownie Cake.
Grab a fork and get ready to dive into the fudgy brownie and hot chocolate mousse layers. I do suggest having friends over to share it though. It's a dangerous dessert to have in the fridge because every time you think about it you will go swipe a tiny (or big) bite.
Other easy hot chocolate desserts you may enjoy: