These creamy Mocha Coconut Chia Seed Pudding Parfaits are an easy, delicious, and healthy breakfast that you can enjoy all week. This easy pudding is packed full of healthy fats, protein, and fiber and is sure to keep you full.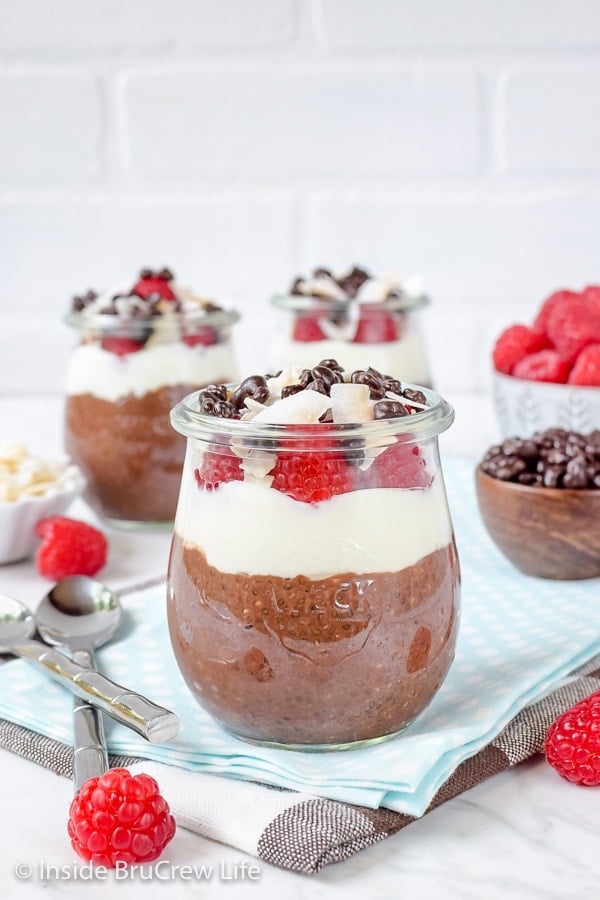 Let's talk new year and new goals. Do you set resolutions or choose a word of the year to define and motivate you? I usually try to set a few goals that I would like to personally work on.
Each year eating healthy and working out are always on my list. Yes, you can call me cliche, but I like to think of it as consistent. LOL!
Healthy eating is actually something that we incorporated a few years ago, and we still are going strong. Although the holidays came and brought with it a few extra pounds this year. We enjoyed a few extra cookies and treats all month long, and my skinny jeans are not very happy right now.
But that's ok because January is here and with it came our resolution to be careful about what we eat again. It's really all about moderation and enjoying life.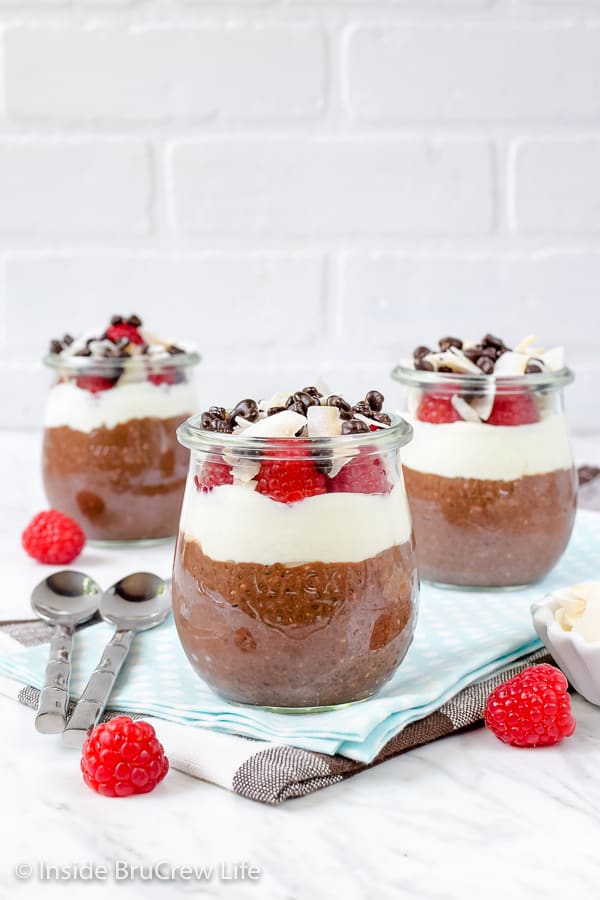 Chia Pudding
One of my new favorite things to make is chia seed pudding. Yes, I realized this healthy pudding has been around for many, many years. But I just tried it for the first time this past year and fell in love with it when I made this Chia Parfait.
The very first time I made it I stuck to a plain basic vanilla version, which was amazing. But the flavor possibilities are endless when you think about all the different fruits and toppings you can add to make healthy breakfast parfaits.
Add this Chocolate Grain Free Granola to the jars of chia pudding and enjoy a healthy chocolate breakfast treat that is vegan, gluten free, dairy free, and delicious.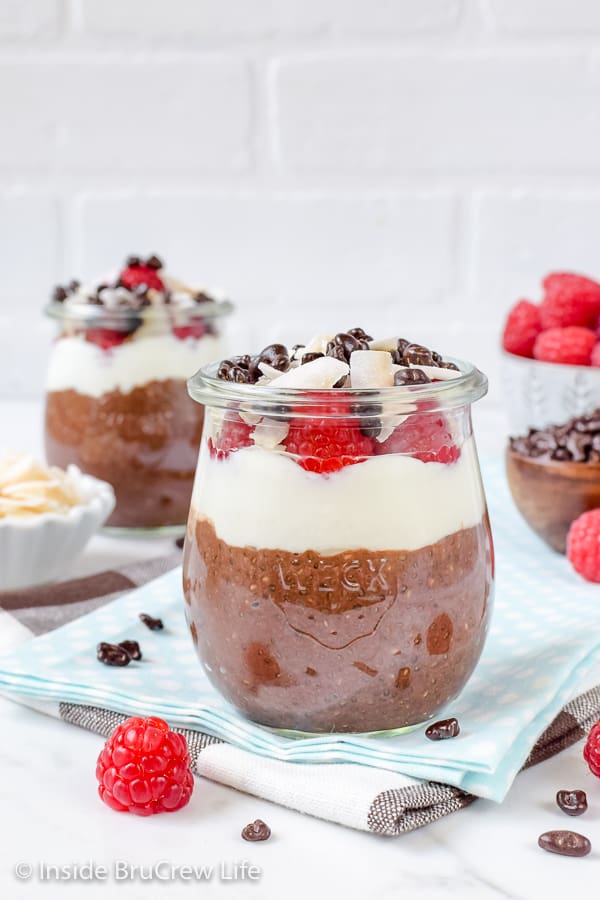 What is chia seed pudding?
Chia pudding has been popular for a while and is actually quite healthy. Chia seeds are packed with antioxidants, fiber, healthy fats, and protein. They are good for digestion, great for heart health, and help to balance blood sugar.
This healthy pudding can be prepped ahead of time just like overnight oatmeal. The chia seeds will start to absorb the liquid right away and thicken into a pudding like consistency.
What does chia pudding taste like?
Chia pudding is creamy with a slight tapioca pudding like texture. The chia seeds will soften up the longer they sit in the liquids, but they will always have a very slight crunch.
These seeds do not have any flavor, so the pudding will take on whatever flavor you add to it. For this recipe, I added cocoa powder and instant coffee to give it a delicious mocha flavor.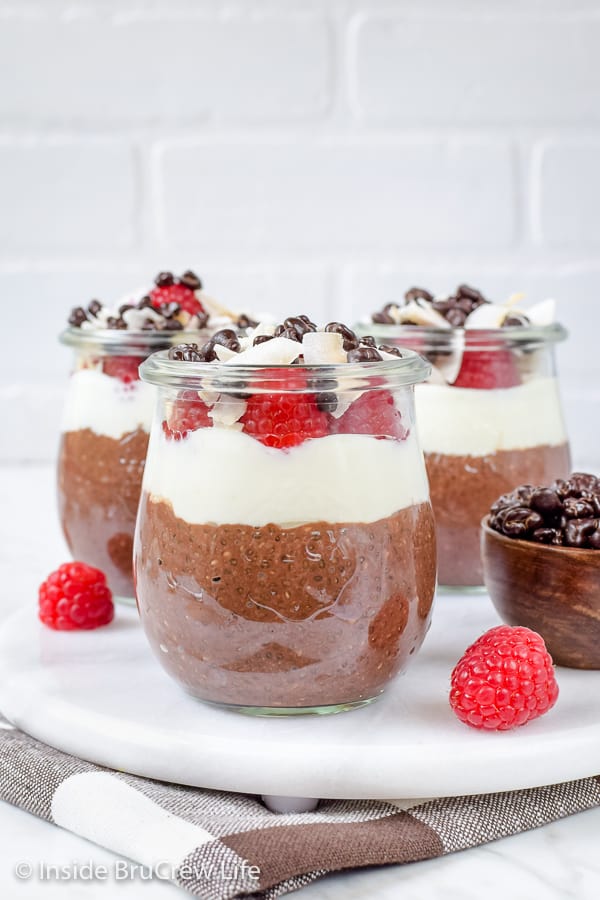 Ingredients for Chia Seed Pudding
Coconut Milk - you can make chia pudding with any type of milk, but for this recipe I used a carton of coconut milk. Feel free to use canned coconut milk for an even creamier and thicker texture. Almond milk, oat milk, regular milk, water, or a protein drink will also work.
Honey - I used raw honey to sweeten this healthy pudding. You can also use maple syrup, agave, or a powdered sweetener, if you prefer one of those instead.
Dark Cocoa Powder - the dark cocoa will give it an intense chocolate flavor. Regular is fine too.
Vanilla Extract & Coconut Extract - a splash of each of these helps add some flavor and complexity
Instant Coffee - adding instant espresso or coffee powder to a chocolate dessert helps to intensify the chocolate flavor. This amount used in this recipe will give it a slight coffee flavor.
Pinch of Sea Salt - a key ingredient that helps flavors balance and pop
Chia Seeds - the main ingredient in chia pudding are these powerhouse seeds packed with nutrients. Make sure you use fresh seeds for pudding. Old ones may not absorb liquid.
How to make Mocha Coconut Chia Seed Pudding Parfaits
This chocolate chia pudding really is just as simple as mixing or shaking everything together in a bowl or jar in less than 15 minutes. Once the chia pudding thickens, you can layer it in jars for breakfast or dessert.
Whisk together the milk, honey, extracts, cocoa powder, instant coffee, and sea salt. You can also shake it up in a jar or use a blender to really incorporate the ingredients.
Add the chia seeds and stir together.
Refrigerate the mixture for 10 minutes, then stir again.
Let the chia pudding rest in the fridge for a few hours or refrigerate overnight.
Layer it in small mason jars with coconut yogurt, fresh raspberries, coconut flakes, and chocolate covered cocao nibs.
For a different topping you could use this chocolate covered Strawberry Granola instead of the nibs. You could also use chopped up chocolate covered coffee beans, if you like.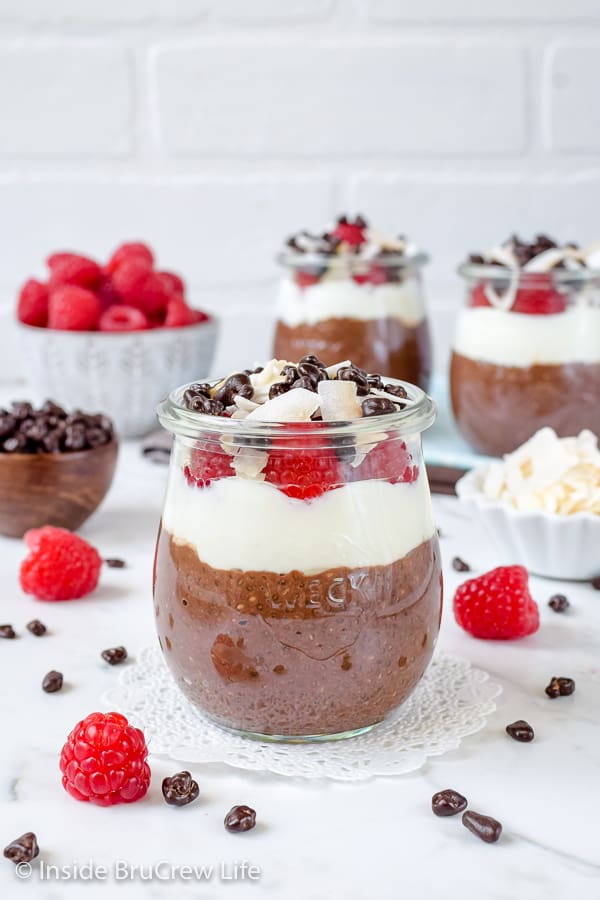 Recipe Tips
Watch your serving sizes. It's easy to go overboard filling your bowl or jars with this healthy pudding. If you do this you will be eating way more than one serving.
Adjust your pudding thickness by using more or less milk. This is a personal preference that you can achieve by experimenting. I have found that 1 cup of milk to ¼ cup of seeds is what I like for chia pudding.
Serve the jars of pudding with different toppings to change it up each day. You can add cocoa powder, spices, or matcha powder for a different flavor profile. Top each jar with different fresh fruit, nuts, and granola for fun flavors.
How long does chia pudding last?
Chia pudding will last 4-5 days in the refrigerator. Store it in a covered container or jars.
You can also freeze chia pudding. Place it in small air tight containers and freeze for up to two months. Let thaw overnight in the refrigerator.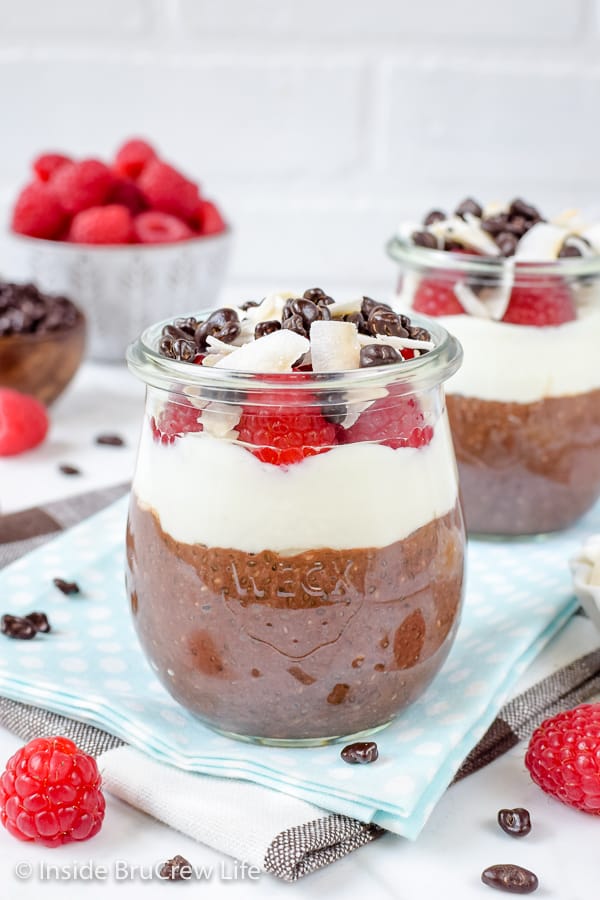 Other Healthy Chocolate Recipes