This Java Chip Bundt Cake is the perfect dessert for those coffee lover's in your life. Or for you, if you need that extra caffeine boost on a Monday.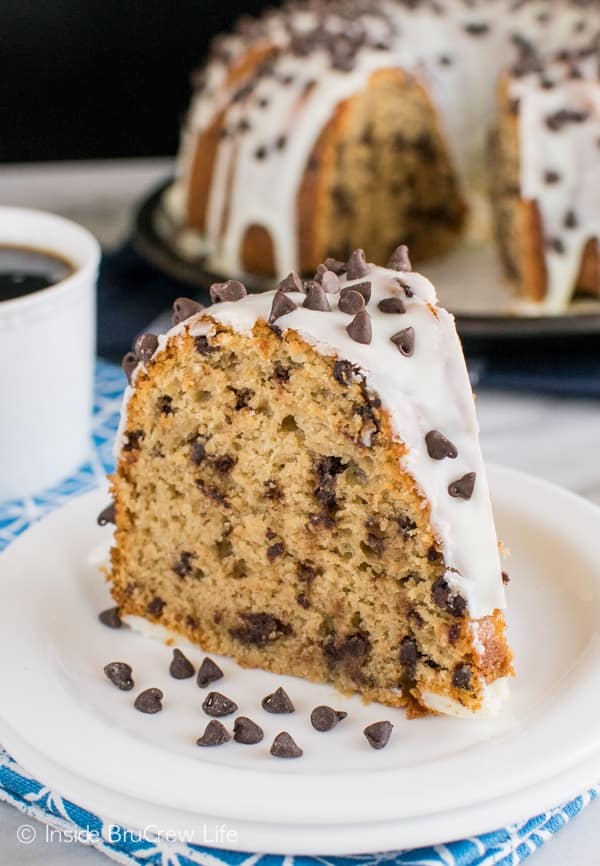 It's no surprise here that coffee is the drink of choice in our house. We actually have three different coffee pots in our home. No we don't use all three every day. They all have different purposes. LOL! Ok, so really we only use 2 of the 3, so I should probably donate one to a friend or Goodwill.
I have one entire cupboard designated for coffee cups, one big basket under the cupboard for coffee pods, and a drawer for extra coffee paraphernalia. Oh, and a couple signs on the wall about coffee. I'd say coffee is a way of life around here.
Even our kids like drinking coffee. They used to sneak sips when they were younger, but now we just let them brew a cup or order one when we are out. Now this isn't an every day thing for them. It's a special treat that we allow them to have every once in a while.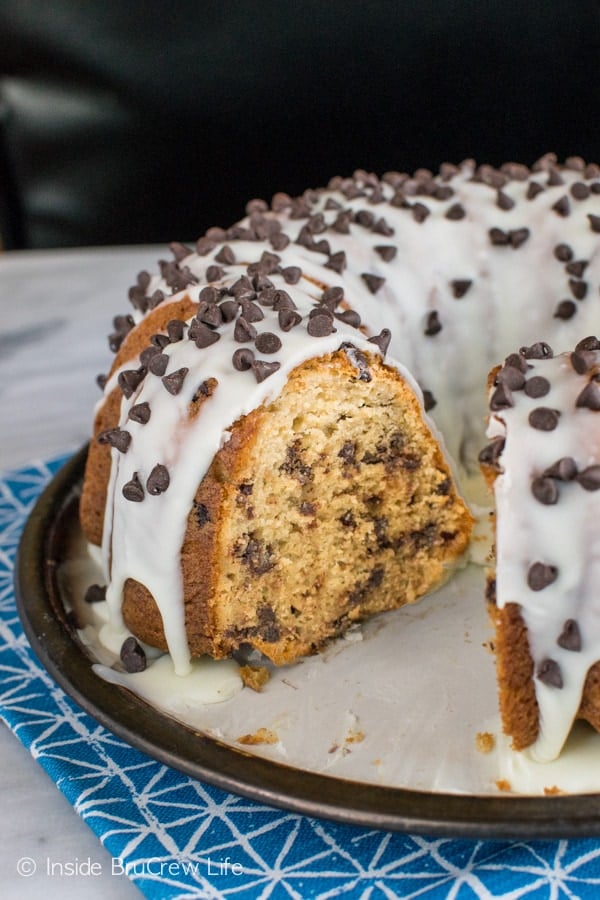 When I started thinking about what kind of flavor I wanted to do for the next bundt cake, it was clear that coffee should be the main feature.
Yes, I'm kind of obsessed with using my bundt pan. I like big bundts and I cannot lie. Sorry, I can't make a bundt cake now without saying that. #notsorry
I realized that so far every other cake I have made lately has been a bundt. This banana butterfinger bundt cake probably disappeared the fastest. Adding candy bars tends to make people go crazy!
I hope your bundt pan is ready for some more use!!! Because I have a few more fun combos I cannot wait to try out!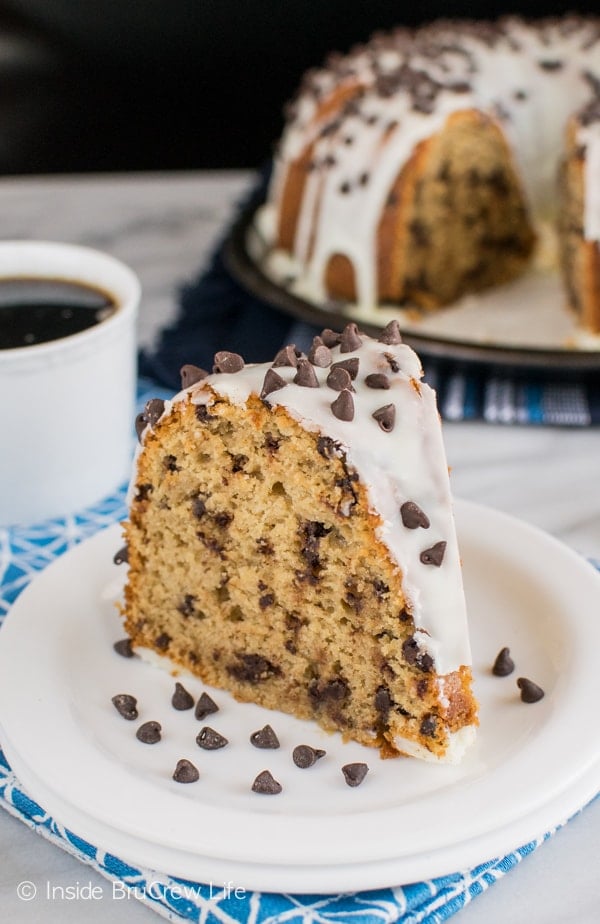 But back to the caffeine infused cake staring at you. This easy cake starts with a cake mix. It's what I do best! Take a mix, jazz it up, and call it homemade. My baking style is definitely semi-homemade with flair!!!
Use coffee in place of the liquid that the cake mix calls for. Then boost it with some coffee extract. You can find that in the baking aisle of most stores. It happens to be one of my favorite extracts to use. While you are there, grab an almond extract. That's my all time favorite!
The white chocolate glaze is one of my favorite things about this cake. I used it on this white chocolate peppermint oreo cake and couldn't wait to make it again. When you spoon the melted glaze on top, it runs down the sides and puddles at the bottom of the cake.
Just look at the center of the cake...white chocolate goodness is hiding in the middle!!! I may have licked the plate clean after slicing the cake up to serve. No way will I bebwasting good glaze! I have a feeling you would do the same!
Grab a cup of coffee to wash down this java chip bundt cake. Take that extra Monday of the year!!! We are caffeinated and ready to defeat you!!!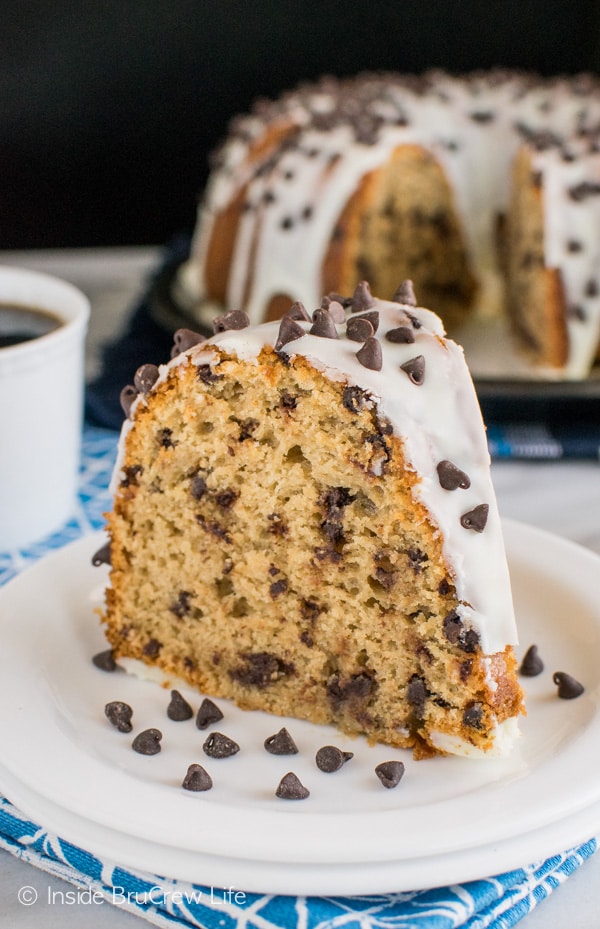 More of our favorite bundt cakes that disappear when we make them: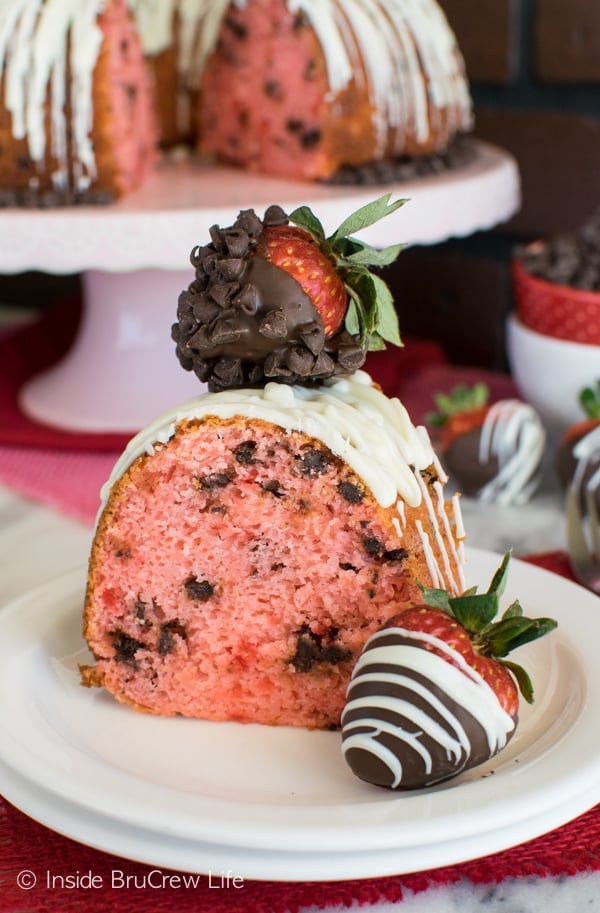 Strawberry Chocolate Chip Bundt Cake