This Strawberry Bundt Cake is a delicious and fun way to say, "I love you" to your family and friends. Adding chocolate chips and chocolate covered strawberries make this easy strawberry cake a pretty dessert for any party or dinner.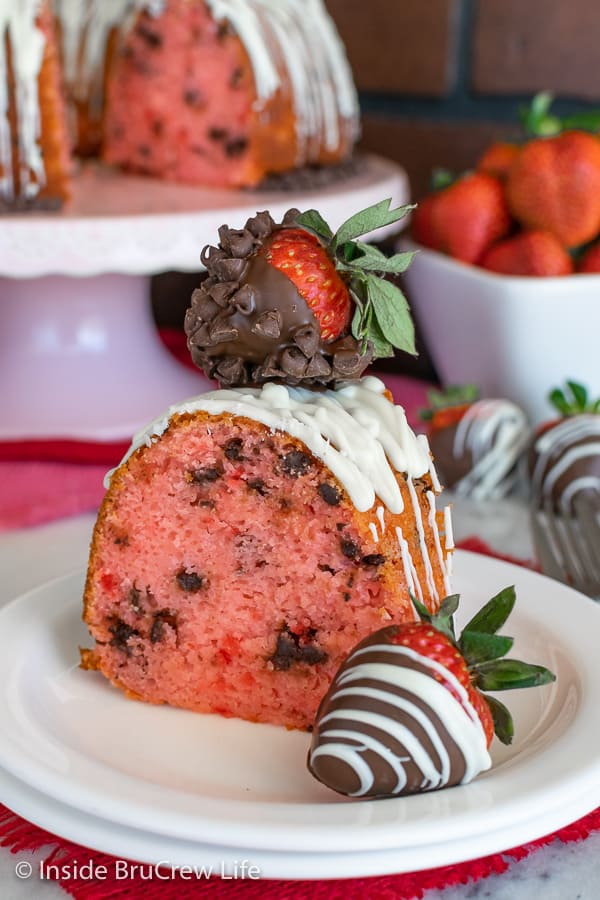 Easy Strawberry Cake:
A few years ago I used a strawberry cake mix to make these pretty Strawberry Filled Cupcakes that are always popular in the spring. So this year I decided to change it up and make a strawberry bundt cake.
I have noticed lately that I have a thing for bundt cakes. Seriously, every cake I have made lately has been a bundt. What can I say, "I like big bundts, and I cannot lie." LOL!
To give the strawberry cake some fun pizzaz I added mini chocolate chips to the cake batter before baking. Once it was baked and cooled, I decorated the top with chocolate drizzles and chocolate covered strawberries and added some fun paper straw decorations.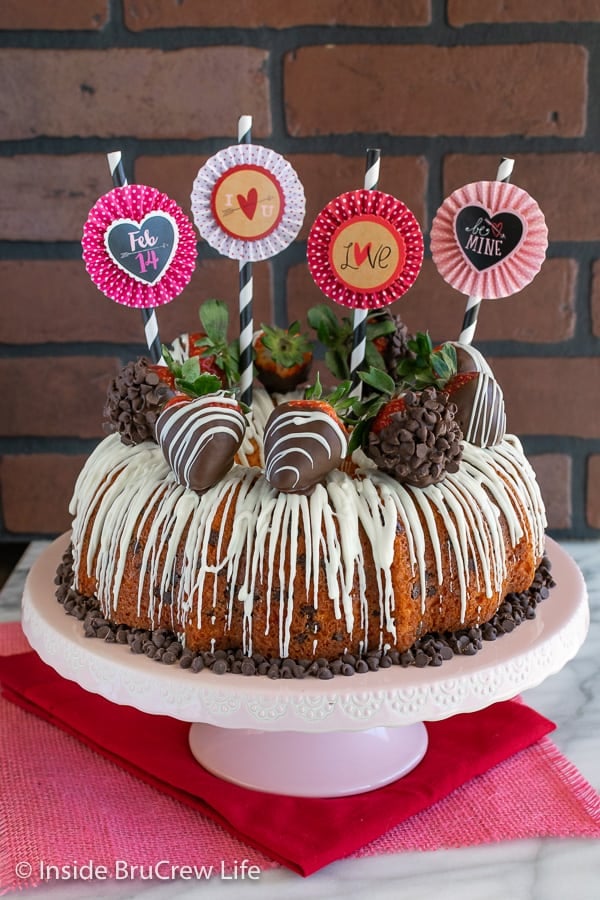 Ingredients Needed:
This strawberry cake is bursting with strawberry flavor because there is three times the strawberry goodness added to the batter. The color in this gorgeous cake comes from using a strawberry box cake mix.
Doctored up cake mixes really are quite delicious and will have everyone wondering what bakery you bought it from. Wink, wink.
Strawberry Cake Mix - using a box cake mix will give this cake a pretty pink color
Instant Strawberry Pudding - a pudding mix makes a bundt cake super moist and delicious. Use a vanilla or white chocolate pudding mix if you can't find a strawberry.
Strawberry Nesquik - adds more strawberry flavor to the cake
Milk - using milk instead of water gives a box cake mix a more homemade flavor
Sour Cream - adds moisture and fat without thinning the batter
Eggs - be sure to buy large eggs
Oil - makes the cake moist
Mini Chocolate Chips - totally optional, but they really are delicious in a strawberry cake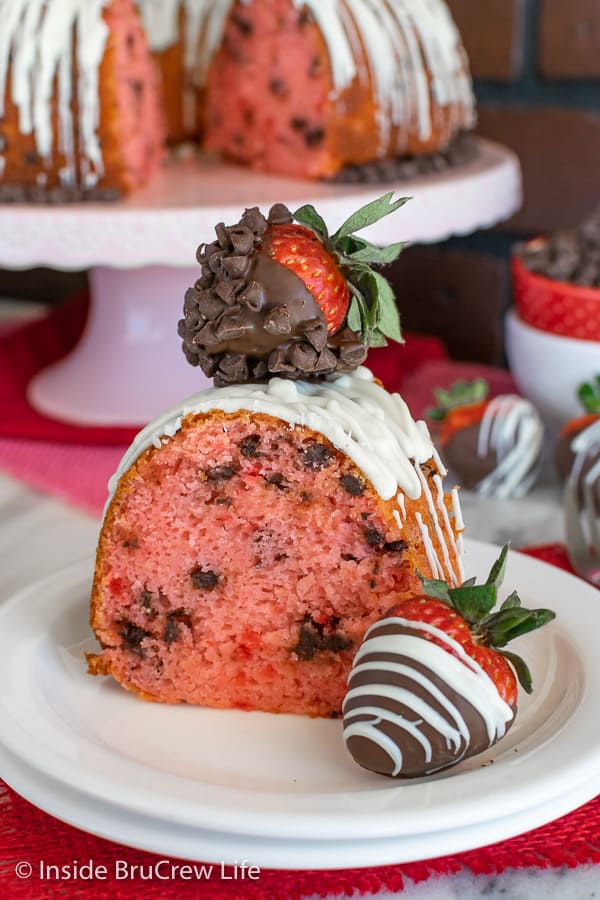 These bundt cakes are so soft and delicious that they really do not need any frosting. But I also have a thing against naked cakes, so I like to add chocolate drizzles.
It isn't necessary, but it really does make the cake that much prettier. And extra chocolate is never a bad idea!
How to make a Strawberry Bundt Cake:
Mix together the strawberry cake mix, pudding mix, milk, strawberry powder, sour cream, eggs, and oil in a large bowl.
Gently stir mini chocolate chips into the strawberry cake batter.
Spoon the mixture into a greased bundt cake and bake.
Let it cool in pan 10-15 minutes, then flip out onto a plate to cool completely.
Drizzle melted white chocolate over the top of the cooled cake.
Use a little bit of the melted chocolate to attach the chocolate covered strawberries to the top of the strawberry bundt cake, and push the decorated straws into the back.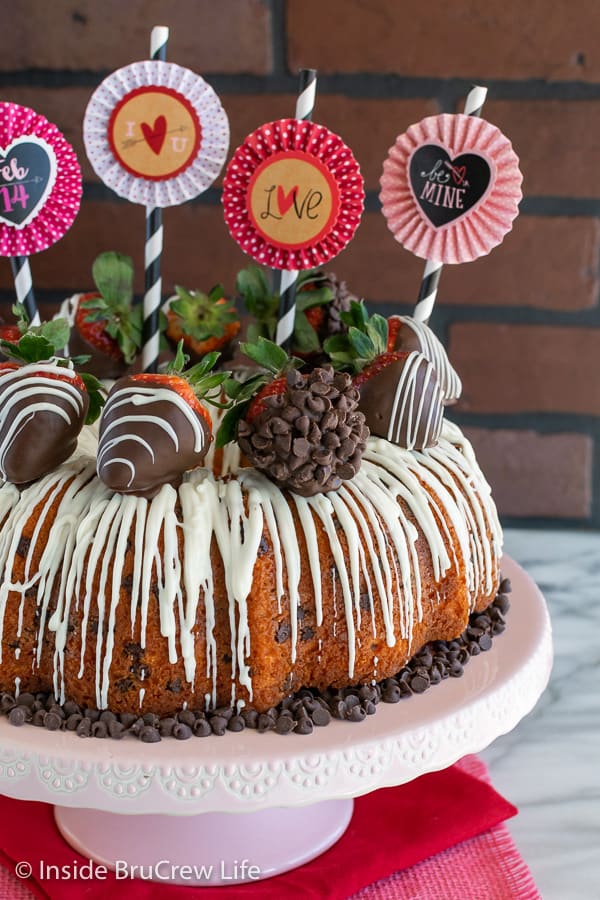 How to make Chocolate Covered Strawberries:
Chocolate covered strawberries add a fun and pretty flair to this easy strawberry cake. You can use store-bought ones if you want, but they are very easy to make on your own.
Use room temperature berries when you are making chocolate covered strawberries because they dip better. Cold ones tend to get slimy. And slimy and chocolate is not a good combo!
Make sure you choose a good quality chocolate like Ghirardelli melting wafers for dipping. Not only will it work better, but they taste much better too.
Melt the chocolate according to the package directions. Dip one strawberry in the chocolate at a time.
Roll a few of the dipped strawberries in mini chocolate chips before the chocolate coating sets up. You can also use nuts or sprinkles. Sprinkled berries would look so fun on top of this cake.
Add white chocolate drizzles to the rest of the chocolate covered strawberries for another fun decoration.
Frequently Asked Questions:
What can I use in place of the strawberry pudding mix?
Use a white chocolate or vanilla pudding mix in place of the strawberry mix.
How do you store a bundt cake?
Keep the cake in a covered container on the counter for a few days.
Bundt cakes freeze very well. Make sure the cake is cooled completely before wrapping tightly in plastic wrap and placing in a freezer safe container.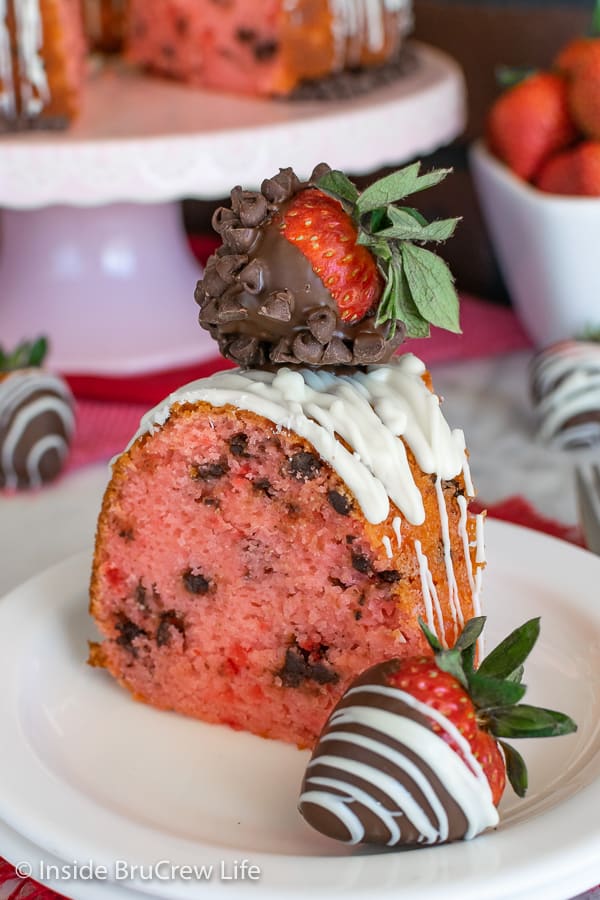 Other easy bundt cake recipes:
More strawberry dessert recipes: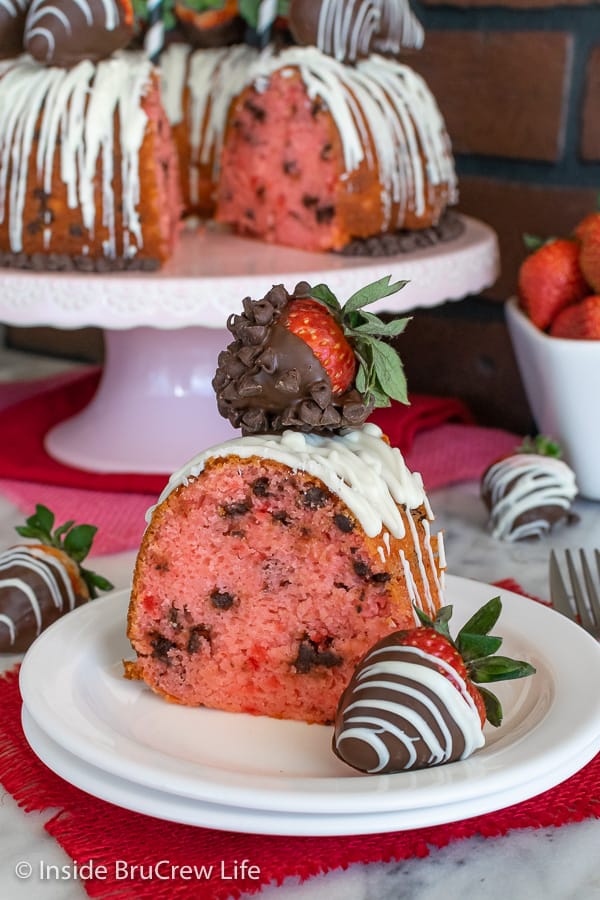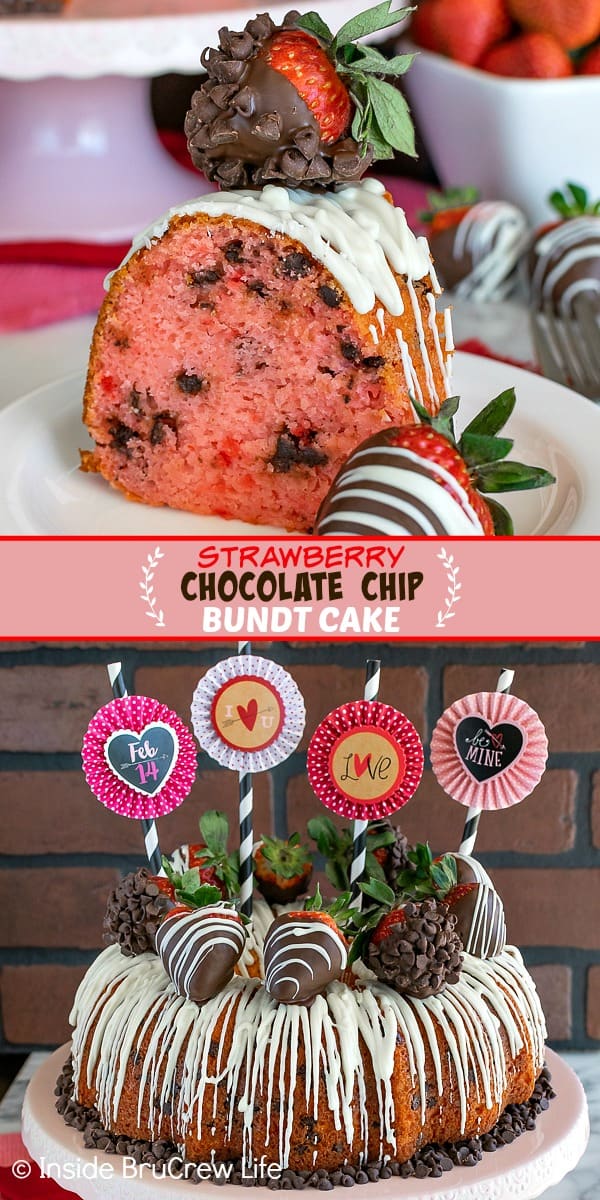 *The post for this Strawberry Chocolate Chip Bundt Cake was first published on January 25, 2016. The photos and post were updated April 27, 2020, and it was republished May 4, 2021.