This Strawberry Chocolate Chip Bundt Cake is a delicious and fun way to say, "I love you" to your family and friends. Chocolate chips and chocolate covered strawberries make this easy cake a  pretty treat for any party or dinner.
*Love these recipes? Sign up for the BruCrew email to have these recipes sent to your inbox.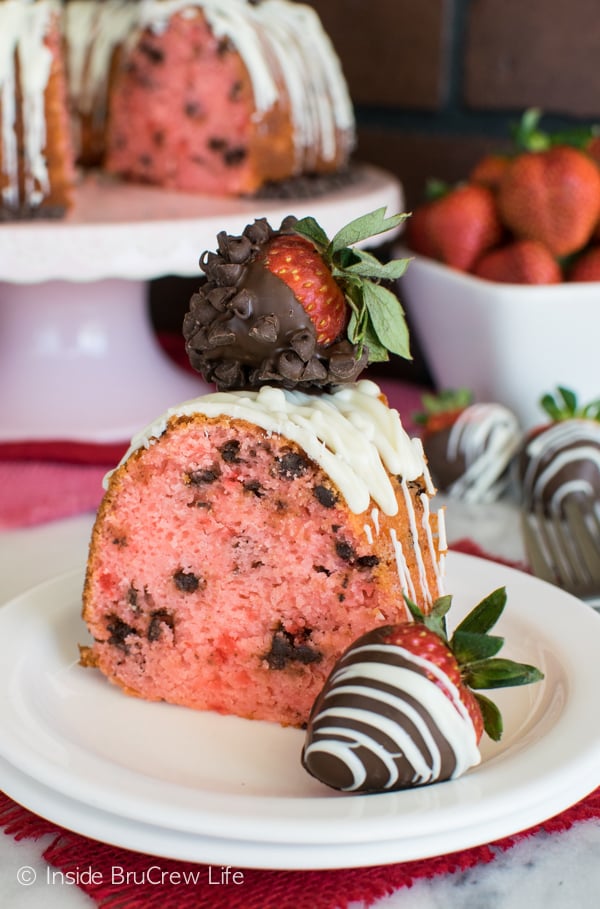 Some of the things I remember doing when I was much younger were playing outside, climbing trees, and hiking through the woods.  It was a much simpler time without the internet and all these gaming devices that kids have now.
We used our imagination and played with leaves and sticks.  It's kind of funny to look back at how much of a tomboy I was growing up.  That isn't me at all now.  Getting dirty and being outside too much isn't my cup of tea now.
Although I have my moments and do things like survive a Tough Mudder and run a Warrior Dash.  Yes, I'm bipolar in my mud thinking.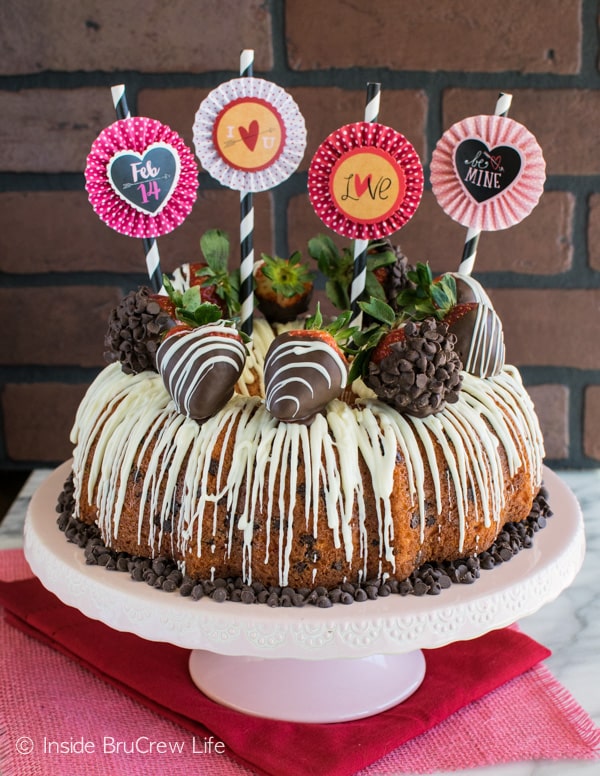 One thing that I used to be opposed to was the color pink. Tomboys didn't wear pink!  It was blue all the way. Fast forward 20+ years and now I'm a girlie girl who wears pink and loves cute clothes and accessories.  Funny how that happens.
Not only do I like to wear pink, but I love baking pink food too.  A few years ago I made these pretty  strawberry cheesecake cupcakes that are always popular this time of year, so this year I wanted to make a fun pink cake.
I have noticed lately that I have a thing for bundt cakes.  Seriously, every cake I have made lately has been a bundt.  What can I say, "I like big bundts, and I cannot lie."  LOL!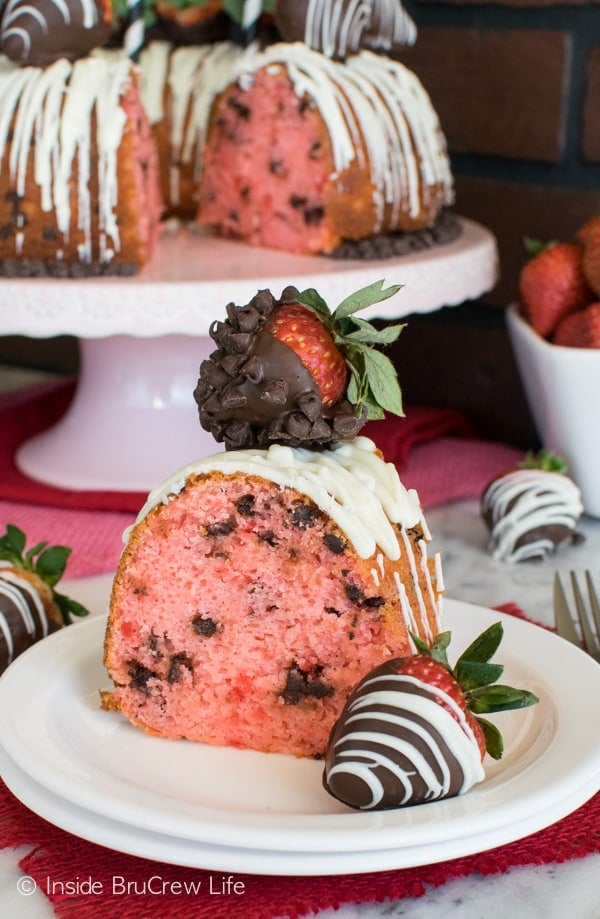 I found these fun stickers and straws at Target and thought they would make a fun decoration for the top of the cake. They aren't necessary, but they are totally cute!
These bundt cakes are so soft and delicious that they really do not need any frosting.  But I also have a thing against naked cakes, so I like to add chocolate drizzles. Again probably not necessary, but it really does make the cake that much prettier. And really extra chocolate is never a bad idea!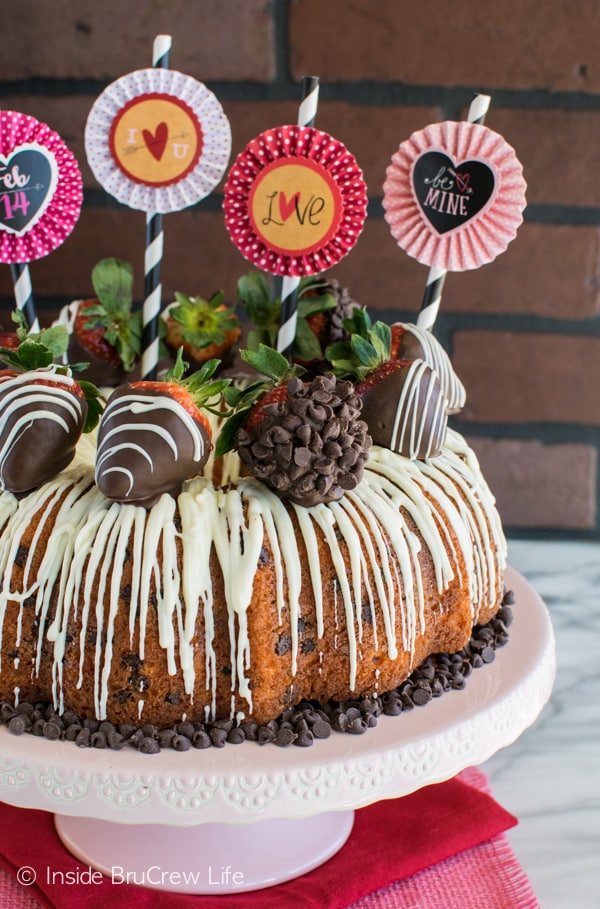 The last thing I added to the cake were some chocolate covered strawberries.  You can use store bought ones if you want, but they are very easy to make on your own.
The biggest thing that I have learned with doing chocolate covered strawberries is that room temperature berries dip better.  Cold ones tend to get slimy.  And we know that slimy and chocolate is not a good combo!
Make sure you use a good quality chocolate for dipping.  Not only will it work better, but it will taste much better too. I rolled a few of them in mini chocolate chips for some texture.  You could use nuts or sprinkles too.  Sprinkled berries would look so fun on top of this cake.
Use a little bit of the melted chocolate to attach the finished berries to the top of the cake, and push the decorated straws into the back. Then get ready for everyone to think you bought the cake from the store because it looks so fancy!  True story!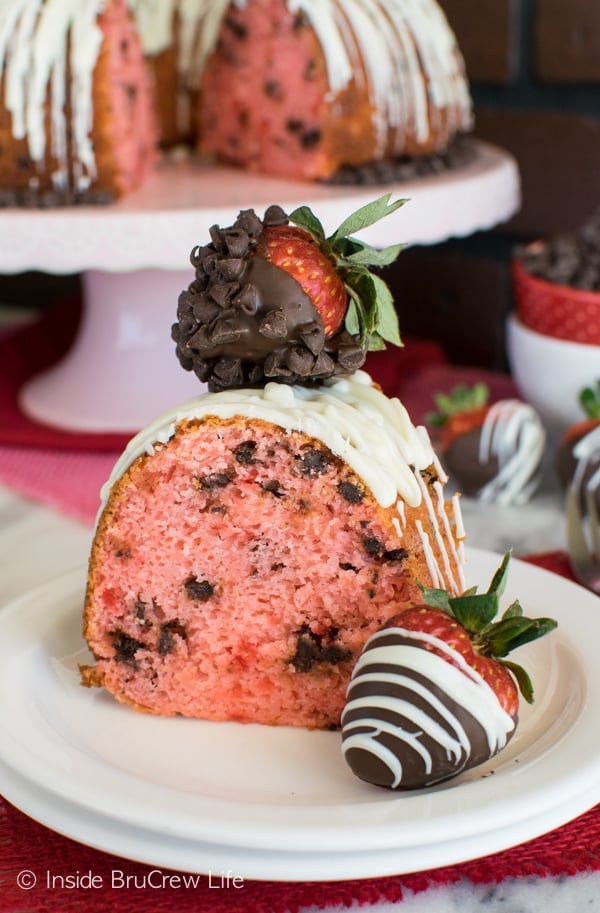 Stay up to date on all the BruCrew baking here:
FACEBOOK | PINTEREST | GOOGLE+ | TWITTER | INSTAGRAM | BLOGLOVIN
 Sign up to receive an email in your inbox for each new recipe:
EMAIL SUBSCRIPTION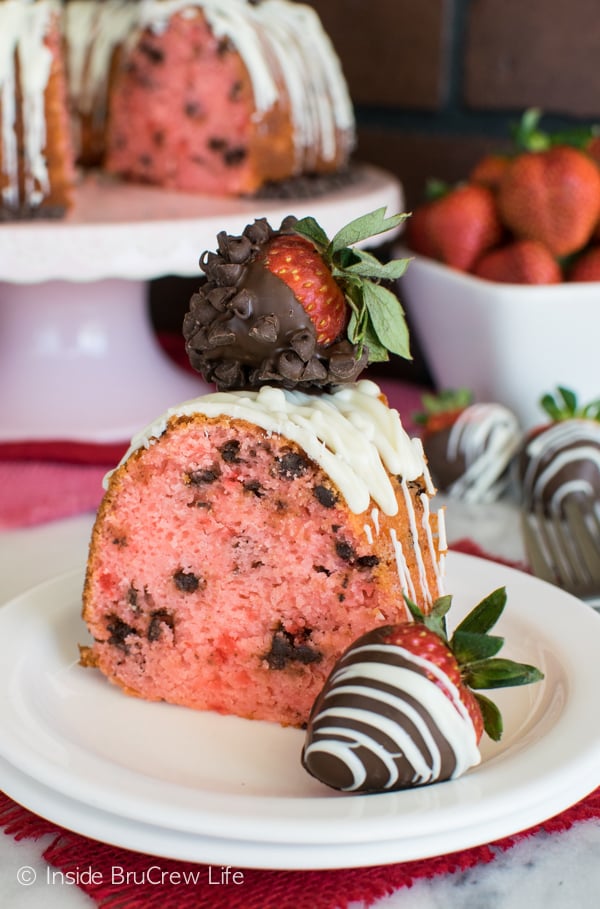 Strawberry cake filled with chocolate chips and topped with chocolate covered strawberries is a fun and delicious way to say "I love you" to your family and friends.
Ingredients
1 strawberry cake mix
1 - 3.4 ounce box instant strawberry pudding
1 cup milk
2 Tablespoons instant strawberry Nesquik powder
1/2 cup sour cream
4 eggs
1/2 cup oil
1 1/2 cup mini chocolate chips, divided
Chocolate Covered Strawberries

12 strawberries
3/4 cup white chocolate melts, divided
1/4 cup chocolate melts
mini chocolate chips
Instructions
Combine the cake mix, pudding mix, milk, strawberry powder, sour cream, eggs, and oil. Beat on low for 1 minute, then beat on medium for 2 minutes.
Stir in 1 cup mini chocolate chips by hand.
Spoon the batter into a 12 cup bundt pan that has been sprayed with non-stick spray with flour.
Bake at 350 degrees for 50-55 minutes. Let cool for 15 minutes in the pan, then flip out onto a plate. Cool completely.
Melt 1/2 cup white chocolate melts according to the package directions. Spoon into a plastic bag and cut one tip off. Drizzle over the top of the cake.
Melt the chocolate melts according to the package directions. Dip the strawberries in the chocolate and place on wax paper. Roll a few in mini chocolate chips, if desired.
Melt the remaining white melts and place in a plastic bag. Cut one tip off and drizzle the strawberries. Place on wax paper and let dry. Drizzle a little bit of chocolate on the bottom of each strawberry and place on the top of the cake. Cut into 12 slices. Store in a tightly sealed container in the refrigerator.
https://insidebrucrewlife.com/strawberry-chocolate-chip-bundt-cake/
Copyright Inside BruCrew Life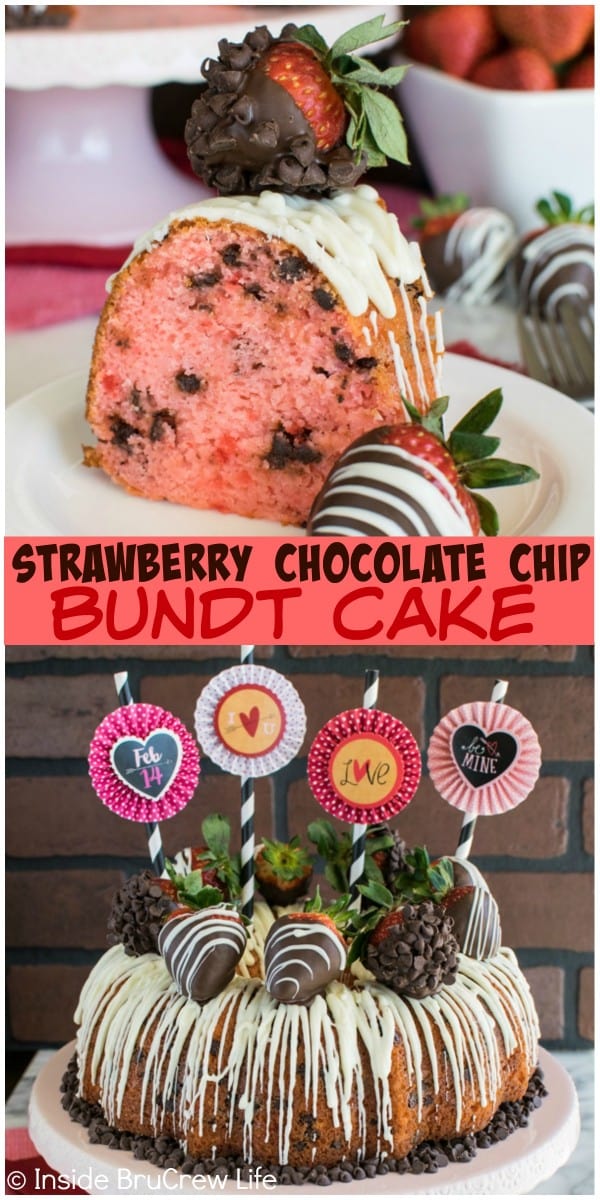 More strawberry recipes that would be so pretty for heart day: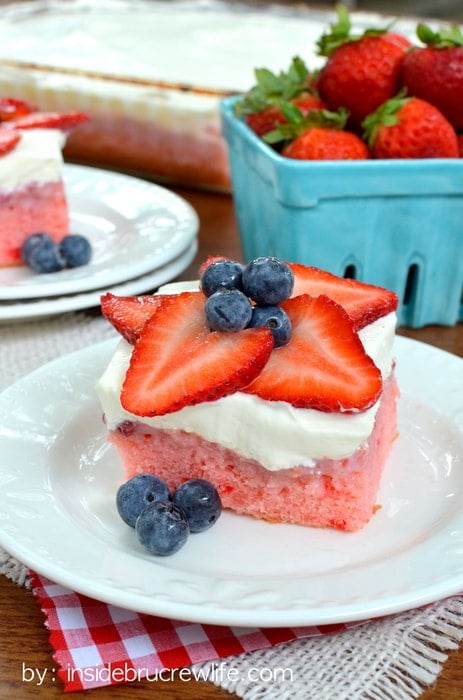 Strawberry Cheesecake Poke Cake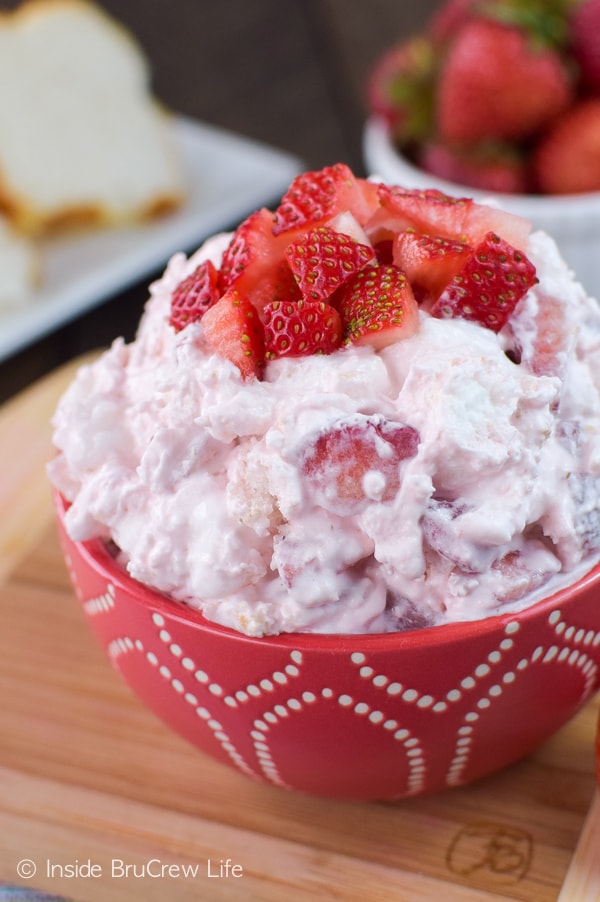 Strawberry Shortcake Fluff Salad