This one minute Keto Microwave Lava Cake is a delicious and healthy dessert for chocolate lovers. Making a lava cake in a mug is easy to do in minutes. Plus, it is sugar free and low carb, so it is the perfect dessert that will not ruin your health goals.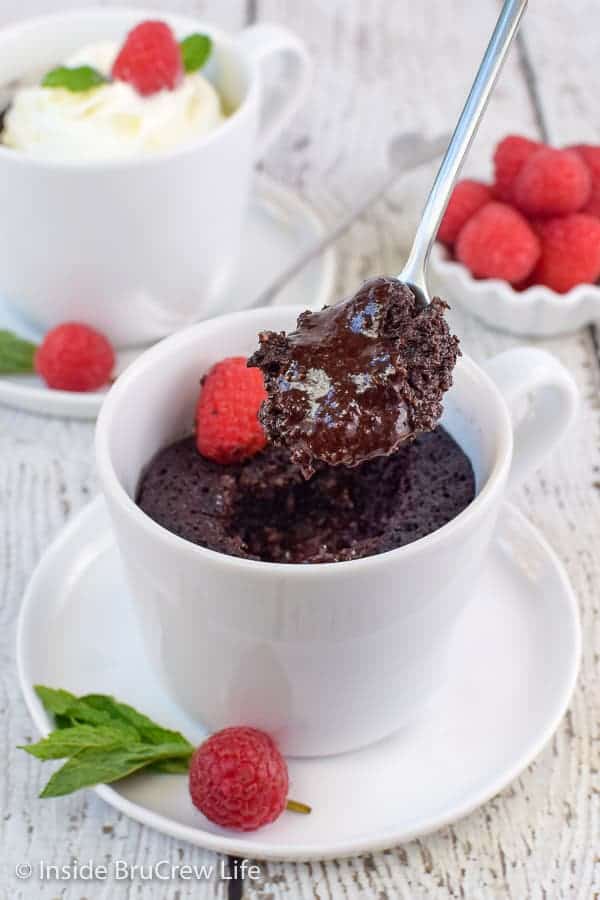 Chocolate Lava Cake
Since it is the month for all things chocolate, I had to find a way to make a delicious gooey chocolate dessert that was healthy too. And let me tell you, this is one gooey chocolate mug cake that you are going to love.
One of my favorite desserts of all time is the chocolate melting cake that you get onboard a Carnival cruise. In fact, if you ask our youngest son what his favorite dessert is he will say chocolate chip brownies and lava cake.
Now don't get your hopes up thinking that this molten chocolate mug cake on your screen is just like the cruise dessert. It's kind of close, but Carnival will win every time. I definitely don't want you comparing them at all.
But if you are someone that is eating healthy and looking for a good low carb chocolate dessert or you just want a simple chocolate dessert in a minute, I have just the dessert for you!!!
Now if you want all the calories, sugar, and carbs, and just want a delicious gooey dessert, I suggest making these lava cake cupcakes or these peanut butter lava cake right away.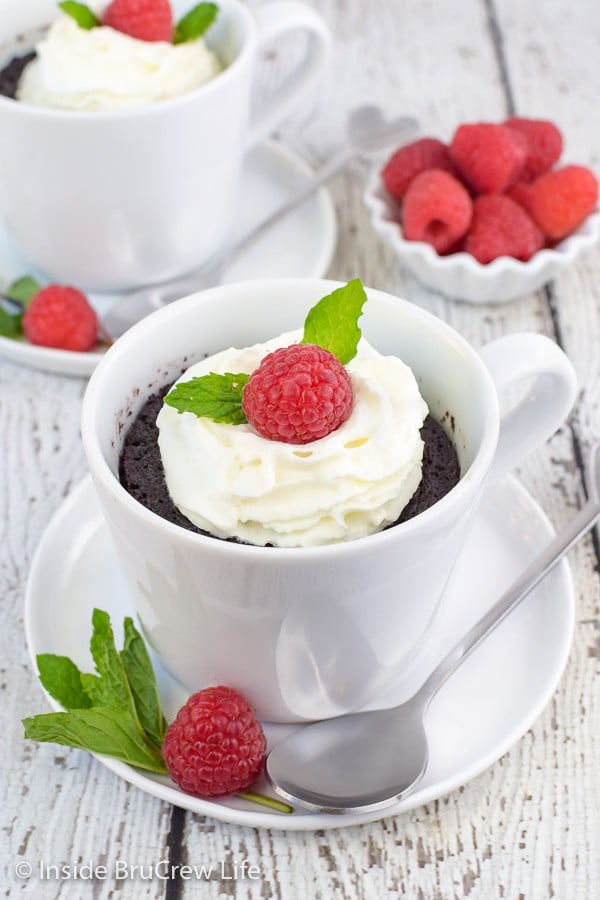 Over the years I have seen and tried so many different recipes for a simple chocolate cake in a mug. And almost every time I have been disappointed. The ones I have tried before have either been dry or rubbery. So honestly, when I started testing this easy chocolate dessert, I didn't have high hopes.
But I was determined to find a way to make a simple, one minute microwave lava cake that tasted amazing, so I kept playing with the ratios until I had success. The best part about this recipe is how stinking easy it is.
In less than 5 minutes, you can be digging your spoon into a hot gooey chocolate mug cake. The other good thing is that it only makes one cake. Usually when you make a chocolate cake, you have so much cake leftover, and it tempts you to eat a few more slivers.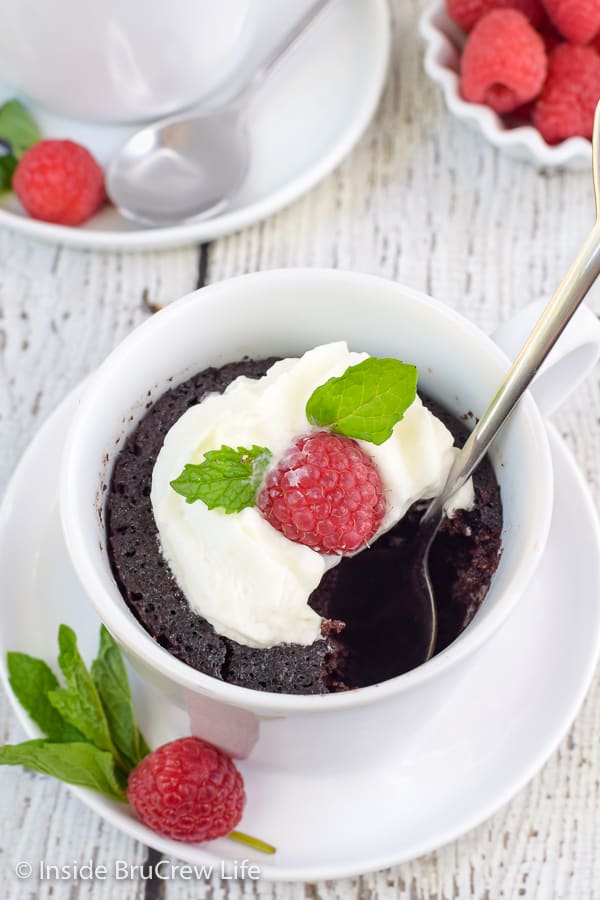 What you need to make a Keto Lava Cake
Using these simple ingredients will give you a low carb chocolate cake in minutes that tastes incredible.
Almond Flour - This flour keeps it low carb, is packed with nutrients, and has a slightly sweeter taste.
Dark Cocoa Powder - I prefer the rich, dark flavor and color this gives, but regular cocoa powder is fine too.
Baking Powder & Sea Salt - for leavening and flavor.
Sweetener of Choice - I have tried this with Stevia and Monkfruit sweetener, and it was good both ways.
Coconut Milk - Use the unsweetened coconut milk in a carton for the least amount of calories and fat; you can also you any other milk you prefer.
Egg Yolk - All you need for this recipe is the yolk; save the egg white for breakfast.
Chocolate Chips - If you use just a little bit of mini chocolate chips, it will give you more chocolate without too many calories. You can also use sugar free chocolate chips, and they are good too.
How to make Chocolate Lava Cake in a Mug
This molten chocolate cake comes together in minutes. Getting all the ingredients out and measuring them is the longest part of making a keto chocolate lava cake in a microwave.
Stir together the almond flour, cocoa powder, stevia, baking powder, and salt in a small bowl.
Pour the coconut milk, egg yolk, vanilla, and coconut oil into the center and stir until mixed in.
Add the mini chocolate chips and pour into a microwave safe mug that has been sprayed with nonstick spray.
Place the mug in the microwave and cook on high for 50-60 seconds.
Let it sit for 1-2 minutes, then top with whipped cream from scratch (using a sugar free sweetener) and a fresh raspberry and get ready to dig into the best microwave lava cake!!!
BRUCREW TIP: If you have a lower watt microwave, this will need to cook a little bit longer than 1 minute. I recommend 1 ½ minutes.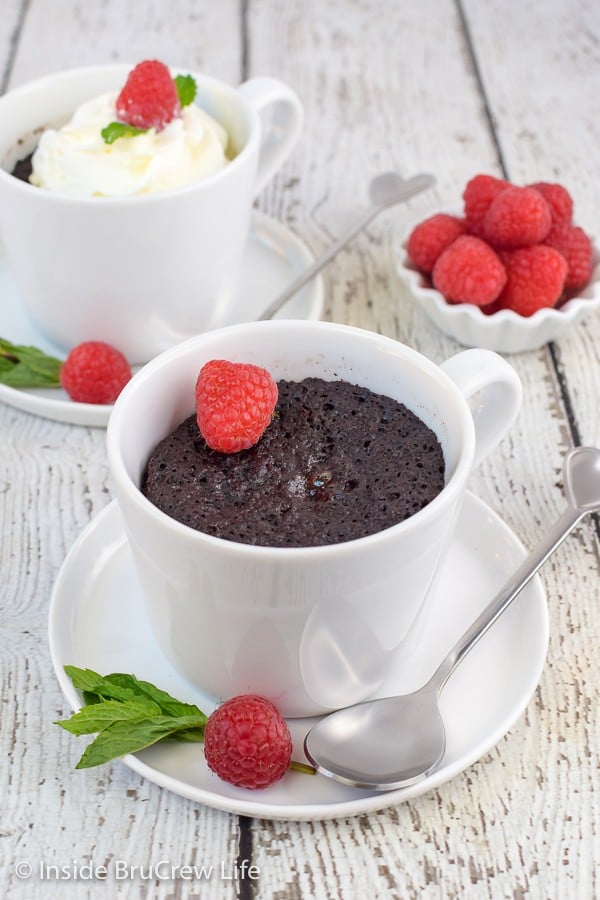 Recipe Tips
Stir your batter in the same mug that you cook it in, so you have less dishes to wash.
If you want to cut all the sugar out of this Keto mug cake, use sugar free chocolate chips. I have tried the Lily's dark chocolate chips, and they are really good.
Please remember that all microwaves are different, so yours may cook different than mine.
As you can see in these photos, if I cook a mug cake at 50 seconds it is awesome and gooey. If I cook the same mug cake for 55 seconds, it isn't quite as gooey, but still really delicious.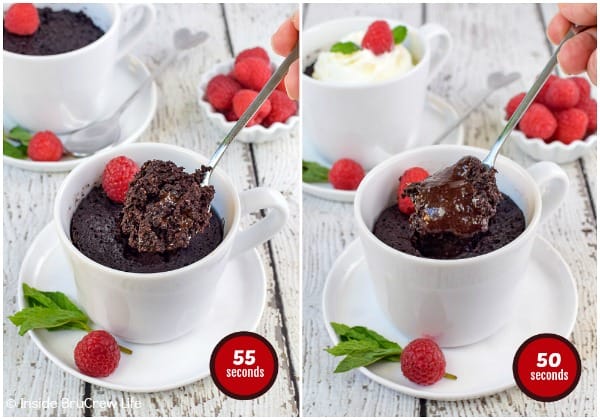 Frequently Asked Questions
Can you make this microwave chocolate mug cake with regular baking ingredients?
Yes, you can make this lava cake recipe using regular flour, sugar, and milk instead of all the healthy ingredients. It will definitely be higher in sugar and carbs, and the texture is slightly different, but it still tastes amazing!
What do you top a healthy chocolate lava cake with?
If you want to make a sugar free whipped cream, beat 1 cup heavy cream with a little bit of stevia powder or powdered Swerve until thick and fluffy.
Or you can use some canned Reddiwhip. They have a lower sugar and dairy free whip that is easy to find, and it won't ruin your low carb goals.
Can you make a microwave lava cake ahead of time?
Chocolate lava cake is best eaten right away. Reheating or refrigerating a cooked lava cake will make you loose out on the gooey middle.
You can prep the chocolate batter ahead of time and place the covered cup in the microwave. When you are ready to eat your keto lava cake, microwave it for 65-70 seconds.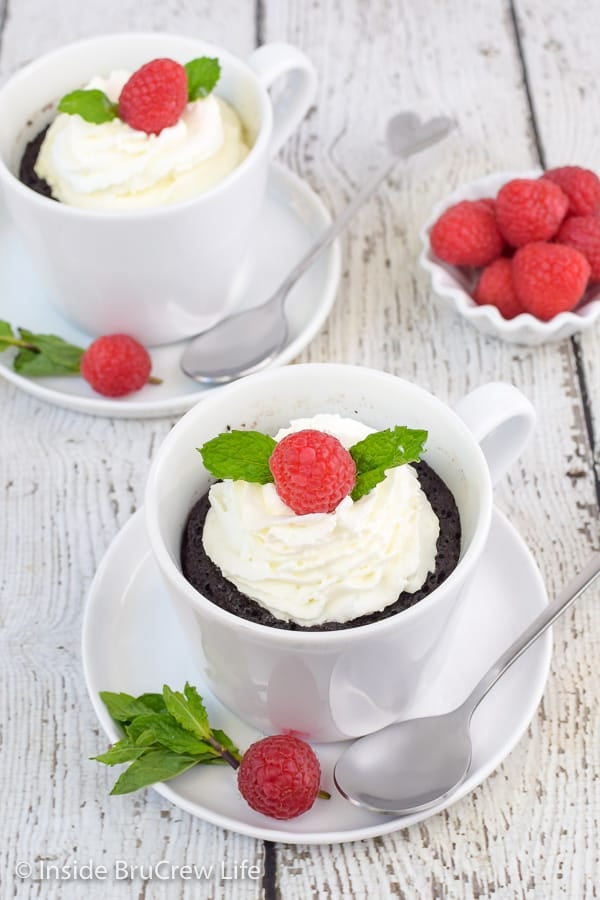 CLICK HERE TO PIN THIS RECIPE FOR LATER!
Other Healthy Desserts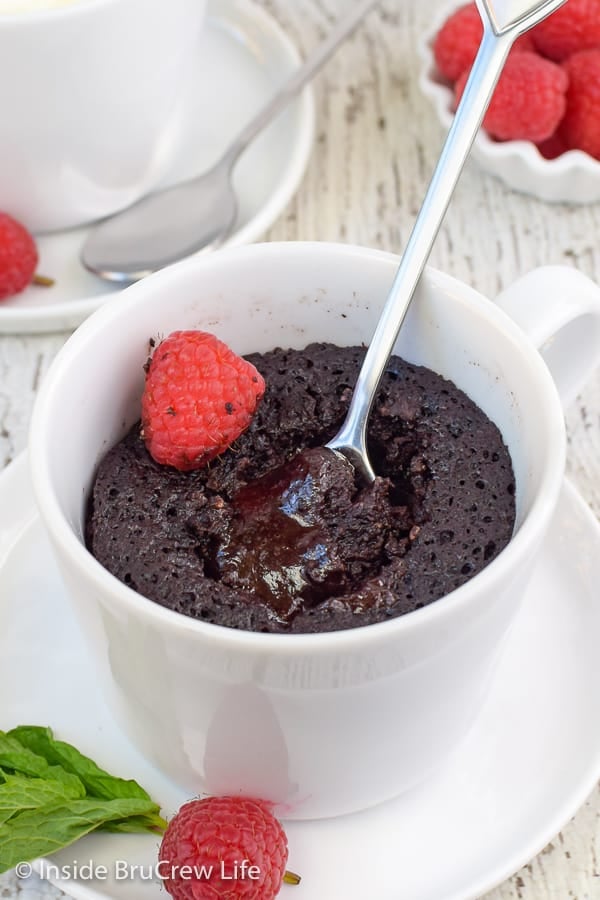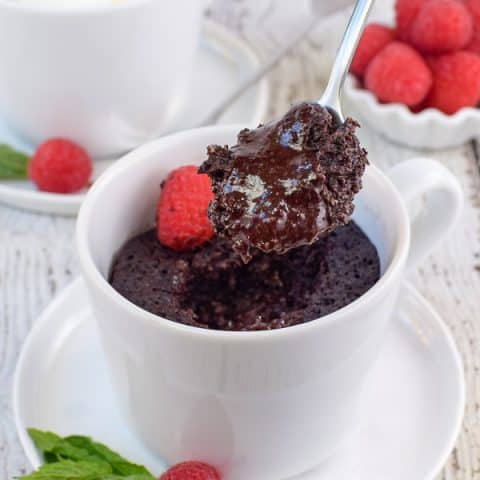 Keto Microwave Chocolate Lava Cake Recipe
This one minute Keto Lava Cake is a delicious and healthy dessert for chocolate lovers. The molten chocolate cake is easy to make in minutes, sugar free, and low carb. Perfect dessert that will not ruin your health goals.
Ingredients
3 tablespoons blanched almond flour
2 tablespoons dark cocoa powder
2 tablespoons Stevia In the Raw or Monkfruit Sugar
¼ teaspoon baking powder
pinch coarse sea salt
¼ cup unsweetened coconut milk
1 egg yolk
1 tablespoon melted coconut oil
¼ teaspoon vanilla extract
½ tablespoon mini chocolate chips
1-2 tablespoons Reddiwhip, optional
Instructions
Stir together the flour, cocoa powder, Stevia, baking powder, and salt in a bowl.
Pour the milk, egg yolk, coconut oil, and vanilla into the bowl and mix until combined.
Spray a mug with nonstick spray and pour the batter into it.
Microwave for 50-60 seconds on high. All microwaves cook differently so you may need to test it a few times to find what time and texture you like the most.
Let sit 1-2 minutes before eating. Top with 1-2 Tablespoons Reddiwhip and a fresh raspberry, if desired.
Notes
If you have a lower watt microwave, you will need to cook the lava cake for about 90 seconds.
Nutrition Information:
Yield:

1
Serving Size:

1
Amount Per Serving:
Calories:

356
Total Fat:

31g
Saturated Fat:

17g
Trans Fat:

0g
Unsaturated Fat:

14g
Cholesterol:

189mg
Sodium:

267mg
Carbohydrates:

12g
Fiber:

5g
Sugar:

9g
Protein:

10g
Nutrition facts are an estimate and are not guaranteed to be accurate. If you need special diet advice, please see a registered dietician.