A loaf of this Easy Garlic Herb Bread is a delicious addition to every meal. It is so simple to prepare and makes your kitchen smell so good as it bakes.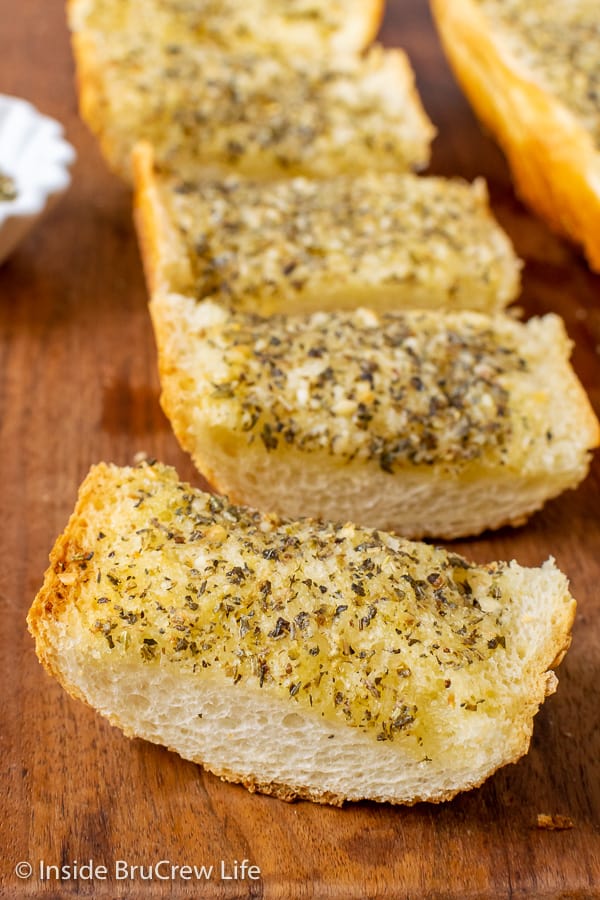 One of our favorite things about going out to eat at certain restaurants, like Cheesecake Factory, is the bread that comes out before the meal. There is just something about warm bread slathered with butter. Am I right?
Of course, the struggle every time is not filling up on all the bread before the actual meal gets there. Sometimes we are smart and split an entree, just so we can fill up on bread and still have room for cheesecake.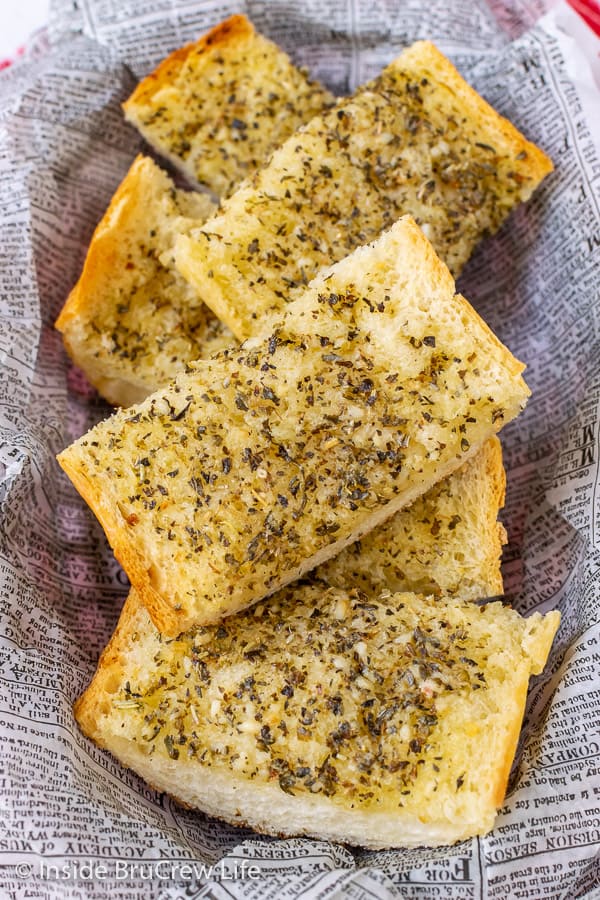 The boys in our house love having garlic bread whenever I make this Meat Lover's Pizza Skillet Ravioli. Sometimes I just buy a loaf of frozen garlic bread or Texas French Toast and call it good.
And other times I like to make my own homemade garlic bread. It's actually quite easy to do because I usually have most of the ingredients on hand already.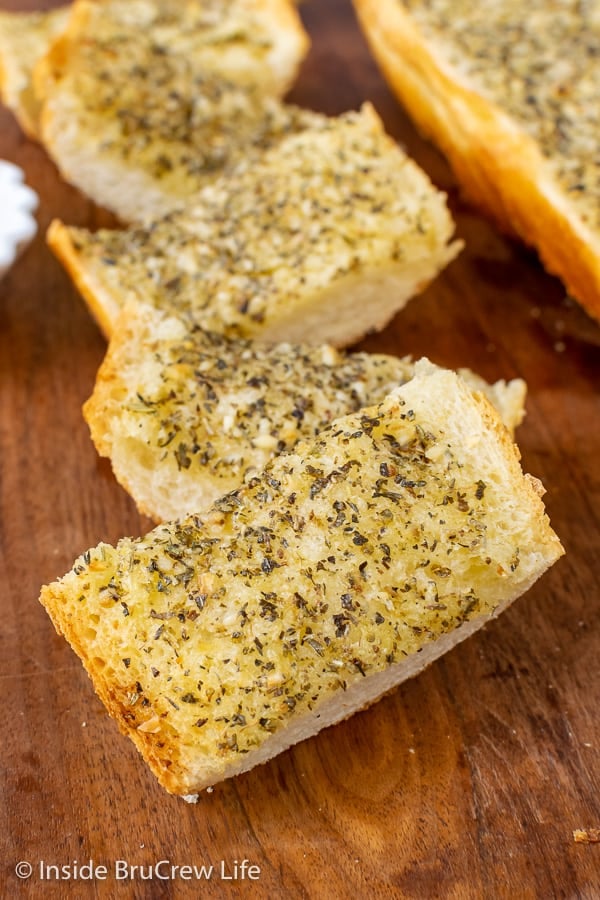 The only thing I have to stop and pick up is a loaf of inexpensive fresh bread from the grocery store. I love that I can add extra butter and garlic when I make my own.
Homemade Garlic Bread ingredients:
crusty French Bread
softened butter
minced garlic
dried Italian herbs
The best part of making garlic bread at home is that you can make sure the butter is spread all the way to the edges of the bread.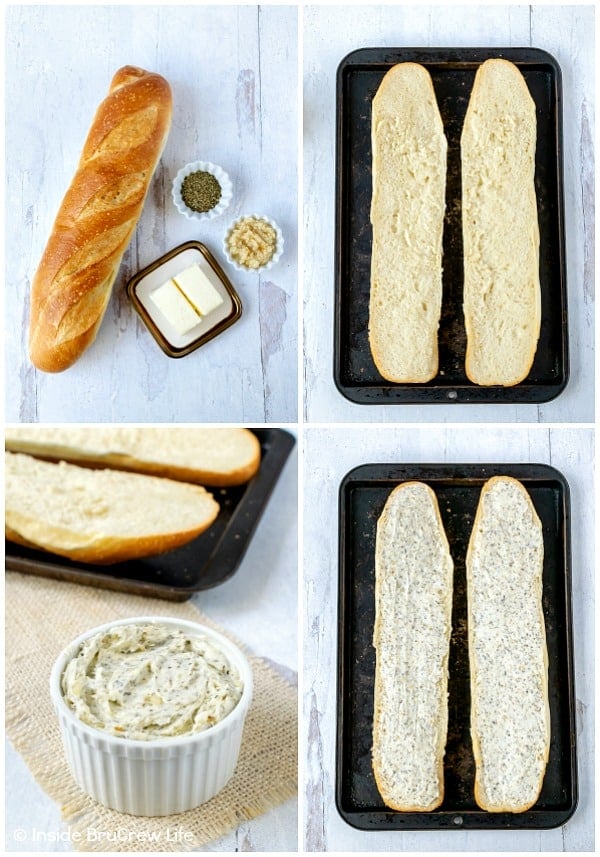 How to make Easy Garlic Herb Bread:
Cut a loaf of French bread in half horizontally with a serrated knife.
Mix together the softened butter, garlic, and herbs.
Spread the garlic herb butter on both sides of the bread.
Bake until desired level of crustiness is achieved.
Cut into slices and serve immediately.
This garlic bread can be made just before serving or it can be made ahead of time.
Want make cheesy garlic bread to go with the Best Creamy Tomato Soup? Sprinkle the top of the loaf with parmesan cheese and top with shredded mozzarella cheese before baking.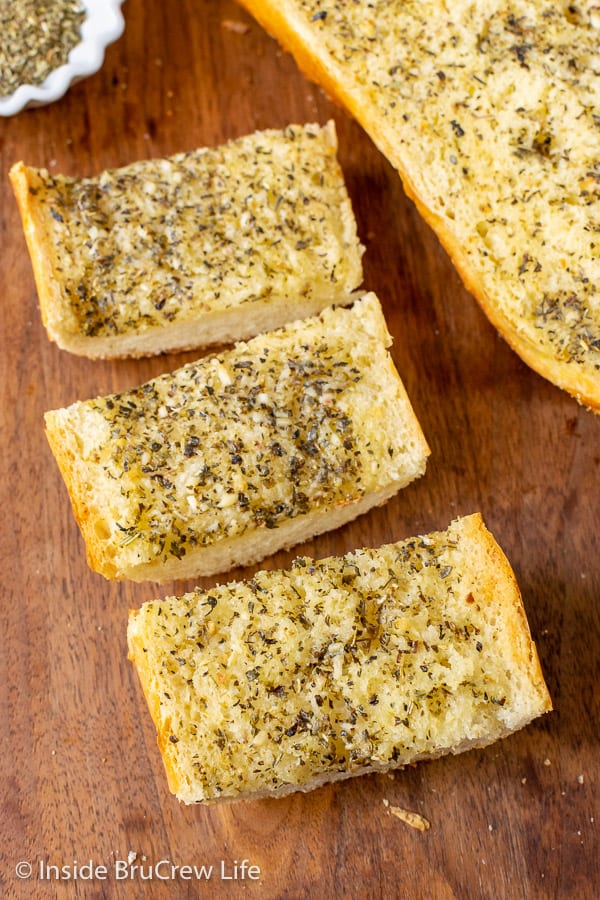 Soft or Crispy Garlic Bread:
Crispy - bake the bread open faced on a baking sheet for 10-15 minutes. If you go the full 15 minutes, the edges of the bread will be toasted and crispy.
Soft - slather the butter mixture on both sides of the bread, place the sides of the bread back together, wrap the loaf in foil, and bake 15 minutes.
Frozen - spread the butter on the bread, wrap it in foil, then place in ziplock bags or saran wrap and freeze. Remove from the plastic wrapping and bake until done. You may need to add a few minutes if you bake it from frozen.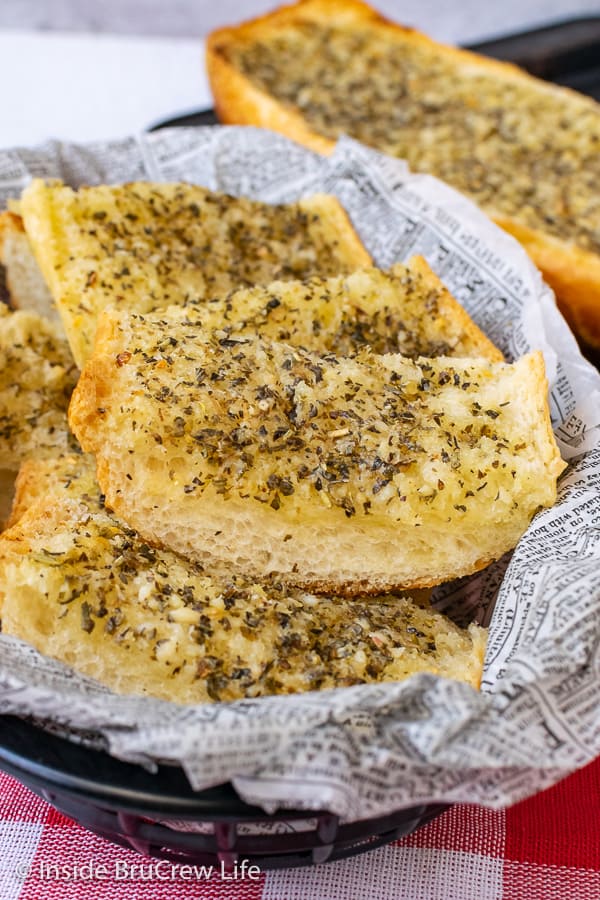 What to serve with Garlic Herb Bread: