Enjoy a slice of this Pecan Banana Bread with your morning coffee. This sweet bread is a delicious breakfast or afternoon snack choice this fall.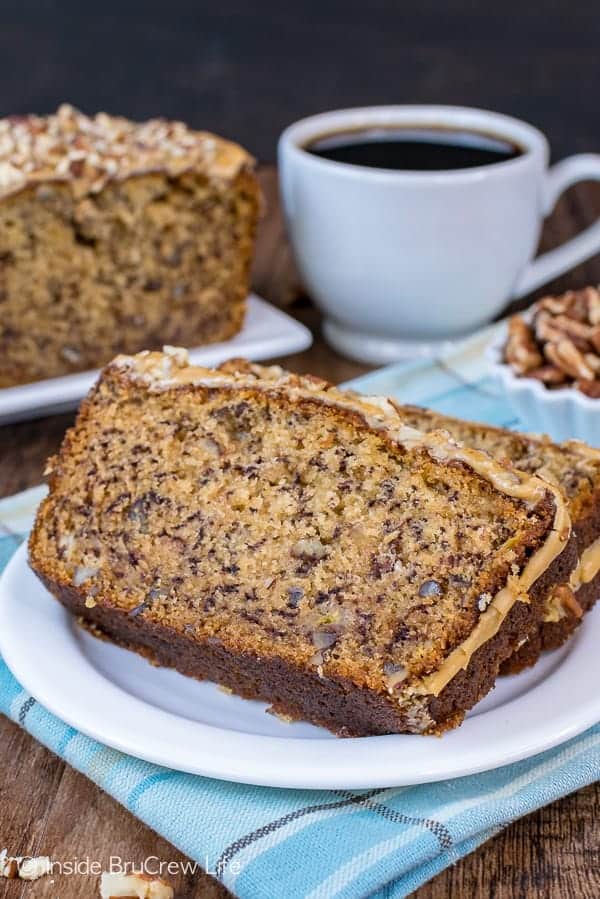 Lately I have stopped buying bananas. Mostly because our oldest is back at college, and the younger two just don't eat them when I do buy a bunch or two.
A few weeks ago though, I picked up a small bunch of bananas because our daughter does like having a bowl of Peanut Butter Banana Ice Cream for her late-night snack.
Before I had a chance to freeze them, our littlest guy asked if I was going to make any banana bread because he really wanted some.
This is the kid who pretty much lives on Ramen, Three Cheese Macaroni and Cheese, Caesar salad, and sliced cheese. So, when he asks for something I try to make his request right away.
The next day I made another loaf of this Sour Cream Banana Bread just for him. It had barely been flipped out of the pan before my husband and son were slicing into it and devouring slice after slice. I barely got one tiny slice.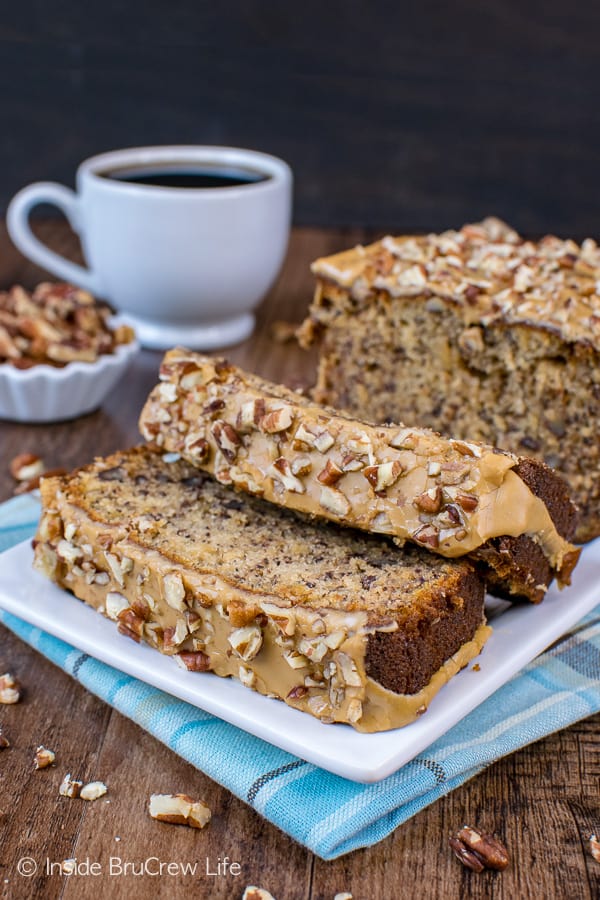 That one little bite was all I need to start dreaming of all kinds of sweet bread flavors for fall. We usually have a big of pecans in our pantry, so I decided to add pecans to the next loaf of bread.
Adding a sweet maple glaze totally put it over the top! Not to mention that it smelled absolutely heavenly!!!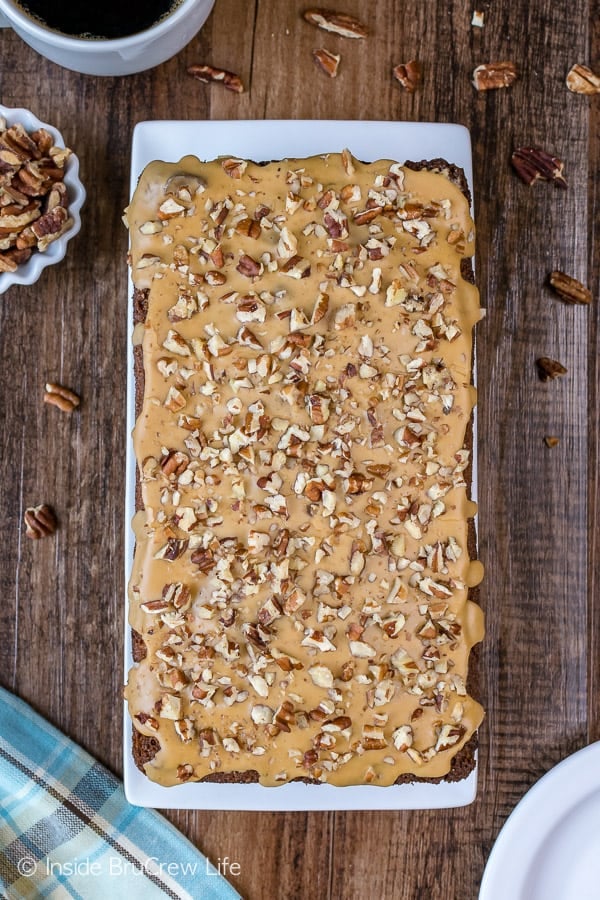 What makes the Best Banana Bread
The number one requirement for making banana bread is to use ripe bananas. Once the banana skins start to get spots and to turn brown, the bananas are ready for bread making.
Use butter and sour cream in the batter to make a moist bread that isn't too dense.
Add a variety of mix ins to the bread depending on what you are craving at the moment. A few of our favorites are cherries, coconut, toffee, coconut, chocolate chips, and Oreo cookie chunks.
To frost or not to frost is always a big debate in our house. I like a sweet glaze on just about every sweet bread, but my husband prefers his banana bread nekkid! Either way your banana bread will be delicious!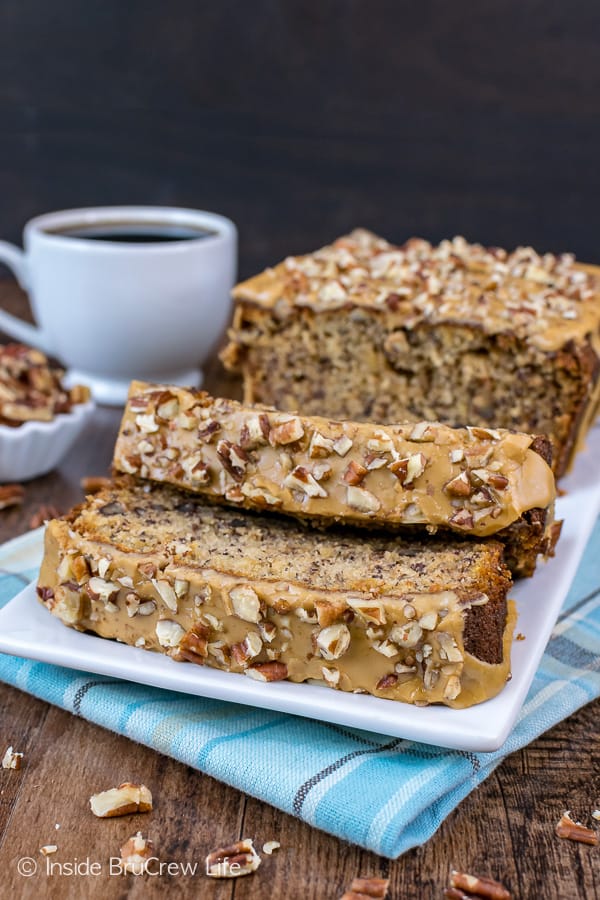 How to make Pecan Banana Bread
Beat the butter and sugar until light and fluffy. Add the maple extract, eggs, sour cream, and mashed banana and beat until just mixed.
Stir together the flour, baking soda, salt, and pecans and slowly mix it into the wet ingredients.
Pour the batter into a greased 9x5 loaf pan and bake for 55-60 minutes or until a knife inserted in the center comes out with a few crumbs on it.
Remove and let the bread cool in the pan for about 15 minutes before flipping it out onto a plate to cool. Invert the bread right away onto another plate, so it doesn't fall apart as it cools.
Once the bread is cool, mix together some powdered sugar, water, maple extract, and a pinch of salt for a sweet maple glaze that tastes amazing.
Spread the glaze on top of the cooled bread and sprinkle some more chopped pecans on top before it sets.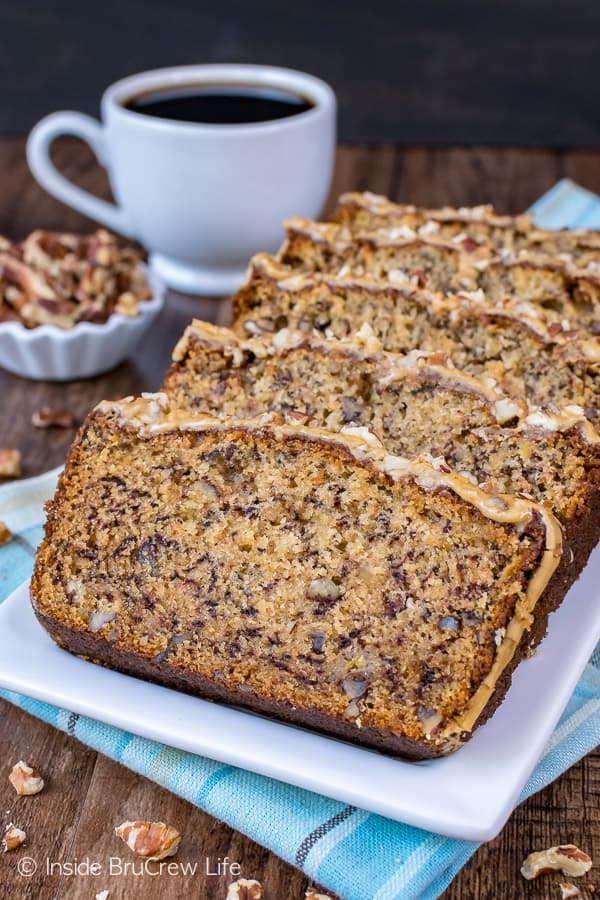 More Banana Bread Recipes