This easy loaf of Peanut Butter Cup Banana Bread is a delicious choice for breakfast or snack. Mini peanut butter cups and a peanut butter glaze will make this sweet bread your new favorite way to use ripe bananas.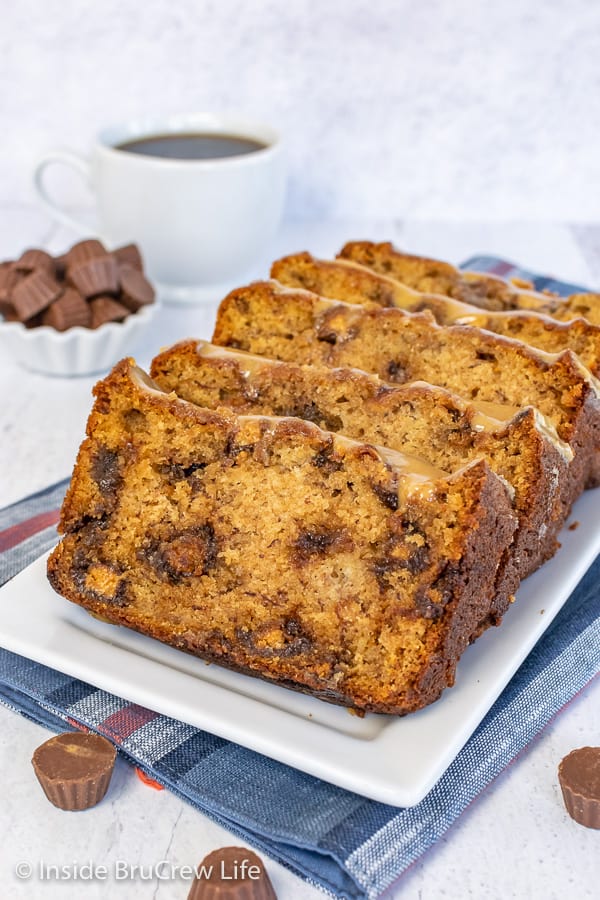 It's true. I'm officially banana bread obsessed. I can't stop buying bananas and making a new version of banana bread each week.
I'd like to say it's because we are stuck at home right now, but let's be honest. I was baking lots of banana bread way before this happened.
This Funfetti Banana Bread and this Chocolate Banana Bread are two of my favorites that have happened since the first of the year.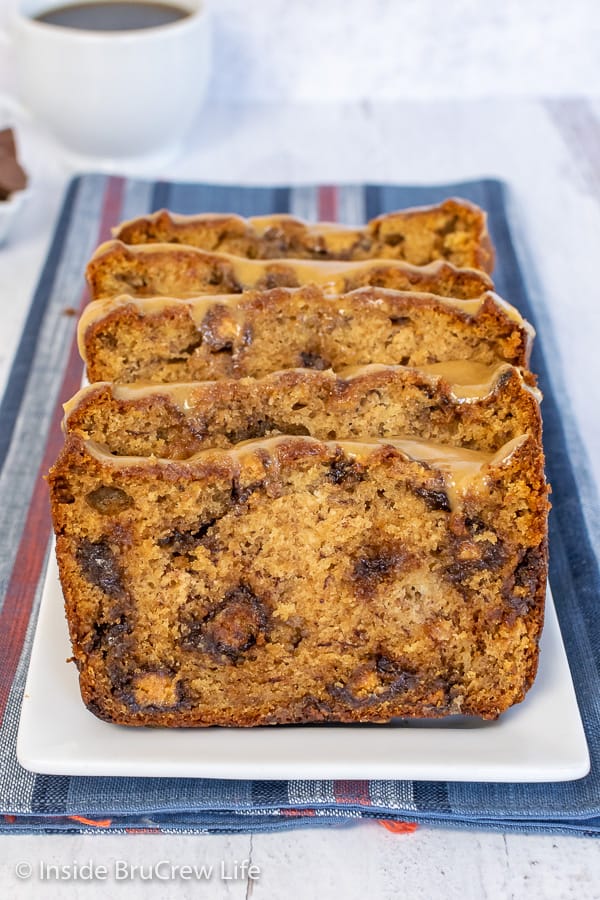 It was only a matter of time before I added peanut butter to a loaf of homemade banana bread. I used this Sour Cream Banana Bread as my starting point, then just adjusted the rations of butter and sour cream to be able to add peanut butter to the batter.
That recipe is my absolute favorite banana bread recipe because it is so easy to customize into different flavors.
Since I was adding peanut butter to the batter, I decided why not add some peanut butter cups to the batter too. And then I went another step and added a sweet creamy peanut butter glaze to the top.
Best idea ever!!!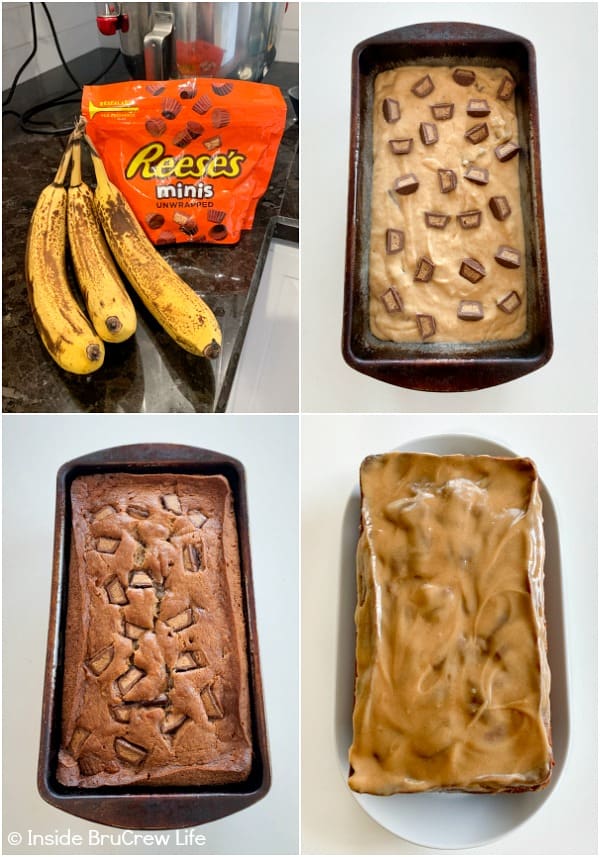 I may never be able to top this Reese's peanut butter banana bread with another version. Although, that's not going to stop me from trying.
How to make Peanut Butter Cup Banana Bread:
Cut the peanut butter cup minis in half and set aside. (full recipe at bottom of post)
Beat the peanut butter, butter, and sugar until creamy.
Add the eggs, sour cream, mashed bananas, and vanilla and beat again.
Stir together the dry ingredients and slowly mix them into the banana mixture.
Gently stir the peanut butter cups into the batter and spoon it into a greased loaf pan.
Bake for 65-75 minutes. All ovens bake differently, so bake until a knife inserted in the center comes out mostly clean.
Remove and let cool in pan for 10-15 minutes, then flip out and cool.
Seriously the best banana bread ever right here. At least that's what our oldest son told me. He is my chief taste tester right now, so you can believe him.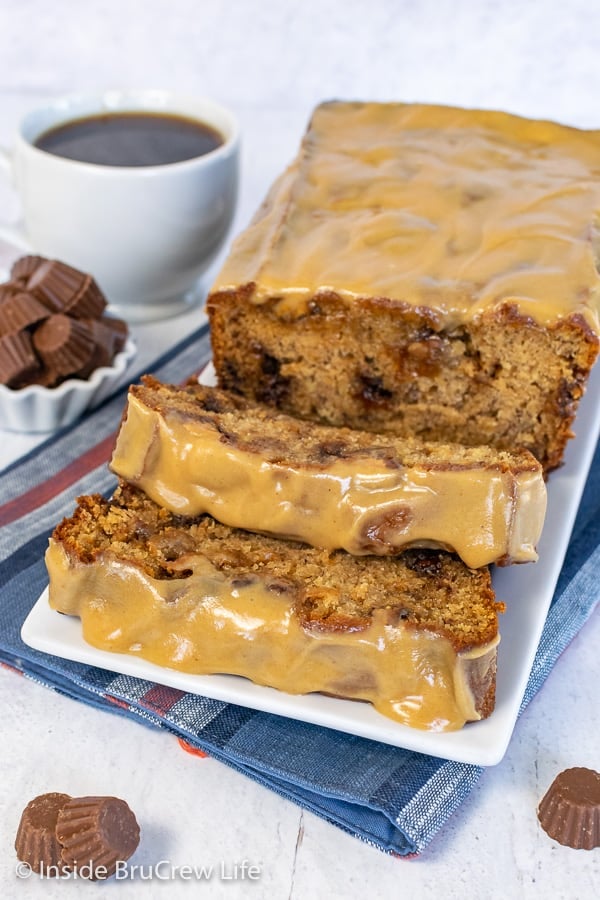 If you want to take this bread to the next level, make sure you add the glaze to the top of the peanut butter cup banana bread. It just adds another layer of peanut butter goodness that will have you reaching for another slice right away.
Making Peanut Butter Glaze:
Stir together the peanut butter and powdered sugar until creamy.
Slowly add 2-3 Tablespoons milk until you like the consistency of the glaze. Using the full 3 spoonfuls will result in a very creamy glaze.
This peanut butter glaze will not set up and become hard. It will stay soft and creamy. Over time it slowly melts into the top of the bread, making it even more delicious.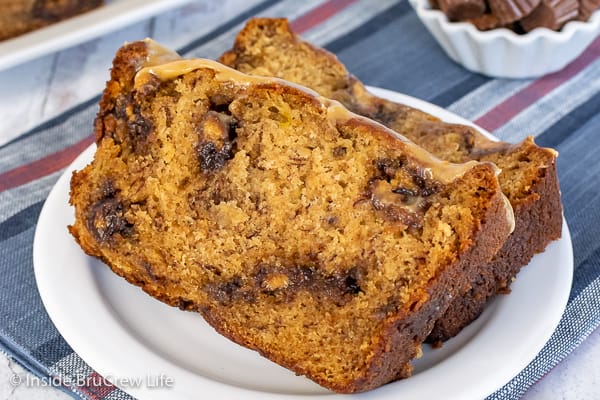 What other mix-ins are good in banana bread?
Nuts – pecans, walnuts, almonds
Chocolate Chips – white, semi-sweet, dark, peanut butter, butterscotch
Veggies and Fruits – cranberries, blueberries, cherries, pineapple, carrots, zucchini
Candy – peanut butter cups, candy bars, toffee bits
Other – coconut, cookies, coffee, Nutella, cheesecake
How do I know when banana bread is done?
All ovens bake differently, so start testing the bread about 10 minutes before you think it will be finished. Use a toothpick or knife to check the center of the bread before removing it from the oven.
If it comes out clean or with a few crumbs on it, the bread is done. If there is batter on it, continue baking for another 5-10 minutes.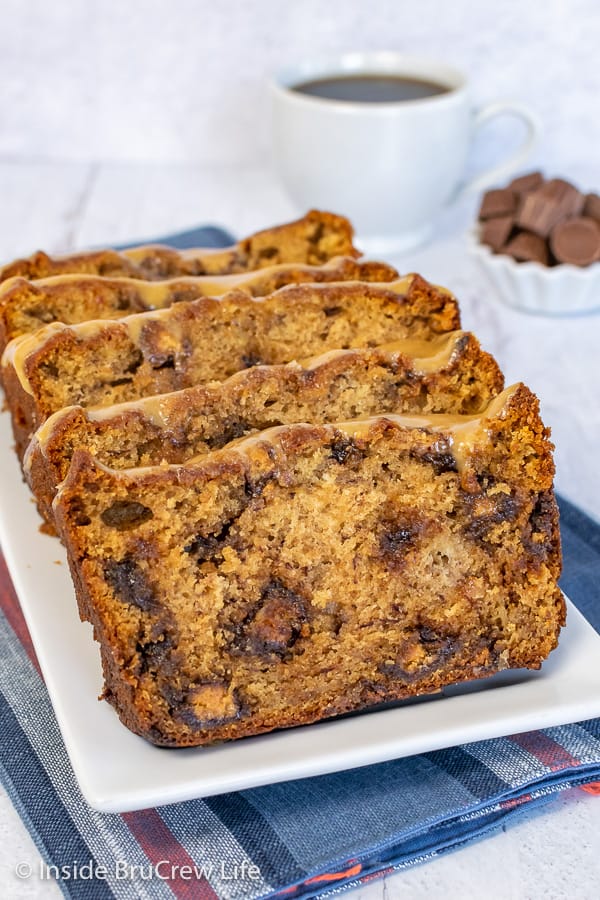 More easy banana bread recipes you may like: