Rice Krispie treats get a fun twist when you add Oreos, Nutter Butters, and M&M's. These Monster Cookie Rice Krispie Treats are sure to satisfy any cookie monster in you.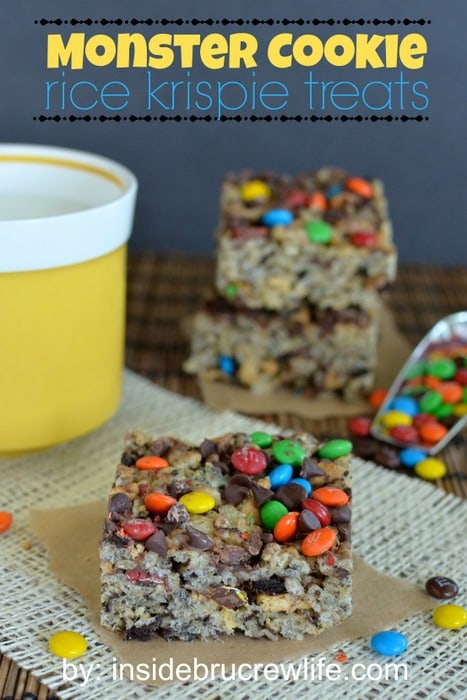 CLICK HERE TO PIN THE RECIPE FOR LATER!
Rice Krispie treats are one thing that I can eat all day long. I know there are some of you out there that agree totally with me on this. There is just something about that krispie marshmallow bar that keeps me coming back for more. The krispie treat is a fun one to play with in the kitchen too.
A few weeks ago we were at the beach. I always like to stop at all the candy stores we see...most of the time it is all the same things, but I still stop just in case there is a flavor combo that is different.
One of the ice cream/fudge shops had a monster cookie ice cream, and I knew that I wanted to make something similar.
I bought the Oreos, Nutter Butters, and M&M's as soon as we got home, and then they sat there for 2 weeks. We got busy, and I had other fun things to make. But then I opened the cupboard this week and saw the cookies and decided it was time.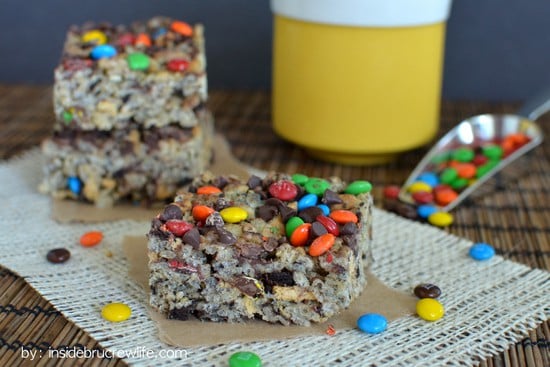 I really did plan on making ice cream...but then I saw the whole box of rice krispies, and this insane craving for melted marshmallow goodness with cookies came over me. Probably not the best thing to make when you are trying to eat healthy. Why can't I crave this Italian veggie salad instead of sweets?
Although, I am doing very good at resisting these cookie laden treats. Let me tell you it isn't easy! Every time I walk through the kitchen I hear sing songy voices begging me to come closer and lift the foil. If I keep things covered in foil, I can't see them. If I can't see them, then I forget they are there. Yeah, that's a total and complete lie.
Now here is the best thing about these treats. And I wish I could tell you I planned this...because that would have been way cool. So the other day I was stirring everything together, and my husband comes in the kitchen. I explained what I was making, and what I was calling them. He asked if I was making them to share because the new Disney movie Monsters University was coming out this weekend. Ummmm, yeah, that's totally why I waited to make this treat THIS week.
Ok, fine, that's another lie, but I am totally going with it. So, now your job is to make a batch of these monster cookie rice krispie treats and eat a whole bunch to help me celebrate the new movie. Your kids/grandkids will love them...heck, you are going to love them!!!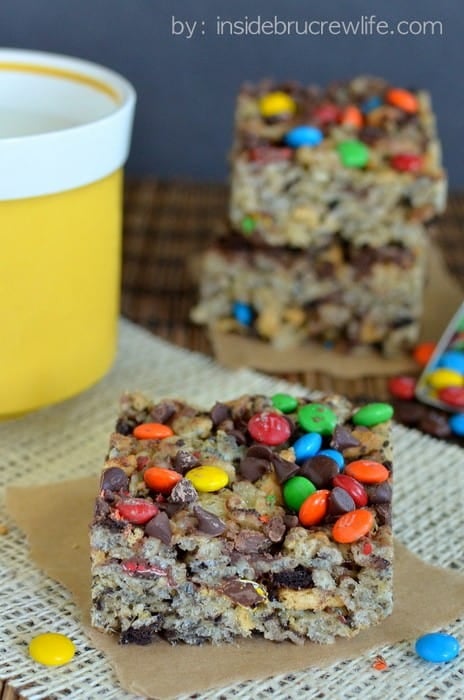 Stay up to date on the BruCrew baking:
FACEBOOK | PINTEREST | GOOGLE+ | TWITTER | INSTAGRAM | BLOGLOVIN

Other fun treats that have lots of M&M's...