These easy No Bake Chocolate Granola Bar Bites can be made in minutes.  They are the perfect snack for after school or on the go in the morning.
*I am partnering with Challenge Dairy as a butter ambassador for the year creating delicious recipes.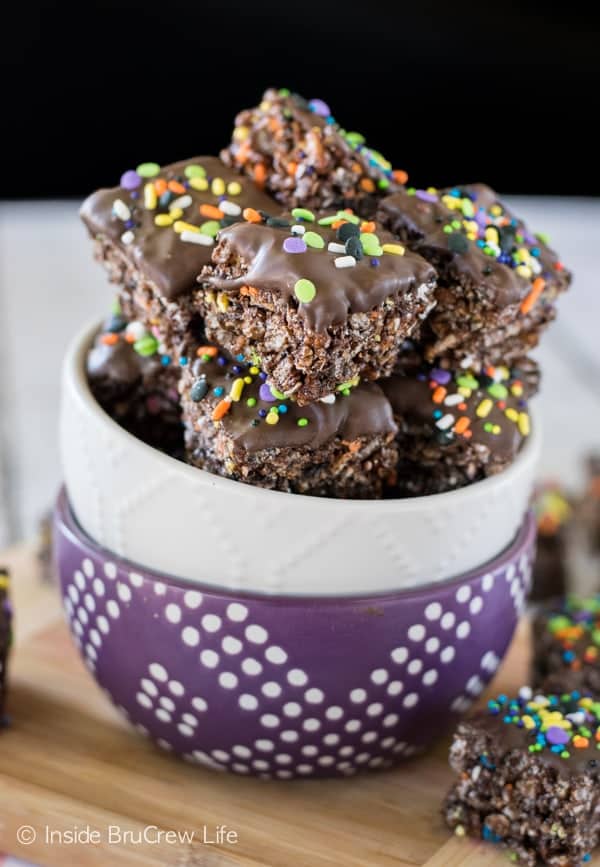 With three growing kids in our house, we go through a lot of snacks throughout the week.  They are always "starving" when they get home from school.  If I have to do a grocery store run after school, they are not too happy with me, unless we pick up some snacks there to eat on the way home.
Granola bars are an easy to grab snack from the store.  We have gone through so many boxes over the years for breakfast and snacks.
Over the years I have gone back and forth on granola bars.  Homemade bars are seriously so easy to make and have on hand. These No Bake Nutella S'mores Granola Bars never last very long at all when we make a pan.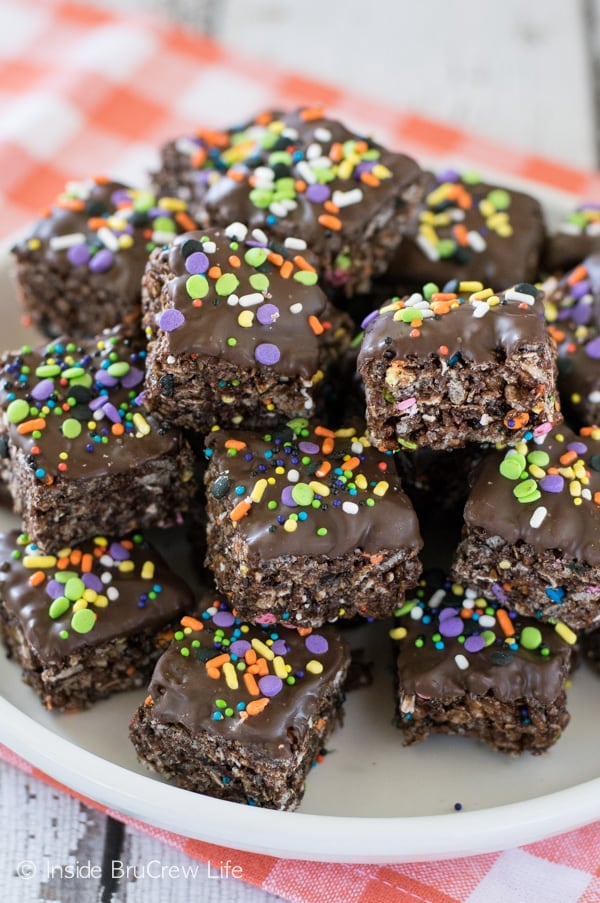 Some weeks I buy a few boxes of granola bars out of convenience. They are pre-packaged making it so easy to fill the glass jars on our counter. With 3 kids in sports and all the other life things we do, I have no problem grabbing a box from time to time.
But homemade granola bars truly so easy to do.  And if you buy the snack baggies, there is no reason why you can't create your own packaged treats, when you have the time.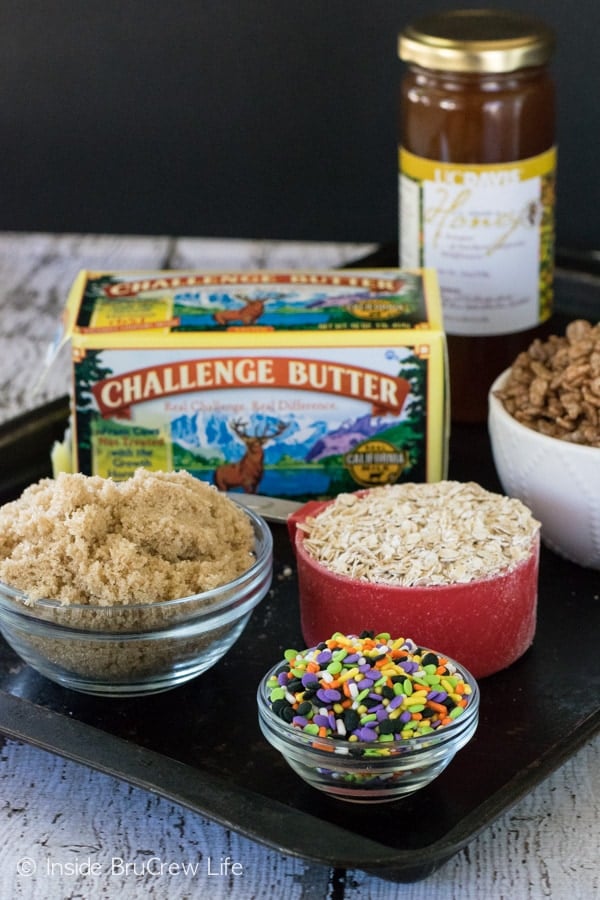 This year I am working with Challenge Dairy to create fun recipes using their products.
I love that their butter is made with 100% real cream. It really does make a big difference in the quality of your baking when you use real ingredients.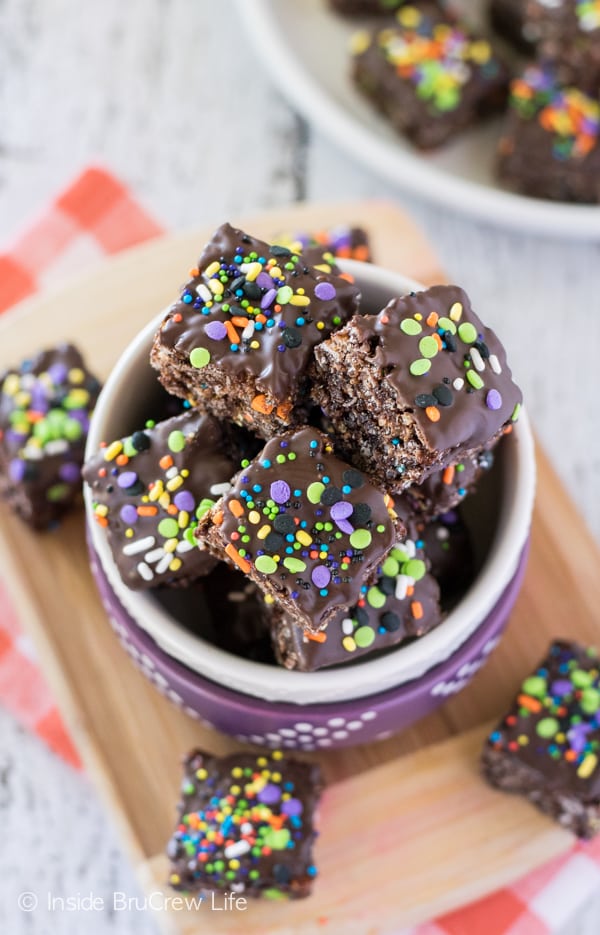 To make these bars, you need to melt the butter with some sugar and honey to create a syrup that will hold everything together.
Then stir in the oats, cocoa powder, cereal, and sprinkles until everything is coated. Press this mixture firmly into a buttered pan.  Let it cool and then top it with some chocolate and more sprinkles before cutting them into bite sized pieces. You can also cut them into larger pieces and have full sized granola bars.
Feel free to change out the sprinkles to match whatever season or holiday it may be.  Since it is October, I used a fun Halloween mix.  I'm seeing a chocolate granola bar with peppermint chunks happening in a few months though…
Head over to the Challenge blog to print the full No Bake Chocolate Granola Bar Bites recipe.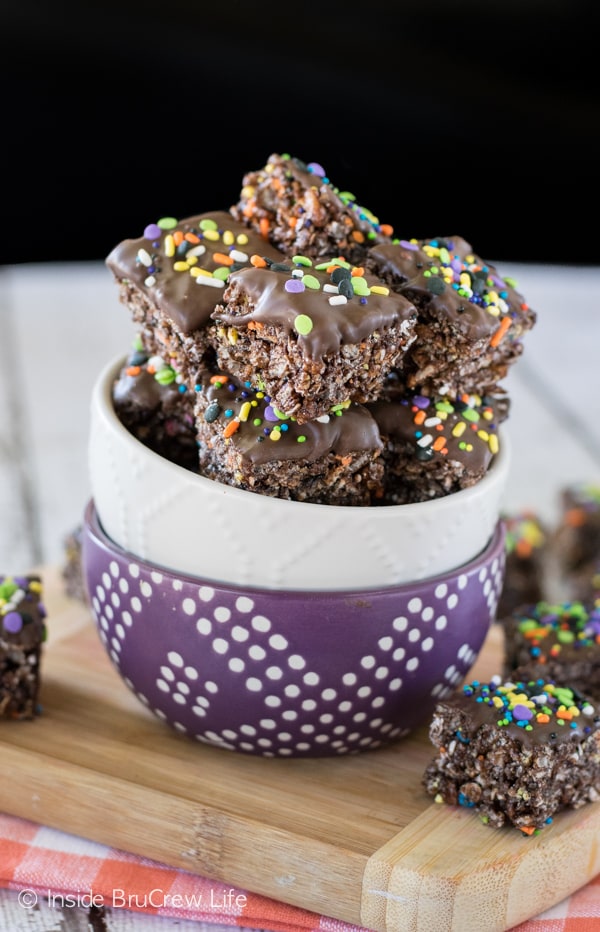 Connect more with Challenge Dairy:
Website | Facebook | Pinterest
These easy no bake granola bar bites are great for snacking on for breakfast on the run or as an after school snack. Use different colored sprinkles for different holidays or parties.
Ingredients
¼ cup Challenge Butter
¼ cup honey
⅓ cup brown sugar
¼ cup cocoa powder
1 ½ cups quick oats
2 cups chocolate rice cereal
¼ cup colored sprinkles, plus extra for decoration
½ cup chocolate melting wafers
Instructions
Head over to the Challenge Blog for the No Bake Chocolate Granola Bar Bites recipe
https://insidebrucrewlife.com/no-bake-chocolate-granola-bar-bites/
Copyright Inside BruCrew Life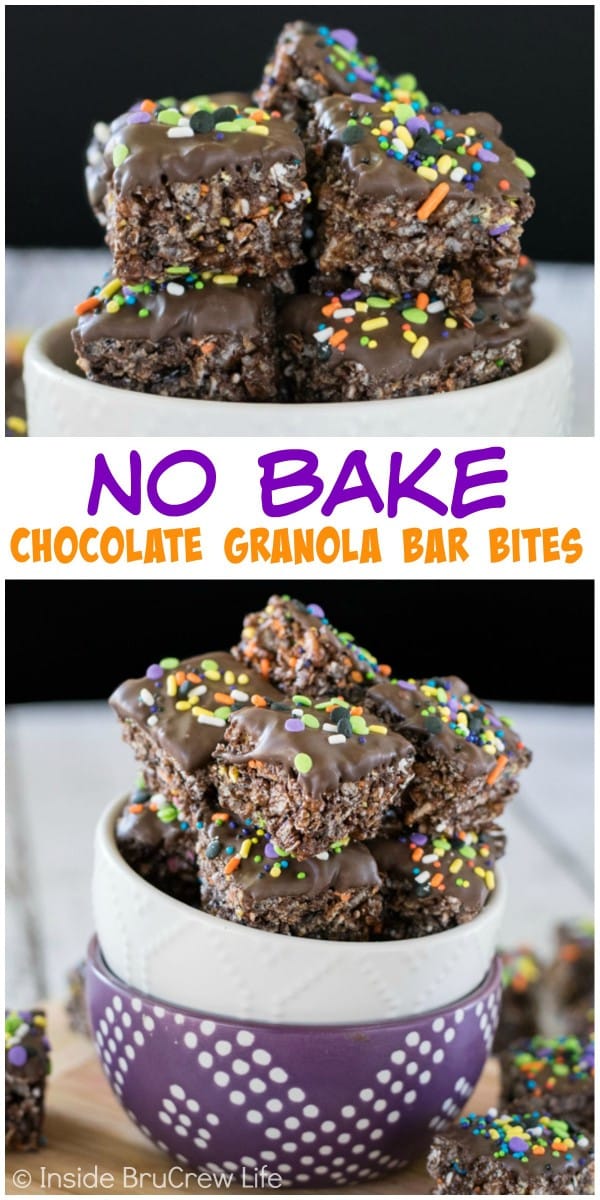 More easy treats to make for breakfast or snacks: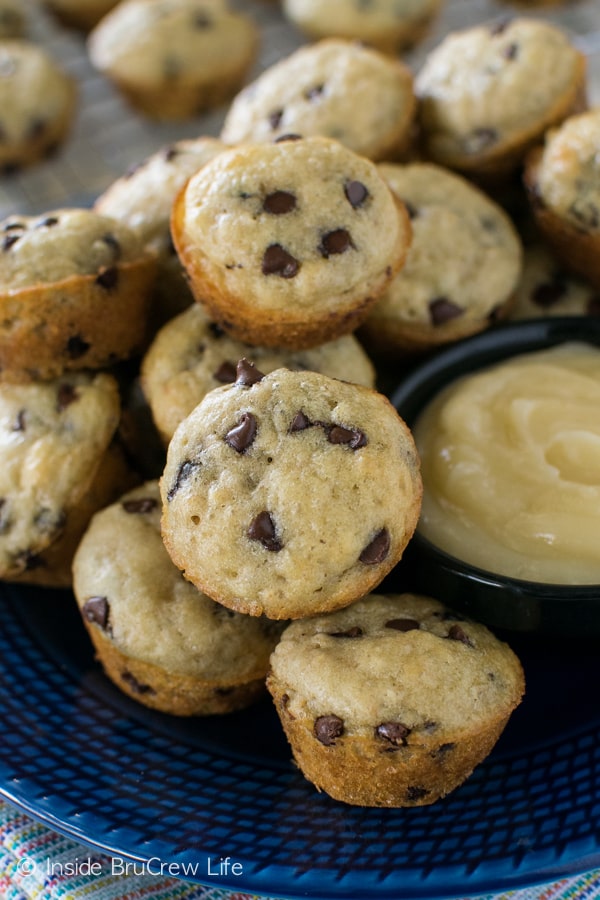 Chocolate Chip Pancake Muffins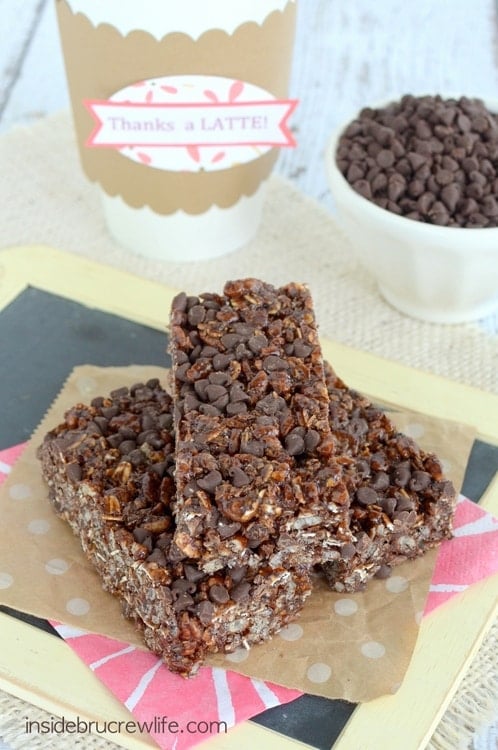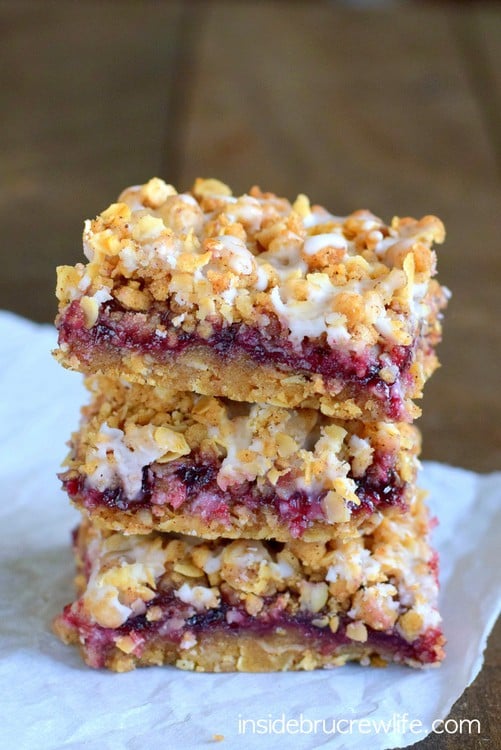 Brown Butter Blackberry Crumble Bars
*Inside BruCrew Life has been compensated for this post by Challenge Dairy, but all thoughts and opinions are 100% my own. Thank you for letting me share products and brands that we love and use.