These fun Patriotic Glazed Funfetti Donuts will brighten any morning. The swirls of red, white, and blue and lots of sprinkles will make anyone smile first thing in the morning.
Add a batch of Chocolate Covered Strawberry Donuts to give everyone some options with their coffee.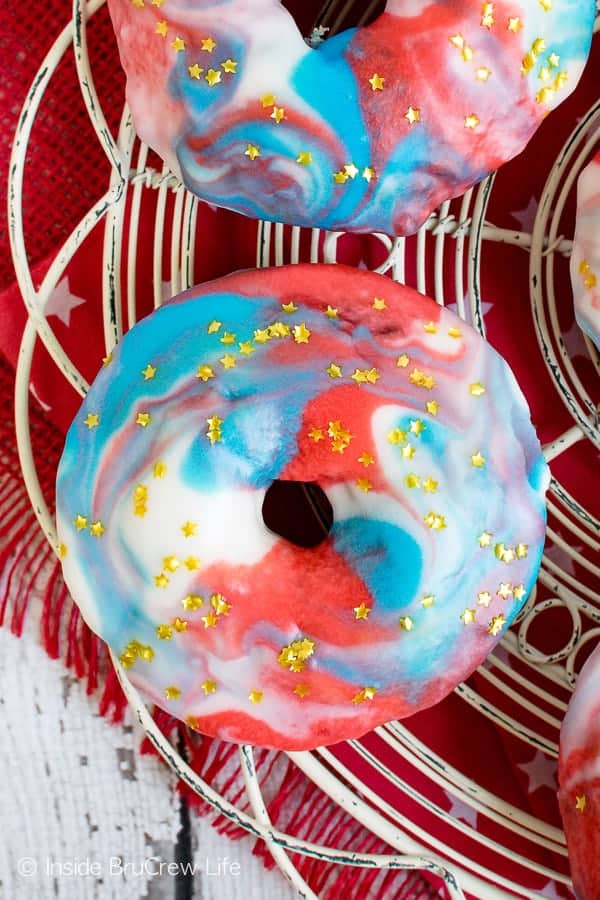 I love making desserts for the holidays. In fact, here is a list for my top 20 patriotic desserts.
This year I got this idea to swirl a red, white, and blue glaze on top of donuts for the 4th of July. And of course, I couldn't rest until I got into the kitchen and tried it out ahead of time.
Have you seen all the different galaxy donuts floating around the web? This is a fun patriotic variation of those homemade donuts.
To give the patriotic donuts even more color, I added red, white, and blue sprinkles to the donut batter. Then after they were baked, I added some gold glitter stars to the top of the glaze. It make them look kind of like a swirled flag donut.
Best idea ever! It upped the awesome factor at least by ten notches. Well, in my head that is.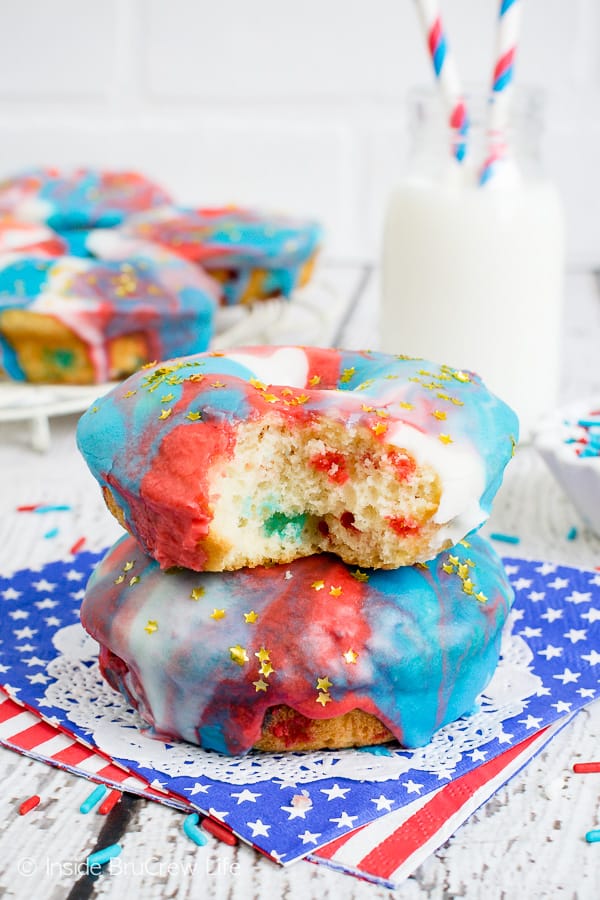 Even though these donuts look ridiculous and fun, they really are just a basic vanilla donut with vanilla glaze. "Donut" let all the colors fool you. Sometimes a jazzed up simple recipe is best!
Last week one of my sisters and her family were passing through Orlando, so we headed up to visit with them for a few days. Since I had just gotten done testing these Patriotic Glazed Funfetti Donuts, we brought them with us too.
My nieces couldn't believe that I had actually made these colorful baked donuts. They were in love with all the colors and sprinkles too! And I enjoyed spoiling them with donuts and extra hugs!
I'm not sure if my sister was happy about the extra sugar that the girls were eating those few days, but hey, that's what an aunt is for, right?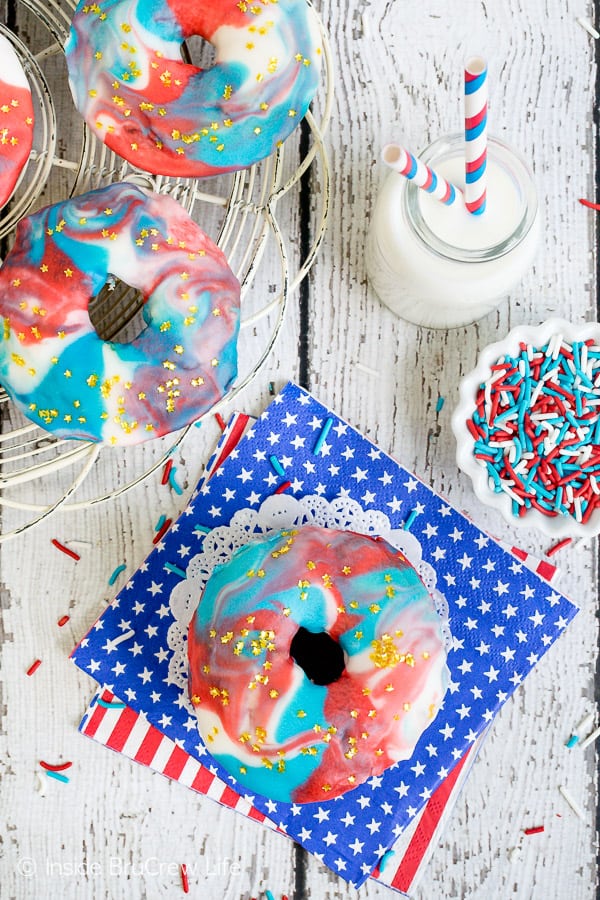 Tips for Making these Patriotic Glazed Funfetti Donuts:
Spray your donut pan with a good nonstick spray. No one wants chunks of donuts left behind. I love using Baker's Joy for donut and bundt pans. It works every single time.
Mix together your donut batter and spoon it into a large ziplock bag. Cut one corner off and squeeze it into the prepared pan. Try to only fill them halfway. It's ok if you fill them a little fuller. They just won't have as much of a open center. Just use a knife to cut it out before adding the glaze if that happens.
Let the donuts cool in the pan for about 2-3 minutes, then loosen the edges with a knife and lift them out. Place them on a cooling rack to cool completely.
Wipe the pan out with a paper towel and spray it again before repeating with the rest of the batter.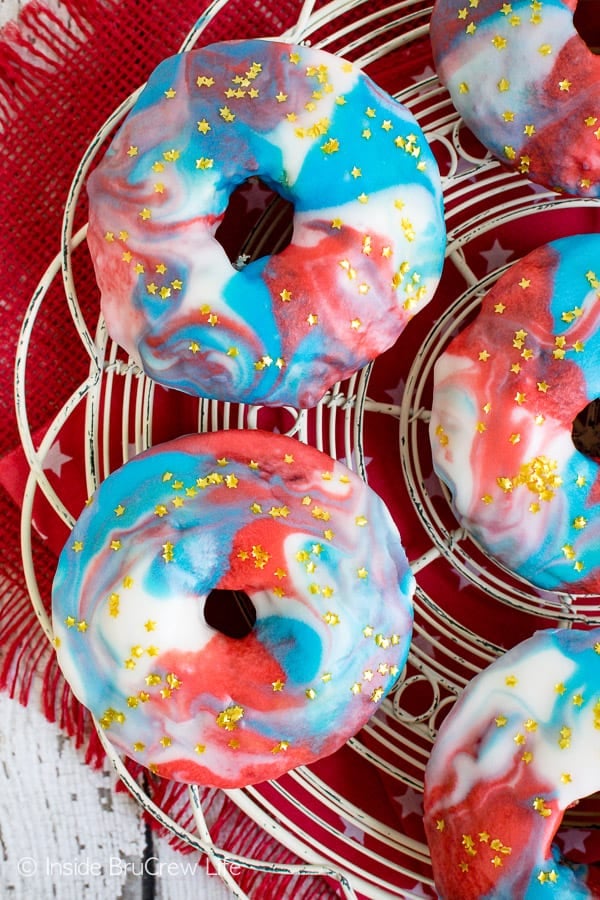 Whisk together the glaze ingredients and divide it evenly into three bowls. Tint two of the bowls with a red and blue gel color.
Place a baking sheet under your wire rack. You can thank me later when you don't have to clean the glaze off your counters.
Spoon a little bit of each color on top of a donut. It should kind of resemble a beach ball at this point. Use the back of a clean spoon or your finger to gently swirl the colors together. Make sure you don't swirl it too much though or you will lose the color definition.
Add sprinkles to the top while the glaze is still wet. Repeat with the rest of the baked donuts!
Make a batch of these fun Patriotic Glazed Funfetti Donuts and a pitcher of this Pineapple Orange Punch to share them with your family and friends this summer.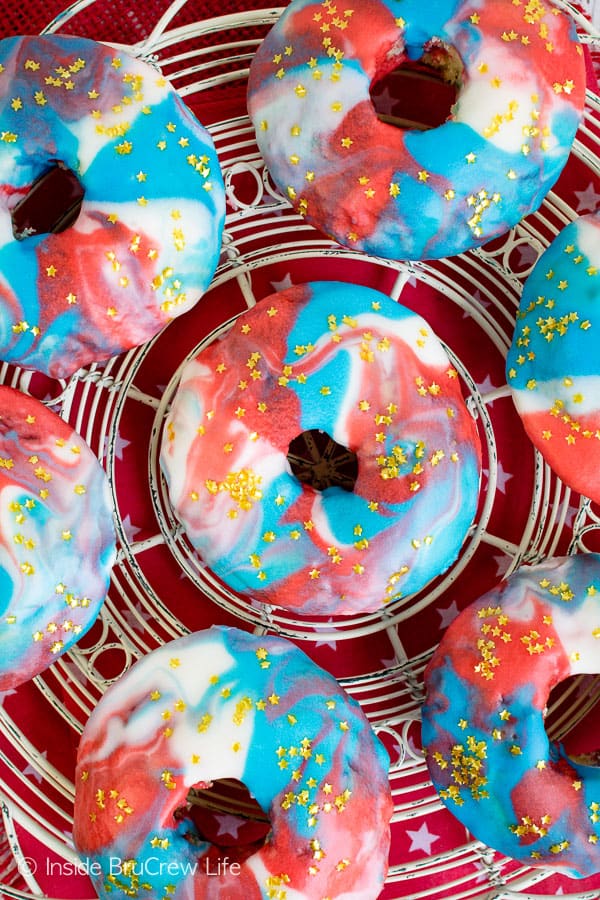 More fun desserts for the Fourth of July: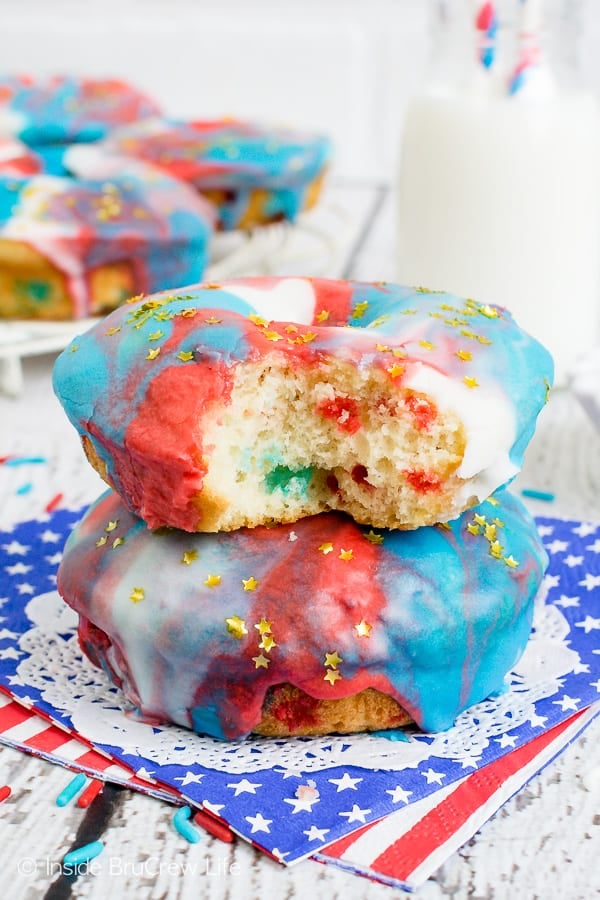 Patriotic Glazed Funfetti Donuts recipe: