You look like you could use a fun sweet treat for the weekend. These Peanut Butter Cup S'mores Brownie Bites are so fun and absolutely delicious! Brownies, peanut butter cups, and marshmallows in one cute little bite.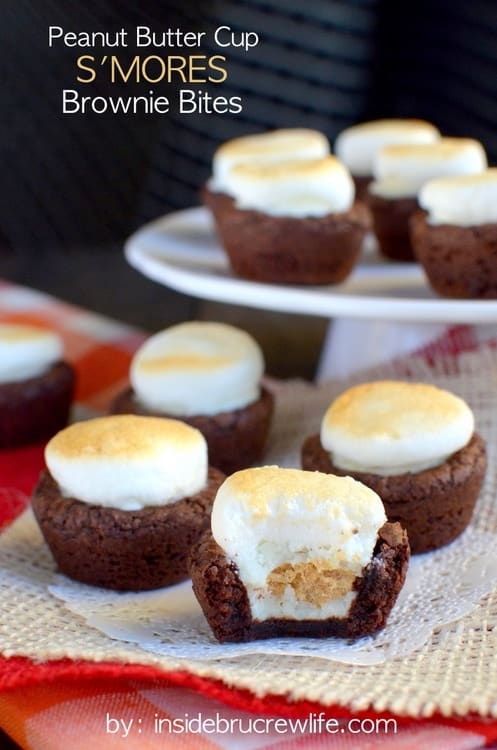 You guys!!!! I did something crazy!
I'm probably going to regret this wild and crazy action in about 5 months! You see my husband signed up for the Tough Mudder again...and he convinced a few others to sign up too. I'm one of the crazies he convinced!! Eeeeiiikkk! What was I thinking? Again!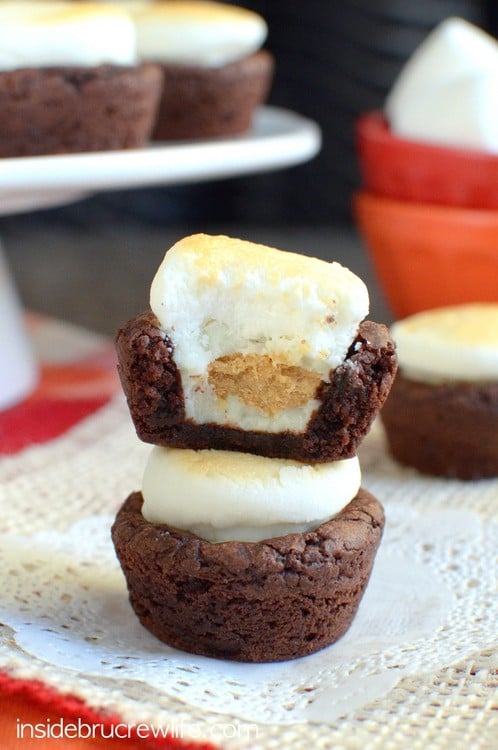 You see I am kind of a girly girl. Cute clothes, fun shoes, scarves, nail polish, and yes, lots of accessories. We are talking bags, necklaces, hair bows, and bracelets! Give me it all!!!
This girly girl does not like to get dirty. Mud is so not my friend. My idea of getting dirty is rolling brownie cookies with my bare hands!
So, cue all the crazy laughing at this curly haired girl who doesn't like mud. Because she will be running 10-12 miles all based around tough mud activities! It's ok...I'm totally laughing right now too! Laughing because it is totally something I've actually done before! I got this...I hope!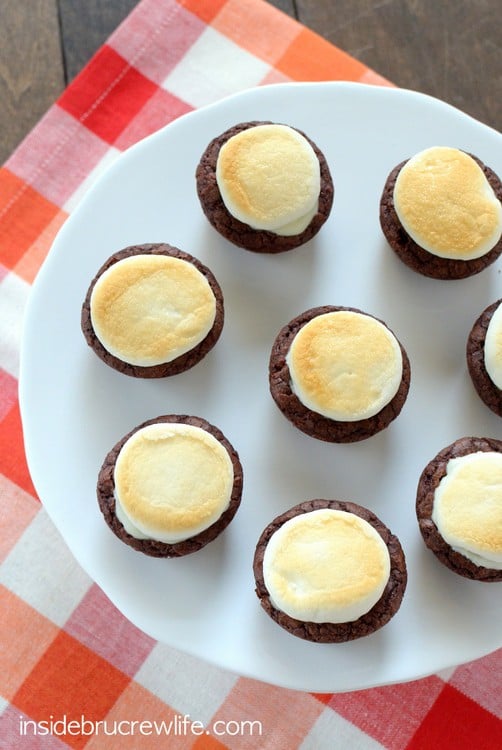 Yup, you read that right! I have already done one Tough Mudder. It was 3 years ago this month that we crawled under barbed wire in mud, jumped through fire, wadded a mile in water up to our chest, did a balance beam over water, climbed a cargo net, ducked under a board in water covered with 8 inches of ice cubes, and so much more!
We must have been crazy to sign up for an outdoor activity in November. I am so glad there wasn't snow early that year! Of course they have you jumping in ice water, so it wouldn't have mattered I guess!
At least all this cross fit we have been doing this year is going to pay off. I hope. Unless all the baking I do sabotages me!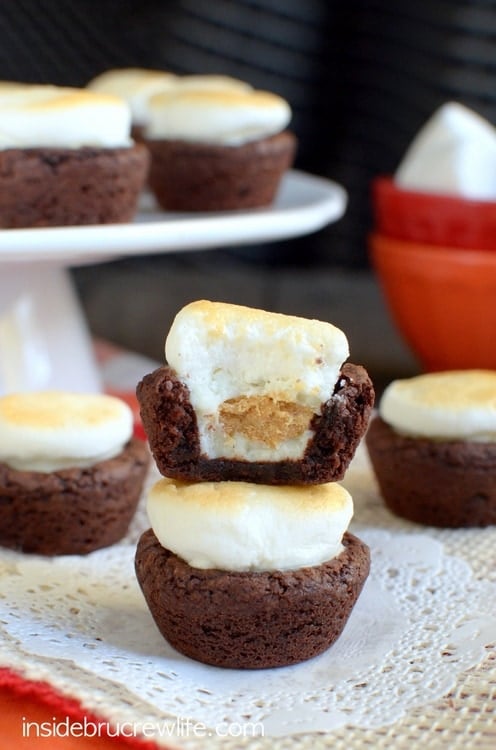 The other day I had this brilliant idea to create a mini brownie cup s'mores. You knew I wasn't over s'mores yet, right? I have plans to create s'mores every single month. Take that Tough Mudder training! Do a set of burpees and sit ups...eat a sweet treat! Sounds like the perfect plan to me 🙂
Anyway, back to the brownies. I used the base from these Salted Caramel Brownie Cookies, but instead of 30 cookies, I stretched it and made 36. You can do smaller balls because they are baking in mini muffin tins. We don't want them to over flow.
Make sure you use a good baking spray for the muffin tins. I like to use Pam Baking Spray or Baker's Joy. Bake the cookies for 10-12 minutes. Do not over bake them! Take them out of the oven and let them sit in the pan for 2-3 minutes.
Then press a peanut butter cup into each one. Immediately run a knife around the edge of each brownie to loosen it and lift out the cookie. Be careful! The peanut butter cups will start to melt from the warm cookie. Be careful removing the brownies, or you will end up with chocolate all over. Place them on a piece of parchment and let them cool completely!
Then top them with a half of marshmallow and toast it for 1 minute under a broiler on high. Make sure you keep your eyes on these...we do not want to scorch the marshmallows. You just want a puffy lightly brown marshmallow! Take them out and let them cool again. Go ahead and go run a few laps or do some pull ups while you wait.
Seriously guys, I'm going to have to find some way to resist the sweets in this house. Cupcake butts are not advisable when you are climbing 12 foot walls covered in mud...or in my case being pulled over walls. Good thing I have 5 months to get ready for this! I'm getting scared thinking about it!
More brownies and s'mores...that's what I need to calm my nerves 🙂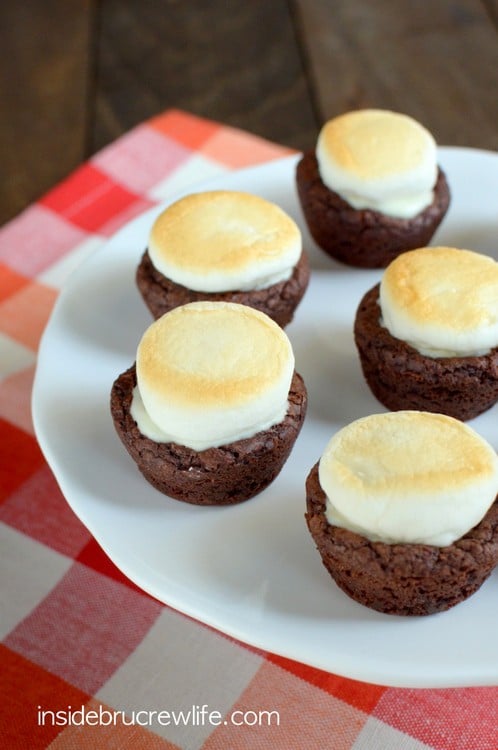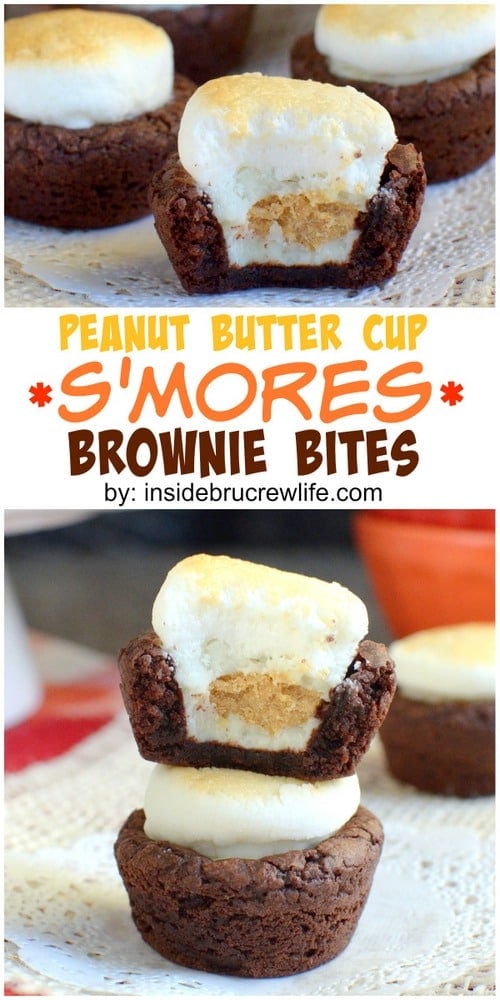 More fun S'mores treats to make and enjoy: