Peanut Butter Snickers Cheesecake Brownie Pie: layers of fudgy brownie, peanut butter cheesecake, and whipped topping makes this gooey pie the best dessert.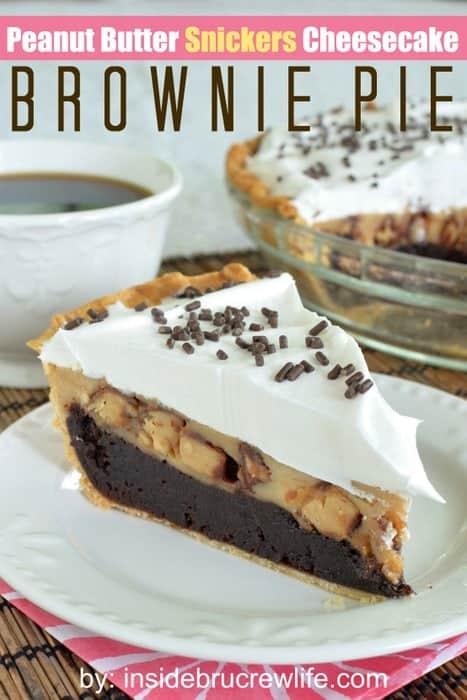 The past few weeks I have been learning the value to saying no. I usually just can't say no when I am asked to do different projects.
You need 10 matching headbands for a wedding party this coming weekend. Sure I will get right on that. 200 cupcakes for a party you are having. Sure, why not.
Ok, ok, those might be slightly embellished examples, but you get the point right? I don't like to turn down requests for things that I know I can do.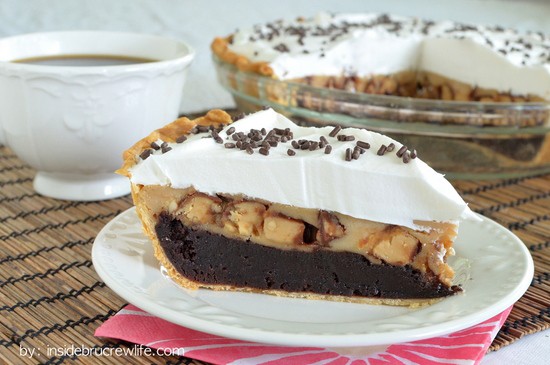 So far in the last 2 weeks, I have said no to 3 large graduation cake orders and a hand picked blog project. It was hard to say no because I know that I can do them.
I knew that I would be so stressed out trying to finish everything while decorating a wedding cake, packing for our family vacation, and making a batch of these No Bake Monster Cookie Dough Bites for the trip.
It really was in my best interest and my family's best interest to not take on that many extra projects.
There were a couple things that I thought long and hard about trying to fit in. I mean when someone hand picks you for a special blog job/project, you want to say yes immediately.
After weighing everything, I knew that I just couldn't put the time and effort into it. The email I got back from my campaign manager saying how impressed she was that I would say no to something like this, reaffirmed to me that saying no to someone or something is ok to do.
Just a little life lesson that I had this weekend that I thought I would share.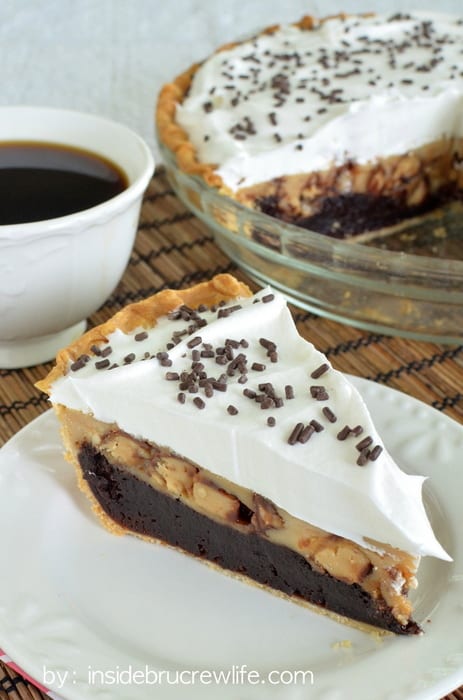 Something I couldn't say no to this week though was this pie!!!! Oh, my goodness!
Talk about decadent and delicious! A thick fudge-y pie topped with peanut butter cheesecake that has candy bar chunks in it and a layer of Cool Whip on top of it had my name all over it.
Well, one slice anyway. Remember the lesson in saying no? It really needs to apply to dessert too. I ate way too many of these Ultimate Reese's Cheesecake Brownies the other day too.
It's time to start saying no to the goodness that keeps happening in my kitchen. Well, after one or two bites that is! All in the name of recipe research, right?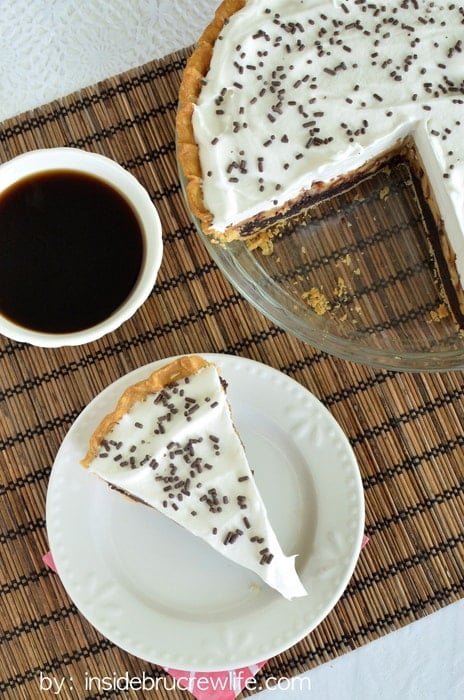 Tips for making a Peanut Butter Snickers Cheesecake Brownie Pie:
Set out the pie crust 15 minutes ahead of time, so it will unroll easily.
Unroll the pie crust into a 9 inch pie plate and crimp the edges.
Mix together the brownie mix, oil, water, and egg. Do not follow the box directions. The batter should be very thick and sticky. Spread it in the bottom of the pie crust and bake.
Beat together the cream cheese, peanut butter, and sugar until creamy. Add the egg and vanilla and beat again.
Cut an entire bag of Peanut Butter Snickers bites into quarters and stir them into the cheesecake batter. Spread the mixture on top of the baked brownie and bake it again.
Once the pie has completely chilled top with Cool Whip or homemade whipped topping if that is what you prefer.
Chocolate sprinkles, chocolate curls, or more candy bars are a fun way to dress up the top of the pie.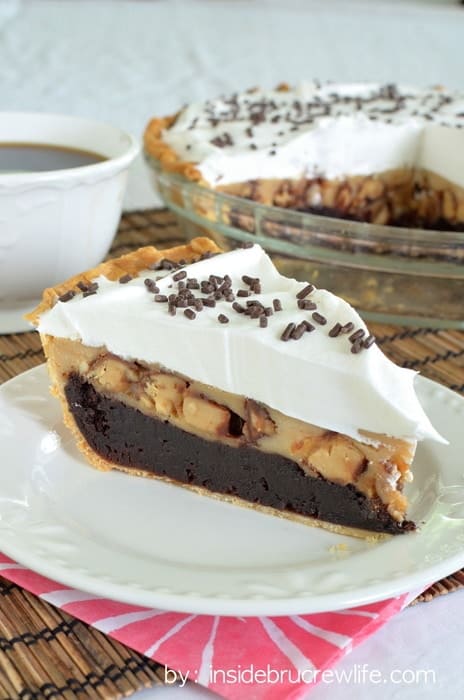 More delicious pie recipes you may like: