Coffee, chocolate, and peppermint make these Peppermint Mocha Scones a delicious breakfast or afternoon treat. Grab a cup of coffee and take some time to enjoy one or two this afternoon.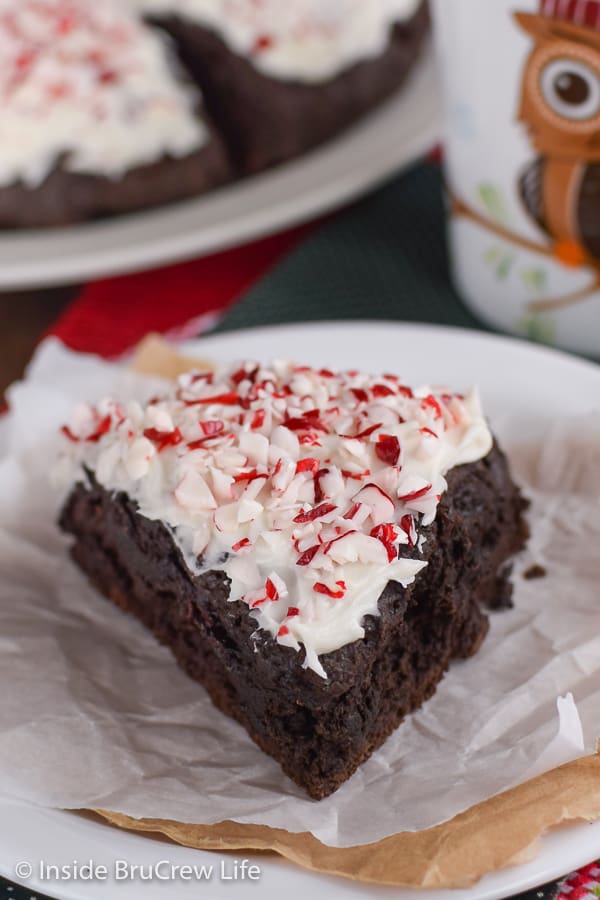 This time of year I go a little bit over board with the peppermint treats. Is anyone else with me?
I look for every single way I can get that peppermint goodness into my baking. Fudge, cookies, and popcorn have been given the peppermint treatment in our kitchen this month. And so far, there is no end in sight for my peppermint cravings. Those stretchy pants are not going anywhere right now.
Up until now breakfast had been the one meal that had been safe from my peppermint addiction...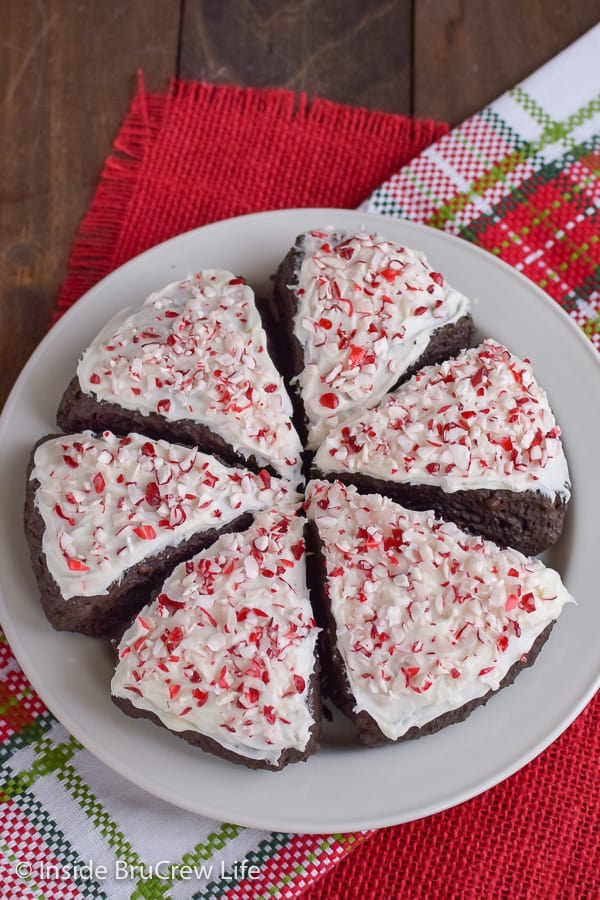 But…I found a way to eat peppermint for breakfast. This Peppermint Mocha Hot Chocolate is one of the favorite coffee drinks around here, so I took those flavors and added them to a batch of these Triple Chocolate Scones. Hello Peppermint Mocha Scones!
Our kids love when they get to eat chocolate for breakfast. (Yes, I'm totally cool with chocolate for breakfast here and there!) They were especially excited to eat a chocolate breakfast that had frosting and candy on it.
Our daughter has been putting one in the microwave each morning to get it all warm and gooey again. She did say to tell you that 15-20 seconds is perfect. Any longer and the frosting will melt.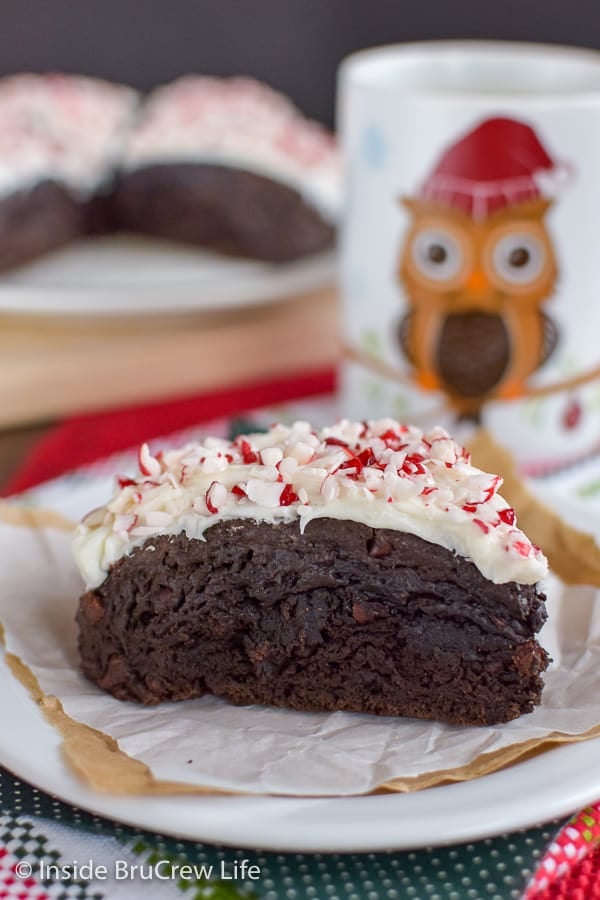 For these scones I mixed a little bit of coffee and some coffee creamer with the cold butter and the dry ingredients. It makes these chocolate scones a decadent treat to wake up too in the morning.
I love that the Peppermint Mocha creamer is usually in grocery stores year round now. So these scones can happen in April or July too!!! If you can't find it, go ahead and use heavy cream with a little bit of peppermint extract in it.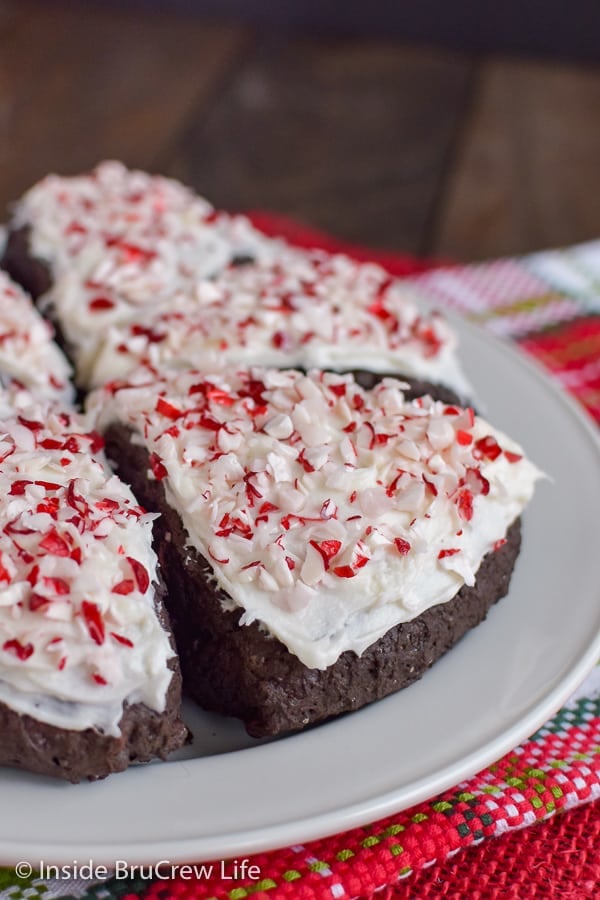 The best thing about these easy scones is that you can make them the day before. Any way to save time in the morning gets my vote.
These peppermint scones would be the perfect breakfast to have ready for Christmas morning.
How to make Peppermint Mocha Scones
Stir together the dry ingredients in a large bowl.
Add the cold butter and use a pastry blender or fork to mix it until it looks like crumbs. Work quickly so the butter stays cold.
Stir in the chocolate chips gently. Create a hole in the center of the ingredients.
Add the egg, extract, coffee, and coffee creamer to the dry mixture and gently mix with a fork until a soft dough forms.
Divide the dough in half and place on a baking sheet. Press and pat the dough balls into a 6 inch circle. The dough will be sticky. You can refrigerate the pan for 15-20 minutes before baking to keep the scones from spreading too much.
When they are finished baking, let them cool 5 minutes, then cut apart and let cool completely.
Right before serving, add the frosting and candy cane bits.
FYI: Do not add the frosting and candy canes until you actually serve them because they will get all melty and sticky.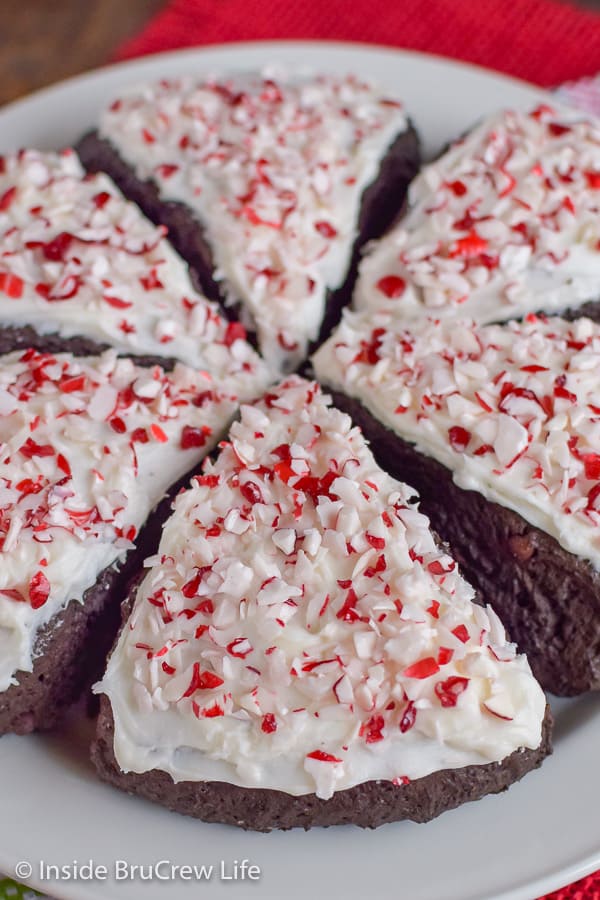 Other easy peppermint recipes to make for Christmas
CLICK HERE TO PIN THIS RECIPE FOR LATER!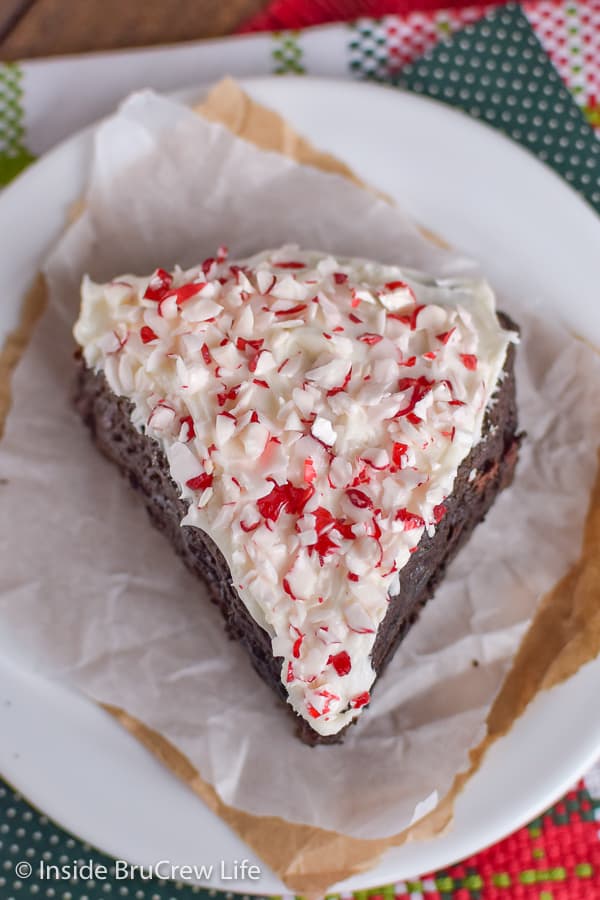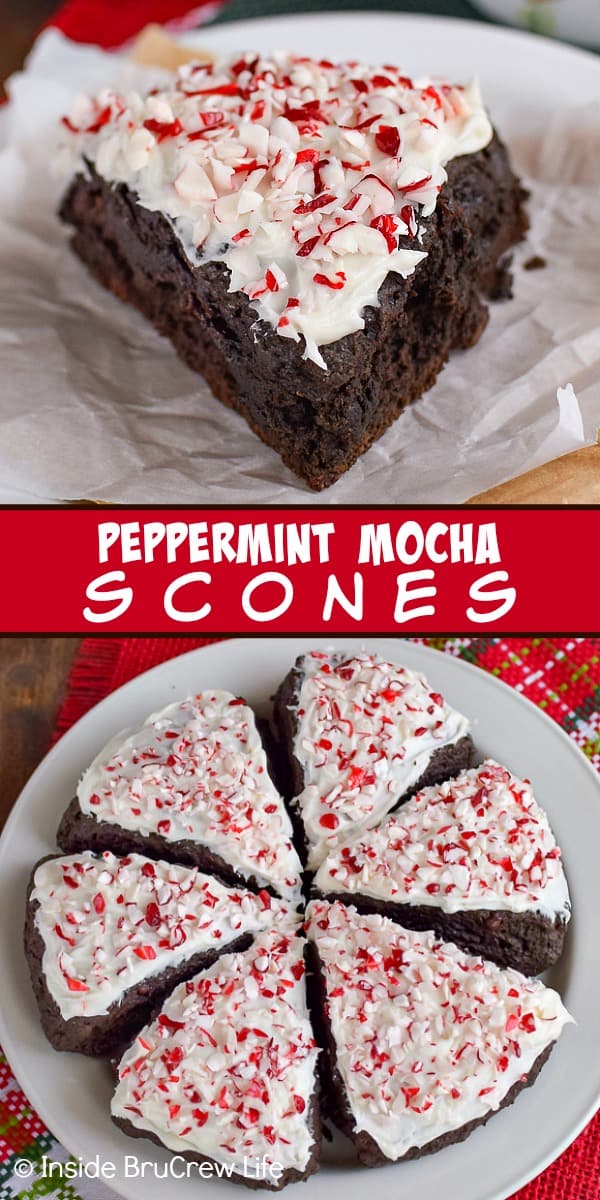 *The post for Peppermint Mocha Scones was first published on December 23, 2014. The post and photos have been updated, and it was republished on December 9, 2019.