Layers of chocolate and peppermint fudge and Oreo cookie chunks make this Chocolate Peppermint Oreo Fudge a knockout fudge. It will stand out on those holiday cookie trays for sure!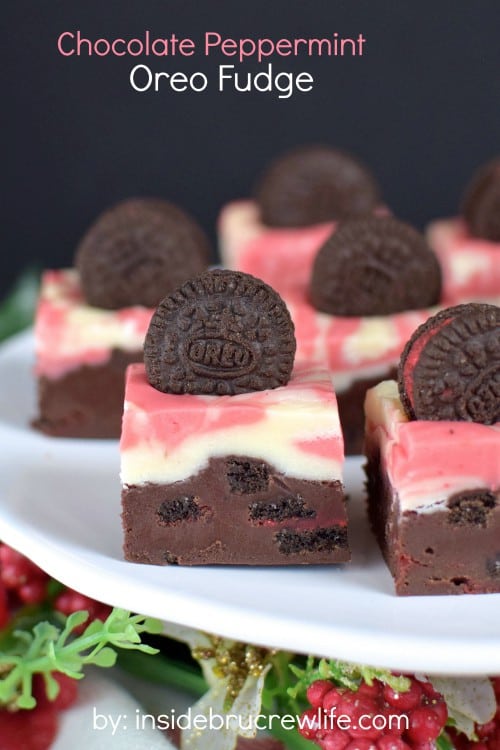 Do you have your stretchy pants out yet?
This is the month I find myself needing them the most. Every where you turn there is a plate of fudge and cookies. Oh, believe me I am not complaining. I can totally put away more sweet treats than you can imagine possible. When it comes to sweets, I am like a teenage boy...only much cuter and not a boy. Ok, that might have been a dumb analogy, but...we are going to go with it because it is late and my brain is not thinking straight.
But you get the picture, right? I have no problem whatsoever downing sweets at any time of day! It's why I have to keep going to the gym. I do cross fit in the morning...I taste test fudge in the afternoon. Gotta love a job that "makes" you eat fudge, cookies, and cake. Oh, and don't forget the cheesecake, truffles, and popcorn. Yup, best job EVER!!!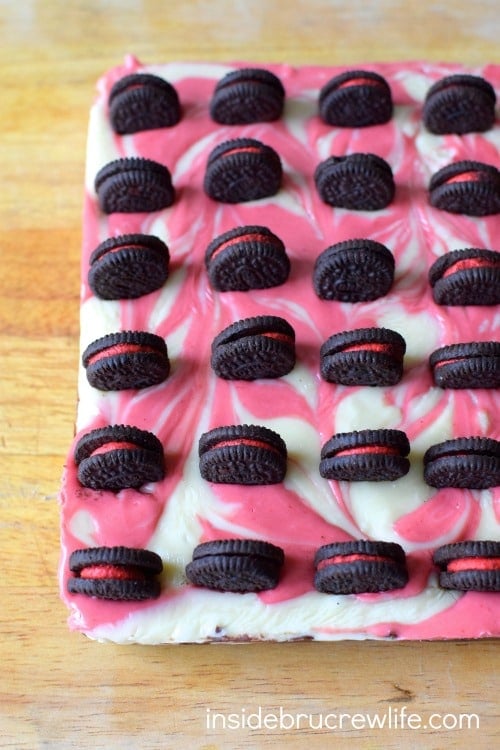 So, since it is that time of the year when fudge is acceptable to eat every day, I just had to make another fun holiday version.
And of course, my beloved Andes Peppermint Crunch Chips were used again.
Please tell me you have been able to find them!!! You must hunt them down and then buy a bag or two...or twenty. And then make all the peppermint treats I have shared with you. I do suggest having a party or friends to share with because that's a lot of peppermint awesomeness to consume by yourself.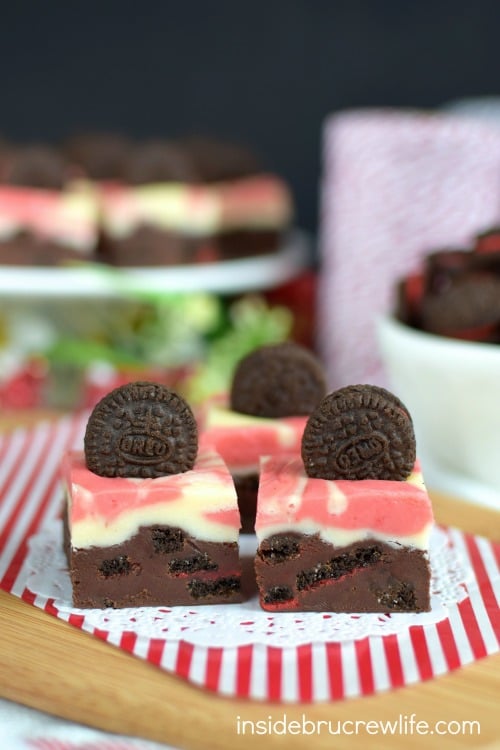 I also had a box of mini holiday Oreos in my cupboard that I decided to add to the chocolate fudge layer. If you can't find the holiday Oreos, regular ones work just as well.
Let's talk about the top layer for just a minute. See how nice and pretty and swirly it is? Don't get freaked out...it's actually super easy to do! Make the chocolate layer and set aside.
Now get out TWO pans and put your ingredients for both the white and peppermint fudge in each one. Heat them both up at the same time, making sure you keep stirring both. Make sure all your attention is on the pans of fudge in front of you. Put down the phone and turn off the TV. You need to be focused on fudge goodness right now.
As soon as it is all melty and creamy, add the marshmallow to each pan and stir again. Now start spooning white and pink fudge onto the chocolate layer. Make sure you alternate your spoonfuls. There is no exact science to this. Just plop each color on. Then use a knife to swirl the two colors together. See? I told you this was easy.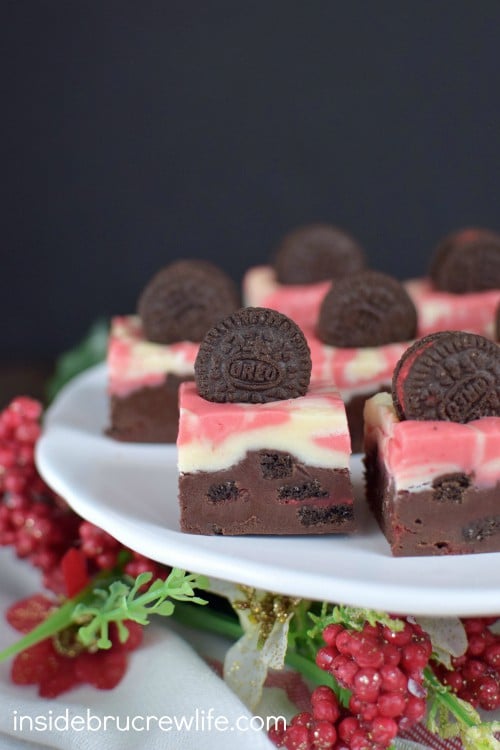 Last step to the fudge. Well, after you let it set up that is.
Cut it into squares and package up to give away. I love making fudge and sending it to my family. Most of them are out of state, so they don't get to help me eat my sweets very often. I found these cute little bread tins at Michaels, and they are the perfect size to package a dozen fudge squares in. After you fill the box, put the lid on top, and add some twine and a tag to make it all pretty.
Just make sure you save a few pieces of fudge for yourself. It is the holidays and all...go crazy and eat a piece each day.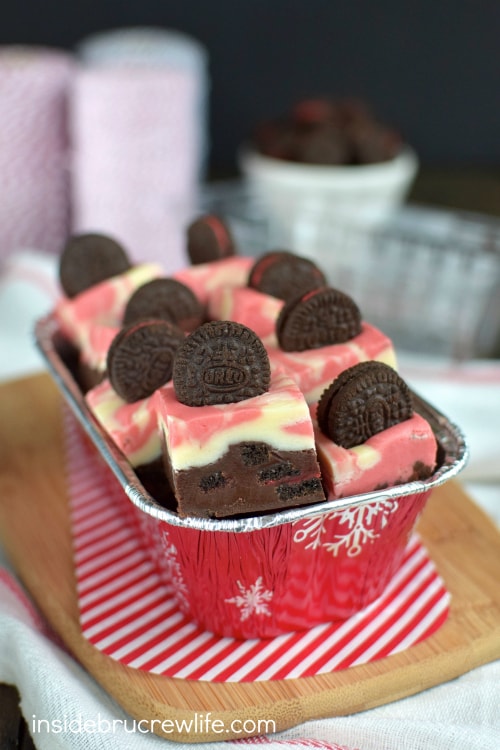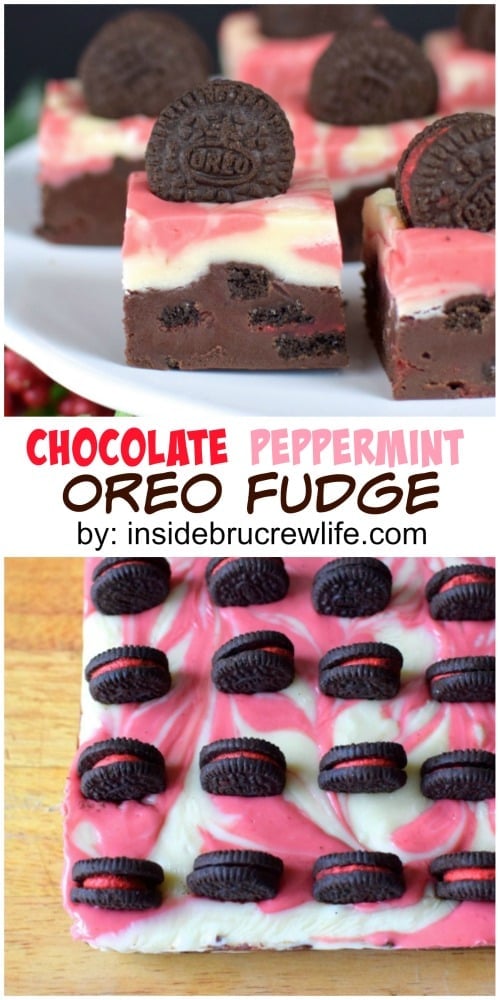 More fun fudge recipes to share with others: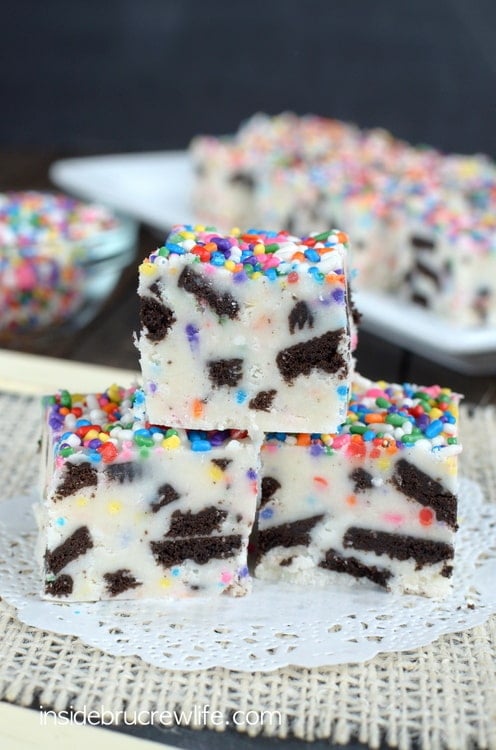 Funfetti Cookies and Cream Fudge