Swirls of Oreo cookies and peppermint bits belong together during the holidays. Make this Peppermint Oreo Cheesecake for every party or event you attend this month and watch everyone smile.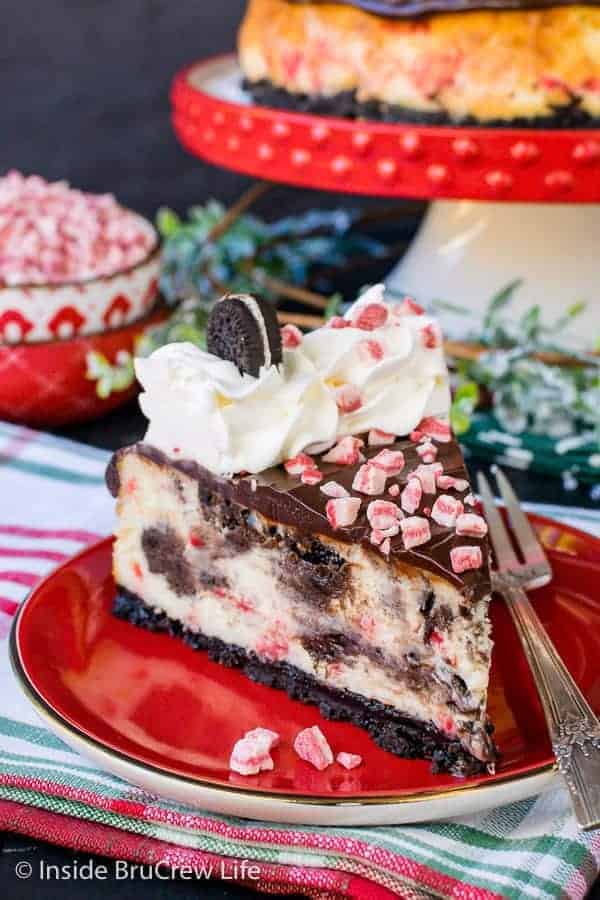 Cheesecake definitely has a reputation for being difficult to make, but I honestly hope that I can convince you that's not true. Once you know the basics, making a full sized cheesecake is a piece of cake. Literally. LOL!
It all comes down to using the right ingredients, the right temperature, and the right pans. Once you get that down pat, it is easy to start changing out ingredients and adding different mix-ins in the batter. I shared my tips and tricks in the post for the Best Vanilla Bean Cheesecake.
This holiday cheesecake was actually inspired by a carton of peppermint ice cream from our local grocery store.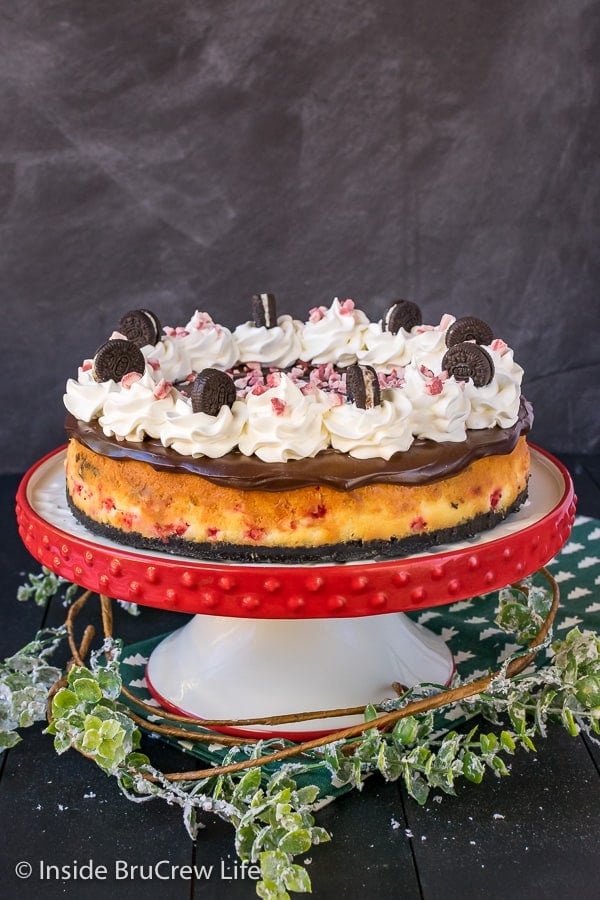 Last month we were buying groceries and the holiday flavors of ice cream had just been stocked in their freezers, so, of course, I had to check them out. I love checking out store brand ice creams because they usually have unique and delicious flavors.
This particular ice cream had Oreo cookies and peppermint bits swirled all throughout the marshmallow ice cream. It had to come home with me right away.
And after one bite I was completely and totally in love with it. In fact, it is my new all-time favorite ice cream. I'm going to be so sad when I can't find it anymore.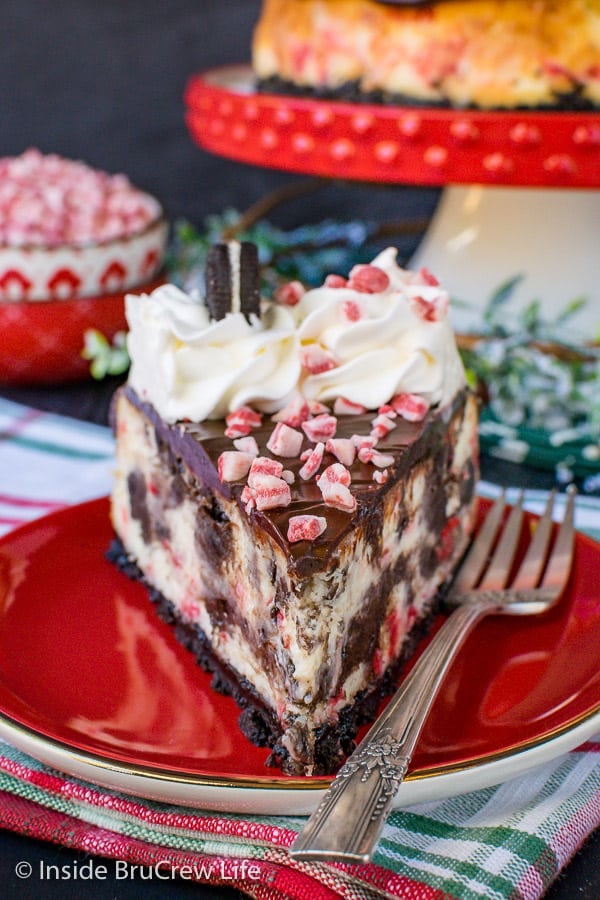 As I was enjoying a big bowl of ice cream, I started thinking how good this flavor combo would be in cheesecake. I already knew I would love the flavor because this no bake Peppermint Oreo Cheesecake has been one of our favorites for years.
Of course, that was all the motivation I needed to run to the kitchen and start baking a fun holiday cheesecake to share with my ladies Bible study.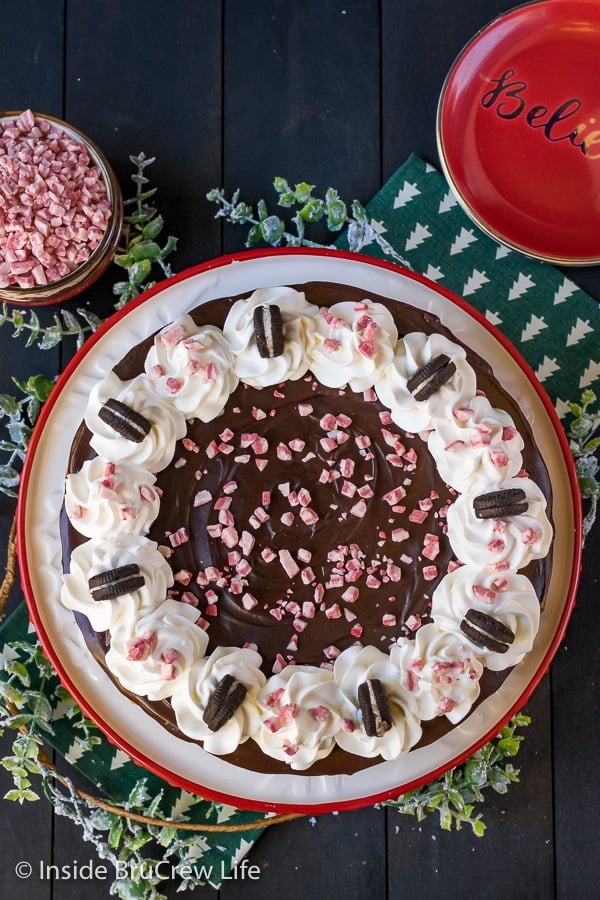 A few years ago I wrote a cookbook all about cheesecake called Cheesecake Love. Most of the recipes in the book are simple and basic recipes that you can change and adapt with any flavor.
There is a recipe for a marshmallow s'mores cheesecake in the book, so I used the base recipe and then added a swirl of Oreos and some peppermint crunch bits.
How to make a Peppermint Oreo Cheesecake
Line a 9 inch springform pan with parchment paper and place a sheet pan with water on the very bottom rack of your oven. (scroll to bottom for printable recipe card)
Crush the cookies and mix it with butter. Press it evenly in the bottom of the pan and set it aside.
Beat softened cream cheese with sugar until creamy. Add sour cream, vanilla extract, peppermint extract, and a jar of marshmallow cream and beat again.
Add the eggs one at a time and gently beat until completely mixed in. Do not over beat the cheesecake batter because that can add air bubbles to the mixture that could cause your cheesecake to crack as it bakes.
Remove 1 cup of batter and stir some crushed Oreo cookies and cookie chunks into it. Add peppermint bits to the remaining batter.
Pour half the peppermint cheesecake into the prepared pan. Drop half of the Oreo cheesecake mixture by spoonfuls onto it. Swirl gently with a knife.
Repeat the layers again and swirl gently. Make sure you do not over swirl or the batter will become muddy looking.
Place the cheesecake pan on the oven rack directly above the steaming water and bake.
Remove the pan from the oven and let cool for 5 minutes. Run a knife around the edge of the cheesecake to loosen it from the pan. (Cheesecake shrinks as it cools, so if it is attached to the pan it can create a crack in the center of the cheesecake.) Cool on counter for an hour then refrigerate until completely chilled.
Once the peppermint cheesecake is completely cooled, decorate the top with chocolate ganache, Cool Whip, mini Oreo cookies, and peppermint crunch bits. If you really want more peppermint goodness, use this Peppermint Whipped Cream.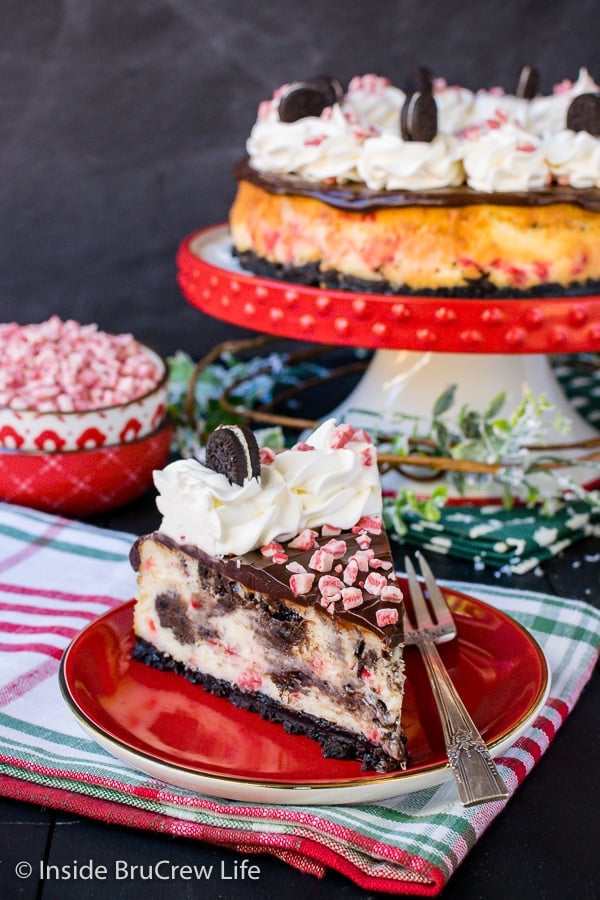 More easy holiday cheesecake recipes
CLICK HERE TO PIN THIS RECIPE FOR LATER!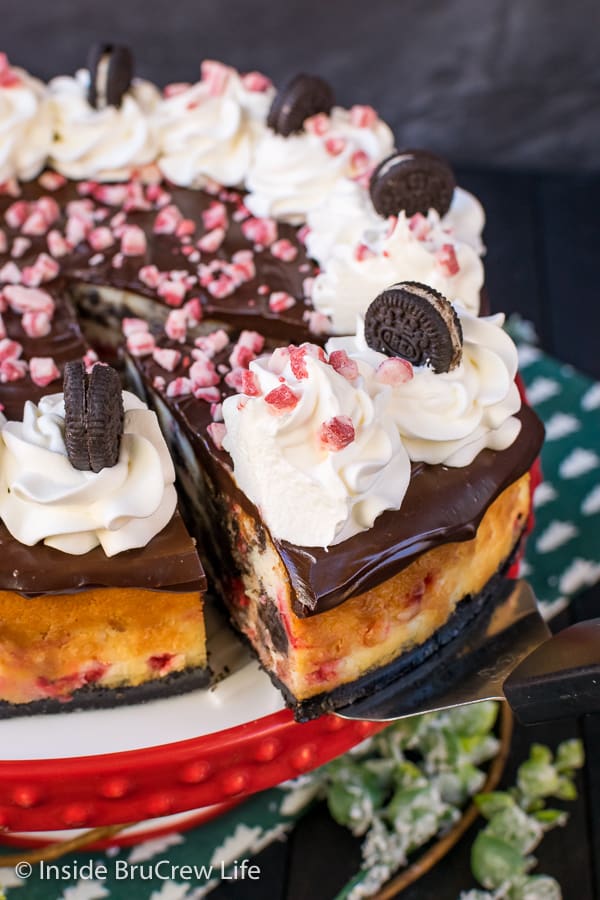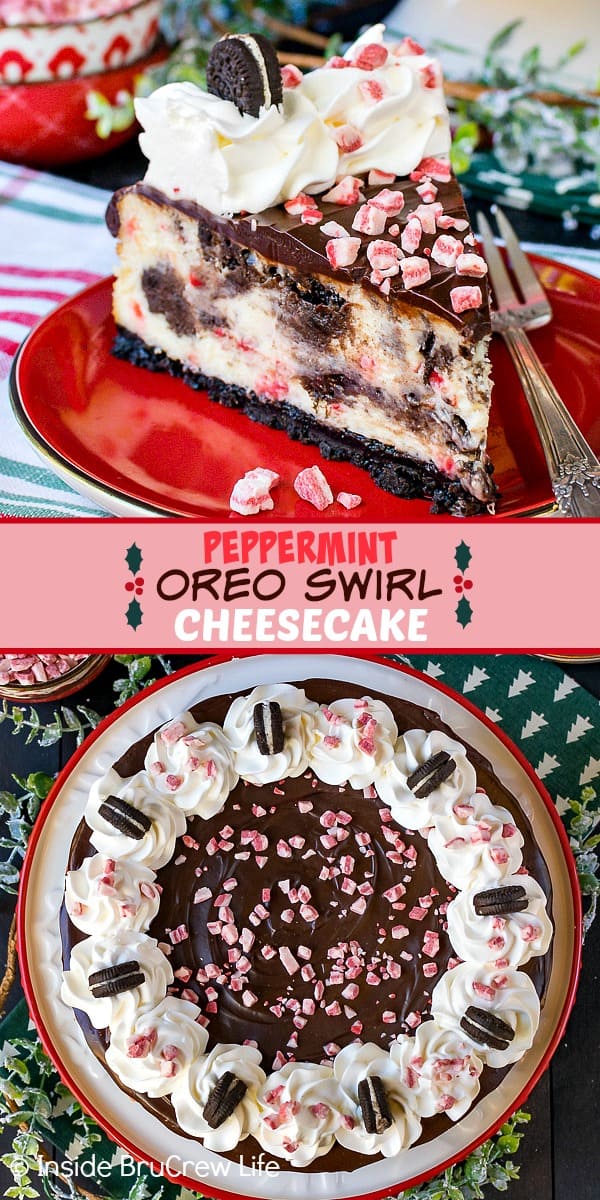 *This post contains an affiliate link. Thank you for letting us share these free links with you. As always, these do not cost you any extra.