These delicious Strawberry Rice Krispie Treats topped with Hershey hearts are sure to bring joy to your day. The sweet combo of chocolate and strawberry adds a fun twist to the classic marshmallow rice Krispie treat.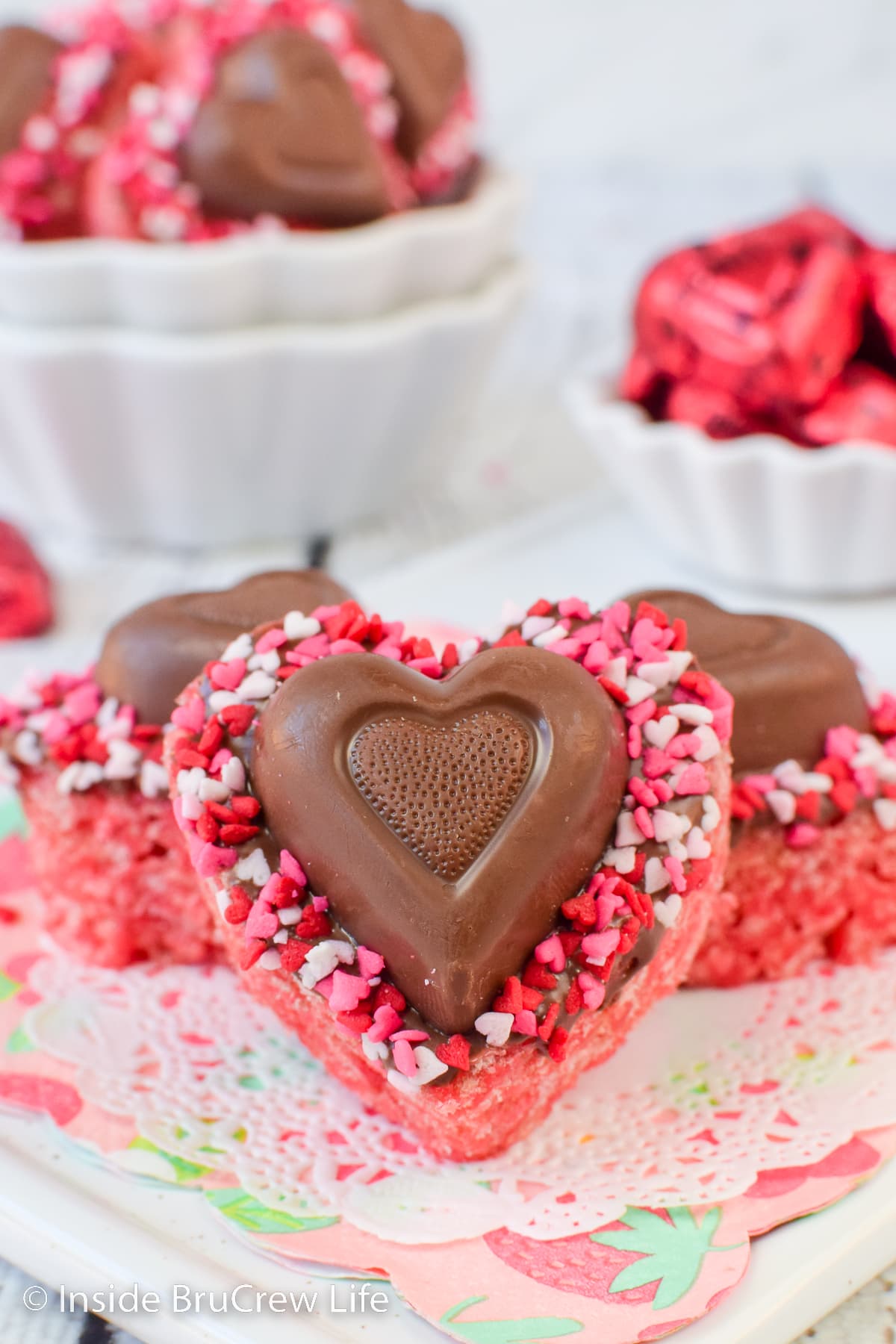 Jump to:
We love rice Krispie treats around here. Something magical happens when you combine marshmallows, butter, and crisp rice cereal in a pan.
Some of our favorites are peanut butter cup rice krispies and these M&M rice krispie treats. I love that there are so many ways and shapes that you can make them.
A few years ago I made these Reese's Krispie hearts as a fun Valentine's treat. This year I found chocolate hearts filled with strawberry creme and decided to make strawberry rice Krispies with them.
Why You Will Love These
These chewy rice Krispie treats get their flavor and color from a box of strawberry Jello. You are going to love how easy it is to transform the classic treats into any flavor with Jello powder.
Easy No Bake Treat - No need to turn on the oven and heat up the kitchen.
Bright Pink Color - The fun color makes them perfect for Valentine's Day, Mother's Day, or baby showers.
Fun Flavor - Jello powder is a great way to add strawberry flavor to rice krispie treats.
Loaded with strawberry flavor and topped with a chocolate heart, your family and friends will be so impressed with these fun crispy treat hearts.
Ingredients Needed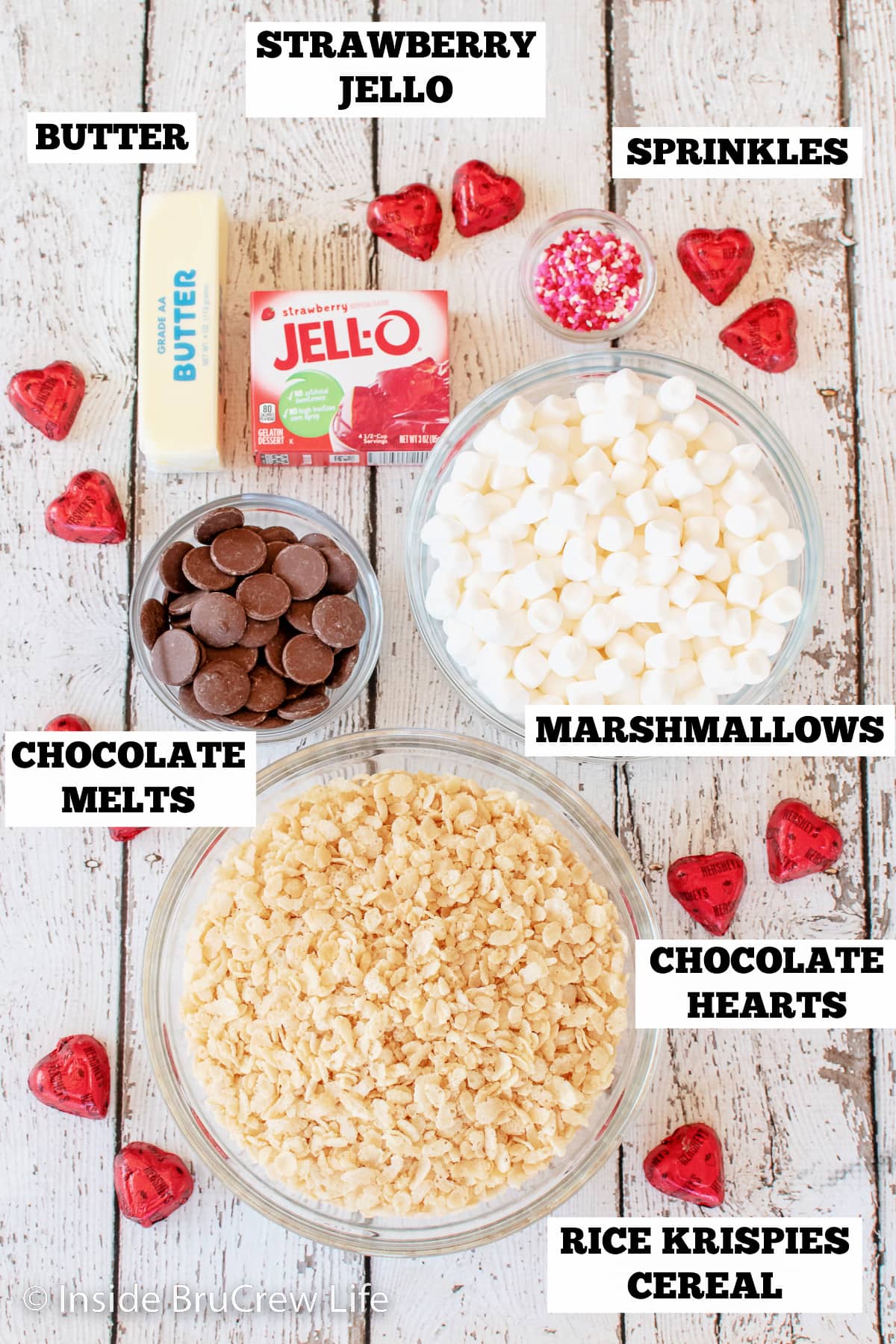 With just a few ingredients, you can have a pan of pink rice Krispie treats cooling on your counter in minutes.
Butter - Unsalted or salted is ok to use in this recipe, so use whatever you have in your fridge at the moment.
Marshmallows - One 10 ounce bag of mini marshmallows will give you enough for this recipe.
Strawberry Jello - To add a strawberry flavor to the treats, you are going to add one small box of dry Jello powder to the melted marshmallow mixture.
Rice Krispies Cereal - You will need one 12 ounce box of cereal.
Toppings - The melted chocolate, sprinkles, and strawberry creme hearts are optional, but they add a fun Valentine flair to the no bake treats.
Other Flavored Rice Krispie Treats: Brownie Rice Krispie Treats | Caramel Rice Krispie Treats | S'mores Rice Krispie Treats
How to Make Strawberry Rice Krispie Treats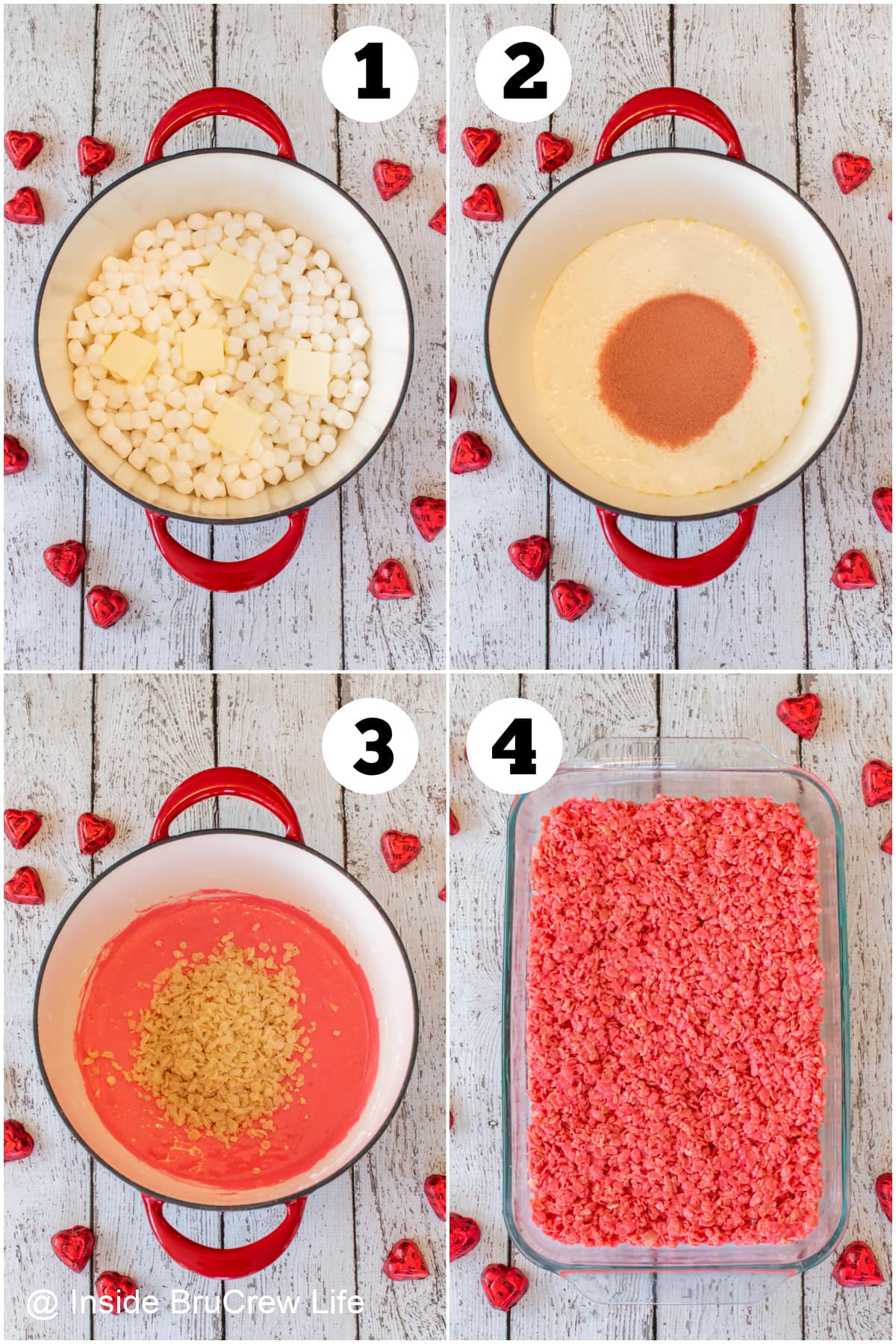 This strawberry rice Krispie treat recipe is easy to make in minutes, and you will love how colorful they are.
Place your butter and marshmallows in a pan over low to medium heat and stir until melted and creamy. Low and slow is the key here.
Add a box of strawberry Jello powder to the melted mixture and stir until dissolved. This is going to give these Krispie treats a sweet strawberry flavor. I used a full box, but feel free to use half of it if you want the flavor to be toned down.
Remove the pan from the stove and stir in the cereal until everything is coated.
Pour the cereal mixture into a buttered pan. Spray your hands with the nonstick spray and carefully press everything down evenly and firmly.
Let the pan of treats cool then flip it out onto a tray or cutting board. Spray a heart cookie cutter with nonstick spray and cut out hearts. Top with melted chocolate, chocolate hearts, and Valentine sprinkles.
Do you know what the best part of making Rice Krispie shapes is? Eating all the leftover scraps, of course! It's a tough job, but someone has to do it. Wink, wink.
Storage Recommendations
Counter - Store at room temperature in an airtight container for 4-5 days. Keep in mind, rice Krispie treats are always the freshest within the first day of making them.
Freezer - You can freeze crispy cereal treats. Simply wrap them tightly in plastic wrap or a freezer bag and freeze for up to 3 months. Thaw at room temperature when you are ready to enjoy them.
BruCrew Tip: For best results, do not add the chocolate and sprinkles until they have thawed out. Chocolate that has been frozen and then thawed can sometimes become discolored.
Tips for Perfect Rice Krispies
Use fresh marshmallows and ingredients. You may be tempted to use the bag that has been in the pantry for months, but don't. Old stale marshmallows will make the treats hard.
Melt the marshmallows and butter over low heat. Over heating the marshmallows can also make the treats hard.
Change them up with a different Jello flavor depending on the holiday. Blue Jello would make these 4th of July rice krispie treats even more fun.
Use less Jello powder if you want a lighter strawberry flavor.
Place parchment paper between the mixture and your hands, so it won't stick to your hands when pressing it into the pan.
Let the treats cool for at least 30 minutes before cutting them into heart shapes.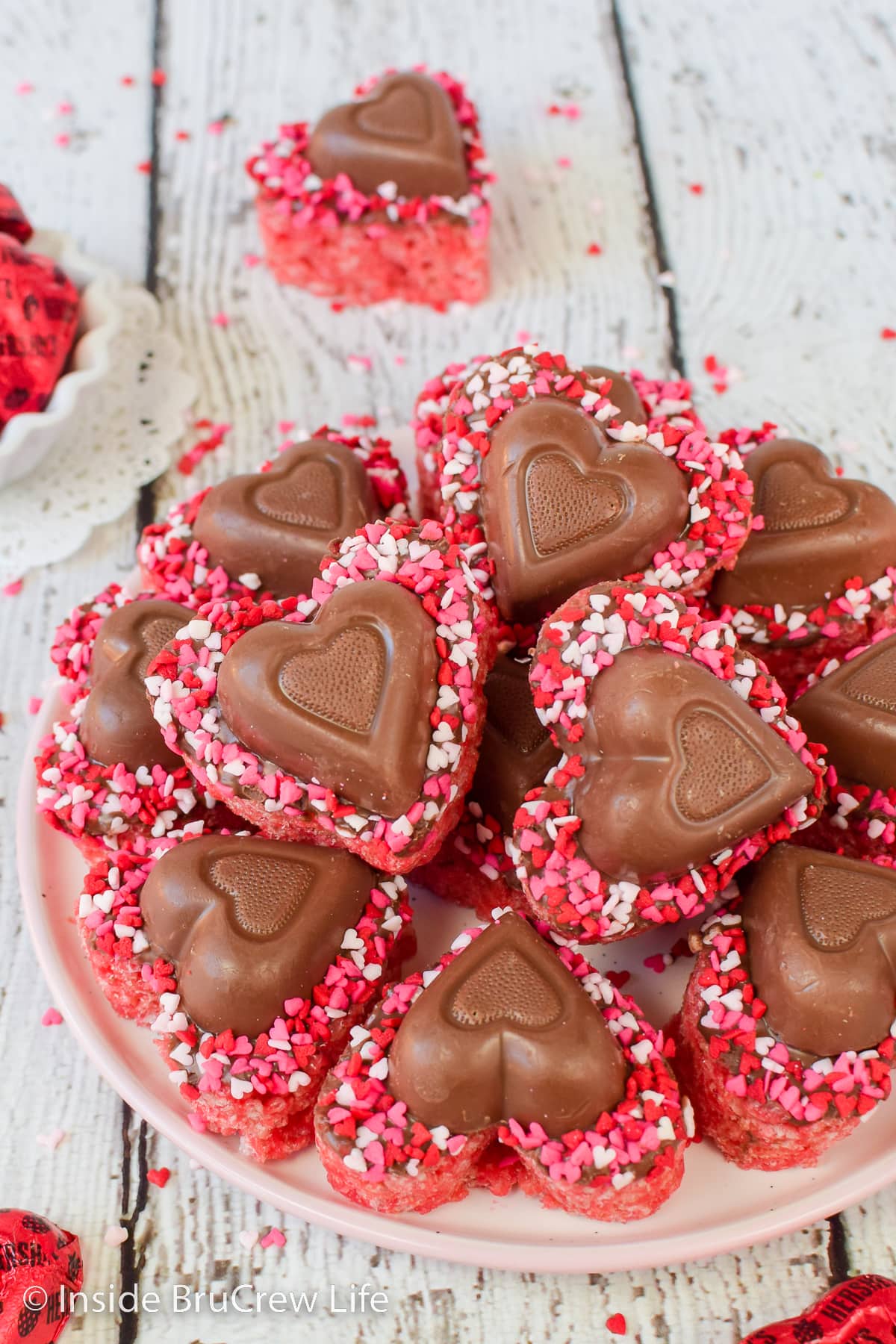 Recipe FAQs
Do I have to use Jello in these pink rice Krispie treats?
You do not have to use Jello. You could crush 2 ounces of freeze dried strawberries and add the strawberry powder to the marshmallow mixture instead.
Why are my rice Krispie treats hard?
There are 3 main reasons your rice Krispies might be too hard. Using old ingredients, melting the marshmallows over high heat, and pressing the cereal down too hard in the pan.
How do I cut classic rice Krispie treats into shapes?
Find a cookie cutter that you want to use for the shapes. Spray the cookie cutter with nonstick spray. You will probably need to repeat this step after every few cuts.
How do I keep rice Krispie treats from sticking to the pan?
To do this, you could spray or butter your pan before pressing the cereal mixture into the pan. You could also place a layer of parchment paper on the bottom of the pan, and lift them out when they are cooled.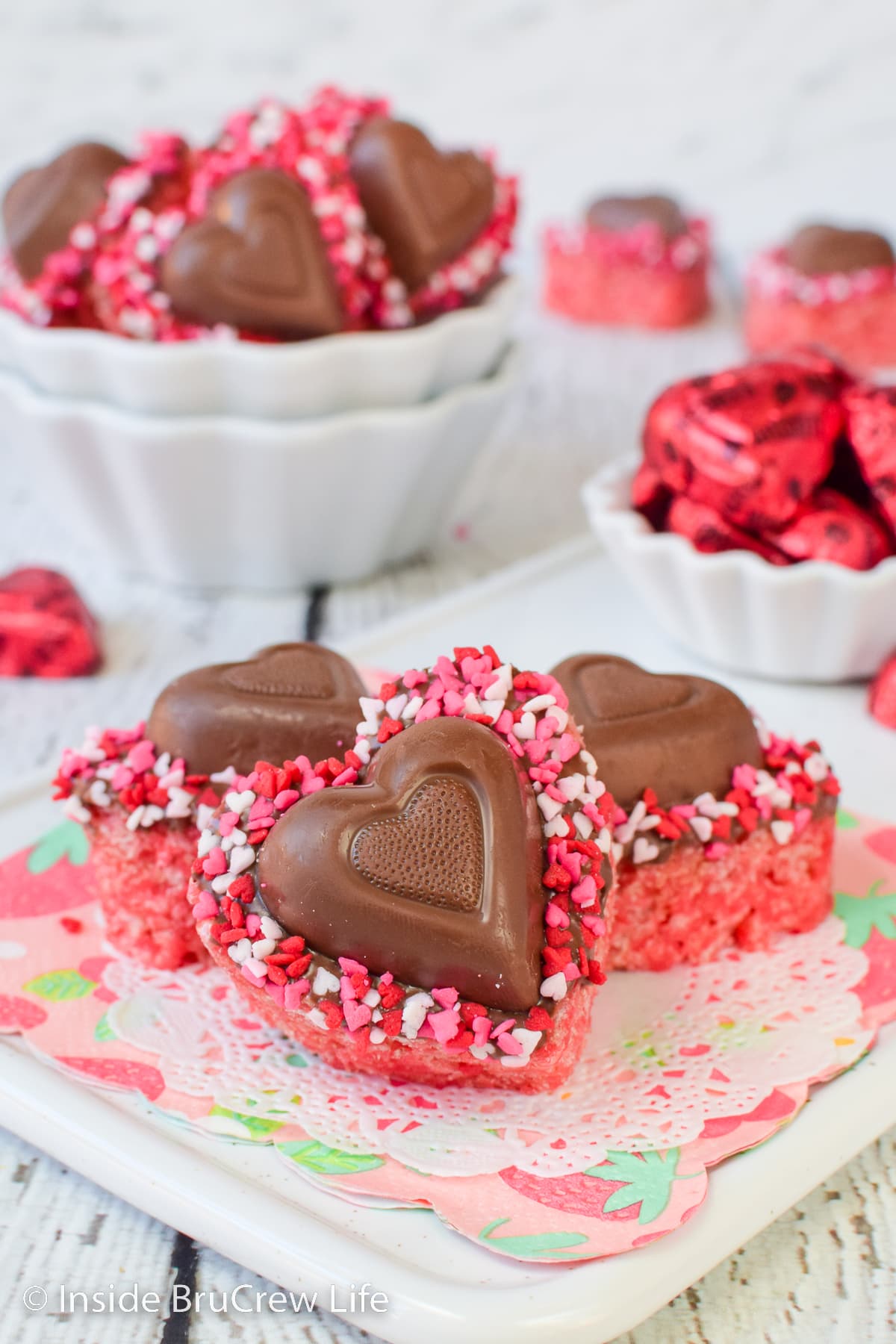 More Rice Krispie Treats
Do you love a recipe you tried from Inside BruCrew Life?
Please leave a 5-star ⭐️ rating and a review in the comments section below.
*The post for strawberry rice Krispie treat hearts was first published February 2019. It was updated and republished January 2023.