These easy Cheddar Jack & Bacon Meatball Sliders are a great dinner or appetizer choice.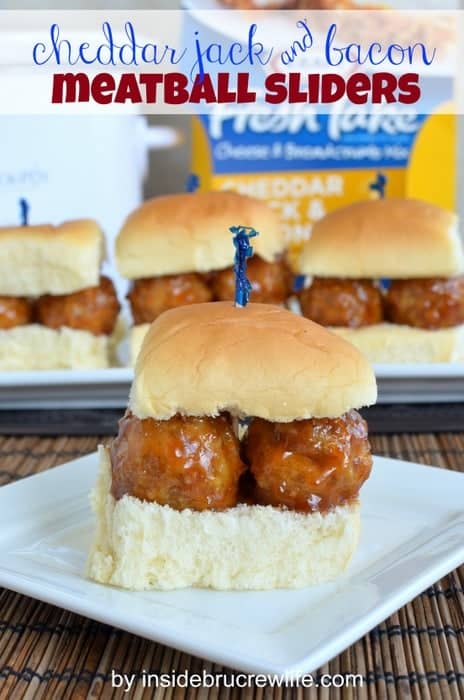 Now that Spring sports have started, I am on the look out for easy new products that I can use to make a fast and delicious dinner for my family. There are some nights that we do not have time for a huge sit down dinner because someone needs to be at practice in an hour or so.
I also have some picky eaters, so finding something that everyone will eat can be tricky. Now we have a rule in our family that you have to at least try what has been made. They are not allowed to turn their noses up at what we have made for dinner.
Easy snack dinners are a win win for everyone. Win for me, because I can have these made and in the crock pot in less than 40 minutes. And a win for the kids because they love meatballs and macaroni and cheese dinners.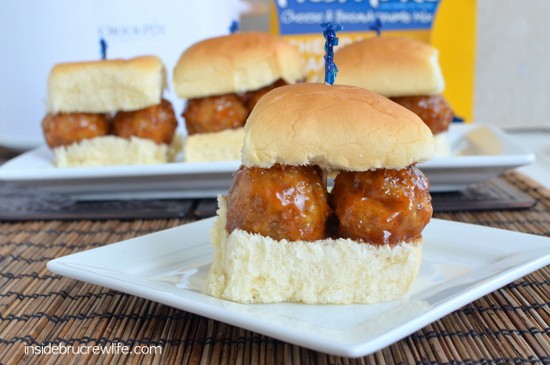 Last week I had the opportunity to go looking for the new Kraft Fresh Take cheese products. I headed to Walmart to see where it would be. You can follow my shopping story on Google+. My first thought was that it would be in the cheese cooler in the deli, and sure enough that is where my Walmart had it displayed. It was right in the middle of all the other Kraft shredded cheeses.
I looked at all 6 flavors and decided to try the Cheddar Jack & Bacon flavor. My family goes gaga for anything bacon, so I knew this was going to be a great choice for Cheddar Jack & Bacon Meatball Sliders.
As soon as I got home that afternoon, I got started on the meatballs. I like to use ground chicken to keep things a little healthier.
The Kraft Fresh Take has all the seasonings mixed right into the package. These meatballs were a cinch to make up and get in the oven.
Kraft was thinking when they created these easy dinner products. The cheese and breadcrumbs add such a great flavor to any meat dish with very little preparation. The bag is sealed in the center. When you are ready to mix the cheese and breadcrumbs together, you gently pull it apart and blend the two products together. Your dish will end up crispy, cheesy, and delicious.
I poured the cheese and breadcrumbs into my ground chicken. The easiest way to mix all the ingredients together is just to roll up your sleeves, remove your rings, and get messy. You will eventually be getting your hands into the mixture to roll meatballs anyway. I like to make 24 meatballs from 1 pound of ground chicken. That makes a decent size meatball for mini sandwiches.
One trick that I have learned is to line your baking sheet with some foil. That will save you from washing a pan later. Just remember to spray the foil with some non stick baking spray. I actually forgot this time, so my fingers were burning as I tried to pull them off gently before they cooled on the foil.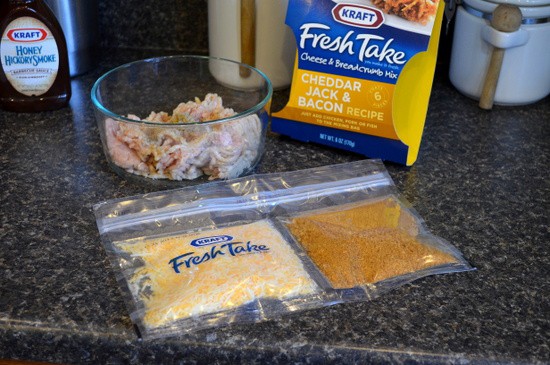 After the meatballs finished baking, I put them in a small crock pot on low with some Kraft barbecue sauce. I stopped and bought some Hawaiian rolls to serve the meatballs on when I went to get the kids from school.
When everyone was home from school, it was easy to make a pan of macaroni and cheese and relax around the table catching up on the day's events before someone had to leave for practice. I love when dinner prep is so easy, and I can enjoy more time with my family.