Fresh veggies, chicken, and a creamy dressing make this Southwest Avocado Ranch Pasta Salad a favorite summer meal in our house.  This salad is easy to make and will be the hit of any summer picnic or barbecue.
*This post has been sponsored by Hidden Valley Ranch and DataRank.  I am partnering with them to create a delicious summer meal recipe.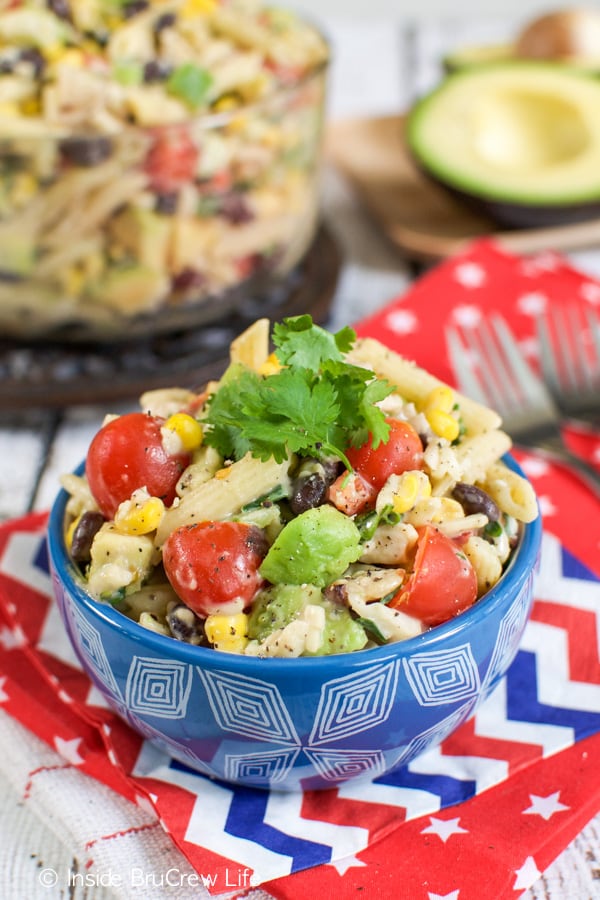 Summer in our house means pasta salad all the time.   I really do love these types of salads and would be ok eating them for every dinner. The family is pretty much on board with this thinking too…most days.   Something about fresh air, sunshine, and summer just makes a pasta salad that much more delicious.
Plus, pasta salads are easy to make and take to all those summer picnics, along with a batch of brownies and fluff salad.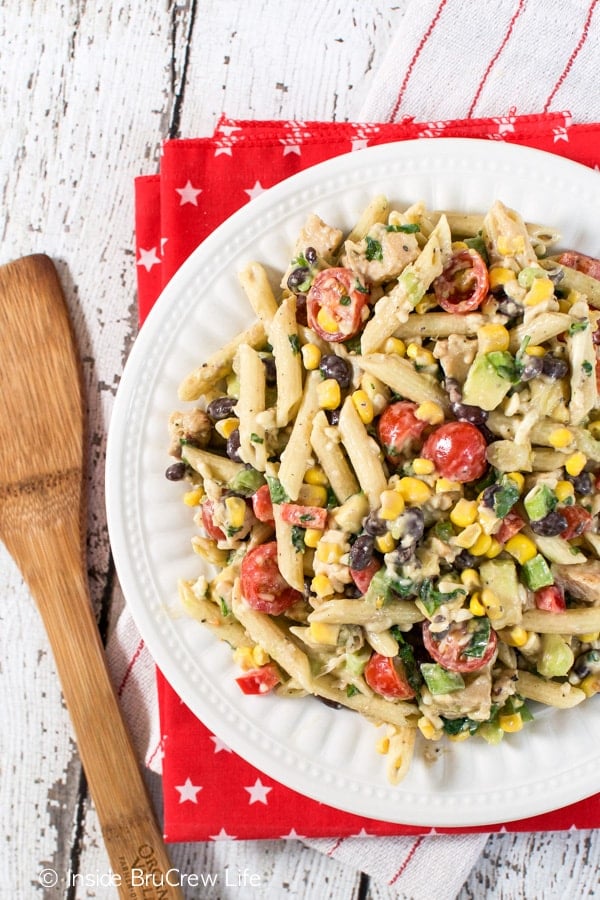 There are so many different ways you can customize a pasta salad, so you are not eating the same thing over and over.
Have you seen the new flavors of Hidden Valley Ranch Dressings at Walmart?  We also eat a fair amount of regular salads too, so I bought all the new ones for my family to try at dinner time.  Walmart is offering a coupon, so make sure you buy a few extra ones too.
As soon as I tasted the Avocado Ranch dressing, I knew it would make a delicious addition to a southwest style pasta salad.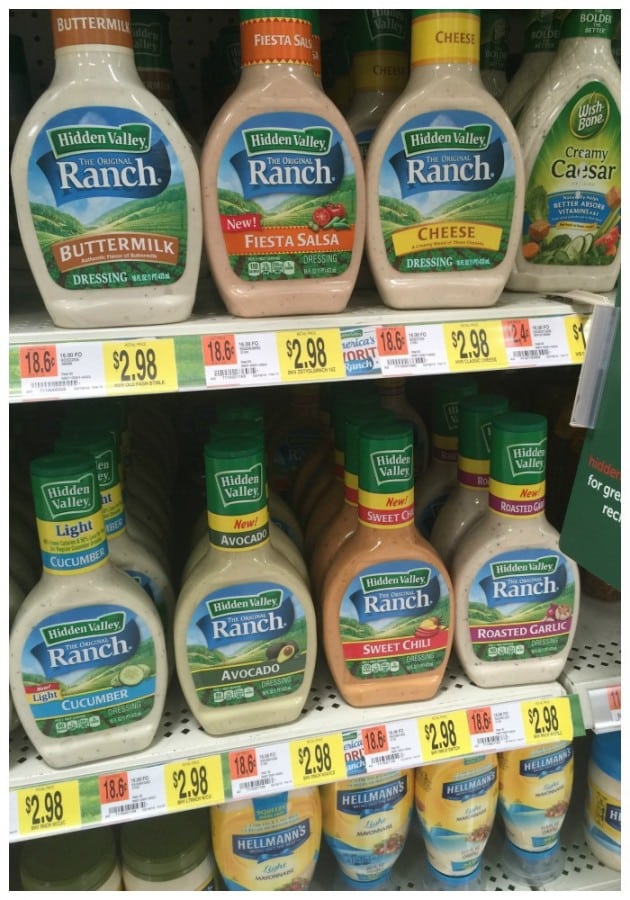 I chopped up some cherry tomatoes, peppers, cilantros, and onions and added a can of corn and black beans to a bowl.  This is actually quite delicious all by itself, and your kitchen will smell amazing too.
Just add a bed of spinach and a drizzle of dressing and you have a healthy lunch in front of you. Or go to town on it with a bag of chips…it's your call.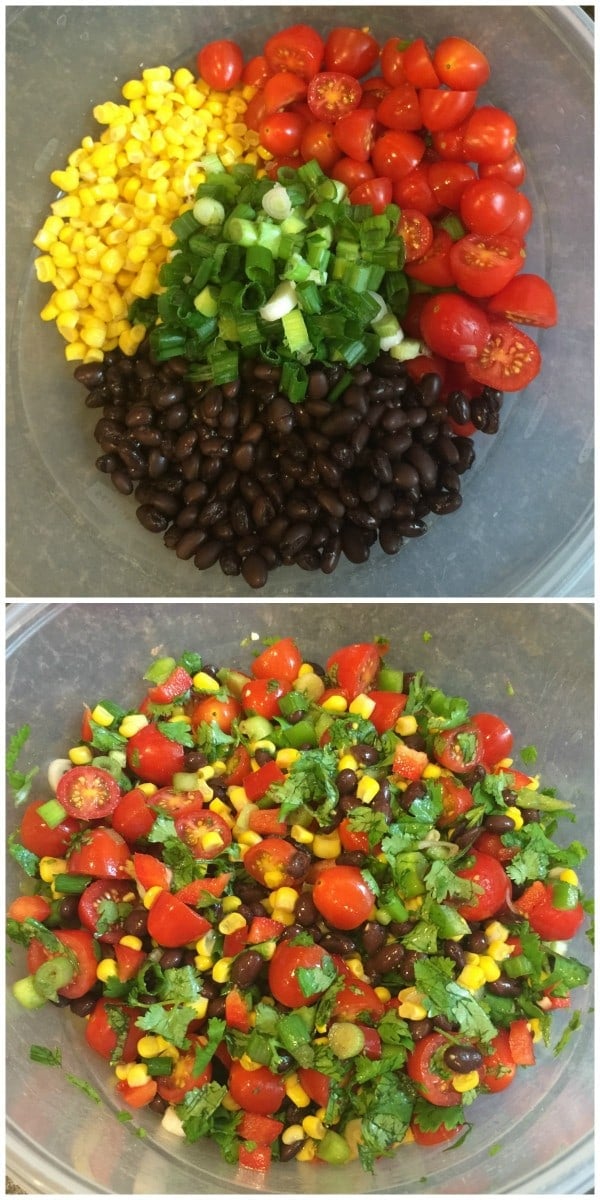 Adding chicken, pasta, and dressing turned these veggies into a meal that my kids could not get enough of.  Dinner success is mine!
Our youngest even had another bowl later that night as his bed time snack.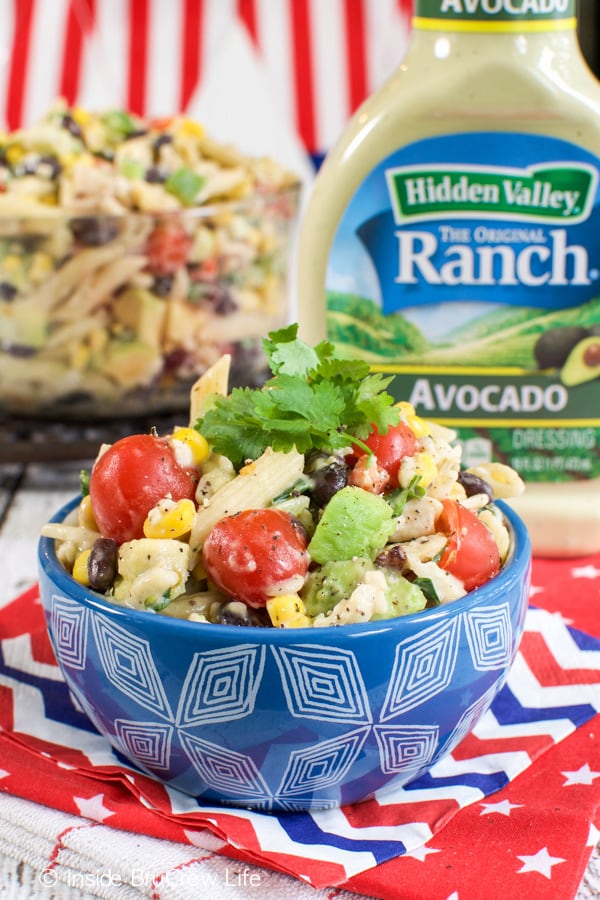 This salad is really so easy to put together.
Chop all your veggies while the pasta noodles are cooking. Then after the noodles have been rinsed and cooled, you can stir it together with the dressing.  I usually refrigerate my pasta salads for a few hours before serving them, so the flavors can come together better.
This also makes it easy to put this dish together ahead of time when you know you are going to have a busy day.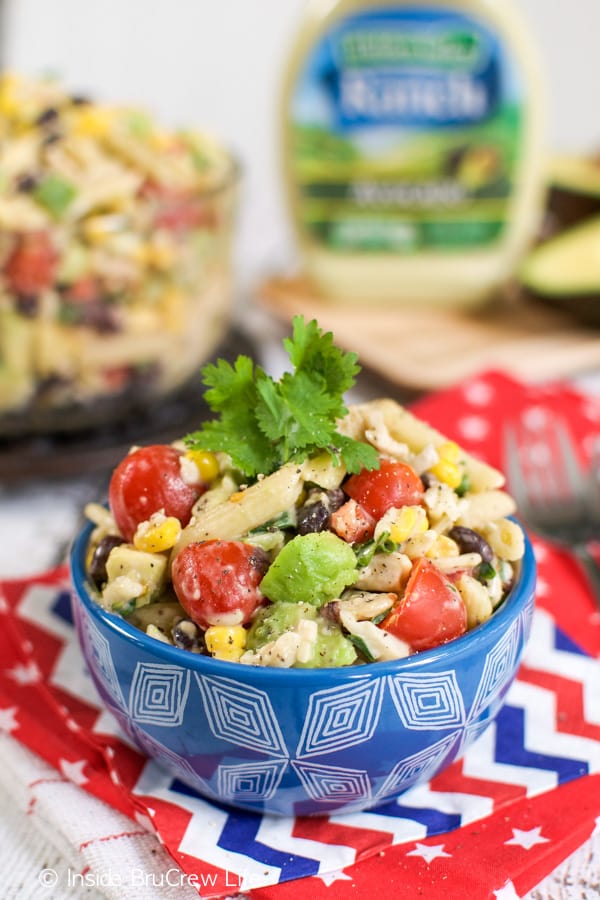 Stay up to date on all the BruCrew baking here:
FACEBOOK | PINTEREST | GOOGLE+ | TWITTER | INSTAGRAM | BLOGLOVIN
 Sign up to receive an email in your inbox for each new recipe:
EMAIL SUBSCRIPTION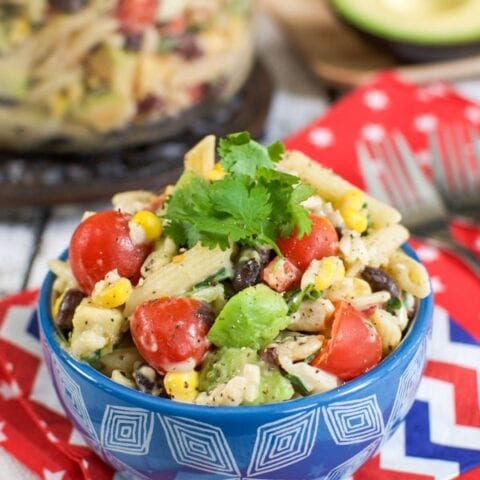 Southwest Avocado Ranch Pasta Salad
Fresh veggie salsa, chicken, and a creamy avocado ranch dressing make this pasta salad a hit every time we make it. It is perfect for all those summer picnics and barbecues.
Ingredients
8 ounces pasta
1 - 15 ounce can corn, drained
1 - 15 ounce can black beans, drained & rinsed
1/2 cup diced red pepper
1/2 cup diced green pepper
3 green onions, diced
1/2 cup finely chopped cilantro
2 cups cherry tomato halves
2 cups diced cooked chicken
1 avocado, diced
2 cups shredded Pepper Jack cheese
1/2 cup Hidden Valley Avocado Ranch dressing
salt and pepper
Instructions
Cook the pasta according to the package directions. Rinse and drain in cold water.
Stir together the corn, black beans, peppers, onions, cilantro, tomatoes, chicken, and cheese.
Add the pasta and dressing and stir until combined. Season with salt and pepper to taste. Gently stir in the avocado chunks. Refrigerate until ready to serve. Makes about 10 cups pasta salad.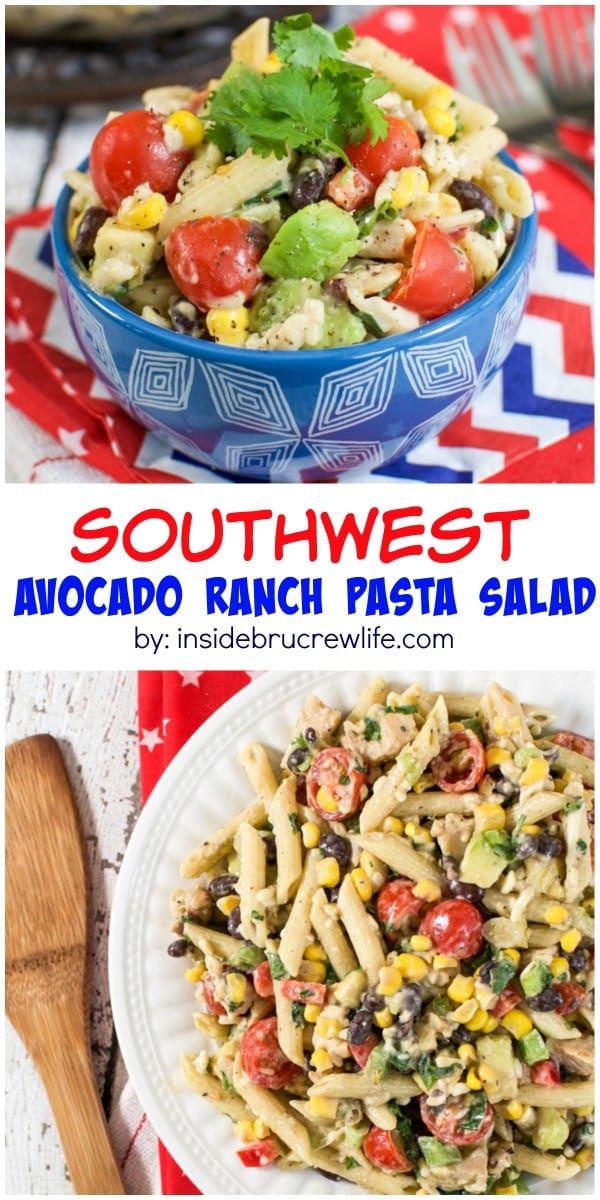 *This recipe and post has been compensated by DataRank.  All opinions are 100% my own.  Thank you for letting me share products that we use and love.