Get ready for a dinner that will have everyone begging for more. These oven-baked Parmesan Chicken Tenders are coated in crunchy golden panko crumbs and have a delicious parmesan flavor. No one can resist this classic meal!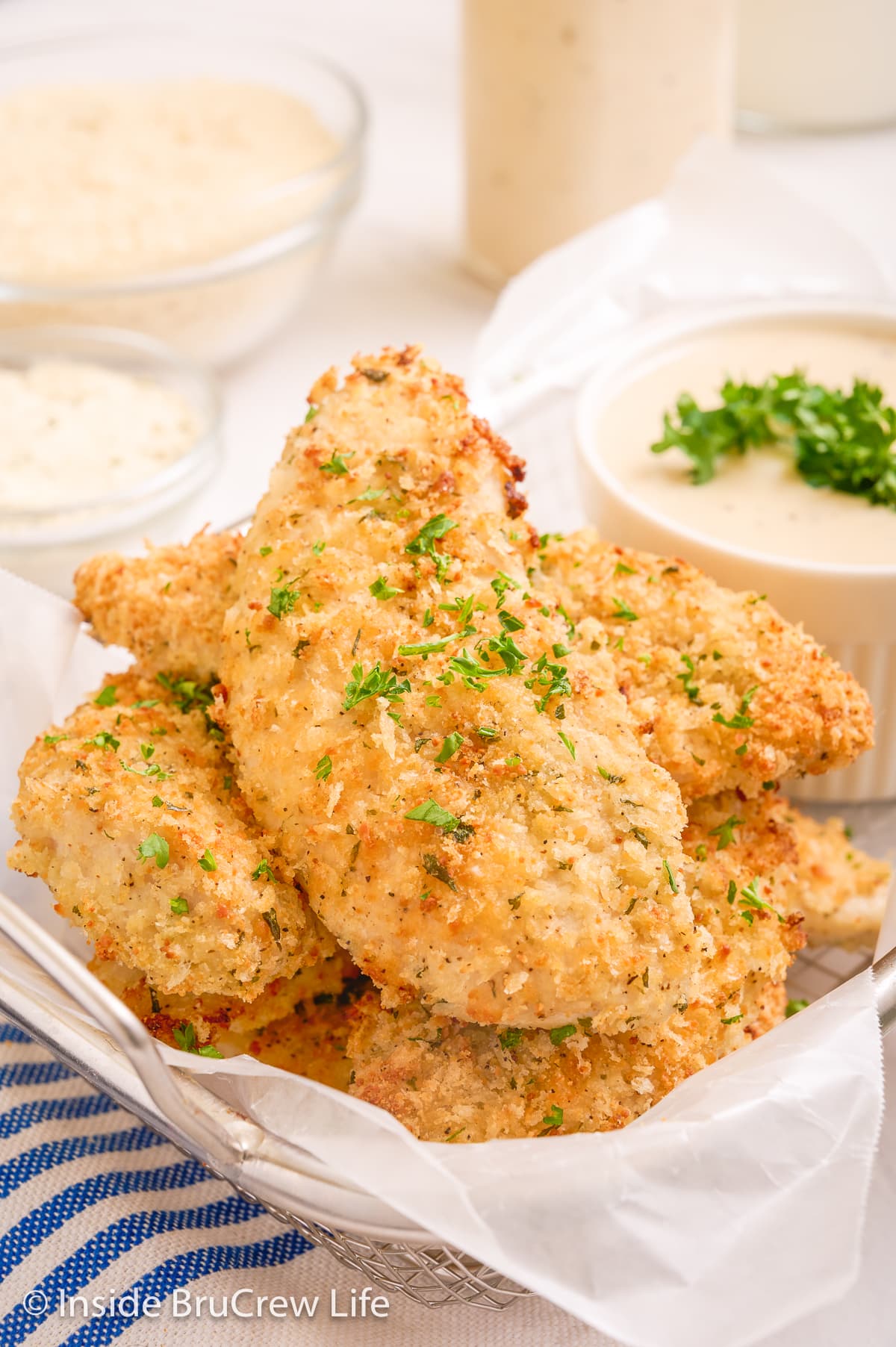 Jump to:
Why You Will Love These
Crispy parmesan chicken tenders with ranch is an easy dinner that the whole family will enjoy. Serve them alone or with a creamy mac and cheese and sweet and spicy cole slaw for a full meal.
Skip the store-bought or drive thru chicken fingers though and make restaurant quality food in your own kitchen! Not only is it easy to do, but it will save you money. Stores charge over $6 a pound, while your favorite restaurants charge even more.
You won't be able to get enough of these homemade parmesan tenders! Each one is coated in crunchy, flavorful panko crumbs before being baked. Don't be surprised when they disappear in a hurry. It's just a sign to make more next time!
Easy to Make - Breading chicken is easy to do with just a few ingredients.
Great Flavor - A parmesan and panko coating gives them a delicious and crunchy taste. They bake up crispy on the outside and tender and juicy in the middle.
Baked not Fried - Save time, calories, and an oily mess by baking these in your oven. There is no need to use oil to get that crispy texture.
Save money - Save your hard earned money and make fresh tenders and nuggets for almost half the cost of frozen ones.
What are Chicken Tenderloins?
Tenderloins are the small part of the chicken breast that is attached to the bone on the underside. This cut of white meat is very tender and moist when cooked properly, hence the name.
Basic Ingredients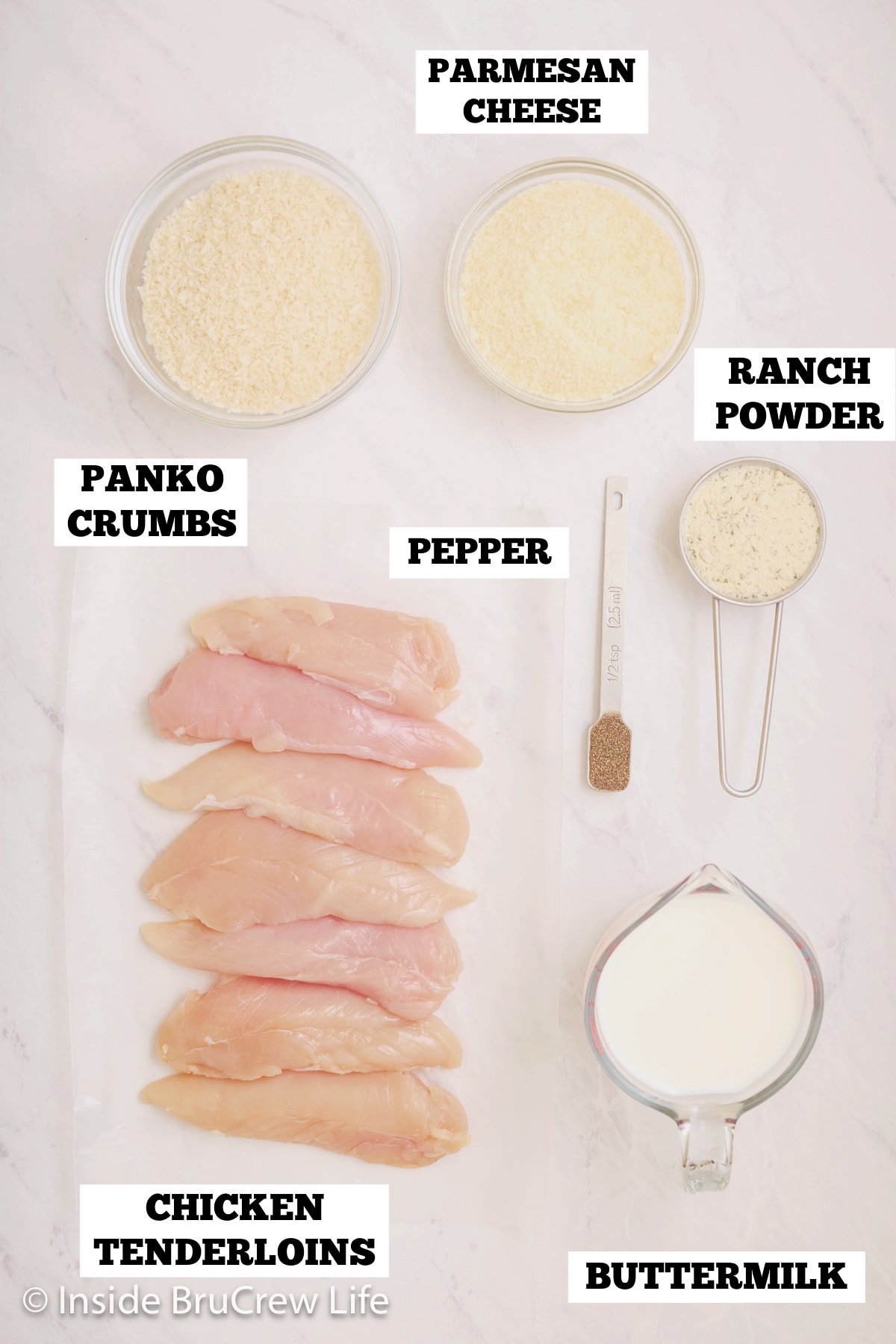 You only need a few main ingredients to make the best chicken tender recipe.
Chicken Tenderloins - You will need at least one pound of chicken for 4 servings. If you are using frozen meat, let it thaw before coating. You could also use chicken breast and cut it into small pieces.
Panko Crumbs - Panko crumbs are light and airy, which gives food a crispy and crunchy texture when fried or baked. You can use Italian breadcrumb mixture if you prefer, but they will not get as crispy.
Parmesan Cheese - Grated parmesan cheese give these strips a nice flavor.
Ranch Powder - Adds flavor to the breading and enhances the taste of the chicken.
Buttermilk - This is used to tenderize the chicken and it allow the dry ingredients to stick when you are breading the chicken.
Your Favorite Dipping Sauce - Feel free to use ketchup, ranch dressing, barbecue sauce, or honey chipotle sauce. There is no wrong way to dip your tendies!
How to Make Panko Chicken Strips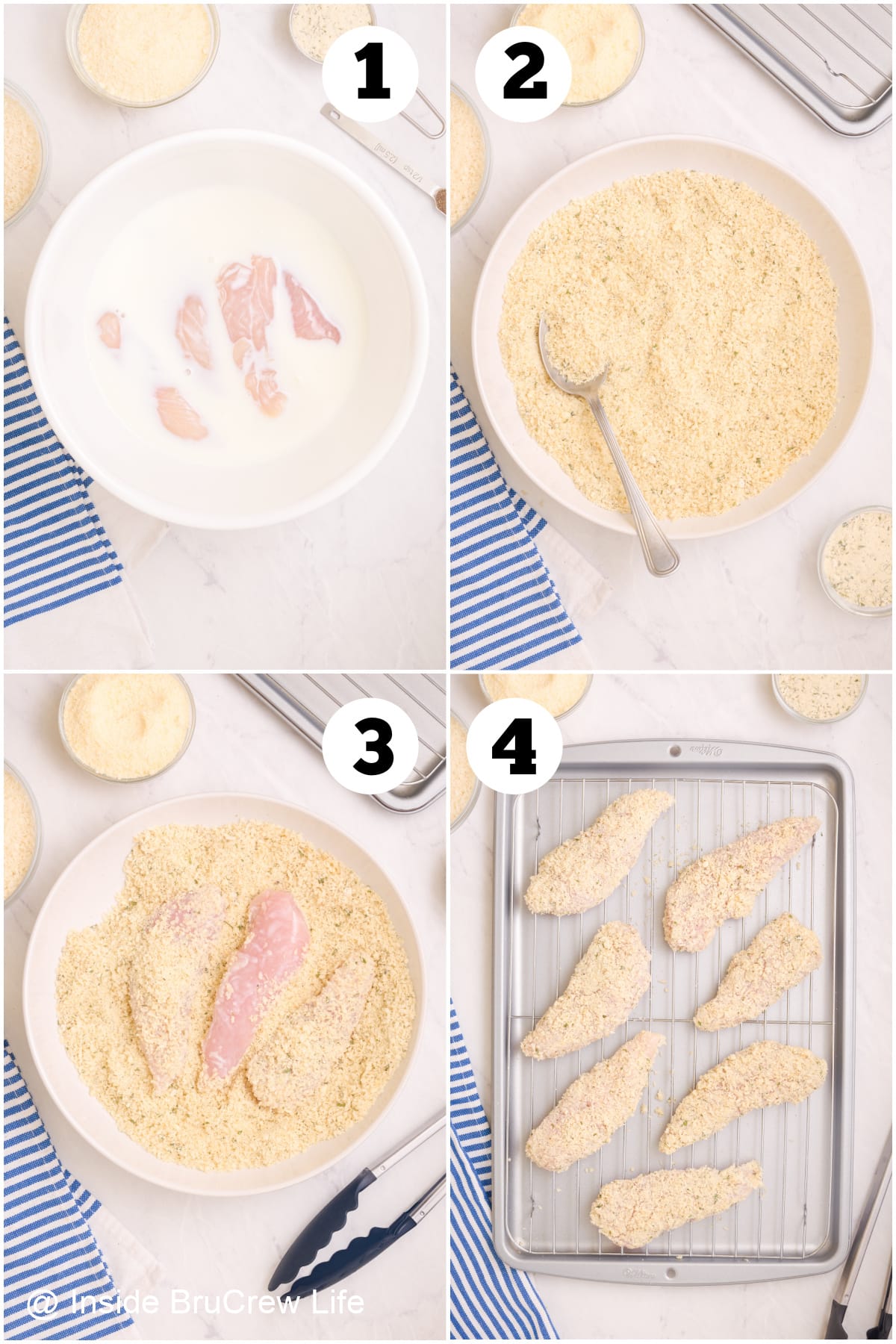 These breaded chicken tenders are the perfect week night meal. They also make a great appetizer for parties or game nights.
Marinate the chicken. Trim any fat from the tenderloins and place in a bowl. Pour buttermilk over the chicken. Cover and refrigerate for 30 minutes.
Toast the panko crumbs. Spread panko crumbs on a parchment lined tray and lightly spray with extra virgin olive oil. Bake for a few minutes or until lightly golden brown. Remove and cool.
Bread the tenders. Stir together the toasted crumbs, parmesan cheese, ranch powder, and pepper. Roll the chicken in the crumbs. Gently press on crumbs to coat.
Bake and serve. Place a wire rack inside a baking sheet and place the crumb coated tenders on it. Spray them lightly with EVOO before baking around 15 minutes.
The secret to extra crispy chicken tenders? Toasting the panko crumbs before breading and baking chicken. It will give them a better crunch, and they will be extra golden in color.
Tips and Tricks
Cooking should be easy and not a chore. These are some tips I have found for making the best chicken tenders.
Line your pan with foil or parchment paper to make clean up quick and painless.
Add hot sauce to the buttermilk for a slight spicy flavor.
Toast the panko crumbs ahead of time for a crunchier and gold brown tender.
Make chicken nuggets by cutting the tenderloin or a chicken breast into bite sized chunks before breading and cooking them.
Place a wire rack inside the sheet pan and place the breaded tenders on that for a crispier texture. This allows the hot air to pass over and under the entire tenderloin as they cook.
Have a favorite dipping sauce? These are so good on their own or you can dunk them in your favorite dipping sauce. They go great with avocado ranch dressing, spicy BBQ sauce, fry sauce and marinara sauce.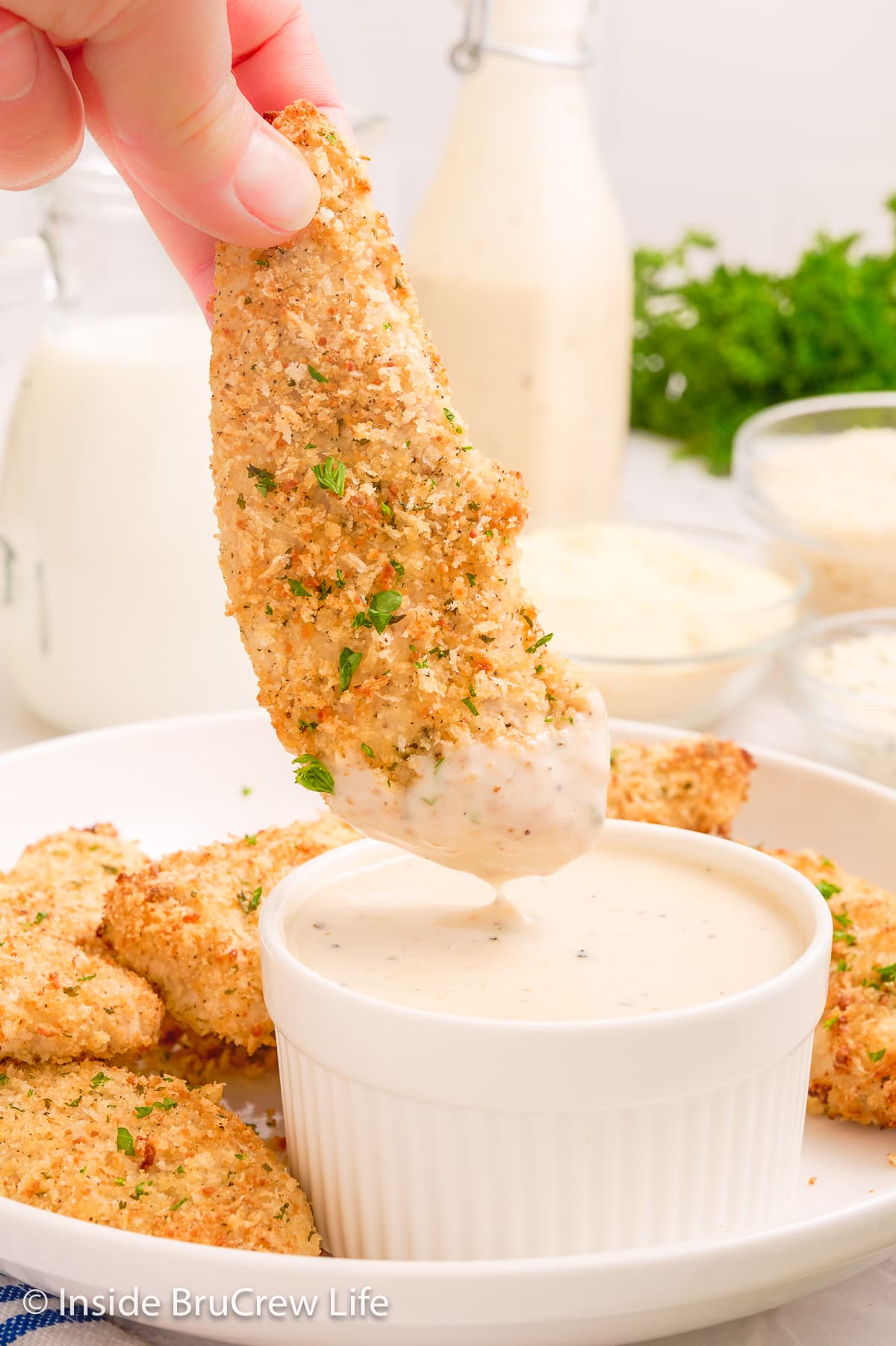 Storage
In the Refrigerator - Once the chicken tenders are cool, place leftovers in a ziplock bag or an airtight container and place in the refrigerator for 3-4 days.
In the Freezer - Flash freeze leftover parmesan chicken strips on a pan and then transfer to a freezer container. Freeze for 2-3 months.
Reheat - Heat the chicken in an oven, air fryer or microwave until the internal temperature is 165 degrees.
FAQs
Can I use chicken breasts instead of chicken tenderloins?
Yes you can. Cut the chicken breasts into strips or nuggets against the grain, so they retain their moisture.
Are chicken tenders white meat?
Yes, they are part of the chicken breast. The main difference between chicken tenders and chicken breasts is their size and texture and where they are located. Chicken tenders are smaller, thinner, and more tender, while chicken breasts are larger, thicker, and more substantial.
How long do chicken tenders take to bake?
This parmesan chicken strip recipe takes less than 20 minutes to bake at 400°. All ovens bake slightly different, so always cook to an internal temperature of 165°.
Can I make these air fryer chicken tenders?
You can cook these tenders in an air fryer at 400 degrees for about 10-12 minutes, flipping over halfway. Use a thermometer to make sure the internal temperature is 165°.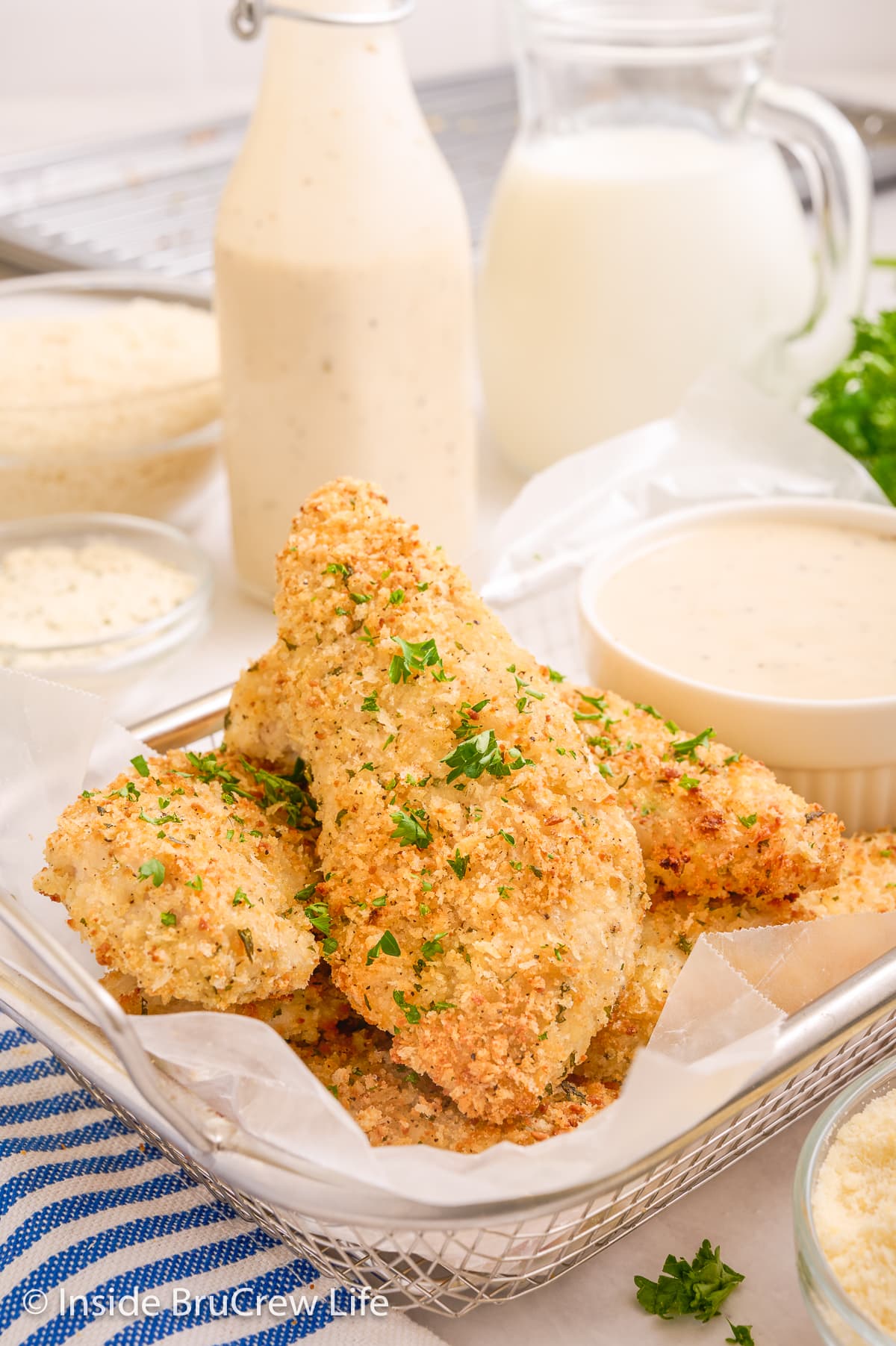 How to Serve
Chicken strips make a great protein to add to any side dish, soup, or salad. Here are a few of our favorite chicken tender meal ideas.
Do you love a recipe you tried from Inside BruCrew Life?
Please leave a 5-star ⭐️ rating and a review in the comments section below.
*The post for parmesan ranch chicken tenders was first published May 2015. It was updated and republished March 2023.