Add a big bowl of this Bacon Broccoli Tortellini Salad to your holiday picnic plans. The creamy homemade dressing, meats, and veggies make this easy pasta salad a hit with everyone.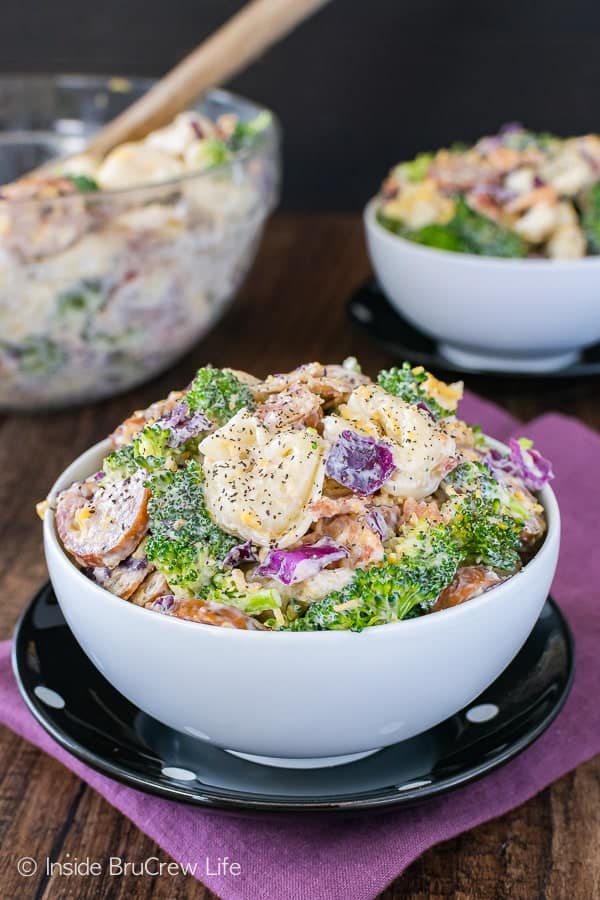 CLICK HERE TO PIN THIS RECIPE FOR LATER!
I know we all have funny food quirks, but sometimes I just have to laugh at my husband. He has a hard time eating eggs and drinking milk. Why you wonder?
It's all about where they came from. The minute he starts thinking about where an egg or milk starts from, he gets totally grossed out. Our kids think it is hilarious to pour a big cup of milk and then drink it right in front of him.
He also has a hard time with white creamy things. Ok, so mainly just mayonnaise because he can do sour cream and yogurt just fine. It's probably because he knows mayo is made from eggs. As long as I don't tell him there is mayo in a dish, he will eat it.
Although, this Grape Pecan Chicken Salad is one of his favorite summer salads, and he eats it every time we make it. He even knows there is mayo in the salad. What a crazy boy!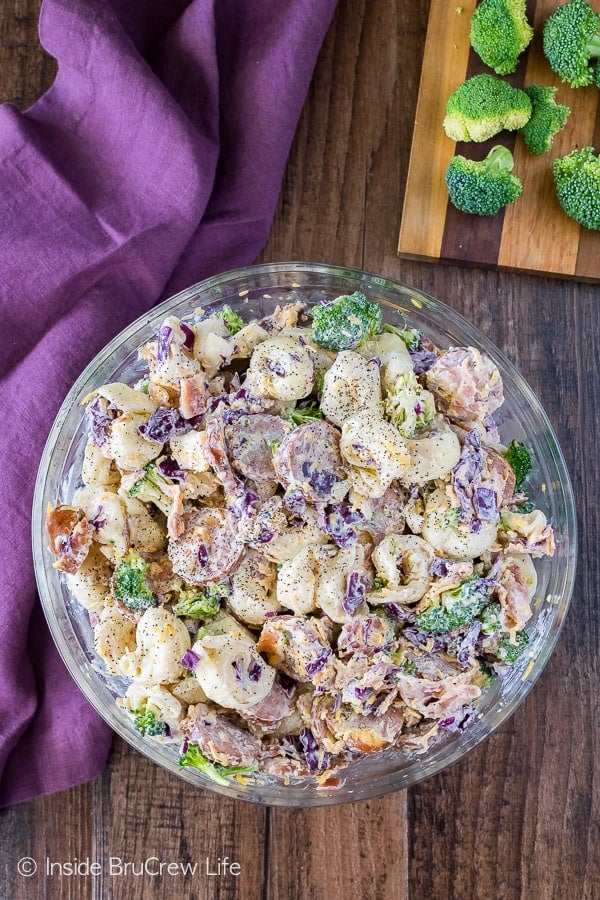 We make a lot of different pasta salads during the summer months. Most of the time we make a big bowl of this Veggie Pasta Salad and grill a huge package of chicken or burgers at the beginning of the week, then dinner is ready to go all week long.
I love not having to think about what we are having for dinner. It gives me more time to think about dessert instead!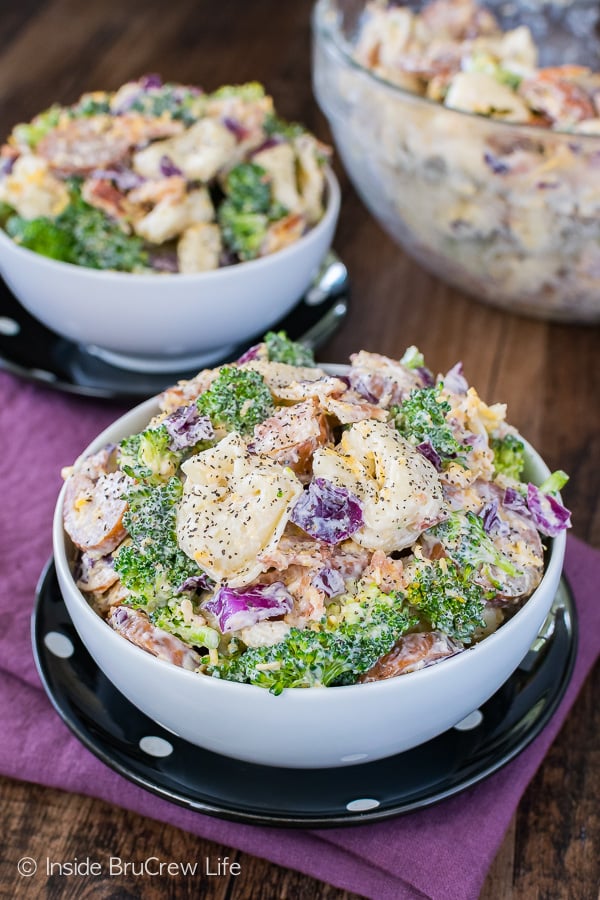 Of course, I tend to get bored eating the same thing over and over and over. After seeing this Sausage Broccoli Cheddar Pasta Salad last week, I decided to make a full meal out of my Broccoli Salad by adding some tortellini pasta and smoked sausage.
Honey and red wine vinegar was a fun way to add a little different twist to the dressing too.
Ingredients for Bacon Broccoli Tortellini Salad:
Frozen Tortellini, cooked
Broccoli
Bacon
Smoked Sausage
Shredded Cheddar Cheese
Mayonnaise
Sour Cream
Red Wine Vinegar
Honey
Salt and Pepper
One taste and I was in love. I may never make coleslaw dressing the same way again. Since my hubby doesn't like super creamy salads, I never make a lot of dressing for our dishes. Feel free to make more dressing if you and your family are ok with creamy salads.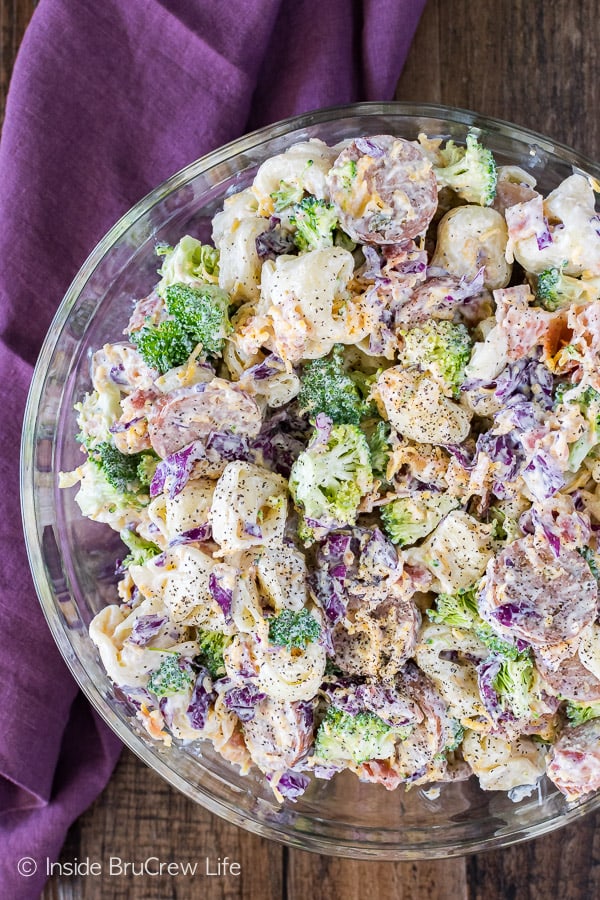 Tips for making Bacon Broccoli Tortellini Salad:
Cook and cool the tortellini according to the package directions. You can make these the night before if you like. Just drizzle a little olive oil on them before refrigerating them.
Mix all the ingredients in a bowl and refrigerate until right before serving. Whisk together your dressing ingredients and chill them in a separate bowl from the rest of the ingredients.
When you are ready to eat, add the dressing and give it a stir.
Pro Tip: When making this tortellini salad make sure to stir the dressing into the veggies and pasta right before serving. Since this recipe doesn't call for a lot of dressing, your pasta will soak it up if you make the salad ahead of time, or if you refrigerate it overnight.