Make these viral tortilla wraps at home with your favorite fillings. This Pulled Pork Macaroni and Cheese Tortilla Wrap Hack is a delicious way to reinvent your dinner leftovers.
The easy folded wrap has barbecue sauce, pulled pork, mac and cheese, and shredded cheese and tastes amazing when panfried to crispy perfection.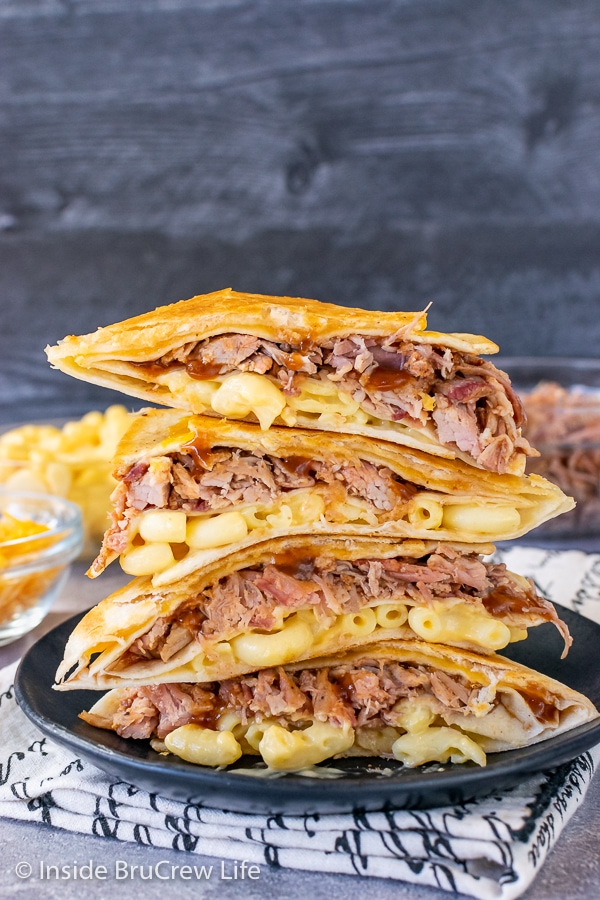 I'm really not one to jump on viral trends, but for some reason these Tiktok tortilla wraps got me, and I had to try them. We made and loved this BLT Tortilla Wrap Hack last week, and here I am with another delicious one for you.
Meats are not really my favorite, but I do love a good pulled pork sandwich every once in a while. Sometimes we cook our own, and sometimes we buy pork that is already cooked and shredded. This week the ready-made won out because we had soccer games and meetings to go too.
As I stared at the leftovers in the fridge, I couldn't help but think about a pulled pork tortilla wrap. But I was stumped on what else to add other than cheese and BBQ sauce...
Then I remembered seeing a grilled cheese sandwich with barbecue pork and mac and cheese, and right away I knew what I was going to add to this wrap.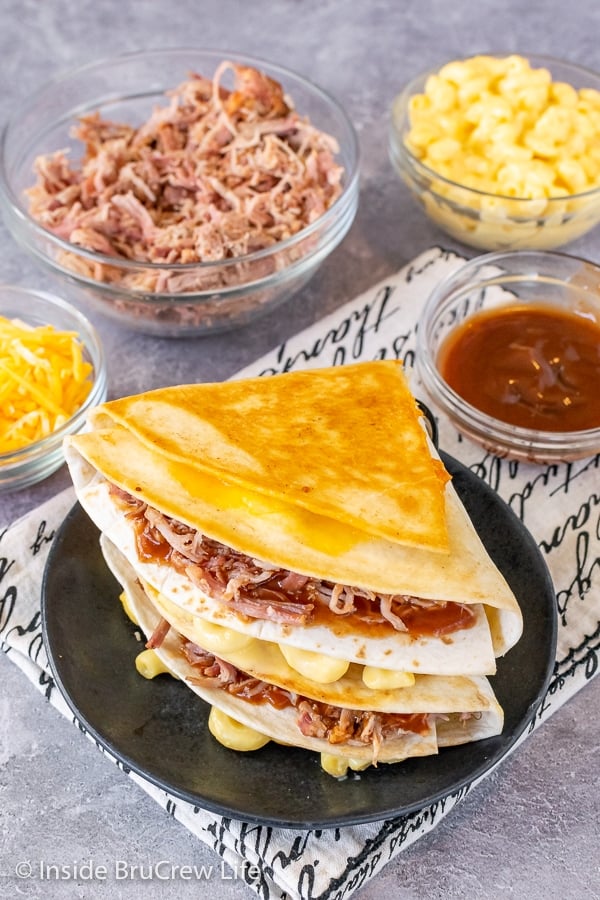 Usually, we make this homemade Three Cheese Macaroni and Cheese because it's just so much better than a box. But again time was an issue this week, so I went with a package of store-bought mac and cheese.
FYI: The Bob Evans mac and cheese in the deli section of the grocery store is absolutely delicious, and we will totally be buying it again.
TikTok Tortilla Wrap Hack
This fun tortilla trend is a new way to enjoy a wrap for lunch or dinner. Cut one side of a tortilla shell, place ingredients in the four quarters of the tortilla, then wrap it up by folding clockwise.
Once the folded wrap is finished you can enjoy it cold or place it in a panini press or a buttered skillet and cook until golden brown and crispy.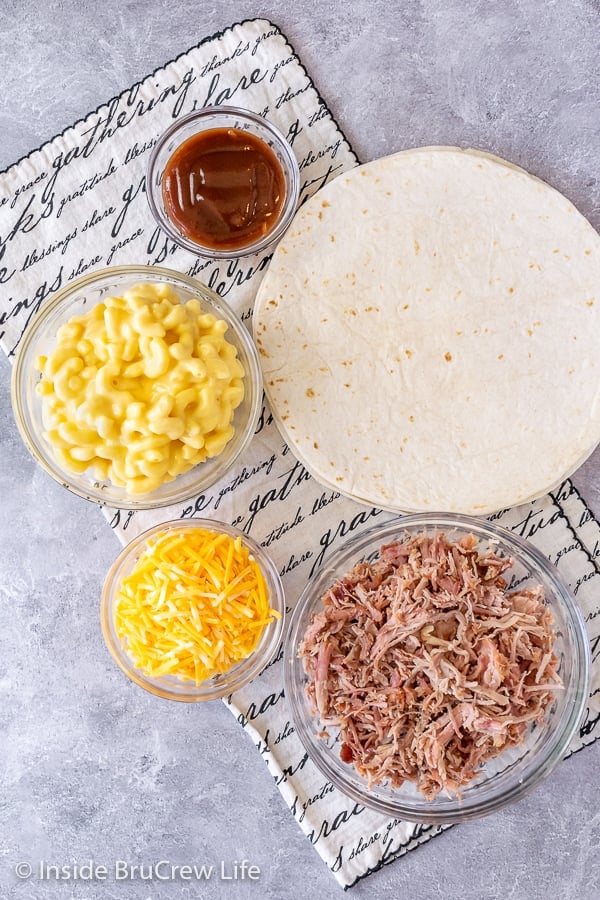 Ingredients:
Tortilla Shell - a large burrito sized tortilla works the best for filling and folding ingredients inside it
Barbecue Sauce - use your favorite brand or flavor
Pulled Pork - This Slow Cooker Pulled Pork is delicious for this wrap. You can also buy precooked and refrigerated pulled pork from the store. Jackfruit is a great option if you are vegan.
Macaroni and Cheese - You can make a box mac & cheese or this Creamy Stove Top Mac and Cheese. Bob Evans also has a delicious ready-made macaroni and cheese at the grocery store.
Cheese - Use any shredded or sliced cheese that you like.
Tips for Folded Tortilla Wraps:
Do not make the cut too long or the fillings could fall out.
Add cool ingredients such as lettuce, tomatoes, or onions in the center of the wrap if you are heating it. This way they do not get too warm.
Be sure to add cheese to the outside folds, so it can melt properly.
Eating low carb, gluten free, or vegan? Choose brands that offer those types of ingredients for your dietary needs.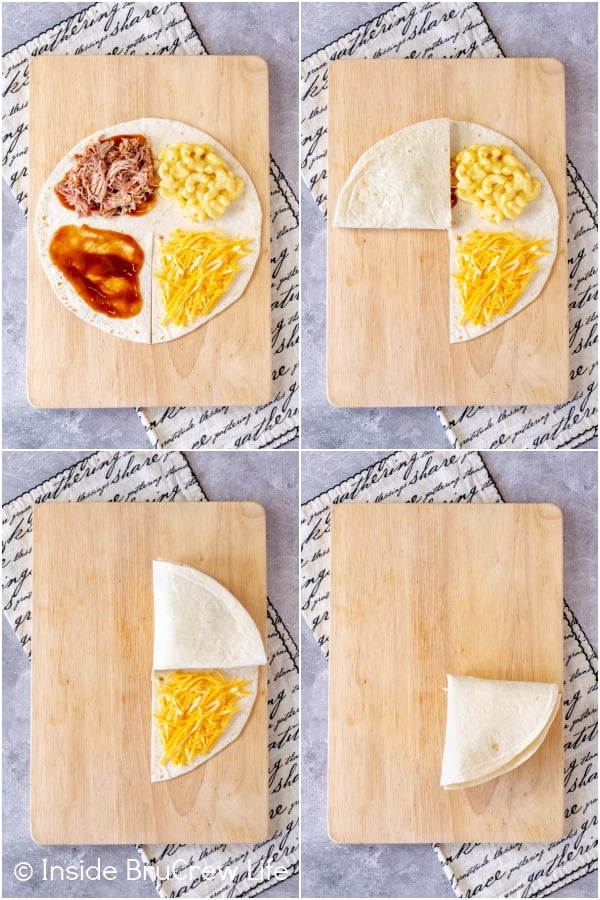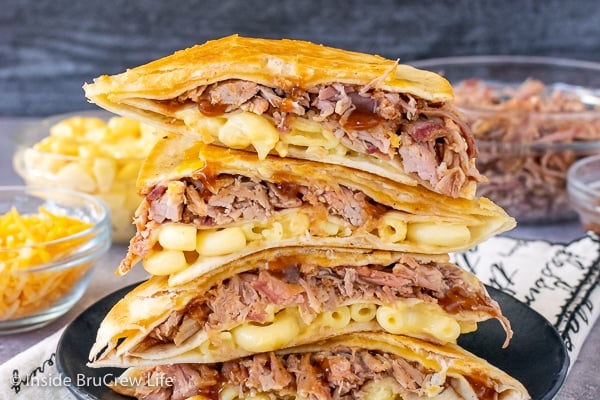 How to make a Pulled Pork Macaroni and Cheese Tortilla Wrap:
STEP 1: Cut the tortilla.
Place the tortilla on a plate or cutting board.
Make a slit from the outside of the shell to the center.
STEP 2: Add the fillings to the four quarters of the tortilla.
If you are adding cool things such as sauces or lettuce and tomatoes, place them in the corners that will be folded first.
Add meats and cheeses to the 3 and 4 corner, so they can melt and hold everything together.
STEP 3: Fold it up. (see photo above)
Fold the bottom left corner UP onto the top left corner.
Fold the top left OVER to the right onto the top right corner.
Fold the top right DOWN onto the bottom left.
STEP 4: Heat and eat.
Add a little bit of butter to a hot skillet before adding the folded wrap. It's not necessary, but I think it adds a better flavor and color.
Place the cheese side of the fold on the hot skillet first. This allows it to melt and "glue" the tortilla together, keeping the ingredients inside better.
Flip it over gently and crisp the other side. If you use a panini or sandwich press, you would skip this step.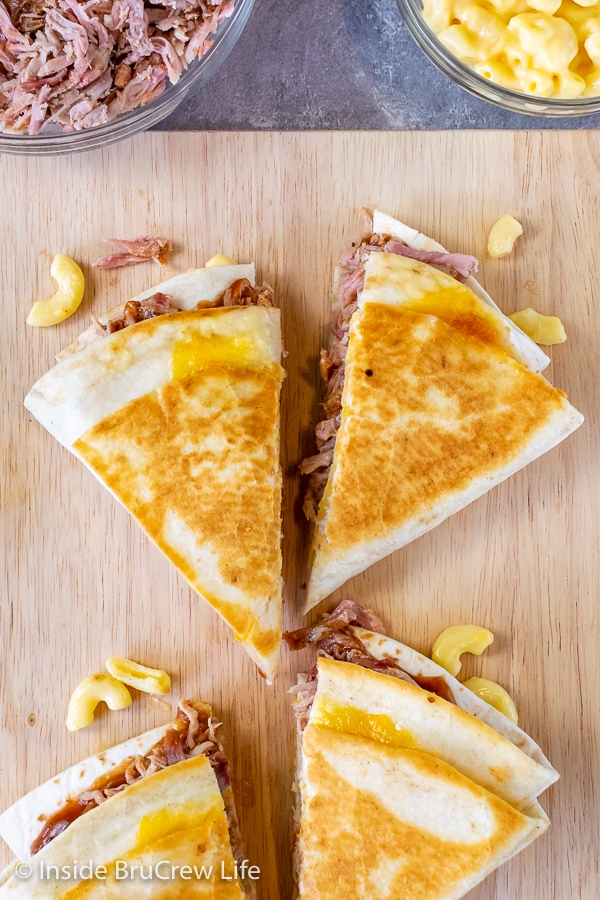 Recipe Questions:
Can you make these tortilla wraps ahead of time?
Yes, most of these could be made ahead of time and kept in the refrigerator until you want to eat/heat them. Of course, this will also depend on what ingredients you use and how long of a life they have.
What can you put inside a folded wrap?
Fill your tortilla with anything that you love. It can also be a great way to use up leftovers from dinner the night before.
Savory Tortilla Wrap Hack Ideas:
Spinach, eggs, bacon, cheese
Lettuce & tomato, ranch, ham & turkey, cheese
Corn, mashed potatoes, chicken strips, cheese
Spinach, tomatoes, chicken, mozzarella cheese
Sweet Tortilla Wrap Hack Ideas:
Cream cheese, blueberries, raspberries, lemon curd
Peanut butter, marshmallows, peanut butter cups, hot fudge
Marshmallow fluff, Oreos, peanut butter cups, Nutella
Cheesecake, coconut, bananas, hot fudge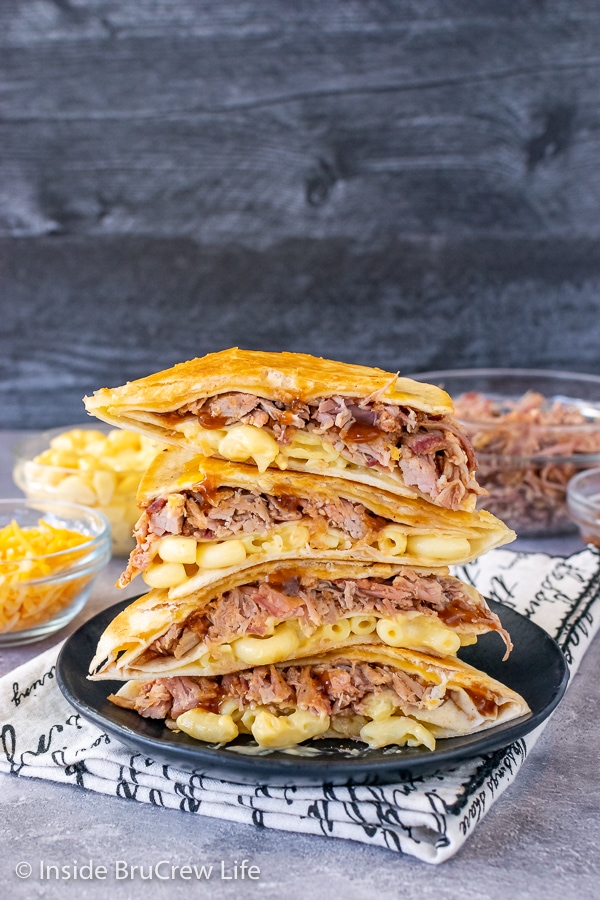 More easy sandwich recipes:
Do you love a recipe you tried from Inside BruCrew Life?
Please leave a 5-star ⭐️ rating and a review in the comments section below.