Enjoy a BLT Tortilla Wrap Hack for lunch and see why this viral Tiktok tortilla wrap has everyone wrapping all the things. Crunchy bacon, crisp lettuce, and fresh tomatoes make this easy folded tortilla wrap a delicious and fun meal.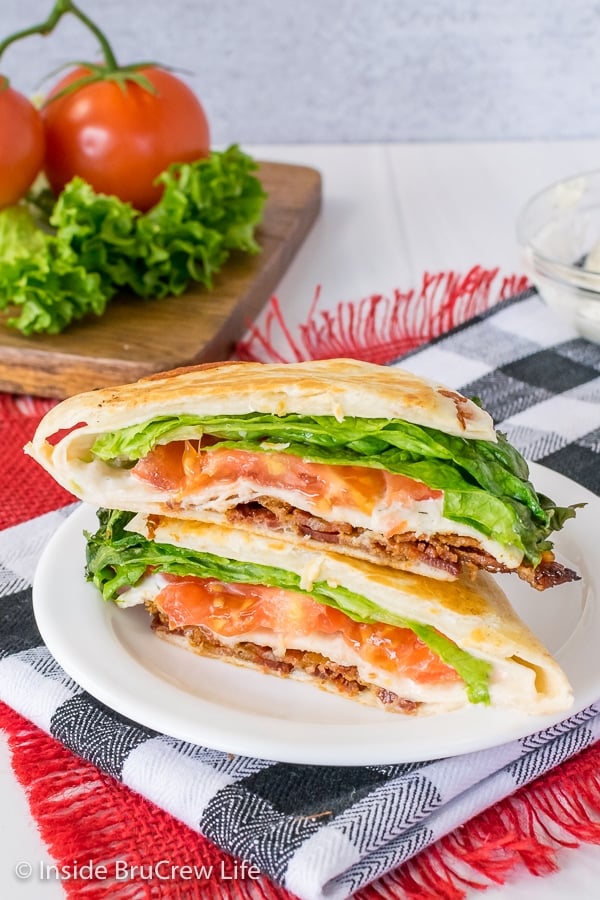 Have you seen the crazy new wrapping hack food trend that is going crazy all over the Internet? I watched a few Instagram reels the other day, and now I can't stop watching all the delicious ideas that are popping up.
If you have spent any time at all on social media, I'm sure you have seen a few (or a hundred) different folded tortilla wraps.
Trust me! People are wrapping all the things, all day long. Sweet and savory...there is no limit to what you can put inside a tortilla.
I was inspired to make this BLT version and this Pulled Pork Macaroni and Cheese Tortilla Wrap Hack for lunch this week. And I can't wait to make more!
This simple wrap hack is definitely worth the hype! I was definitely intrigued by the ingredients and folding, so I couldn't wait to jump on the tortilla hack wagon. And now I can't stop...
TikTok Tortilla Hack Trend
This food trend is basically a reinvented quesadilla, but with way more fun folded into it. One strategic cut allows you to fold the tortilla over itself and the fillings of your choice.
Each tortilla wrap has three to four different sections. Each section has a different ingredient or topping that gets folded up into a pocket. The folded wraps get put into a panini press or hot skillet and cooked until golden brown and crispy.
I don't know about you, but my mind has been racing with all the different combos that you could make with this tortilla food hack. Since we couldn't feasibly make and eat all of the ones I was thinking, we decided to make a BLT wrap first.
My mind was blown as we put one together and pan fried it to a golden brown color. It was seriously so easy and quick. My husband was very skeptical about this viral trend, but after one bite he was a big fan of this delicious folded wrap.
The next time we go to the store I'm buying ingredients for a Buffalo Chicken Wrap and these BBQ Chicken Quesadillas because I can't wait to wrap them up with this new tortilla trend.
And of course, we can't forget about dessert. How delicious would these Banana Nutella Quesadillas be with some strawberries and marshmallow fluff added to it?!?!?!
Ingredients for Tortilla Wrap:
Wrap - A large burrito sized tortilla works best. Low carb wraps are a great option if you are limiting carbs.
Fillings - 2-4 different ingredients per tortilla is recommended. You can use dips, sauces, vegetables, meats, and different cheeses.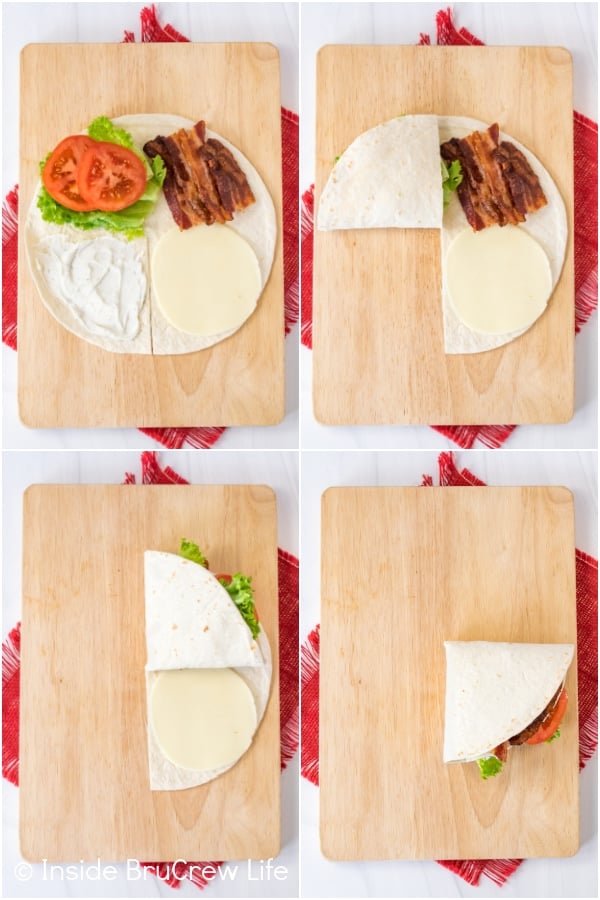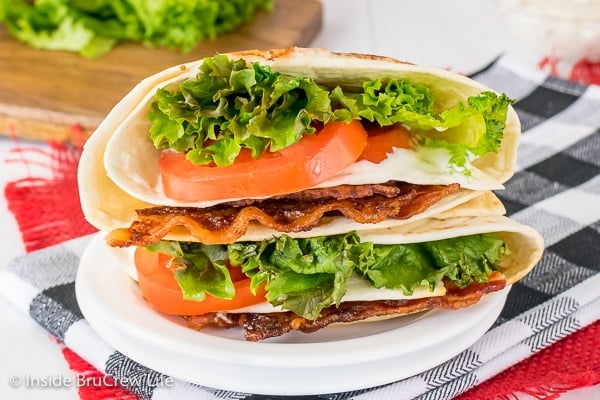 Follow these easy step by step directions and see just how easy it is to learn how to wrap a tortilla for dinner!
How to make a BLT Tortilla Wrap:
STEP 1 - Make the cut.
Place a tortilla on a plate or cutting board and cut a slit from the outside to the middle.
Make sure you do not go past the center of the tortilla, or it will leave a hole for the toppings to get out.
STEP 2 - Place fillings in all 4 corners.
Place cool things such as ranch dip, lettuce, and tomatoes in the first 2 corners.
Add the bacon and cheese to the 3 and 4 corner, so they can get hot and melt and hold everything together better.
STEP 3 - Fold it. (see photo above)
Fold the bottom left corner UP onto the top left corner.
Fold the top left OVER to the right onto the top right corner.
Fold the top right DOWN onto the bottom left.
STEP 4 - Heat it up.
Spread butter or spray nonstick spray on the outside of the tortilla before cooking it.
Place the layered tortilla wrap into a heated panini press or skillet and cook or fry until golden brown on both sides.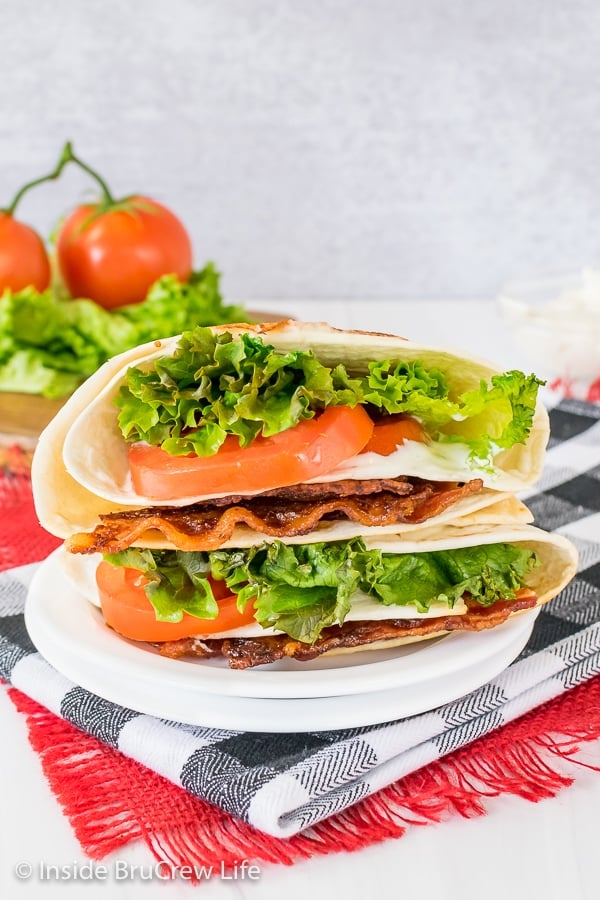 Recipe Questions:
Do you need to use butter?
No, you can pan fry or grill the folded wrap without it. But I think the extra butter helps the tortilla brown and crisp a little better.
What can you put inside a folded tortilla wrap?
There is no limit to what you can use. Fill each tortilla with any flavors or combos that you love. It's also a great way to use up leftovers from dinner the night before.
Savory Tortilla Wrap Hack Ideas:
Eggs, bacon or sausage, cheese, avocado
Pizza sauce, pepperoni or sausage, veggies, mozzarella cheese
Ranch, chicken, bacon, cheese
Blue cheese or ranch dressing, onions, buffalo chicken, cheese
Beans, guacamole or salsa, taco meat, cheese
Sweet Tortilla Wrap Hack Ideas:
Nutella, strawberries, banana, marshmallow fluff
Peanut butter, marshmallows, bananas, hot fudge
Cheesecake, caramel, candy bars, fudge
Oreos, cheesecake, pie filling, hot fudge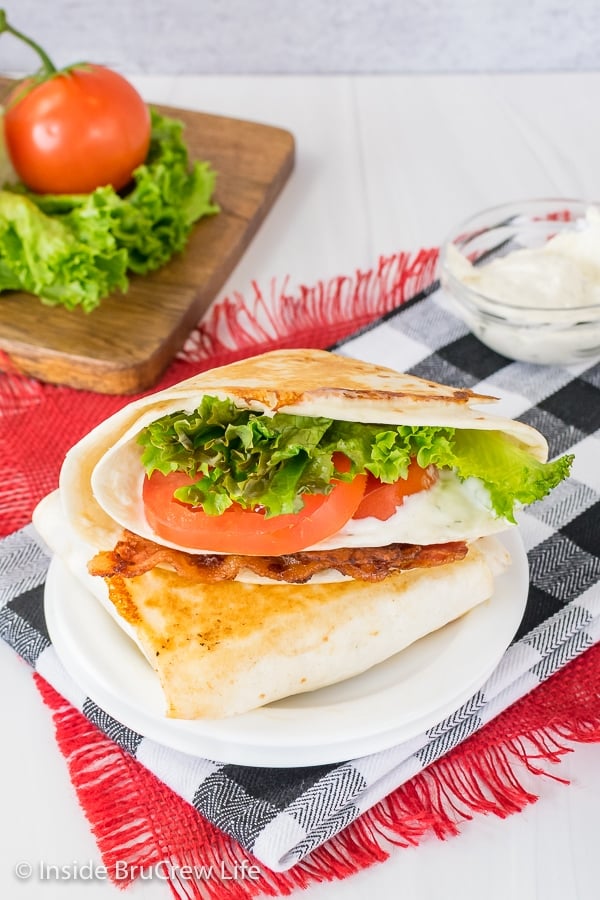 More sandwiches and wraps: