Pumpkin S'mores Bars: Spicy pumpkin cake bars topped with melty chocolate and gooey marshmallows are the perfect dessert for bringing summer into fall.
*Be sure to sign up for my email newsletter…you can enjoy these recipes in your inbox.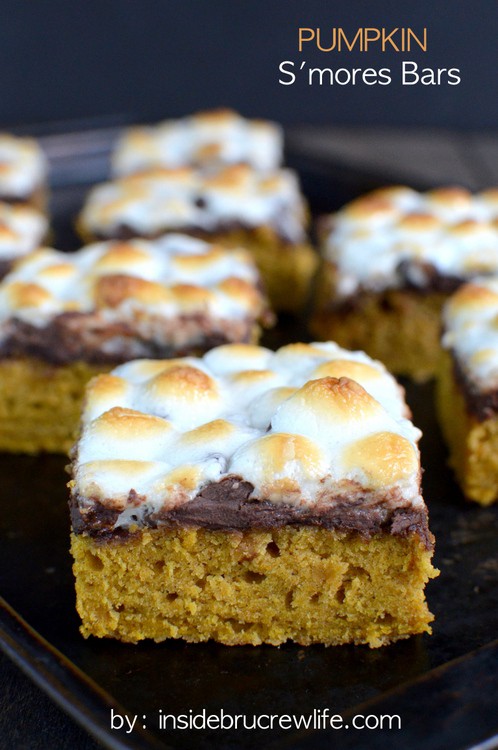 Well, guys, our summer weather returned with a vengeance.
I know I was kind of bragging about our 50 degree mornings just a week ago, and how I was busting out the pumpkin in these Oreo Pumpkin Gooey Bars because obviously mother nature wanted me too.  But now I'm eating those words.  Mother nature took a turn back to summer!
This past week it has been 88 degrees with like 95% humidity.  It has been crazy muggy outside.  Can we say uuuuggghhh all together?  I had these visions of fall arriving super early this year as I baked pumpkin treat after pumpkin treat.
But you know what?  I already have the pumpkin baking itch, so I wasn't about to let a little heat and humidity stop me from my favorite baking time of year.  It's pumpkin season baby!!!!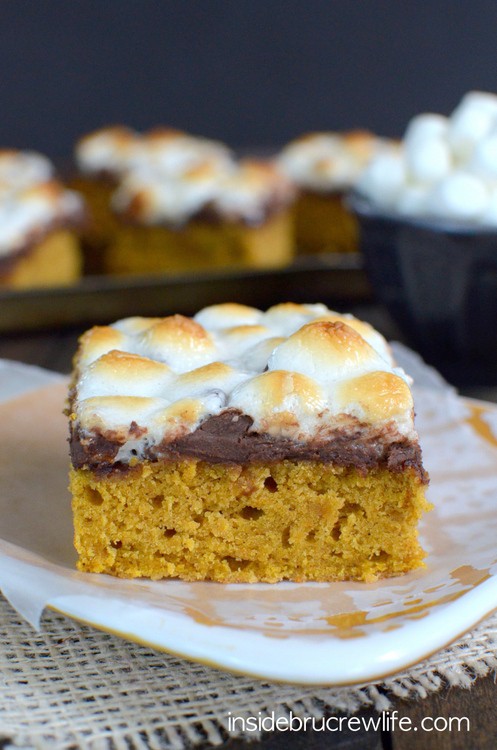 Oh, my word you guys!  I found my favorite pumpkin treat of the fall already!
I know it might seem a little early to claim these are the best, but honestly, these ARE the best!  It's going to be hard to top these amazing bars.  Of course you know I'll definitely try to out do this one in the coming weeks, but it's going to be tough to do.
The base of these bars started with my recipe for these Peanut Butter S'mores Blondies.   Instead of peanut butter though, I put a full cup of pumpkin puree and just a little bit more flour.  I have never tried using pumpkin in a blonde brownie, so I wasn't quite sure how it was going to work.  Recipe testing at its best here!
Can I just say that it worked out better than I could have hoped?  These bars are definitely not as dense as a blonde brownie because pumpkin does change the texture of baked goods.  They were more of a happy cross between cake and blondie.
Then to totally go over the top I added a layer of chocolate chips and marshmallows and put it back in the oven for just a few more minutes.  Every thing gets all melty and toasty and delicious!  Just make sure you keep an eye on the marshmallows because they can go from toasty to burnt in just a blink of an eye!
Pumpkin meets s'mores…it's definitely the way to welcome fall this year!!!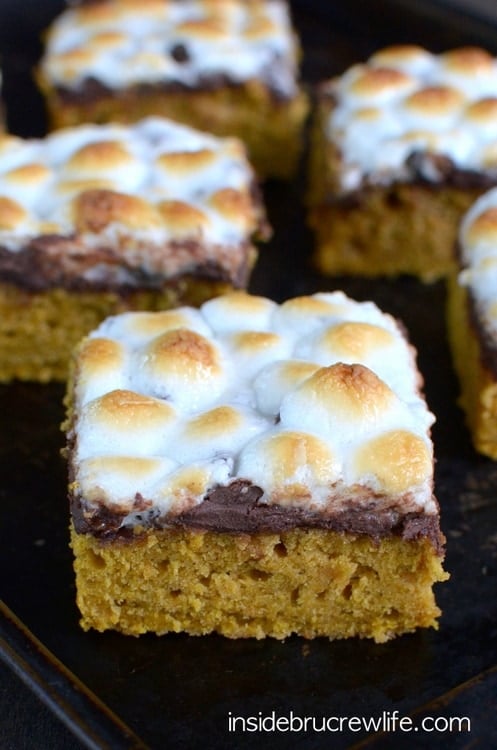 Stay up to date on all the BruCrew baking here:
FACEBOOK | PINTEREST | GOOGLE+ | TWITTER | INSTAGRAM | BLOGLOVIN
 Sign up to receive an email in your inbox for each new recipe:
EMAIL SUBSCRIPTION
Yield: 24 bars
Pumpkin S'mores Bars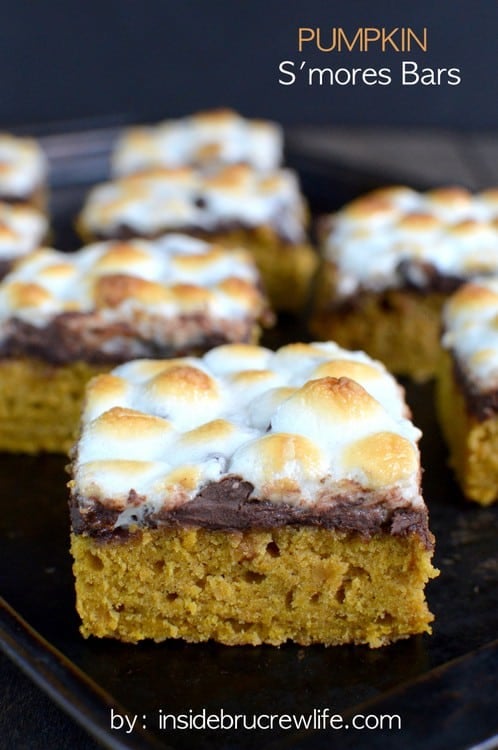 Summer meets fall in these spicy pumpkin bars with a melted chocolate and marshmallow layer.
Ingredients
1/2 cup butter, softened
1 cup brown sugar
1 cup pumpkin puree
2 eggs
1 teaspoon vanilla extract
2 teaspoons baking powder
1/2 teaspoon salt
1 3/4 cup flour
1 teaspoon cinnamon
1/2 teaspoon nutmeg
2 cups chocolate chips
3 cups miniature marshmallows
Instructions
Preheat oven to 350 degrees. Spray a 9x13 pan with nonstick spray.
Beat the butter and sugar until creamy. Add the pumpkin, eggs and vanilla and beat again.
Stir together the baking powder, salt, flour, cinnamon, and nutmeg.
Slowly add to the butter mixture until a soft dough forms. Spread in the prepared pan.
Bake for 24 minutes. Remove from the oven and sprinkle the chocolate chips evenly over the top of the hot bars. Cover the chocolate chips with the marshmallows.
Return to the oven and bake another 2 minutes. Turn on the broiler and broil for 1-2 minutes. You just want the marshmallows to start turning golden, so do not over broil them. Remove from the oven and cool completely.
Use a wet knife to cut the bars into squares. Rewet the knife in between each cut. The water on the knife keeps the marshmallow from sticking. Store in a sealed container.
Nutrition Information:
Yield:
24
Serving Size:
1
Amount Per Serving:
Calories:

196
Total Fat:

9g
Saturated Fat:

5g
Trans Fat:

0g
Unsaturated Fat:

3g
Cholesterol:

26mg
Sodium:

130mg
Carbohydrates:

30g
Fiber:

1g
Sugar:

19g
Protein:

2g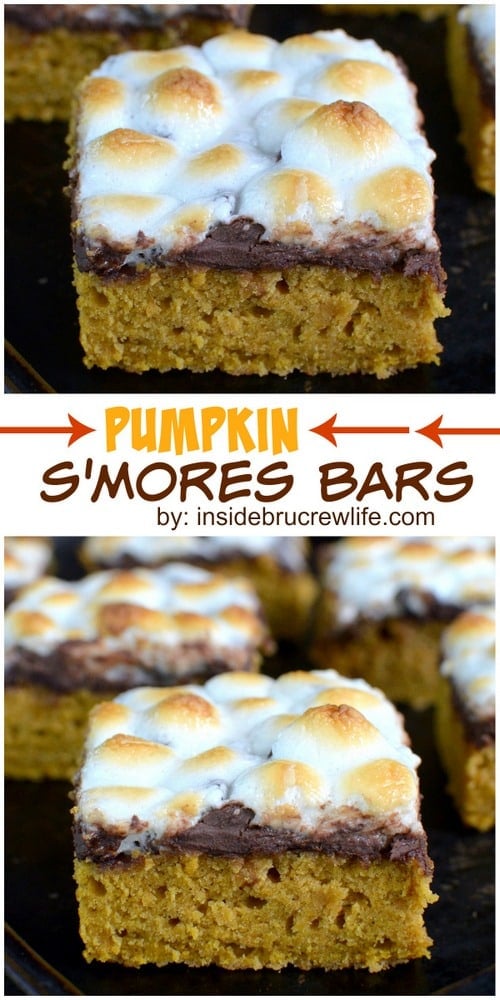 A few more pumpkin recipes to help you get your fall bake on: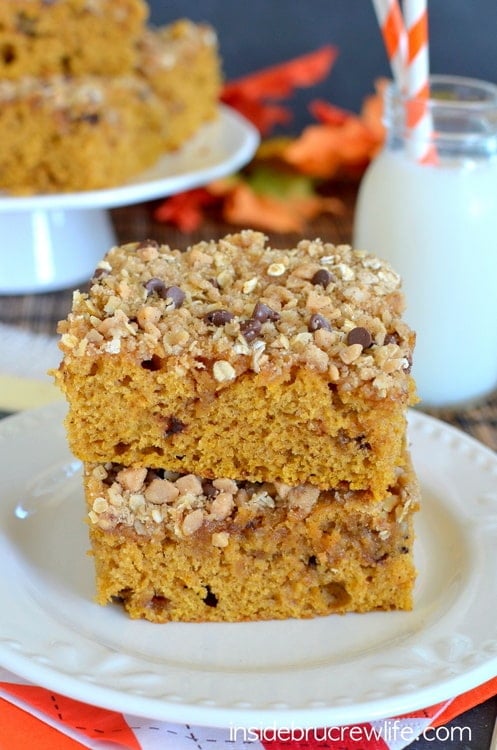 Brown Butter Pumpkin Streusel Coffee Cake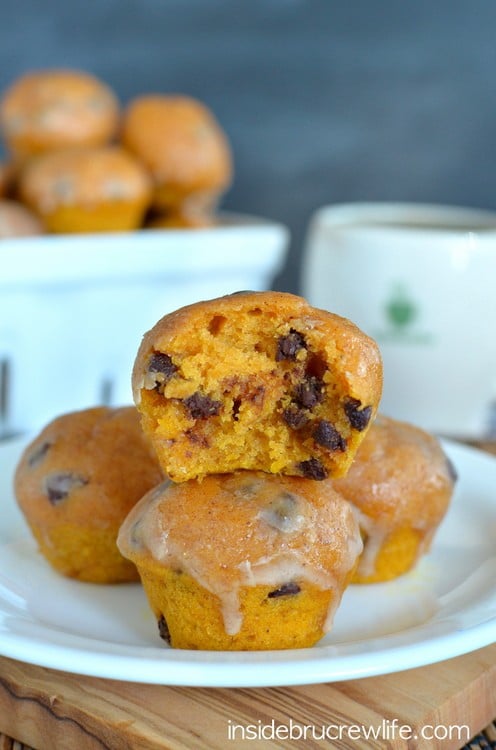 Glazed Chocolate Chip Pumpkin Muffins