The Best Pumpkin S'mores Bars are topped with melted chocolate and gooey marshmallows. They are a great dessert to enjoy summer flavors in fall.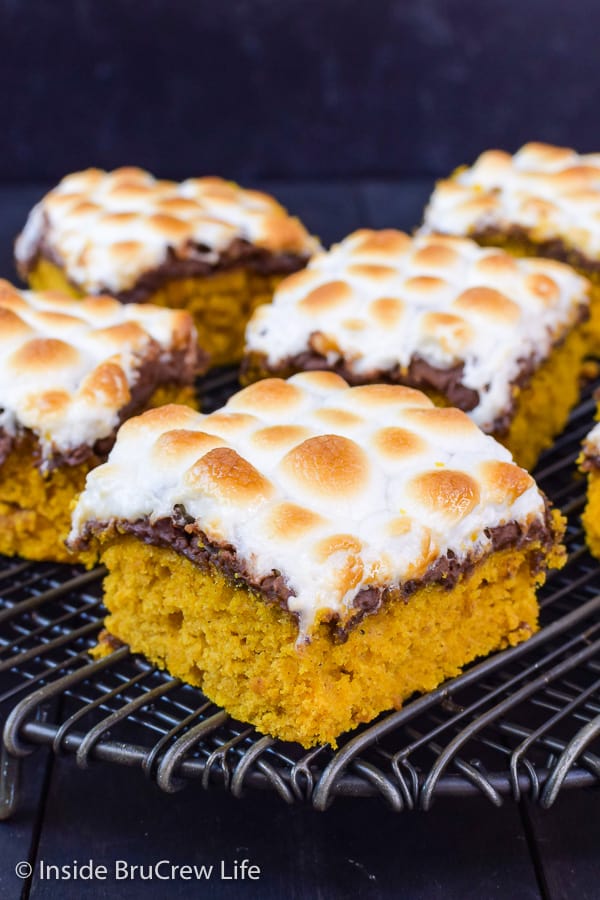 Happy first day of fall from the sunshine state. It's still hot here, but at least the humidity has kind of gone away. Or I've just totally gotten used to it after living here for a few years.
Either way, it's officially fall, and I'm getting the itch to start baking all the pumpkin things. So, I'm not about to let some heat stop me from my favorite baking time of year.
It's time to bake more of this Pumpkin Chocolate Chip Bread and make a few more jars of Homemade Pumpkin Butter.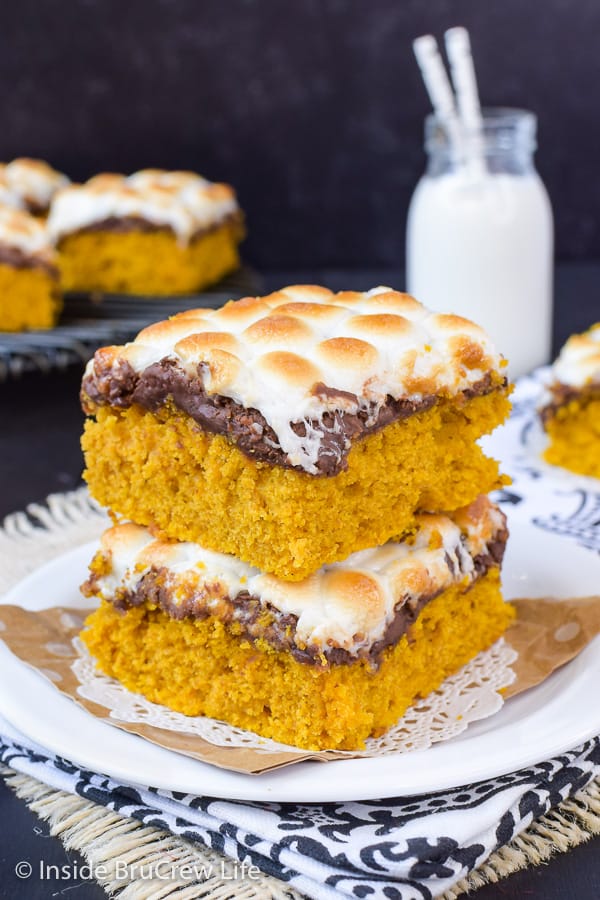 Oh, my word you guys! I may have found my favorite pumpkin dessert of the fall already!
I know it might seem a little early to claim these are the best pumpkin bars, but honestly, these ARE the best! It's going to be hard to top this pumpkin bars recipe.
Of course, you know I'll definitely try to out do this one in the coming weeks, but it's going to be tough to do.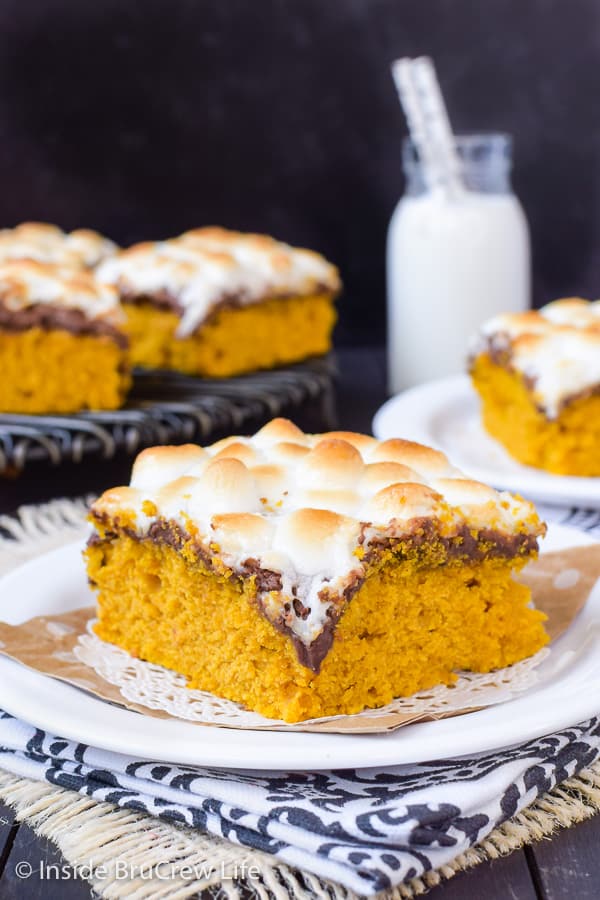 The base of these easy pumpkin bars started with my recipe for these Peanut Butter S'mores Blondies. Instead of peanut butter though, I put a full cup of pumpkin puree and just a little bit more flour.
I have never tried using pumpkin in a blonde brownie, so I wasn't quite sure how it was going to work. Recipe testing at its best here!
Can I just say that it worked out better than I could have hoped? These pumpkin cake bars are definitely not as dense as a blonde brownie because pumpkin does change the texture of baked goods. They were more of a happy cross between cake and blonde brownie.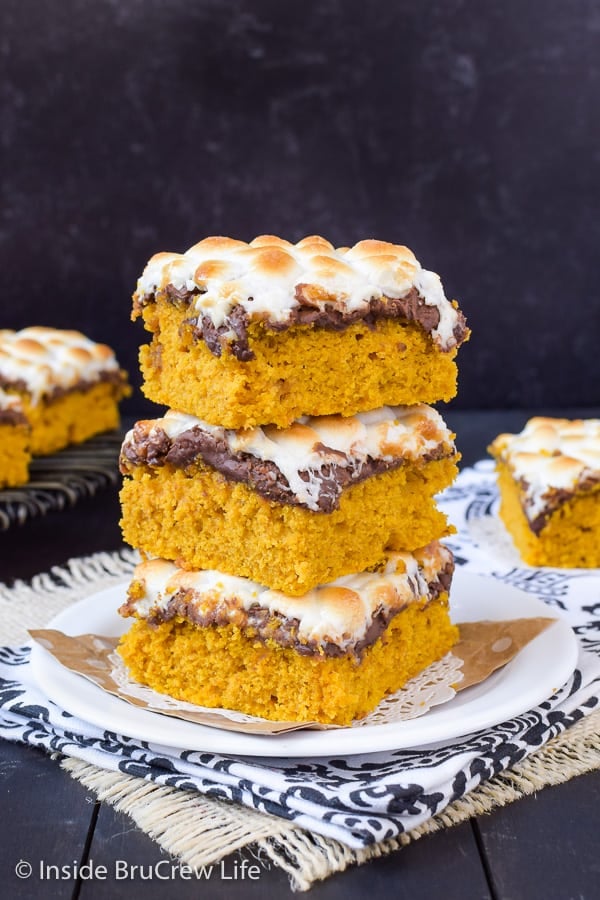 Then to totally go over the top I added a layer of chocolate chips and marshmallows and put it back in the oven for just a few more minutes. Every thing gets all melty and toasty and makes these gooey pumpkin bars so delicious!
Just make sure you keep an eye on the marshmallows because they can go from toasty to burnt in just a blink of an eye!
How to make the Best Pumpkin S'mores Bars:
Beat the butter and sugar until creamy.
Add the pumpkin, eggs, and vanilla and mix again.
Beat in the dry ingredients until a soft batter forms, then spread it in a greased pan and bake.
As soon as the timer goes off, take the pan out and sprinkle with chocolate chips and marshmallows.
Place it back in the oven and broil for 2 minutes or until the marshmallows are toasty looking.
Cool slightly before cutting into the pumpkin s'mores bars. Pro Tip: If the bars are completely cool, run a knife under water before each cut. A wet knife will not stick to the marshmallows as much.
Just an FYI, these pumpkin bars taste even better after sitting in a sealed container overnight.
Pumpkin meets s'mores is definitely the way to say hello to fall this year!!! If you love these Pumpkin S'mores Bars, you are going to go crazy for this S'mores Pumpkin Roll. It's one of my favorites!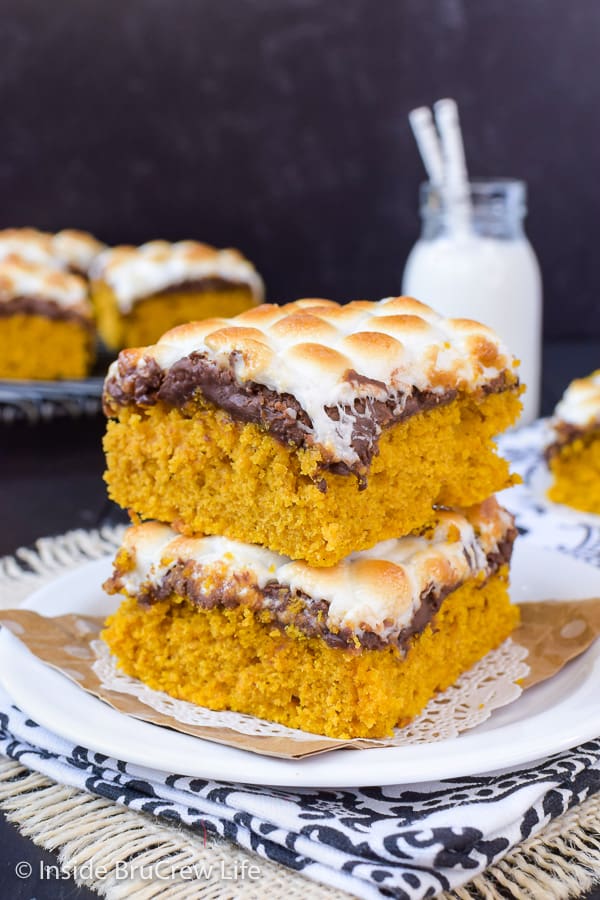 More easy pumpkin dessert recipes you may like:
Bring these little Pumpkin Oreo Cheesecakes to every fall party this year. Pumpkin cheesecake sandwiched between a cookie is a delicious idea.
Swirls of brown sugar and spices makes this soft Cinnamon Roll Pumpkin Cake a delicious breakfast cake to enjoy with a cup of coffee on a cool fall morning.
This Easy Pumpkin Crunch Cobbler is the ultimate fall dessert. A crunchy streusel topping and creamy pumpkin layer is the perfect comfort food.
This easy Pumpkin Chocolate Chip Cookie Pie has a cookie dough crust filled with no bake pumpkin cheesecake. One slice and you will be in pumpkin cookie heaven.
Add these soft Pumpkin Chocolate Chip Cookies to your fall baking plans. They will not last long, so you may want to double the batch.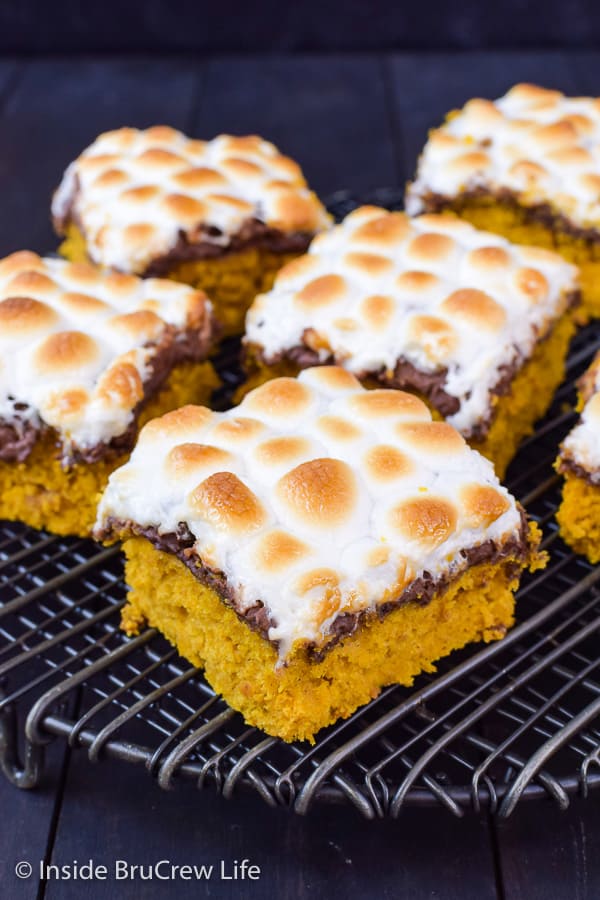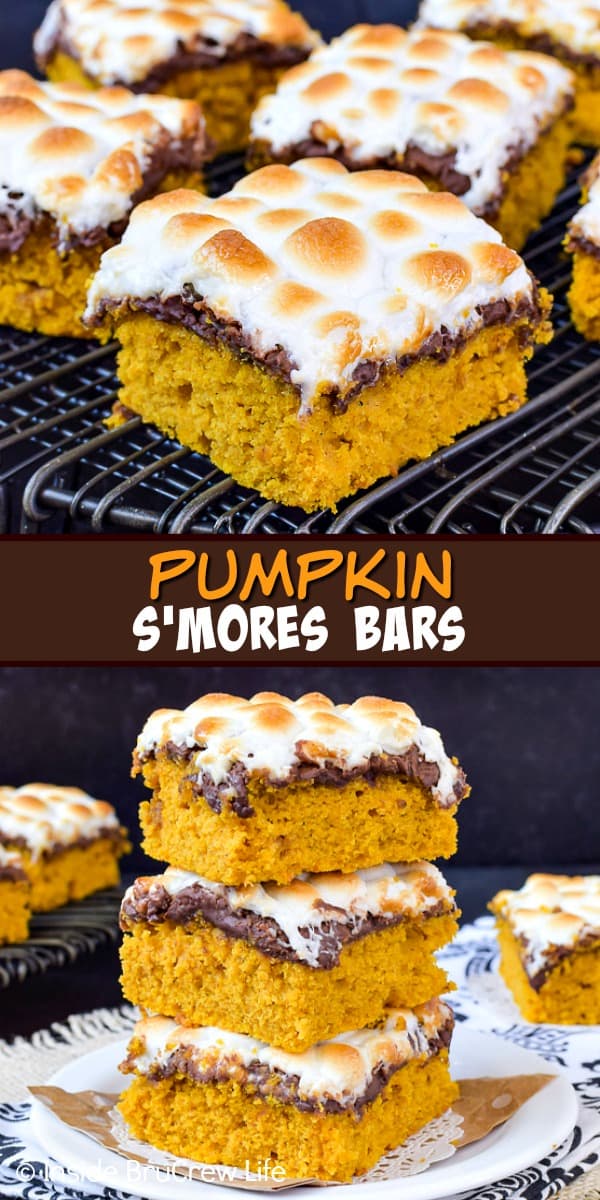 *The post for Pumpkin S'mores Bars was first published on August 23, 2014. The pictures have been updated, and the post was republished on September 23, 2019.