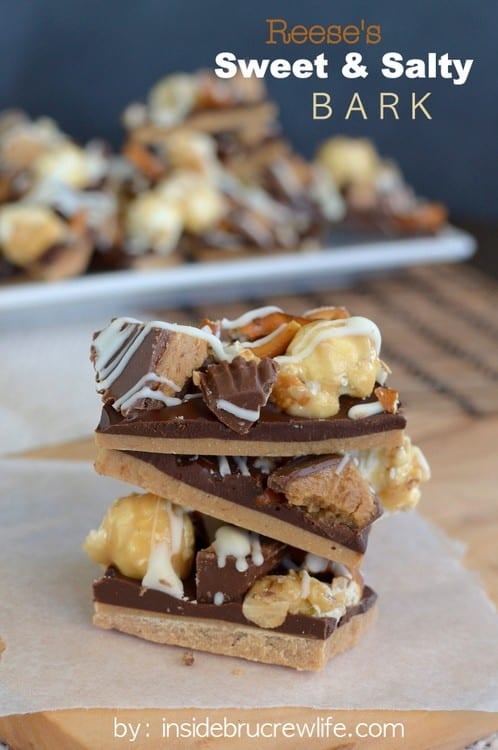 I don't know about you, but this time of year I am always looking for really easy treats to have on hand for parties. And let's face it, I like to keep some on hand for munching on late at night when my sweet tooth needs a fix.
This Reese's Sweet and Salty Bark does the trick every single time. It is so easy to make, and of course, tastes amazing!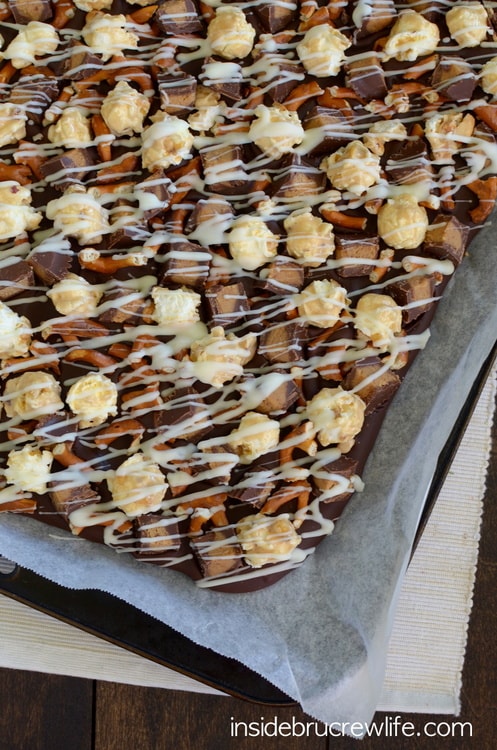 A few weeks ago our kids had fall break, and we went hiking at a state park a few hours from our house. On the way there, we passed some outlet malls, so we made a quick stop and walked the loop around the stores. I think everyone found something "needed" while we were there.
One store that I absolutely love to visit is the Harry and David store. They have the most amazing fruit, and their Moose Munch is one of my favorite treats of all time. While we were there I found a fun Moose Munch bark in the store, and I knew that I had to come home and recreate it...with a slight twist to it, of course 🙂 I might be partial, but I think my peanut butter cup twist totally tops theirs. Just sayin'!
Say hello to my new favorite snack mix. I layered peanut butter and chocolate chips, and then topped it with caramel corn, pretzels, AND Reese's Peanut Butter Cups!
It's to die for!!!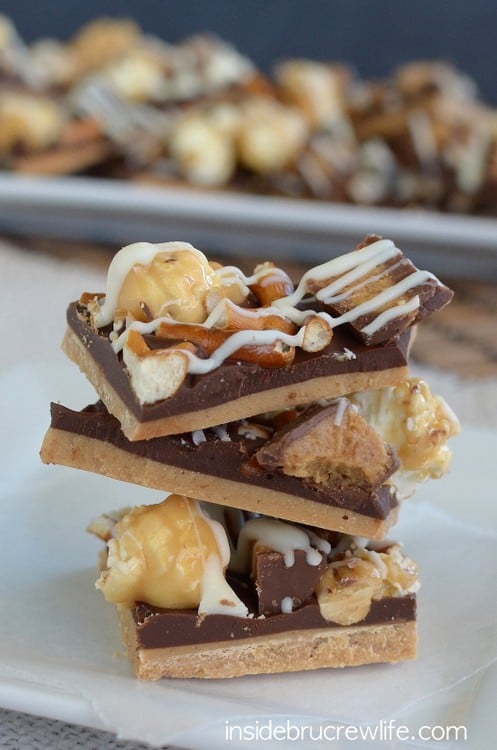 This bark is so easy to make. It is the perfect treat to have your kids help you with too. Little hands would be perfect for getting all the toppings on before your chocolate can set up. Just make sure they are actually putting the toppings on and not eating them. I still have to watch my "big" kids when they help me 🙂
They could also help you package this into small bags or containers to give to your friends and family this year...that is if you have any left. I'm telling you, this stuff is very dangerous to have around.
But dangerous treats have never stopped us before, so why worry now! Better get out those fat pants...they are here to stay this month.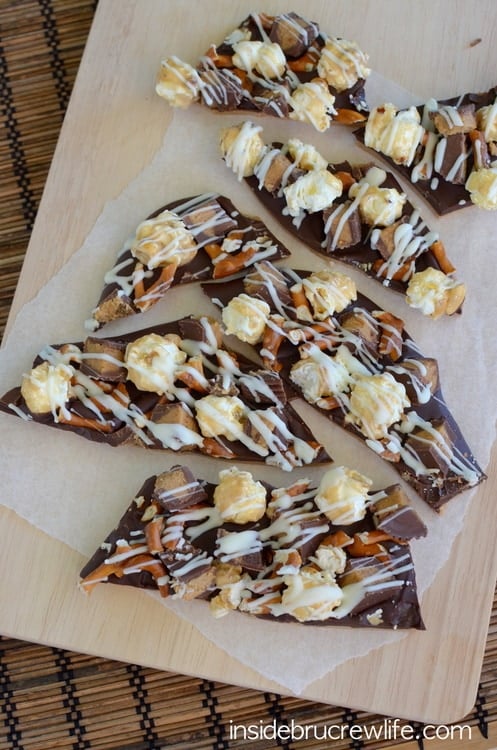 Stay up to date on all the BruCrew baking here:
FACEBOOK | PINTEREST | GOOGLE+ | TWITTER | INSTAGRAM | BLOGLOVIN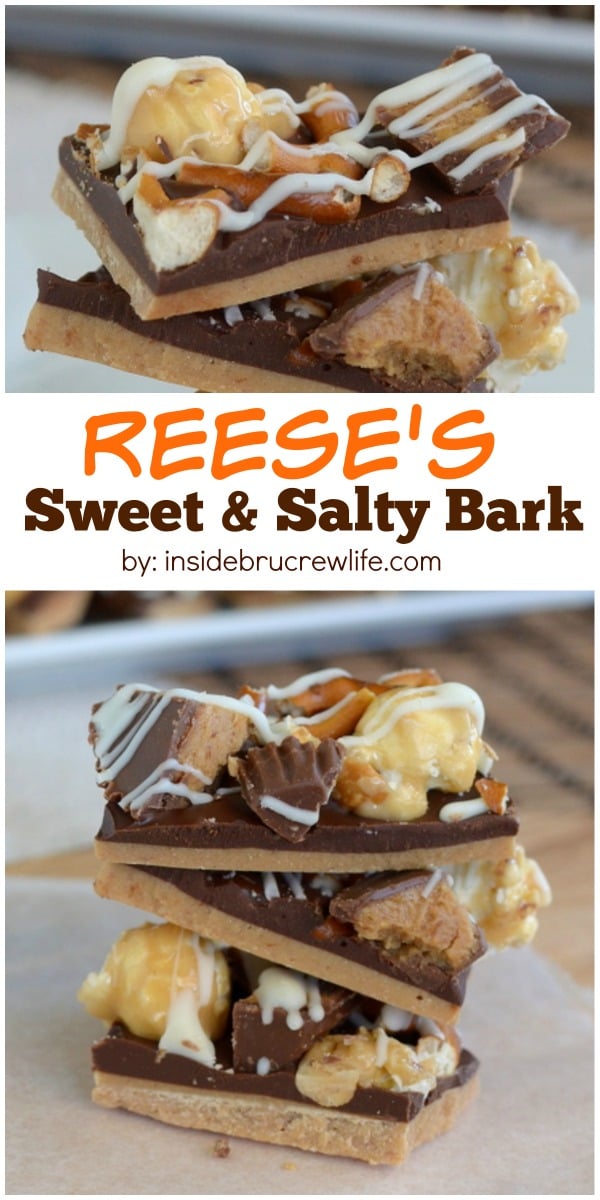 More No Bake treats using Reese's Peanut Butter Cups: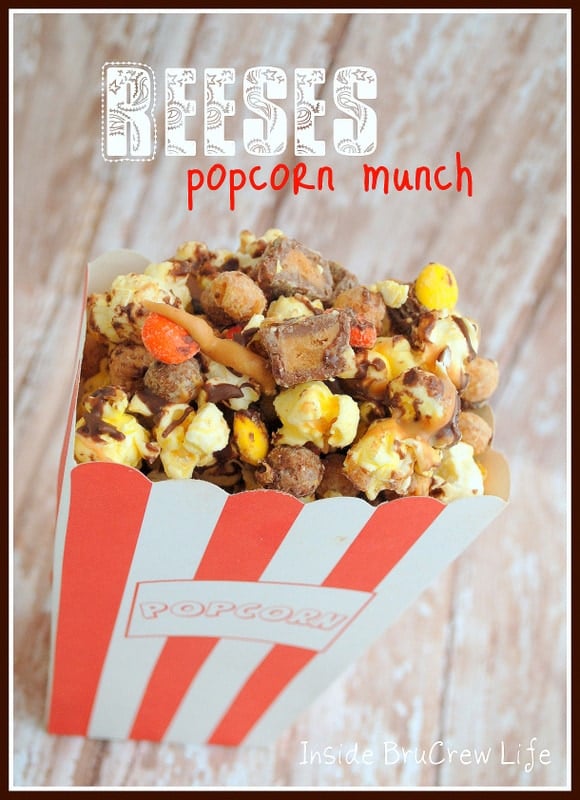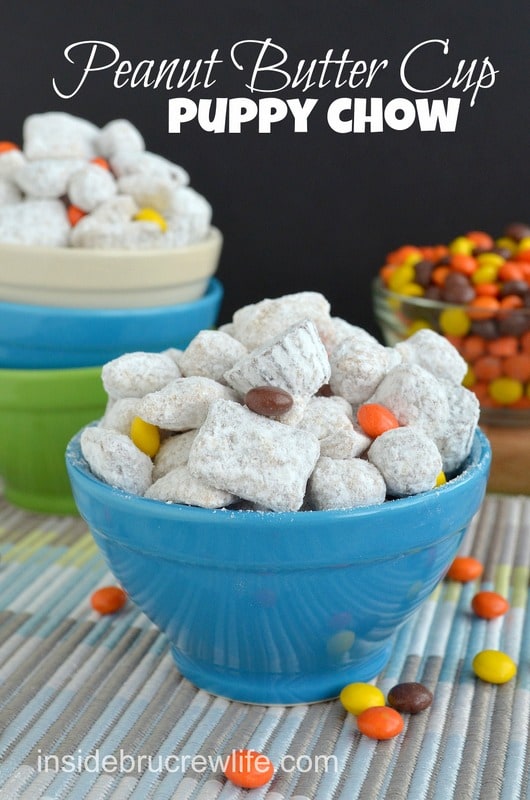 Reese's Peanut Butter Cup Puppy Chow (for humans only)