These Salted Caramel Brownies are sure to become your new favorite sweet and salty dessert. Soft brownies topped with pretzels, gooey caramel, and chocolate is always a good idea.
Salted Caramel Brownies
Salted Caramel takes me down every.single.time!!! I have no self control when there is a sweet and salty drink or dessert around. Anything sweet and salty or chocolate and peanut butter is my kryptonite. I can't resist it at all.
A few years ago Starbucks came out with a salted caramel brownie pop! Yes, it is as fabulous as it sounds. And yes, I paid the 1.50 price for one little brownie pop when I saw them! I justified it by calling it research. LOL!
I was inspired to bake these salted caramel brownies with pretzels because of those little brownie pops. These sweet and salty brownies are my favorite dessert at the moment. Here is why we love them.
Made from a box mix.
A thick layer of gooey salted caramel.
Chocolate Topping.
Pretzels and Sea Salt
White chocolate drizzles.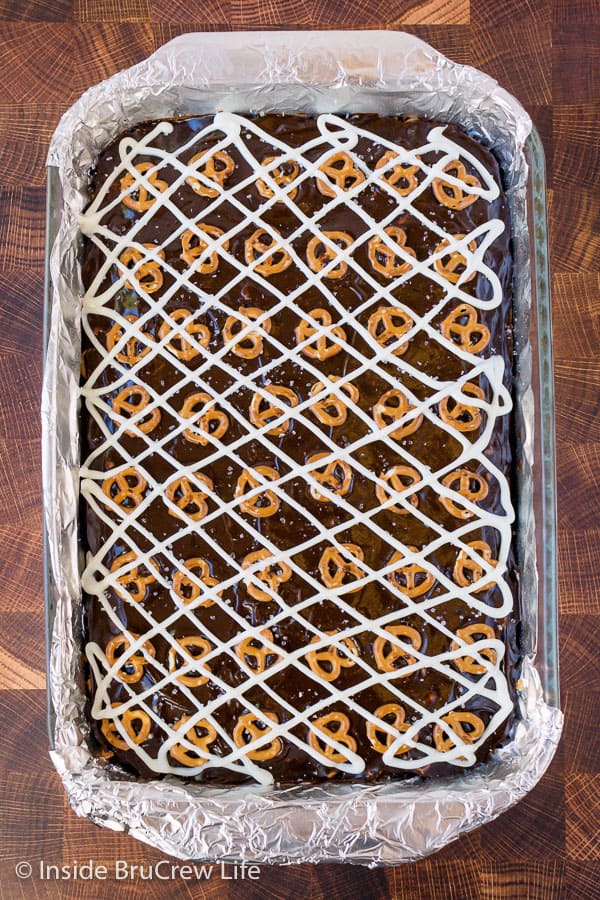 Ingredients Needed
Using a box brownie mix makes these caramel brownies come together a little quicker.
Brownie Mix - Make sure you buy a mix that is for a 9x13 pan size.
Caramel Baking Bits - I like to use the little caramel bits because they melt faster.
Heavy Cream - Helps to thin out the caramel and chocolate toppings.
Pretzels - Small twists or sticks are best for breaking into pieces for the topping.
Chocolate Chips - you can use milk, semi-sweet, or dark chocolate chips for these brownies.
White Chocolate Melts - A little bit drizzled on top makes the brownies look like they came from a bakery.
Sea Salt - Adds a great salty flavor to the sweet brownies.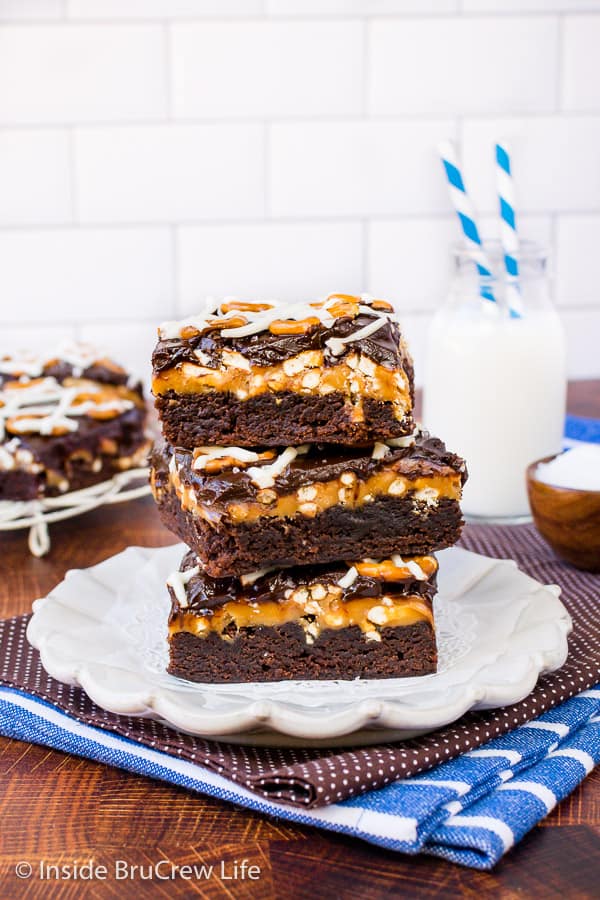 How to make Salted Caramel Brownies
One bite of these fudgy chocolate brownies topped with gooey caramel, salty pretzels, and more chocolate and you will never want plain brownies again. Trust me...they are that good.
Bake and cool a pan of brownies. Feel free to use a box brownie mix or make a double batch of these Homemade Chocolate Chip Brownies. Either one works and will taste amazing.
Heat a bag of caramels or caramel bits and heavy cream in a pan over low-medium heat until it is melted and creamy.
Stir pretzels pieces into the caramel and spread it on top of the cooled brownies. Let set for a few minutes.
Heat chocolate chips and heavy cream in the microwave for 60 seconds.
Stir until melted and creamy, then spread evenly on top of the brownies.
Press itty bitty pretzels into the chocolate and let it set.
Drizzle white chocolate melts across the pan of brownies and sprinkle with coarse ground sea salt.
Let the chocolate set before cutting into squares.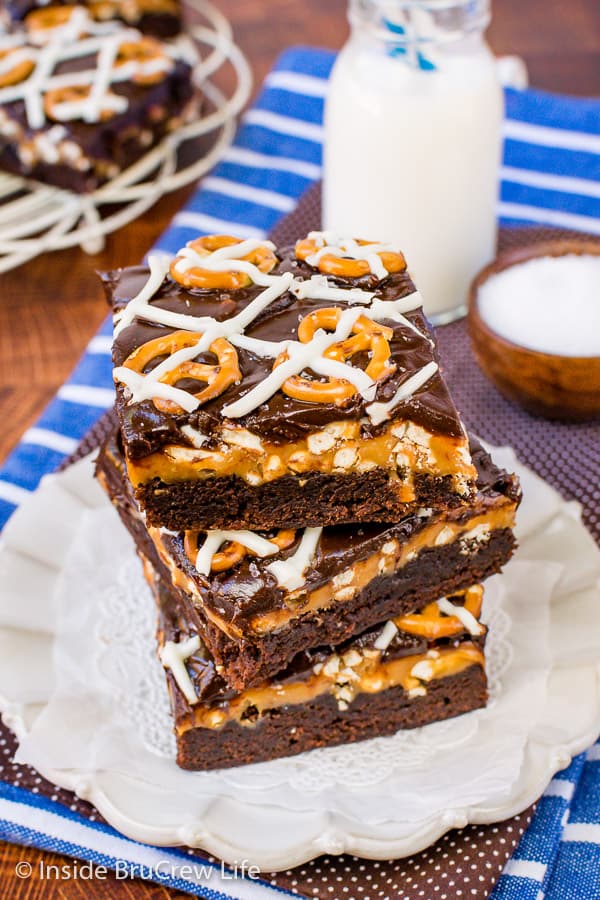 More Salted Caramel Recipes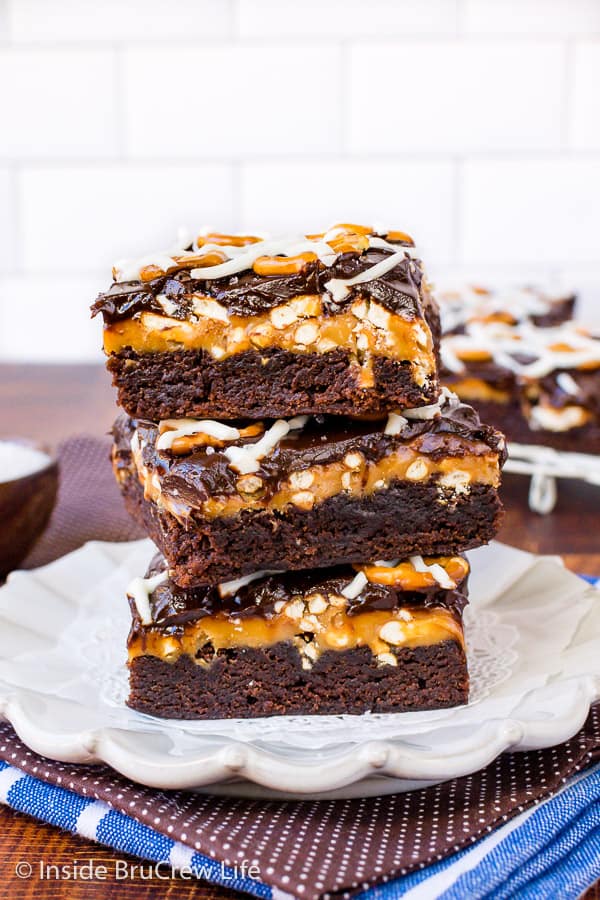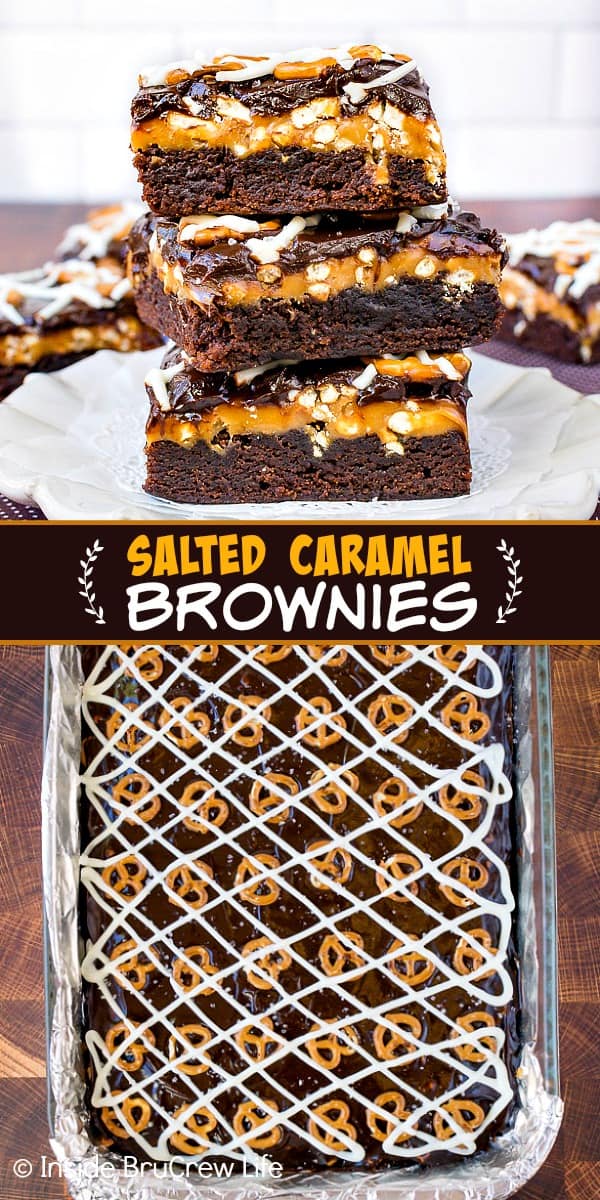 *The post for Salted Caramel Brownies was first published on October 10, 2012. The photos and post have been updated and republished on February 3, 2020.