Save time in the kitchen by making these Salted Caramel Chocolate Sugar Cookie Bars for dessert. This easy chocolate cookie bar recipe is baked and frosted with creamy Salted Caramel Frosting in one pan.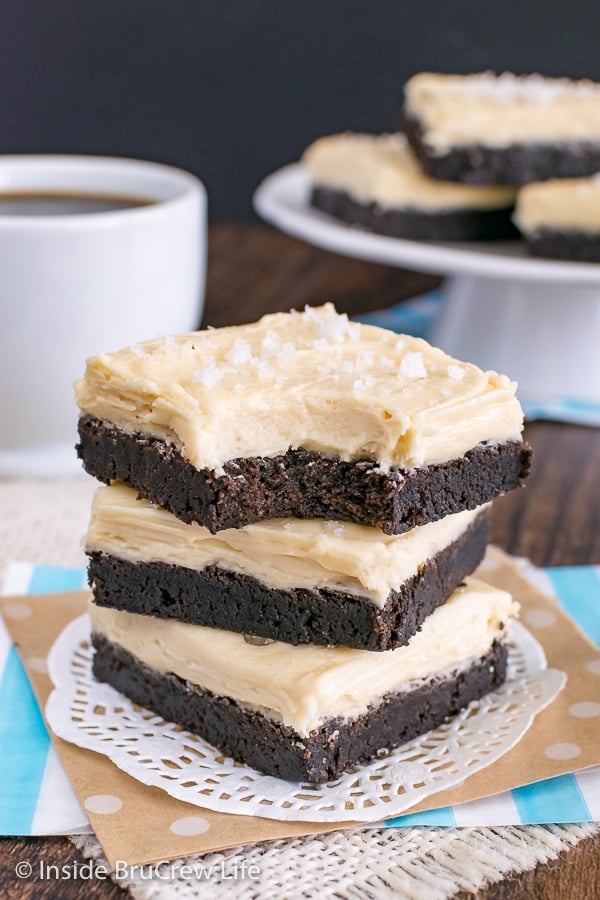 Every year when fall gets here, I get so excited for the return of the Salted Caramel Mocha Latte and the Pumpkin Cream Cold Brew in coffee shops. As much as I adore the pumpkin coffee, the salted caramel latte is my all time favorite.
I decided to have some fun in the kitchen and bake something with that sweet and salty flavor.
Give me all the salted caramel all the time!!!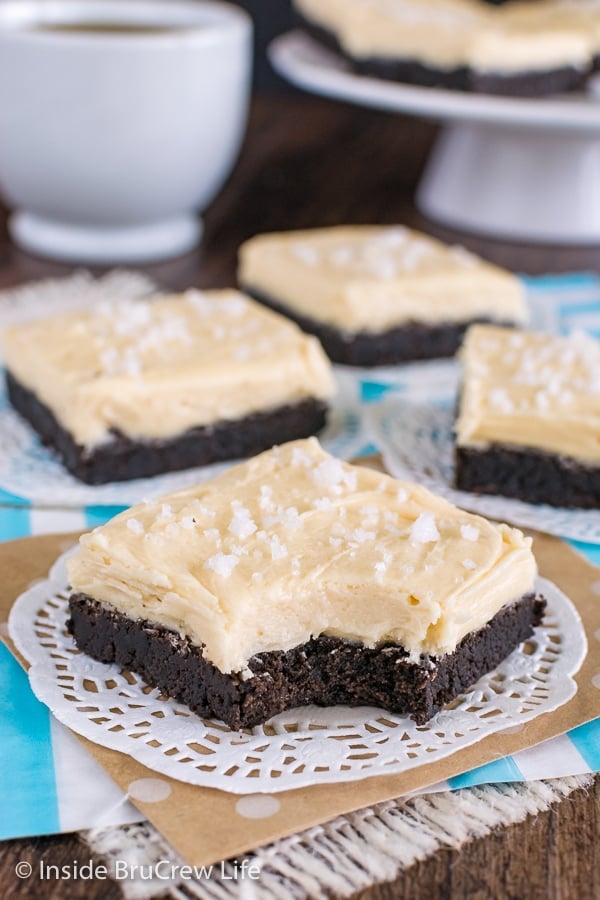 It has been a while since I made sugar cookie bars, so I made chocolate cookie bars and frosted them with salted caramel frosting. The extra sprinkle of coarse sea salt was perfection.
Since I started making sugar cookies in a pan, I have not rolled cookie dough in our kitchen. I was serious when I said I was giving up my cookie cutters. Got to love making and frosting everything in one pan, right?
Over the years I have done so many variations of sugar cookies made in a pan.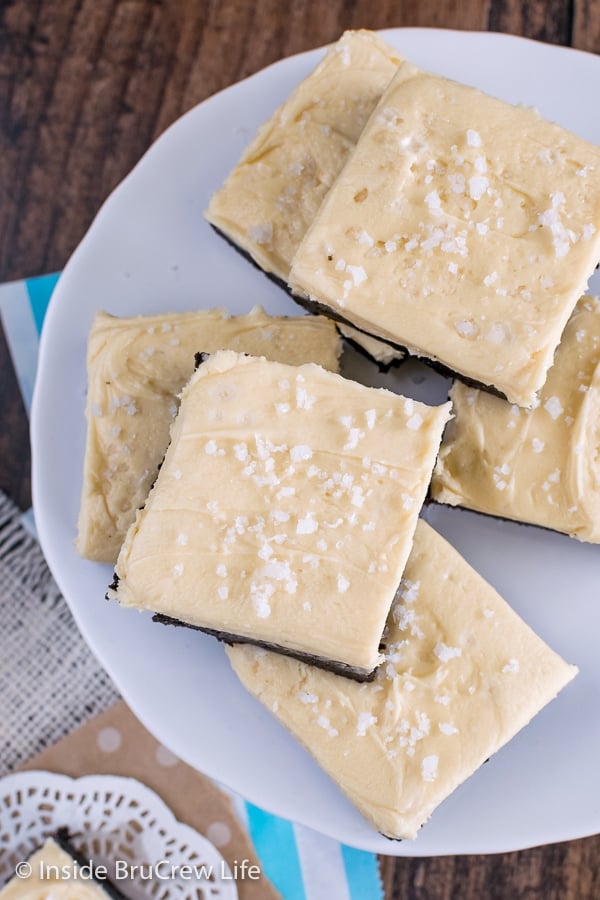 These chocolate cookie bars are an easy dessert to make for parties! You definitely want to make these bars for the sweet and salty lovers in your life.
How to make Salted Caramel Chocolate Sugar Cookie Bars:
Mix together the butter and sugar until creamy. Then add the egg, vanilla, and milk and beat again.
Stir together the dry ingredients and slowly mix it into the butter mixture until a soft dough forms. PRO TIP: A stand mixer makes this so much easier.
Press the dough in an even layer in a greased pan and bake for about 14 minutes. Remove and cool completely.
Frost the cooled cookie bars with salted caramel frosting and sprinkle with coarse ground sea salt, if desired.
Don't like salted caramel? Change up the frosting and make these Chocolate Mint Sugar Cookie Bars or these Chocolate Peppermint Bark Sugar Cookie Bars instead.

Can these chocolate sugar cookie bars be made ahead of time?
Yes. This is one of those recipes that gets better the longer it sits. I actually recommend making them a day ahead of time for best flavor and texture.
How do you store frosted cookie bars?
Keep them in a tightly sealed container at room temperature, so they stay soft and delicious for longer.
Can you freeze sugar cookie bars?
Freeze the unfrosted bars in a tightly wrapped and sealed container for up to 3 months. Thaw overnight, then add the frosting.
You can also freeze the frosted cookie bars and store them the same way.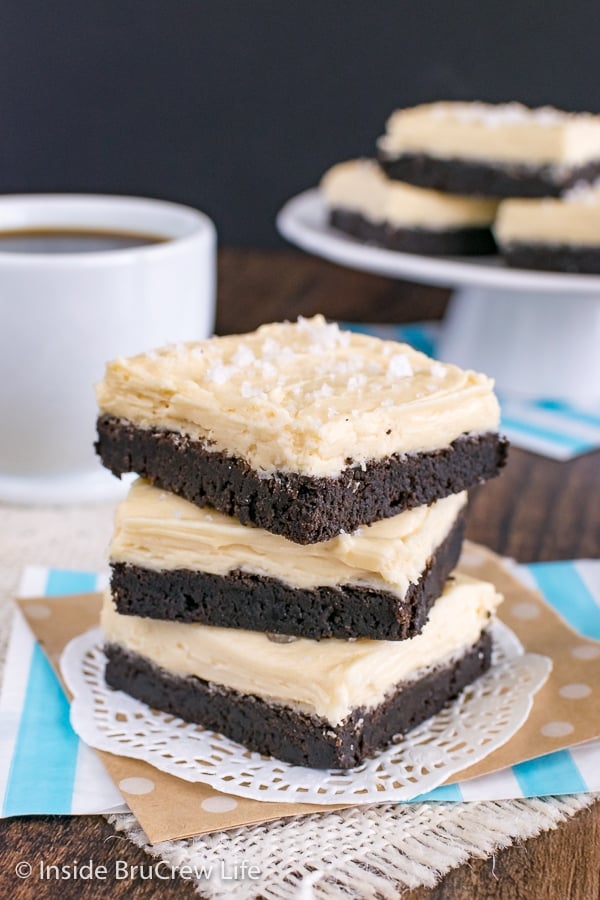 More salted caramel dessert recipes: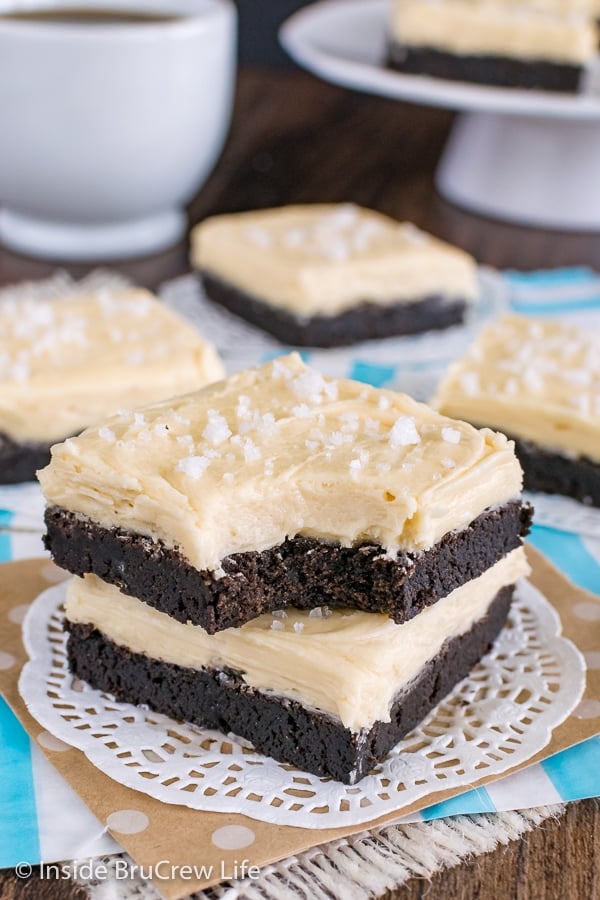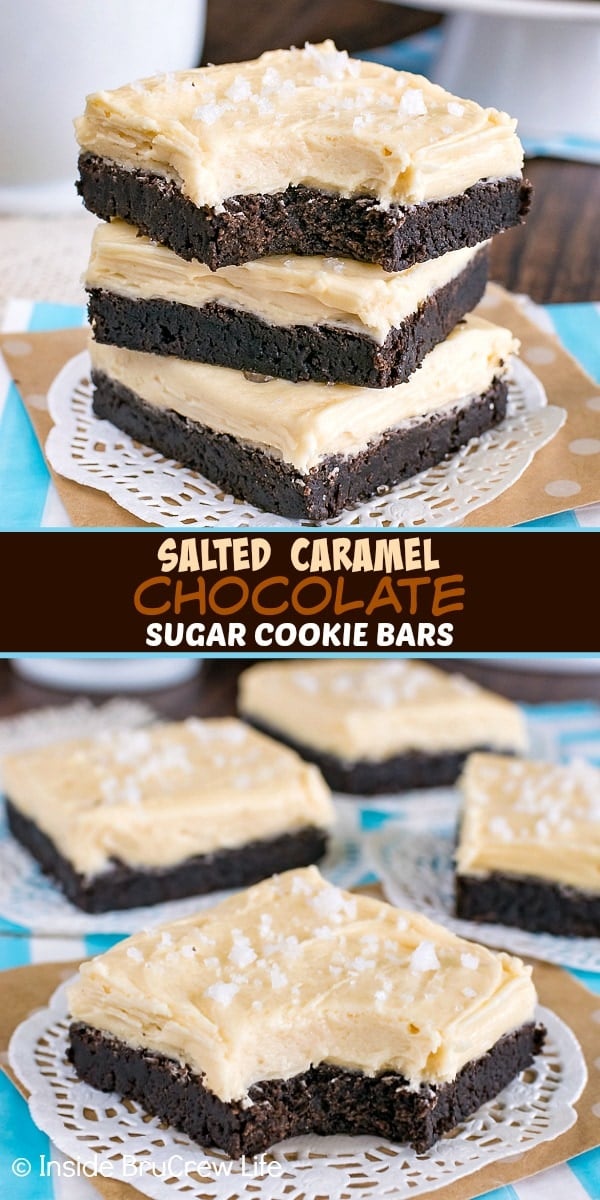 *The post for Salted Caramel Chocolate Sugar Cookie Bars was first published August 15, 2016. The post has been updated and republished September 29, 2020.