This S'mores Pumpkin Roll has a delicious marshmallow filling and is topped with chocolate and marshmallows. The s'mores twist to the classic pumpkin roll is so easy and delicious.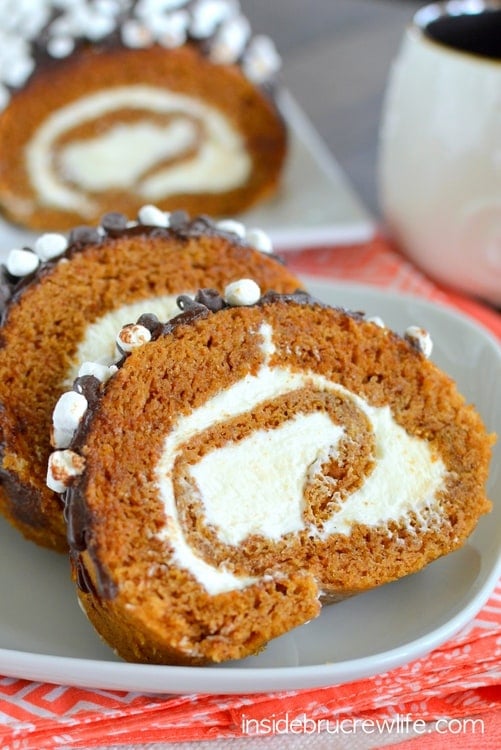 You all know how much I love baking, right? Well, I love coming up with fun twists to original desserts. But not everyone shares my passion around here. Oh, they like to eat these treats, but boy, do I get some looks.
A few years ago everyone couldn't believe that I messed with the traditional pumpkin roll. I got the look from my in-laws, my husband, and my son. BUT it didn't stop them from all enjoying a slice, and then admitting that it was good!
Of course, you should have seen how they all still shook their heads because my dessert mash-up did not include cream cheese frosting though.
Haha! That's not going to stop me from doing more different desserts. I'm on a roll here! LOL! Pun intended.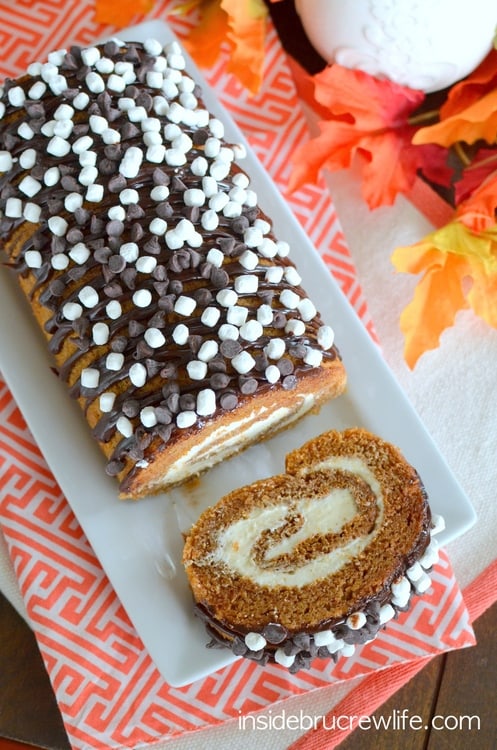 Can you believe that this is the very first cake roll that I have ever done?
I know. With all the baking that I do, you would think I would have done one before. But no, first time cake roller right here!
Since summer is stilling hanging on with humidity levels up high, I decided to transform the traditional pumpkin roll into a fun "fall kicks summer's butt out of here" dessert.
What better way to do that than with another s'mores variation! I was still drooling over these Pumpkin S'mores Bars from the other week, so I just had to add s'mores to this easy pumpkin roll.
Yes, you can say it. I am officially obsessed with putting chocolate and marshmallow into everything.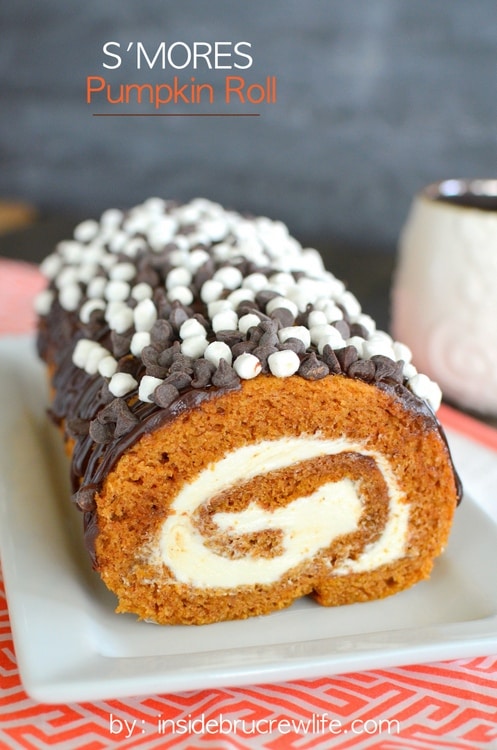 I did start with a pumpkin roll recipe I found online, but I tweaked it just slightly. I like to use brown sugar in all my baking to keep my baked goods soft, so that was one little change I made.
Also, I upped the cinnamon and nutmeg levels. I kind of like my pumpkin treats spicy. I think the spicy pumpkin pairs so well with the creamy marshmallow filling.
How to make a S'mores Pumpkin Roll:
Beat the eggs and sugar. Then add the pumpkin and mix again.
Stir together the dry ingredients and slowly add it to the pumpkin mixture.
Spread the cake batter evenly in the bottom of a parchment lined baking sheet and bake.
Place another sheet of parchment on top of the hot cake and flip it out of the pan immediately.
Peel the original piece of parchment from the bottom of the cake. Roll the cake and new parchment up starting from the shortest side. Let cool.
Unroll and fill with marshmallow frosting. Roll the pumpkin cake back up.
Drizzle with melted chocolate and top with mini marshmallow bits and mini chocolate chips.
This pumpkin roll is definitely being made again. I don't care if I get more looks for messing with a traditional dessert!!! Adding s'mores to pumpkin is always a good idea...no matter what!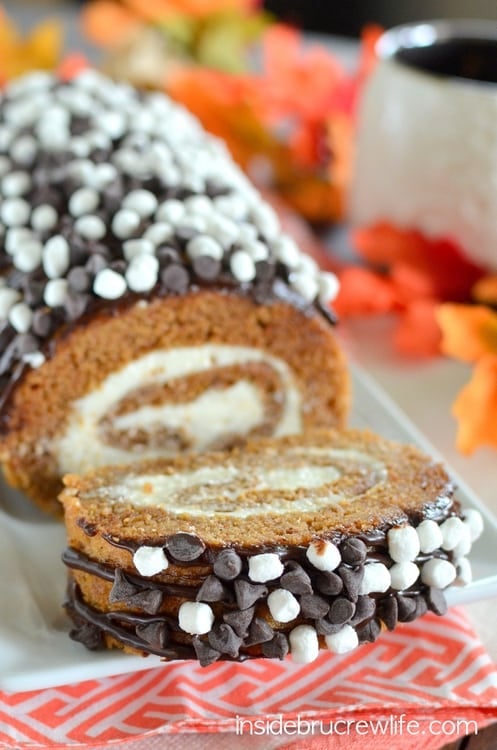 Tips and Tricks for making a Pumpkin Roll:
Line your pan with parchment paper making sure you allow enough to go outside the pan, so you can lift it out easily after it bakes. Parchment is a little stiffer, so make sure you mold and press the paper into the corners.
Spread the batter evenly in your pan. If the batter is not even it may bake a little bit lopsided, but you can still fill it, roll it, and enjoy it.
Skip the messy towel and sugar method. Lift the cake out of the pan and immediately roll the hot cake up with the bottom layer of parchment paper inside it.
Let the cake roll cool on a wire rack until completely cool. Unroll and frost with your filling, then roll back up peeling off the parchment paper as you roll.
Why does my pumpkin roll crack?
Make sure to roll the pumpkin cake up as soon as it comes out of the oven. A hot cake is more pliable and can be rolled into a shape without cracking. Take your time and roll it up slowly. If you rush the delicate cake, it could end up cracking.
Let the rolled up cake cool completely before unrolling it and adding the frosting. Fill and roll it immediately after unrolling the cooled cake.
Does a pumpkin roll need to be refrigerated?
Most pumpkin rolls need to be refrigerated because of the cream cheese frosting. This pumpkin roll can be left out on your counter for 2-3 days because the frosting does NOT contain cream cheese. I do prefer the taste of a cold pumpkin roll though, so I always refrigerate ours.
Can you freeze a pumpkin roll?
Yes, you can. Bake, cool, and prepare the cake roll completely. Wrap the pumpkin cake tightly in plastic wrap and place in a large freezer safe bag or container for 2-3 months. Thaw overnight in the refrigerator before slicing and serving.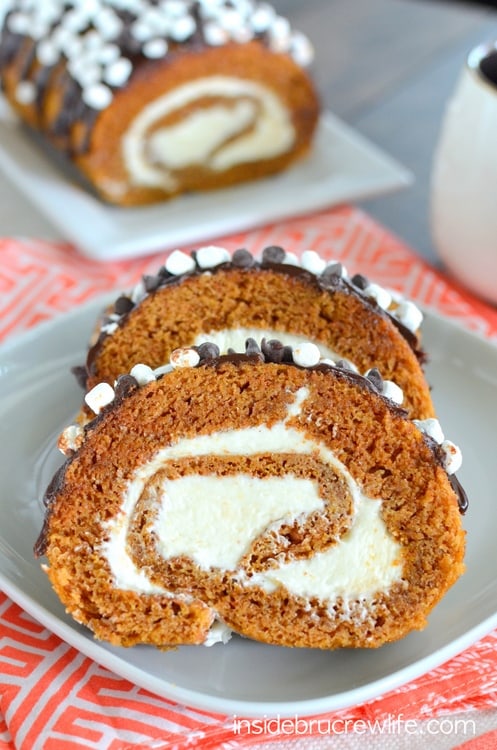 More pumpkin recipes you may like: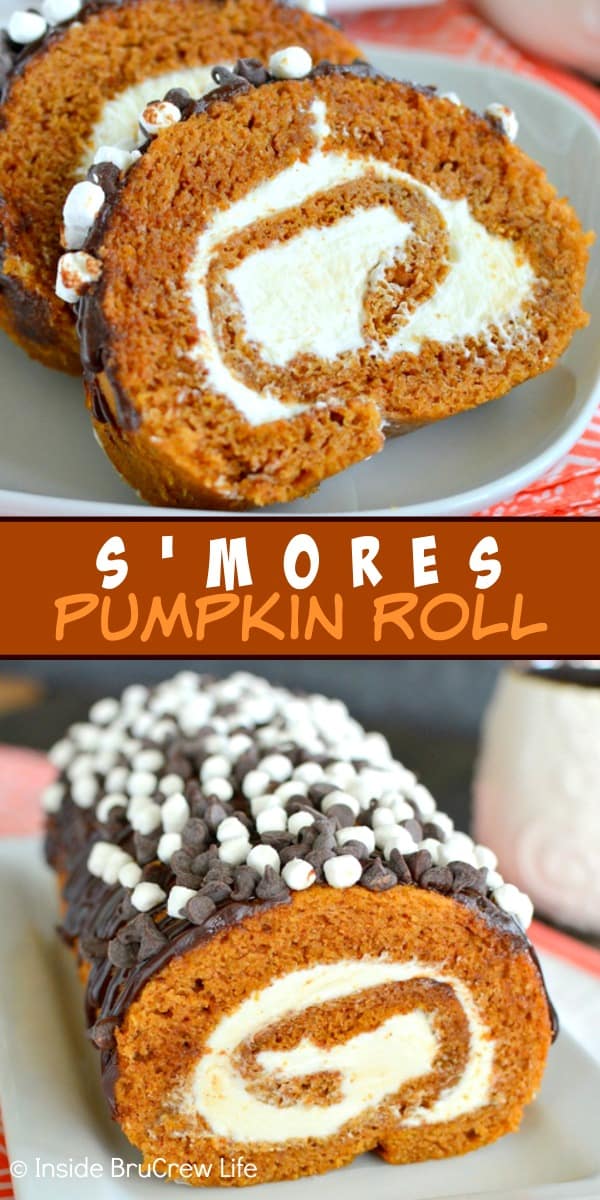 *The post for S'mores Pumpkin Roll was first published on September 3, 2014. The post has been updated and republished on November 6, 2019.