Try this fun new twist to the classic pumpkin roll this fall.
This S'mores Pumpkin Roll has a delicious marshmallow filling and is topped with lots of chocolate and marshmallows.  It's the perfect summer meets fall dessert.
*Be sure to sign up for my email newsletter…you can enjoy these recipes in your inbox.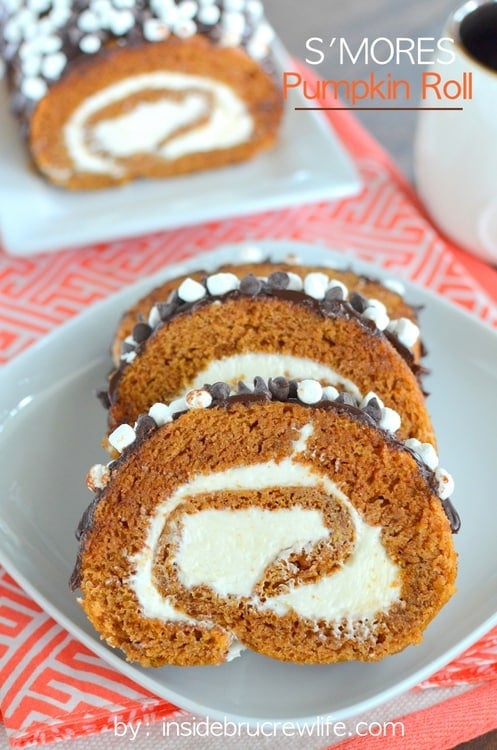 You all know how much I love baking, right?
Well, I love coming up with fun twists to original desserts.  But not everyone shares my passion around here.  Oh, they like to eat these treats, but boy, do I get some looks.
The look this time was "How could you even mess with the traditional pumpkin roll?"  Sadly I got this look from my in-laws, my husband, and my son.  BUT it didn't stop them from all enjoying a slice…and admitting that it was good!  You should have seen how they all still shook their head that my dessert mash up didn't include any cream cheese frosting though.
Haha!  That's not going to stop me from doing more different desserts.  I'm on a roll here!  LOL!  Pun intended 🙂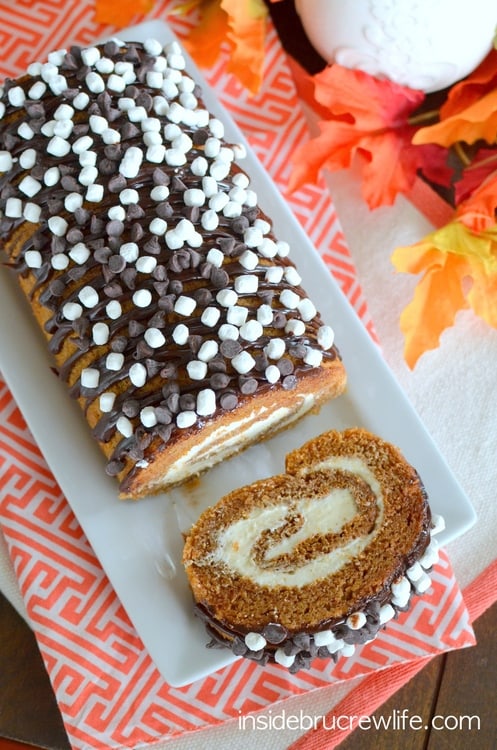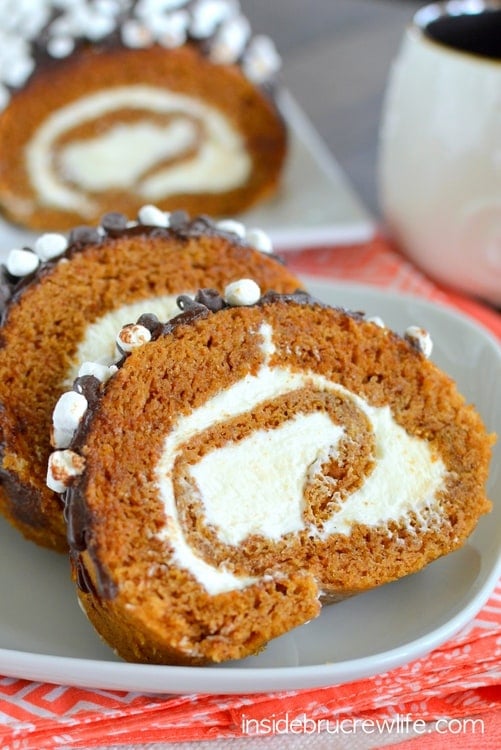 Can you believe that this is the very first cake roll I have ever done?
I know…with all the baking I do, you would think I would have done one before.  But no, first time cake roller right here!
Since summer is stilling hanging on with humidity levels up high, I decided to transform the traditional pumpkin roll into a fun "fall kicks summer's butt out of here" dessert.  What better way to do that than with another s'mores variation!  I  was still drooling over these Pumpkin S'mores Bars from the other week, so I just had to do s'mores for this one too!
Yes, you can say it.  I am officially obsessed with putting chocolate and marshmallow into everything.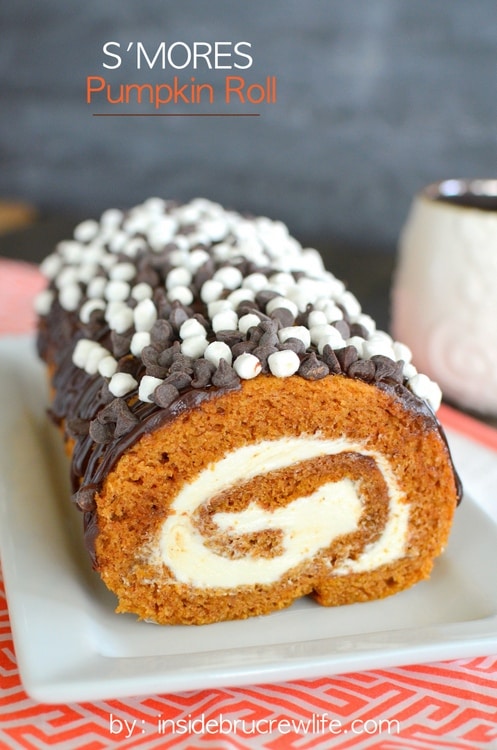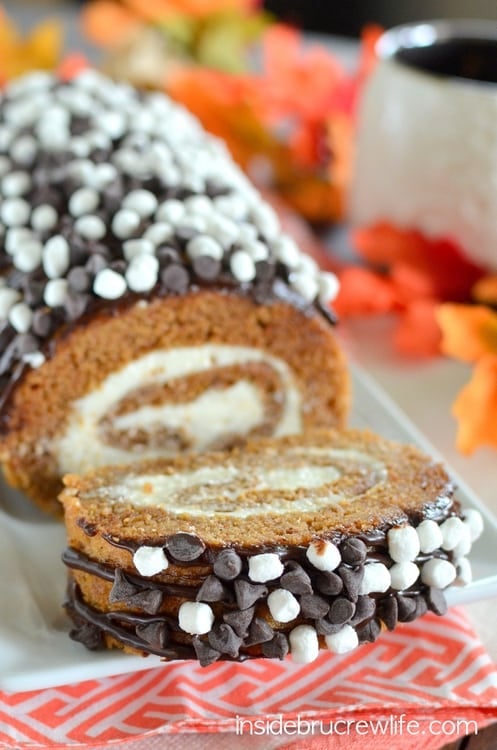 I did start with a recipe I found online, but I tweaked it just slightly.  I like to use brown sugar in all my baking to keep my baked goods soft, so that was one little change I made.  Also, I upped the cinnamon and nutmeg levels.  I kind of like my pumpkin treats spicy.  I think the spicy pumpkin paired so well with the creamy marshmallow filling.
One thing I learned while doing this pumpkin roll is to make sure the batter is evenly spread out in your pan.  Mine did bake a little bit lopsided, but when you fill it and roll it all up no one will ever notice.
Also make sure your towel has plenty of powdered sugar on it before you flip the cake out.  You do not want your cake to stick to the towel when it comes time to unroll it.  Mine came off ok, but I had to be careful.  Next time I'm putting more powdered sugar down for sure.
The chocolate on top can be drizzled or spread out.  Go with whatever you feel like at the moment.  I did let the chocolate cool slightly and then put it in a ziplock bag and drizzled it.  But you could totally just spread it on too.  All the chocolate will get covered with the mini marshmallows and chocolate chips, so it doesn't need to look perfect.
This pumpkin roll is definitely getting made again.  I don't care if I get more looks for messing with a traditional dessert!!!  Adding s'mores to pumpkin is always a good idea…no matter what!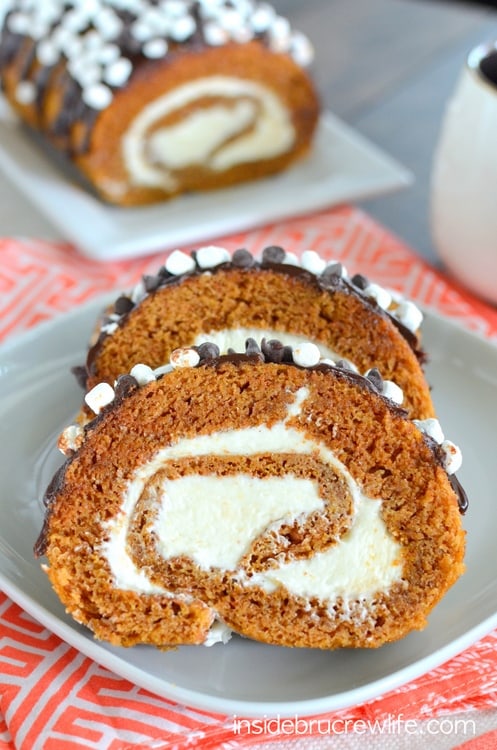 Stay up to date on all the BruCrew baking here:
FACEBOOK | PINTEREST | GOOGLE+ | TWITTER | INSTAGRAM | BLOGLOVIN
 Sign up to receive an email in your inbox for each new recipe:
EMAIL SUBSCRIPTION
Yield: 10 cake slices
S'mores Pumpkin Roll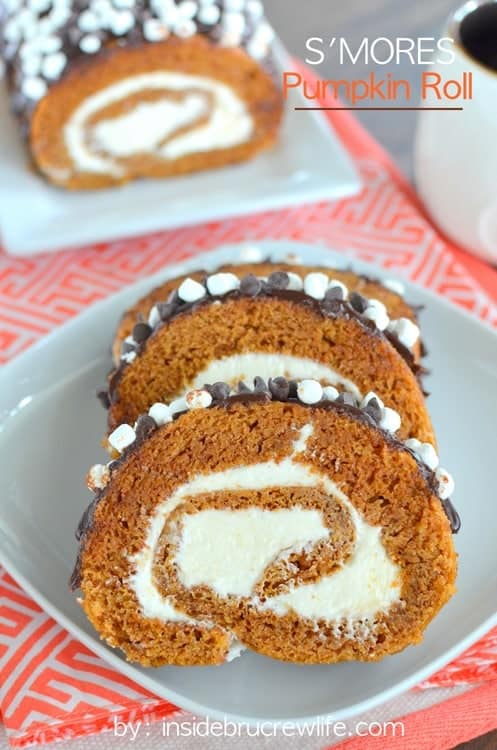 A spicy pumpkin roll with marshmallow filling and a chocolate and marshmallow topping.
Ingredients
For the cake roll
3 eggs
1/2 cup brown sugar
1/2 cup sugar
2/3 cup pumpkin puree
3/4 cup flour
1/2 teaspoon baking powder
1/2 teaspoon baking soda
1 teaspoon cinnamon
1/2 teaspoon nutmeg
1/2 teaspoon salt
For the filling
1/2 cup butter
3/4 cup marshmallow cream
1 1/4 cups powdered sugar
For the topping
2 Tablespoons heavy whipping cream
1/4 cup chocolate chips
mini marshmallow bits
mini chocolate chips
Instructions
Preheat oven to 375 degrees. Line a 15x10 baking sheet with parchment paper.
Beat the eggs and sugars. Add the pumpkin and beat again.
Stir together the flour, baking powder, baking soda, cinnamon, nutmeg, and salt. Slowly add to the pumpkin mixture.
Spread the cake batter evenly in the pan. Bake for 13-15 minutes.
Immediately flip the cake onto a towel that has been generously sprinkled with powdered sugar. Peel the paper off the cake and roll the cake and towel up starting from the shortest side. Let it cool completely.
Beat the filling ingredients until creamy. Unroll the cake. Spread the filling on the cake and roll back up.
Bring the whipping cream to a boil. Remove from the heat and stir in the chocolate chips until melted. Let cool slightly.
Drizzle over the top of the cake roll. Sprinkle with the mini chocolate chips and marshmallow bits. Store covered in the refrigerator.
Recommended Products
As an Amazon Associate and member of other affiliate programs, I earn from qualifying purchases.
Nutrition Information:
Yield:
10
Serving Size:
1
Amount Per Serving:
Calories:

410
Total Fat:

18g
Saturated Fat:

11g
Trans Fat:

0g
Unsaturated Fat:

6g
Cholesterol:

84mg
Sodium:

301mg
Carbohydrates:

62g
Fiber:

2g
Sugar:

49g
Protein:

4g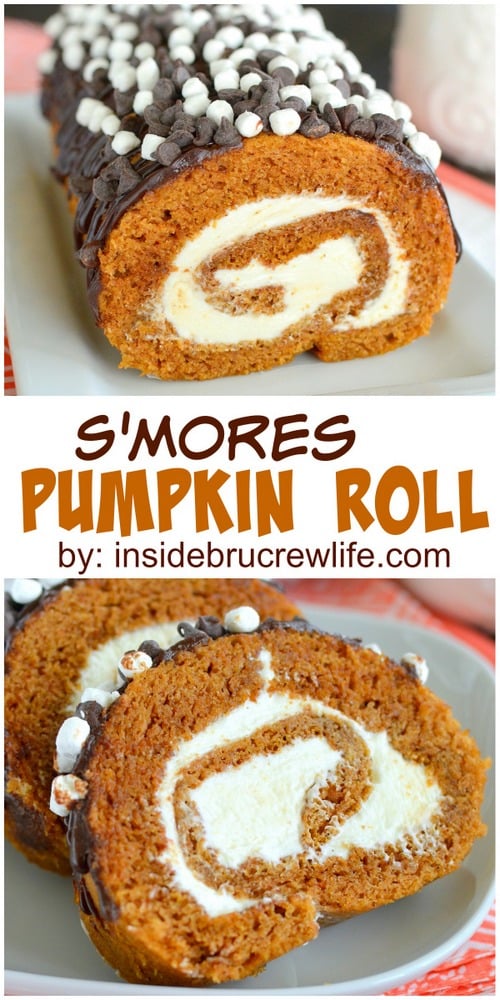 More delicious pumpkin recipes to try this fall: