March is the month for green. These cute green St. Patrick's Day Boxes are a fun craft that you can fill with "gold" for your kids or their teachers.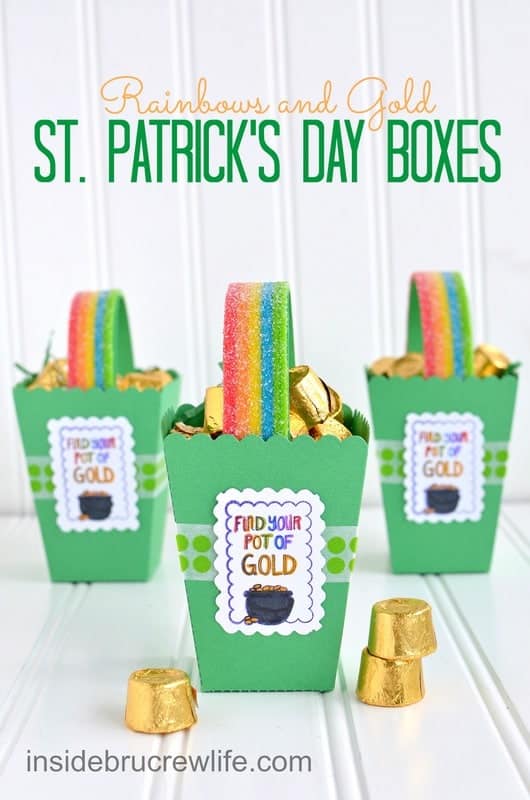 St. Patrick's day is always so bright and colorful with everything green, pots of gold, and rainbows, so I knew that I wanted to incorporate those elements into these green treat boxes.
This month I pulled out all my die cuts with the intention of making our kids a cute treat container just for them.
Now don't get me wrong, every recipe I make, they eat. But sometimes that recipe is just a wild creation that I have come up with, or it is something that we need to take to a get together.
I wanted to make them a special treat that would surprise them when they come home from school.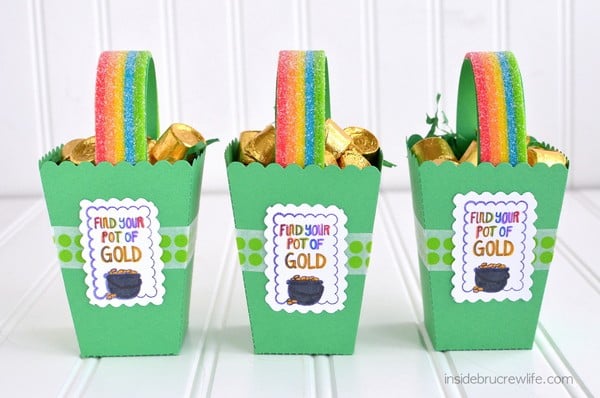 How To Make St. Patrick's Day Boxes
For these boxes I used a popcorn box die cut. After I folded and taped the box together, I added strips of green polkadot washi tape to the sides. You can also purchase green popcorn boxes to use instead.
Just last week I had stopped at JoAnn's and found some cute rubber stamps with rainbows and pots on them. This cute little saying was just what my boxes needed. These St. Patrick's day stickers would work too.
For the handles I cut three 1"x11" strips from the leftover green paper. I taped it down on the inside near the bottom of the box.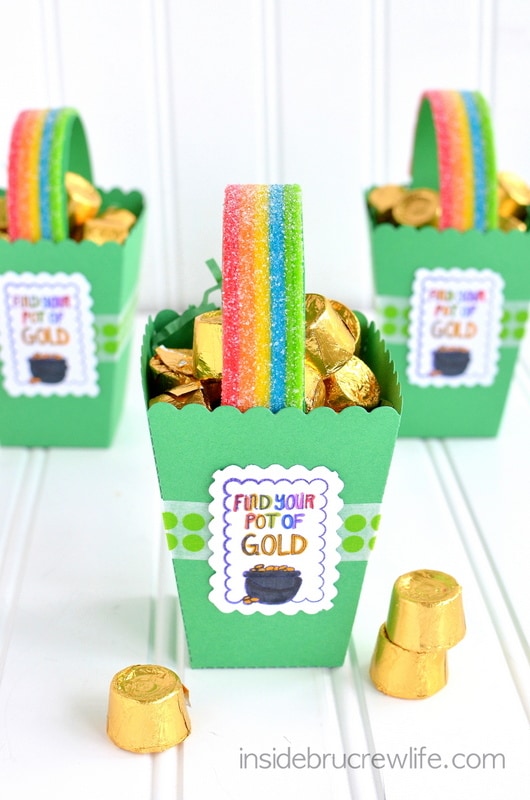 Time to Fill the Leprechaun Boxes
Filling these St. Patrick's Day boxes wasn't very hard because there are only a few candies in gold wrappers. The Dollar Store near us usually has the gold covered chocolate coins, but they were all out.
It is actually a good thing because all three of my kids love Rolo candies. They are the perfect gold nuggets for this box. I used some leftover green Easter grass to fill the bottom of the box and then topped each one with about 15 Rolos.
I knew that I wanted some sort of rainbow to attach to the handles. Originally, I had thought about using rainbow ribbon, but then I saw these rainbow airhead extremes and knew my kids would love them.
If you are going to make and give these away, I would recommend using a rainbow ribbon instead of the candies. These weren't leaving my house or traveling, so I didn't attach the candy strips. I just placed the strips right on top of the paper handles.
More fun St. Patrick's Day Treats

Now I just need to find a good hiding place, so my kids don't see their special surprise early!
SaveSave
**We participate in the Amazon Services LLC Program, an affiliate program designed to provide a means for us to earn fees by linking to Amazon.com .
SaveSaveSaveSaveSaveSaveSaveSave
SaveSave