These easy no bake Lucky Charms Treats are a colorful variation on the original Rice Krispies treats. Make a pan of these fun marshmallow bars for St. Patrick's Day this year and watch your kids declare them magically delicious.
Looking for more cereal treats? These Reese's rice krispie treats, these M&M rice krispie treats, and strawberry Chex mix are a few of our favorites.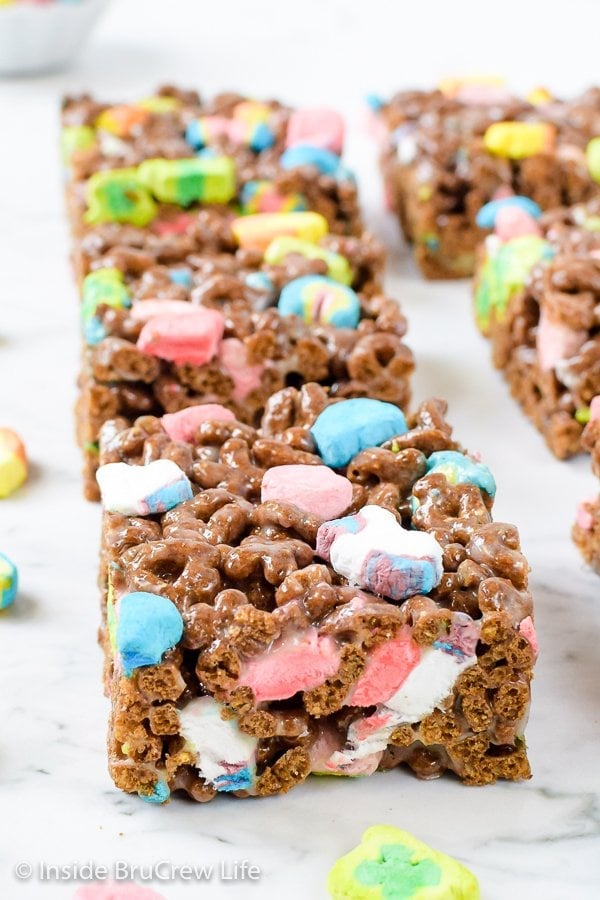 Jump to:
One of my favorite treats to make when I need a dessert in a hurry are Rice Krispies treats. They are so easy to make, and everyone loves them. We adore these easy treats, but sometimes it's fun to change things up with other cereals.
One of my favorite cereals to eat when I was growing up was Lucky Charms. Ok, ok, my favorite part was actually eating all the marshmallows out of the box while no one was watching. Don't tell my mom it was me!
This week I decided to use a box of my favorite cereal to create a fun after school snack for our kids.
Why
You Will Love These Treats
These Lucky Charms treats are just like your favorite rice krispie treats, but they are made with Lucky Charms cereal instead of the traditional krispies. It really adds a fun twist to the bars.
Two times the marshmallows make these bars magically delicious. Plus, they are so easy to make in minutes on the stove top or in the microwave. Each bar is soft and chewy, but they also have a crunch from the cereal. They really are a fun no bake treat to make for St. Patrick's day.
If you like Lucky Charms marshmallows, then may want to check out this Lucky Charms cookie recipe as well!
Key Ingredients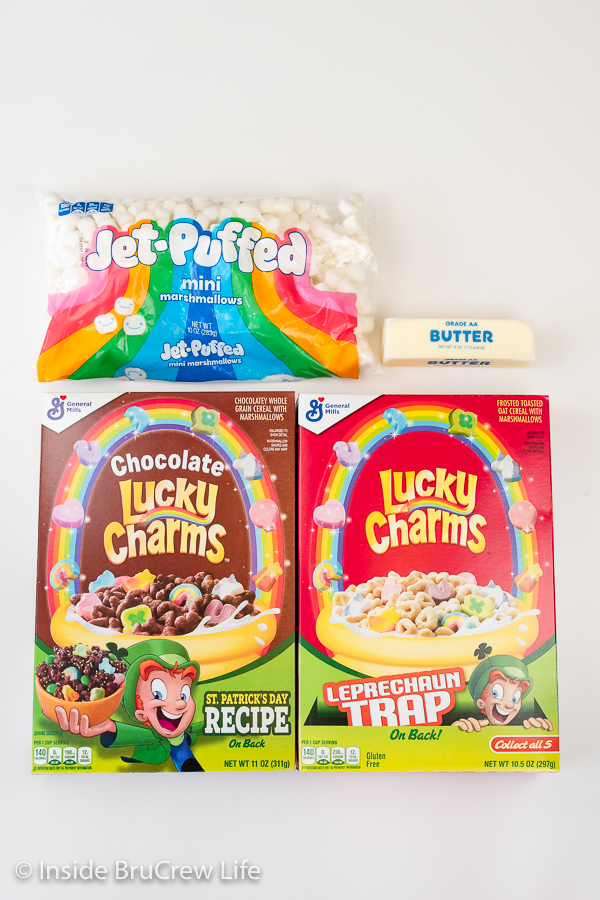 The best part about these marshmallow loaded cereal treats is that you only need three ingredients.
Butter - We use unsalted butter in our recipes. Feel free to use salted butter, if that's what you have on hand.
Marshmallows - One 10 ounce bag of mini marshmallows will give you enough for this recipe.
Lucky Charms - You can use the regular version or try out the chocolate Lucky Charms like we did. They also make a fruity version that would be great too.
How
to make Lucky Charms Treats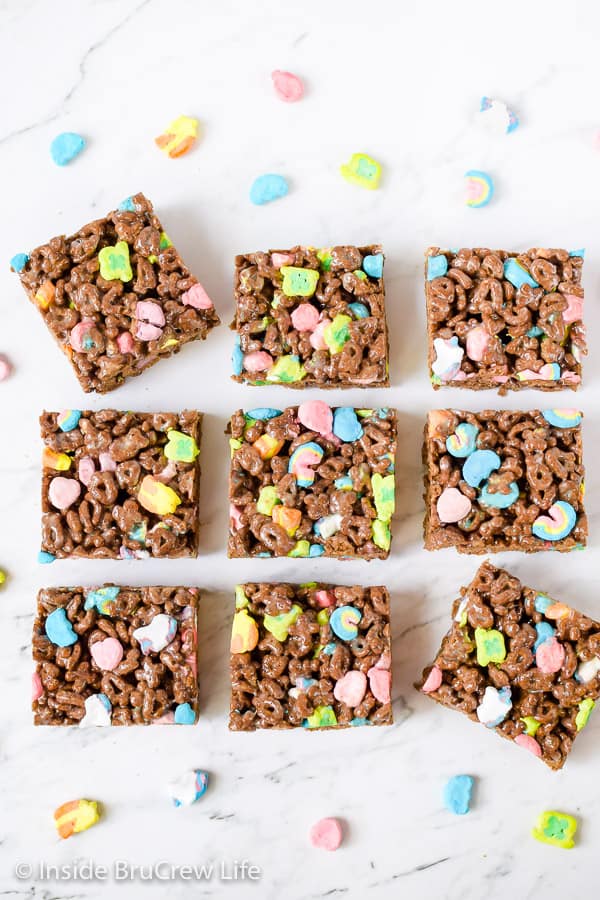 These Lucky Charms marshmallow treats are a fun and delicious way to enjoy the cereal in a new way. The bars are easy to make in minutes, and you will love how colorful they are.
Prepare your pan. Line a 9x13 pan with foil and spray it with nonstick baking spray. This will allow you to get the marshmallow treats out of the pan easier once they cool.
Measure the ingredients. Open the box of Lucky Charms cereal and measure out 6 cups. Open the bag of mini marshmallows.
Find more marshmallows. Pick through the remaining toasted oat cereal still in the box and pull out more magical marshmallows. You are going to load these easy marshmallow treats with extra colorful marshmallow goodness inside and on top.
Heat the butter and marshmallows together. Melt the butter in a large pot over low heat. Add the miniature marshmallows and stir until melted and creamy. Make sure you use fresh marshmallows because you want your treats to stay soft and chewy.
Gently stir in the cereal until everything is coated. Add 1 cup of the additional charms marshmallows and stir again very, very gently. You do not want the marshmallows to break apart and melt.
Spoon the mixture into the prepared pan and GENTLY press it down. You can spray your hands with nonstick spray or use butter. Another trick is to spray a rubber spatula with nonstick cooking spray and use that to press the cereal mixture down evenly.
Give the bars more marshmallow goodness. Press more charms marshmallows into the top of the warm chocolate Lucky Charms treats.
Cool and serve. Set the pan aside and let it cool completely. Lift the bars out and cut them into small or big squares.
Storage
Recommendations
Keep the cooled marshmallow treats in an airtight container on the counter for 4-5 days. Keep the layers separated with a sheet of parchment paper, so the Lucky Charms bars do not stick together.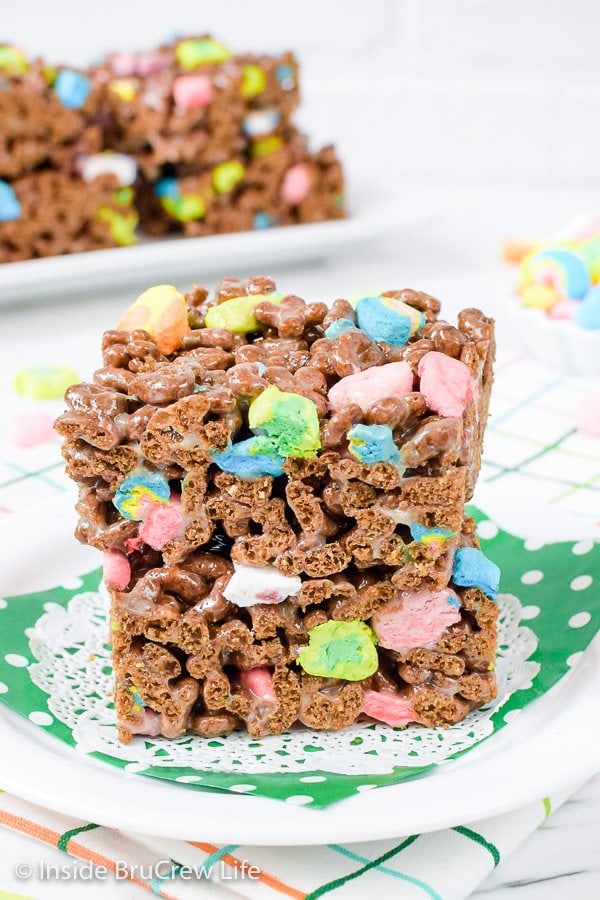 Tips

and Tricks
Make sure you are using fresh ingredients because it makes the treats better. This is your PSA to ditch the old bag of marshmallows that is in your pantry now and go to the store for fresh, soft ones.
Melt the marshmallows and butter over low heat. Don't try to speed up the process with a higher heat. Melting the marshmallows over high heat can also give you hard bars.
Do NOT press the warm marshmallow mixture into the pans very hard. The harder you compact and press it in will give you hard crunchy treats. The goal is soft chewy treats!
Spray your hands with nonstick baking spray or spread them with butter to keep the mixture from sticking to you. You can also use parchment paper to press everything in with no mess.
Dip the bottom of the sweet treats into melted chocolate for an even better version of these copycat cereal bars.
Recipe FAQ'S
Why did my cereal treats turn out hard?
There are a few reasons these bars too hard. Using old, stale marshmallows. Too much cereal added to the mixture. Pressing the gooey mixture into the pan very firmly.
Can I use other cereals in no bake bars?
You sure can. Feel free to use any type or brand of cereal that you like.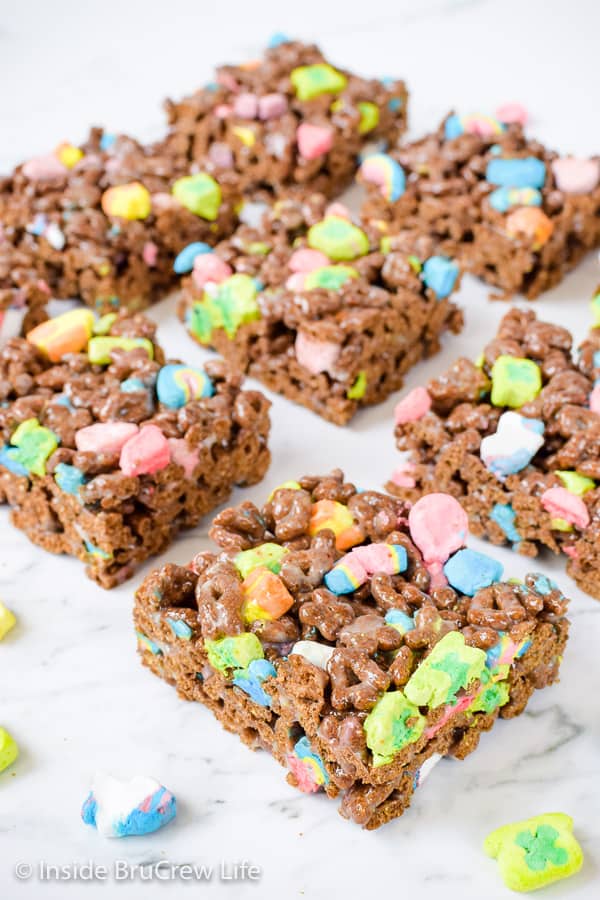 More Cereal Treats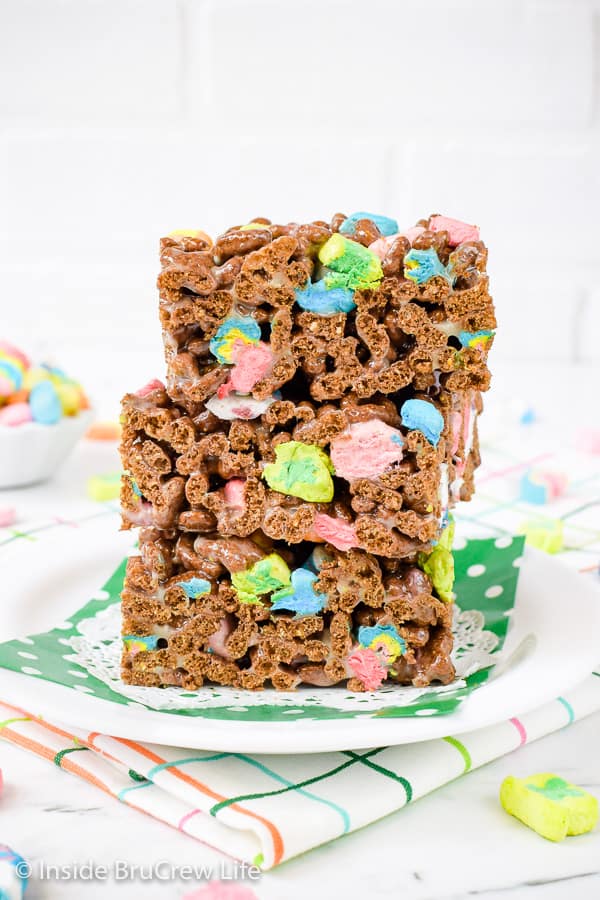 Do you love a recipe you tried from Inside BruCrew Life?
Please leave a 5-star ⭐️ rating and a review in the comments section below.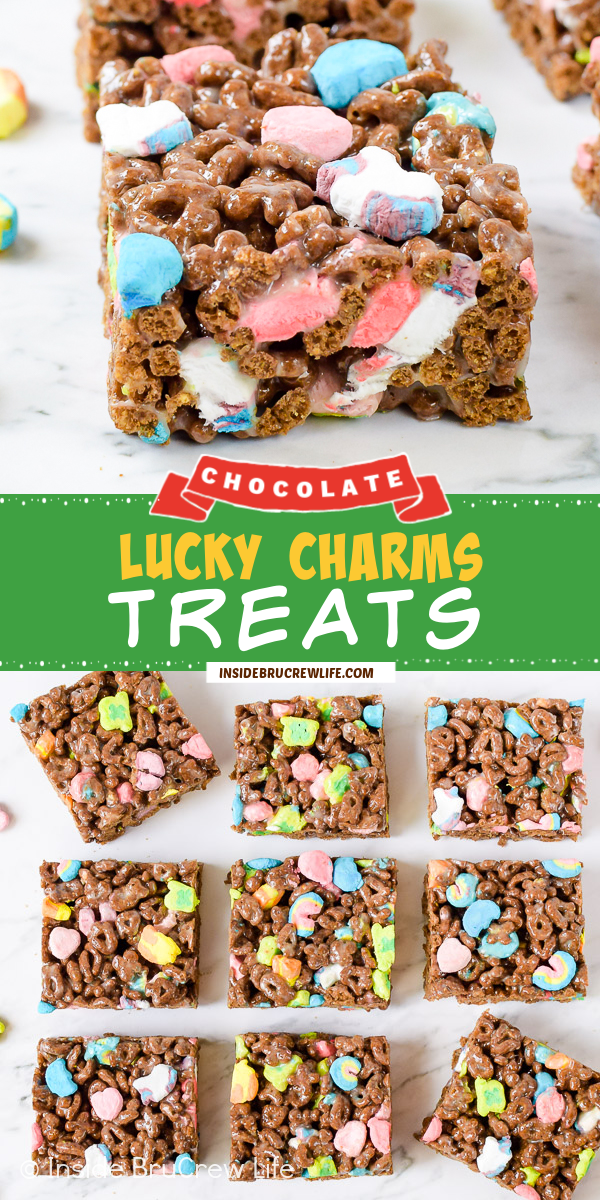 *The post for Lucky Charms Marshmallow Treats was first published March 2019. The post was updated and republished February 2022.