Treat yourself to a taste of the tropics with this creamy Coconut Frosting. This rich and creamy buttercream topping is the perfect addition for cakes, cupcakes, or any dessert that needs an extra hint of island bliss!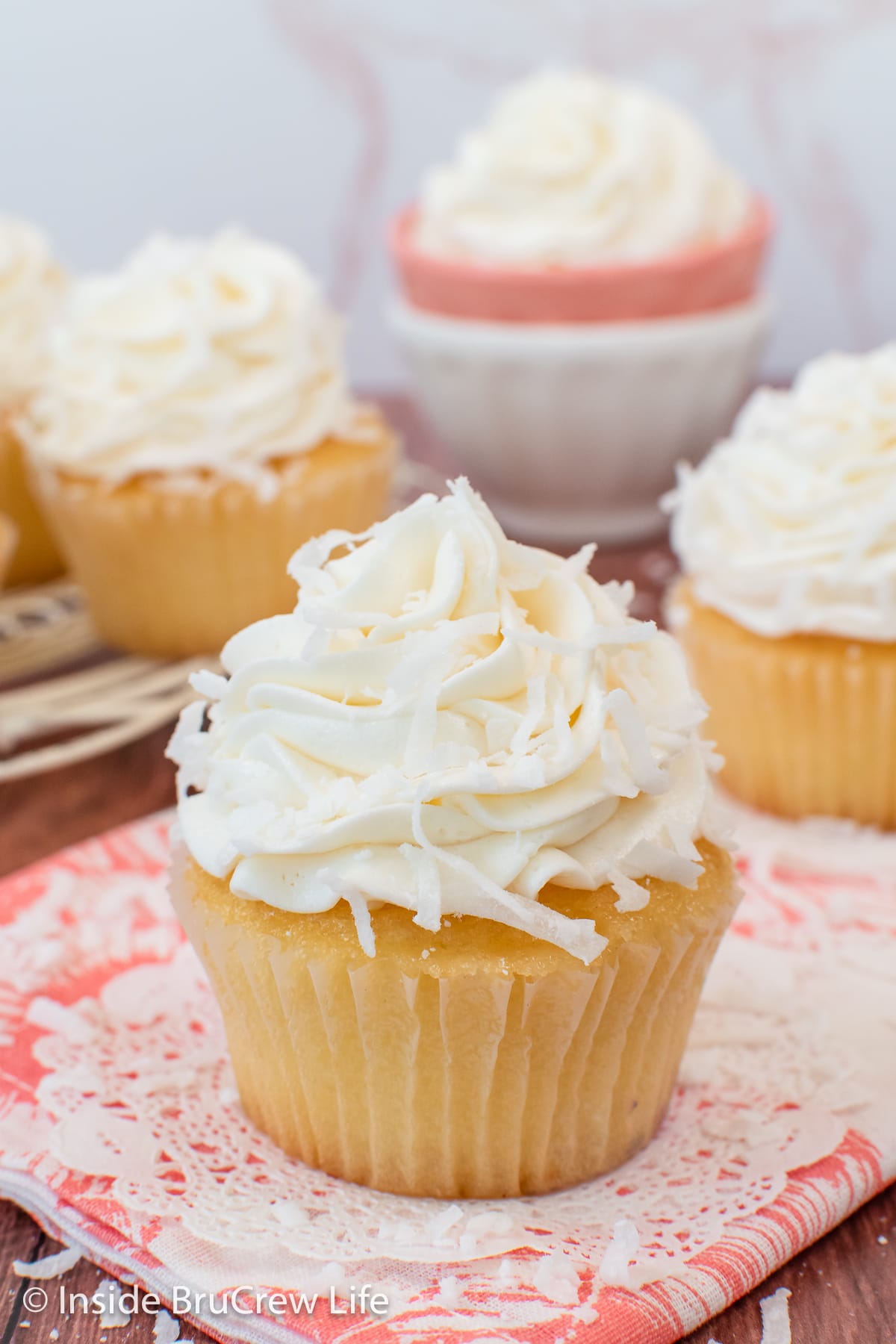 Jump to:
Frosting is such a fun way to change up the look and taste of cakes, cupcakes, or brownies. A few that we make all the time are vanilla frosting, dark chocolate frosting, and salted caramel frosting.
Since I adore all things coconut, I wanted to make an easy coconut frosting that could be used on any type of baked goods.
Oh, my goodness! This is my new favorite frosting. Trust me, you will want to slather it on everything.
Why Make Coconut Buttercream Frosting
Transform any dessert into an island paradise with this rich and creamy coconut buttercream frosting. Whether you're a coconut lover or just want to try something new, this coconut frosting recipe is definitely worth a try.
Easy to Make: You can have a batch of frosting ready in 5 minutes.
Creamy Texture: Coconut frosting is very creamy, thanks to the addition of butter and heavy cream. This richness makes it feel indulgent and satisfying.
Tropical Flavor: Coconut has a distinct and delicious flavor that can instantly transport you to a tropical paradise. When used in frosting, it adds a unique and enjoyable taste that's hard to resist.
Versatile: Coconut frosting can be used to decorate a variety of desserts, from vanilla cupcakes to chocolate cake.
Key Ingredients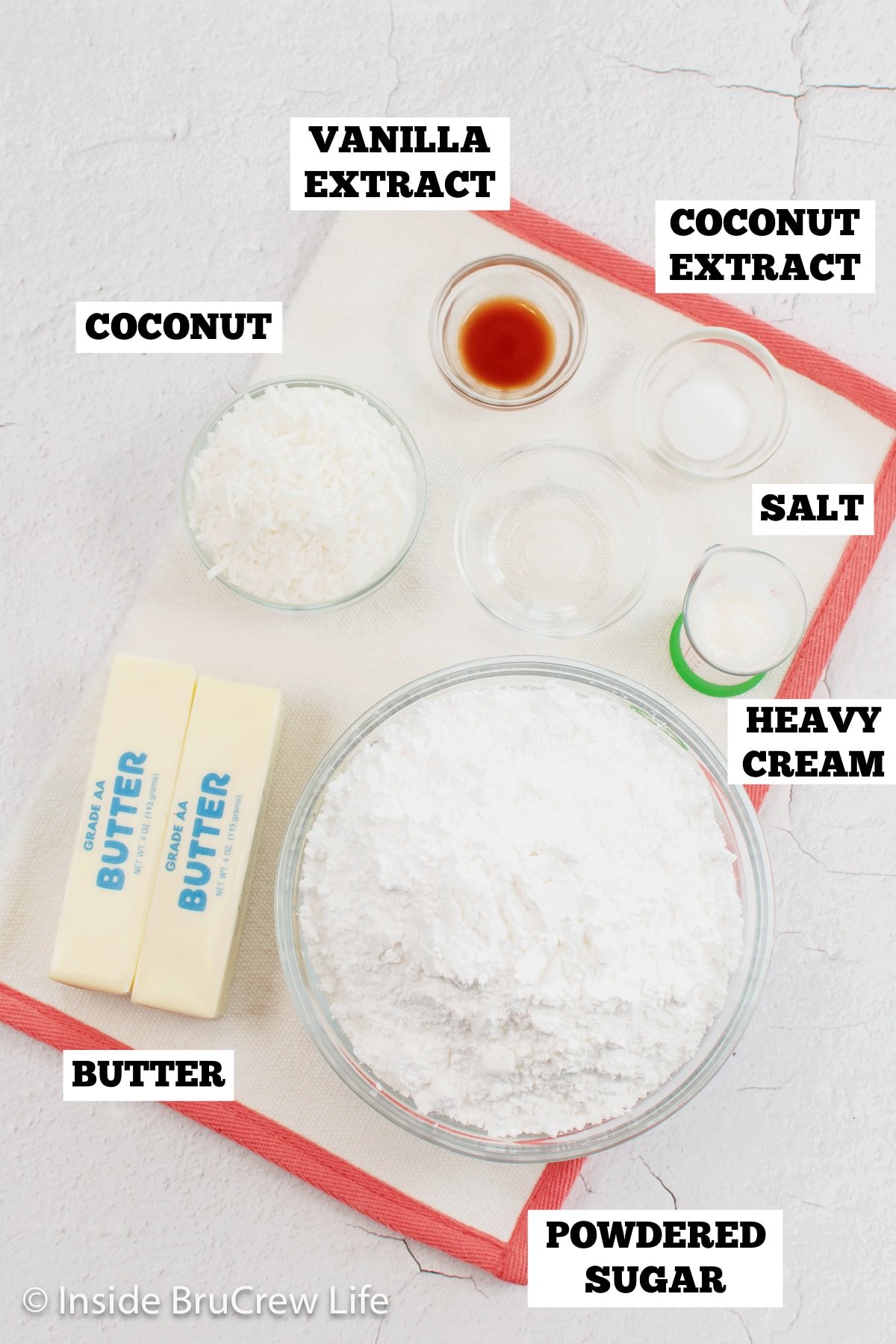 This easy coconut frosting recipe can be made with 6 simple ingredients. It's a popular topping for any dessert, especially ones with a tropical or summery vibe.
Butter - Unsalted and softened to room temperature before using. If you are using salted butter, adjust the amount of salt in the recipe.
Salt - Balances out the sweetness from the confectioners sugar.
Extracts - A combo of vanilla and coconut extract adds a delicious flavor.
Heavy Cream - Adds flavor and fat and gives the buttercream a light and fluffy texture. You can also use canned coconut milk or cream of coconut for a stronger coconut flavor.
Powdered Sugar - Sweetens and thickens the buttercream frosting.
How to Make Coconut Frosting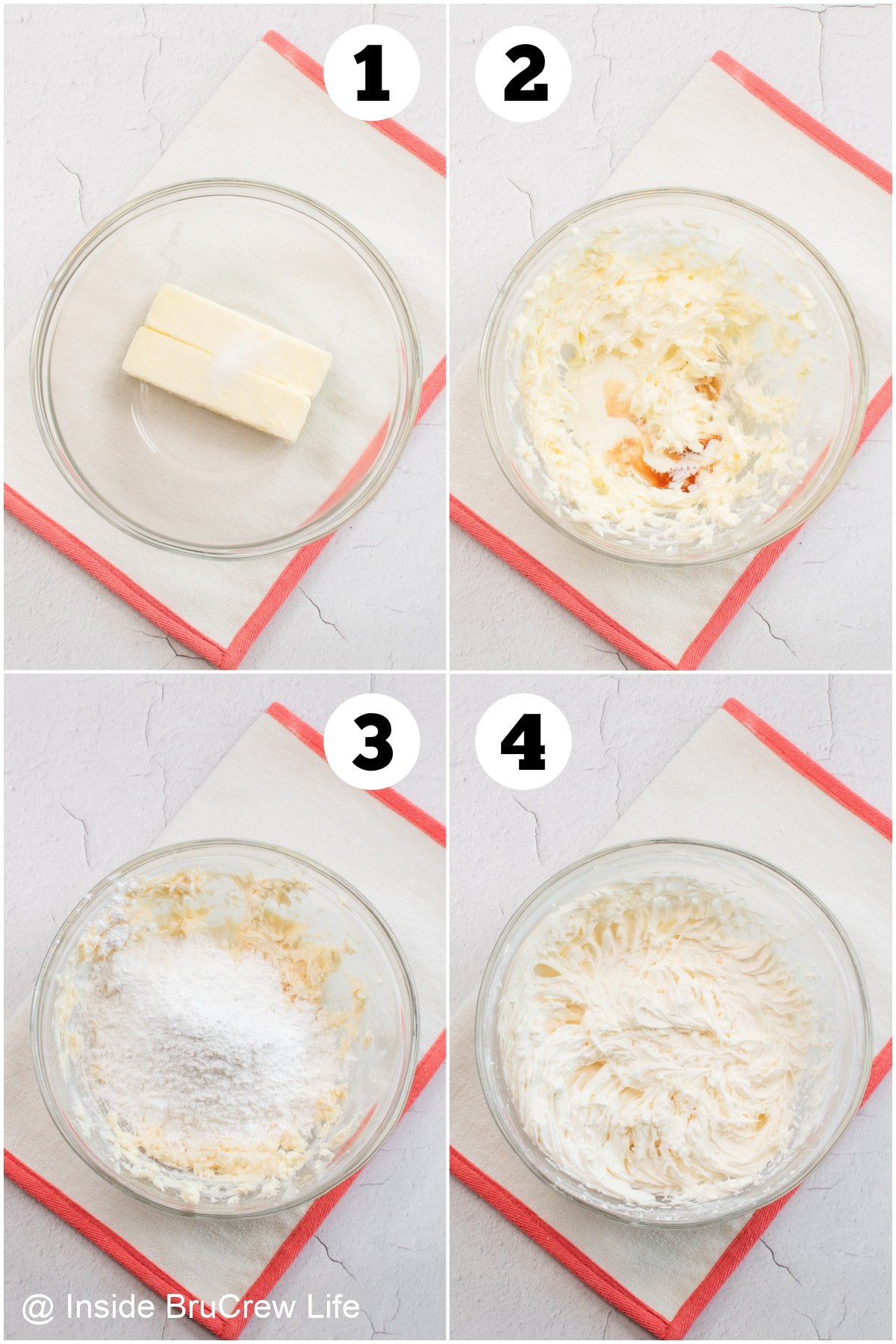 In just a few minutes you can make a smooth and creamy coconut buttercream that will taste great and is easy to spread or pipe on desserts.
Cream the butter and salt. Use a stand mixer fitted with a paddle attachment to beat the softened butter salt in a large bowl until creamy.
Add the liquid ingredients. Pour in the extracts and heavy cream and beat again.
Add the sugar. Slowly add the powdered sugar until it is all mixed in.
Beat until creamy. Beat the frosting mixture on high for 1-2 minutes or until it is light and fluffy.
BruCrew Tip: There is no shredded coconut in this recipe, but you can stir ½ cup shredded coconut into the frosting before using. Make sure to use a large tip if piping, so it doesn't get stuck.
Storage Recommendations
In the Refrigerator - If you are not using the frosting right away, keep it in an airtight container in the refrigerator. Let it come to room temperature before using. You may need to whip it again to get it back to a light and creamy texture.
In the Freezer - You can also freeze this coconut buttercream frosting in an airtight container for several weeks. When you are ready to use it, remove the container from the freezer the night before. Defrost it in the refrigerator overnight.
Tips and Tricks
Set ingredients out ahead of time. Softened butter is much easier to cream.
Make a stabilized frosting. Use half butter and half shortening to create a frosting that will hold up better to heat and humidity.
Adjust the consistency. If your frosting is too thin, add a little more powdered sugar. If the frosting is too thick, add a little more liquid to get your desired consistency.
Avoid a crust. Cover the bowl of frosting with saran wrap when you are not using it to keep the top from crusting over.
Add toppings immediately. Buttercream frosting usually gets a "crust" after sitting for a few minutes, so press toasted coconut, coconut flakes, or sprinkles on as soon as you frost the baked goods.
FAQ
How long does coconut frosting last?
If properly covered, coconut buttercream frosting will last 3-4 weeks in the fridge and 2-3 months in the freezer.
How much frosting does this make?
This frosting recipe will cover 24 cupcakes, a 9x13 cake, or 2 - 8 inch round cakes with a small layer of frosting. For a thicker frosting layer, double the recipe.
Does this frosting need to be refrigerated?
This frosting can be stored at room temperature for a few days. If it will be longer than 2 days, refrigerate the frosted baked goods in a tightly sealed container.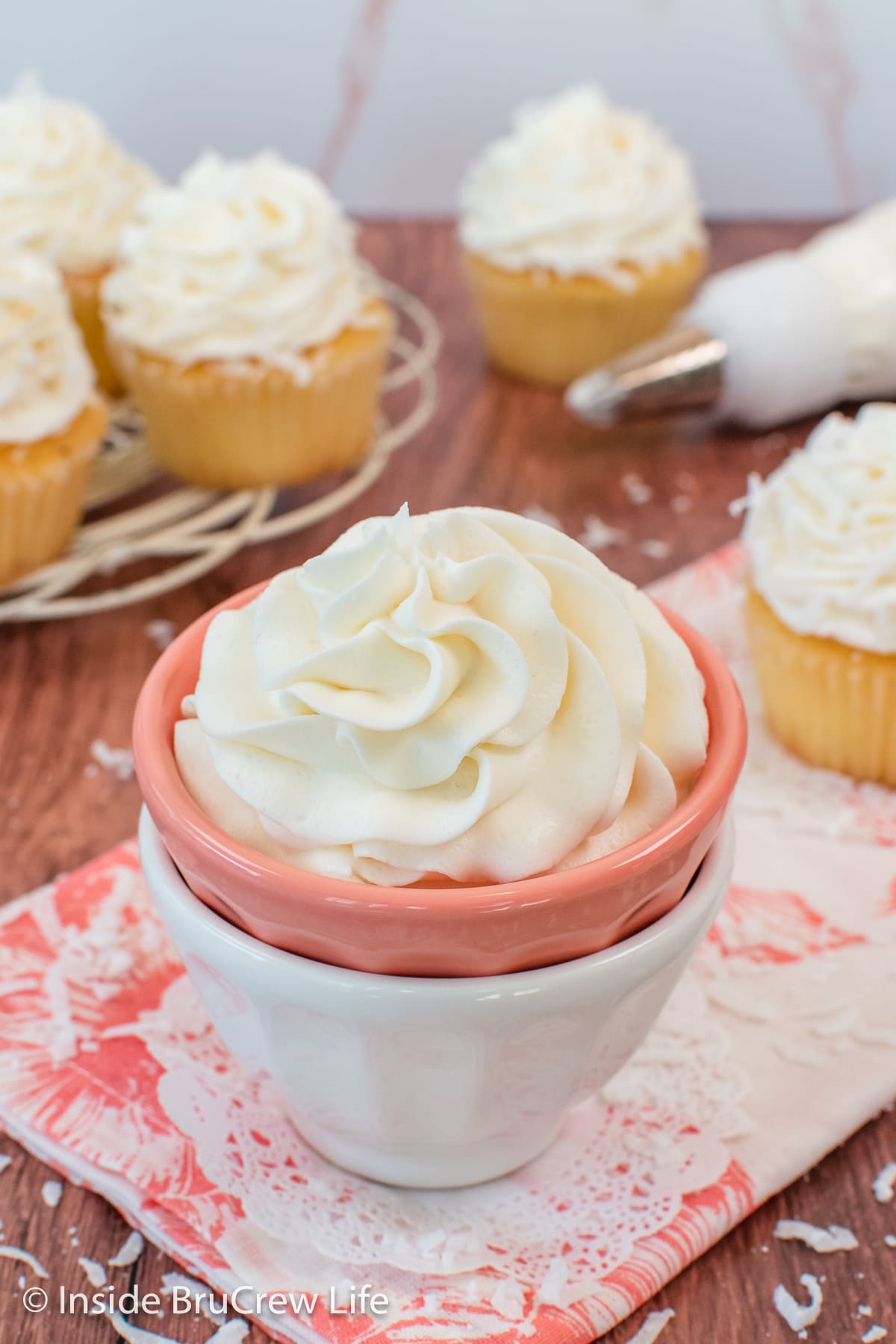 Uses for Coconut Frosting
There are so many different ways to enjoy this sweet coconut frosting beyond coconut cake. Here are a few of our favorites.
More Homemade Frosting
Do you love a recipe you tried from Inside BruCrew Life?
Please leave a 5-star ⭐️ rating and a review in the comments section below.