A big bowl of this Sweet and Sour Crockpot Chicken and rice is a delicious and easy meal to have on your dinner table.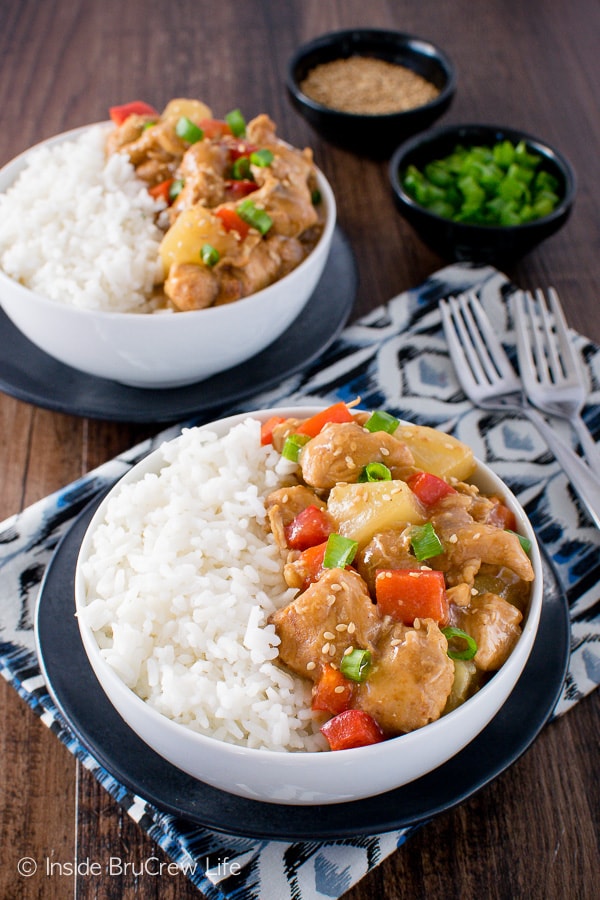 I have to be very careful about accepting any candy from my kids because those little stinkers have become very sneaky about trying to slip me some sour treats.
They know that I don't like sour candy AT ALL! It makes me cringe just thinking about things like pucker powder, war heads, or sour gummies.
The bad thing is that all three of our kids know this, so they think it is absolutely hilarious to try to trick me into eating something very sour.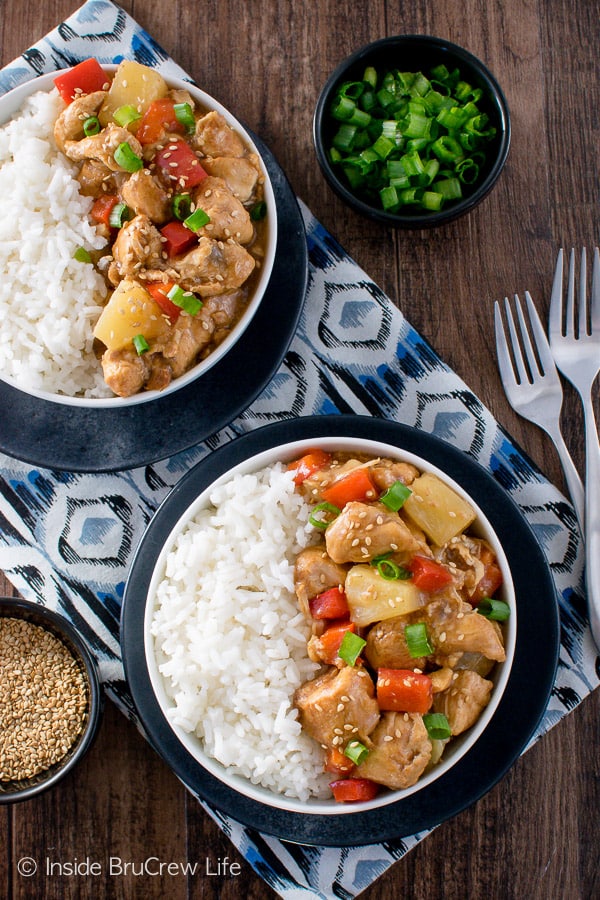 Usually they try to be very discreet and hand it to me when I am distracted, but I have gotten wise to their little tricks.
Before any candy from them goes into my mouth it has to be inspected very carefully. Who knows what they might try to sneak past me!!
Now sweet chocolate...I'll take that any day. They used to give me some of their Reese's, but now they just keep that hidden. It's fine because I have a secret stash in the pantry just for making Reese's Peanut Butter Bars when the craving hits.
Recently, I found a few cookbooks on clearance at the store. One was a Taste of Home light meals cookbook. Since we are trying to watch what we eat, I had to pick this book up right away.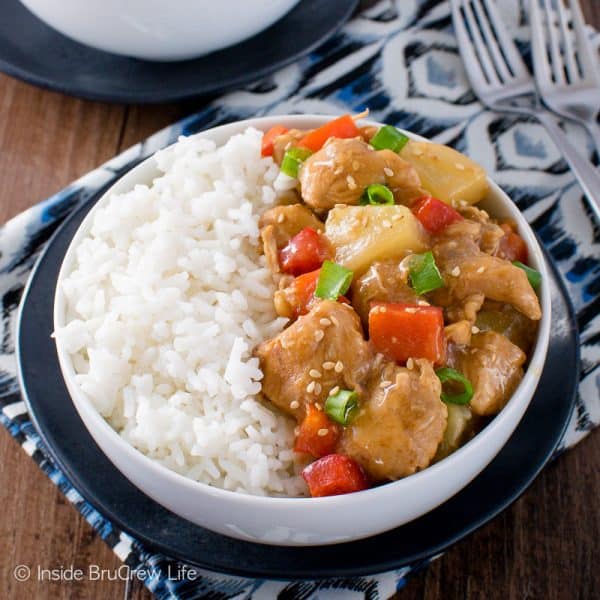 In this book was a recipe for sweet and sour recipe that sounded like something we would like. Sweet for me, sour for them. Plus, it pretty much all happens in the crockpot, so it sounded so easy.
I modified a few of the ingredients for this dinner based on what was in our cupboard. I also used a package of boneless chicken because I already had that in the freezer.
Gotta love an easy crockpot chicken dinner, am I right?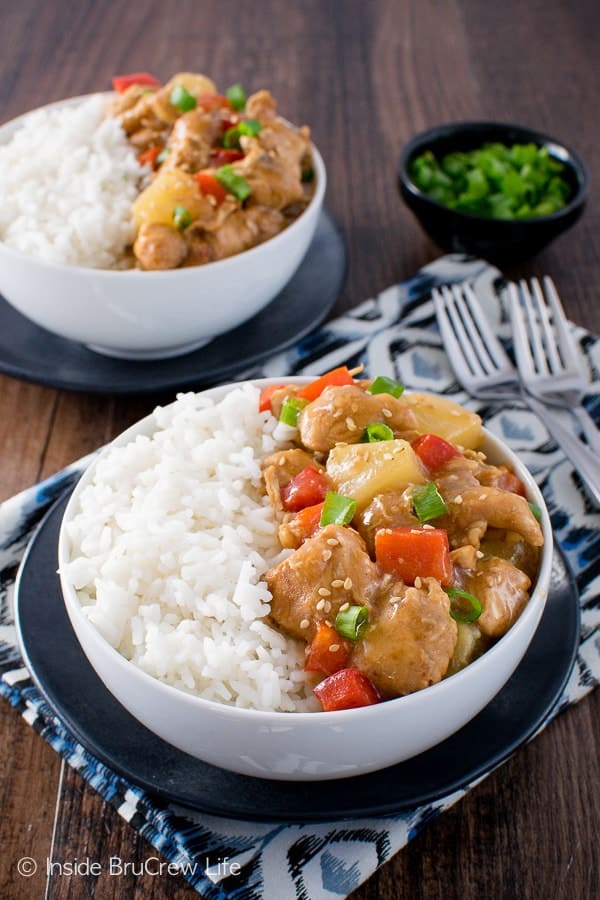 Everyone here gave this crockpot chicken two thumbs up. This is definitely a must make again recipe since everyone liked it so much. I love easy and delicious meals like this that come together in no time at all.
How to make Sweet and Sour Crockpot Chicken:
Shake the chicken chunks in a bag with cornstarch and paprika until evenly coated.
Brown the chicken in a skillet, then transfer it to your crock pot.
Stir together the pineapple juice, soy sauce, vinegar, brown sugar, teriyaki sauce, and salt. Pour this over the chicken and give it a good stir.
Let it cook on high for 3 hours or until done. You can also cook this on low for about 6 hours.
Whisk together the water and cornstarch and stir it into the chicken along with the drained pineapple and red pepper chunks.
Let the mixture cook for another 30 minutes or until the sauce has thickened and the peppers have softened.
Serve over regular rice, or if you are eating low carb make a batch of this Easy Cauliflower Rice.
What vegetables are good in sweet and sour chicken?
We usually use pineapple and red peppers in our crock pot chicken. Any color of bell pepper would be fine. Onions are also a good choice.
You can also spice it up by using red chili peppers with the seeds removed.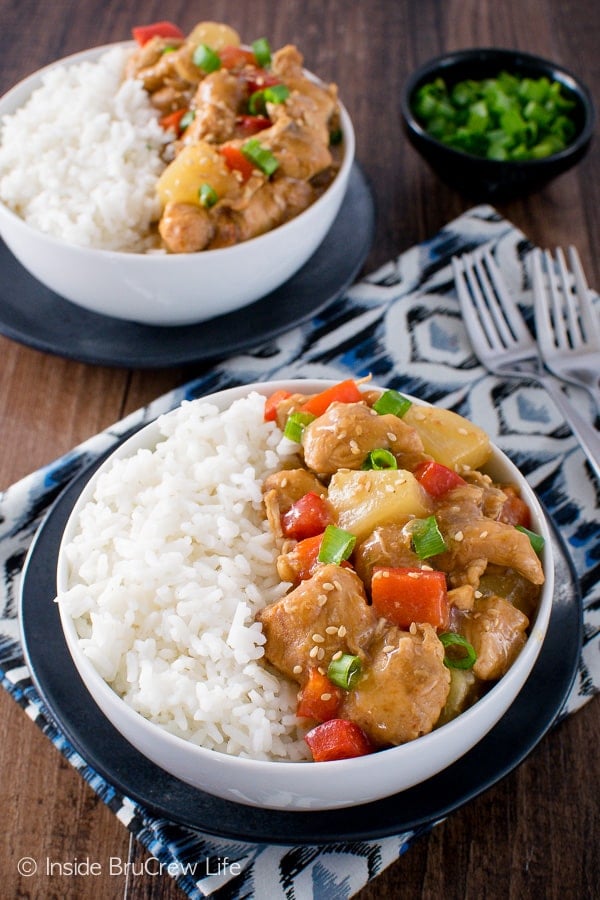 More chicken dinner recipes: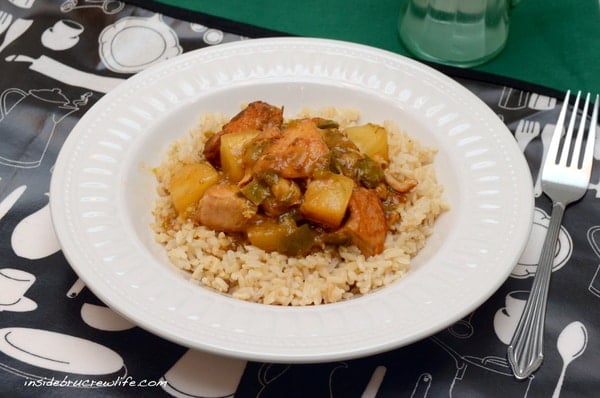 (original photo from January 2012)
*The post and recipe for this Sweet and Sour Crock Pot Chicken was originally published January 11, 2012. The pictures and post has been updated and republished November 5, 2018.