Warm up with a bowl of easy Chicken Noodle Soup for dinner on chilly nights. This homemade soup can be ready to eat in 30 minutes and is a great comfort food meal for cold days or when you are feeling under the weather.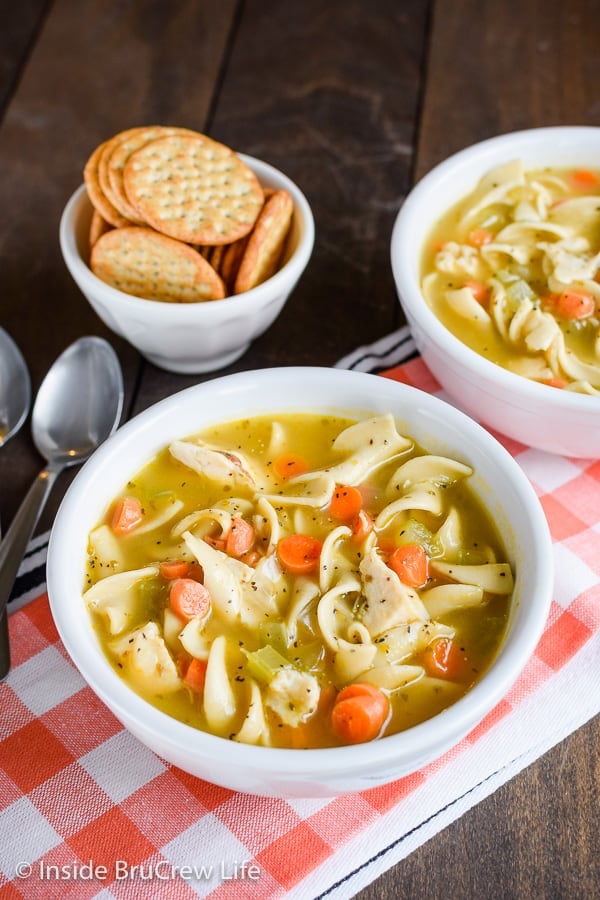 Well, winter found us here in Florida. We actually had a some cool 55 degree nights at soccer, and one morning we woke up and it was 45 degrees. Ok, ok, I realize that those temperatures are like a heat wave for some of you.
But for those of us in the sunshine state, that's cold. LOL!
I think this weekend it is supposed to warm up a little bit, but then the cooler temperatures will return. I'm going to be ready for those days with big pot of this Chicken Noodle Soup and a pan of Homemade Chocolate Chip Brownies.
Comfort food dinners are the best when it's cold outside or when you just don't feel the greatest.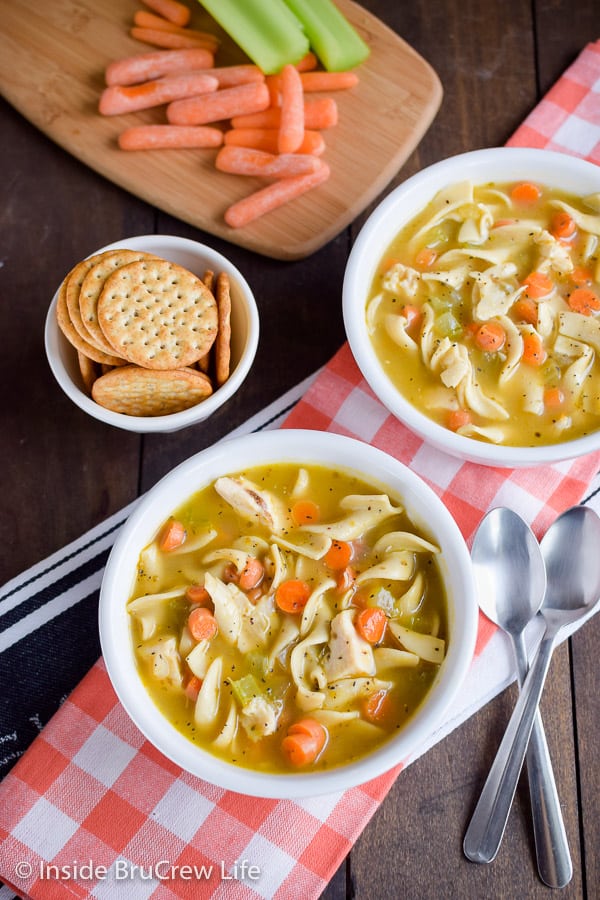 There is just something so comforting about a bowl of hot soup when the weather is frightful outside. Warms you up from the inside out, right? We love making the Best Creamy Tomato Soup or this Broccoli Cheese Soup when it gets really cold out.
The good thing about a broth soup like this one is perfect for making you feel better when you feel the sniffles coming on. Everyone here has a little bit of the sniffles going on here. Fingers crossed nobody get any worse before the holidays!!! Having a cold is no fun!
I have been making this chicken soup for years, but I just realized that I have never shared it with you. Since it is one of my family's favorite soups, that needed to be fixed.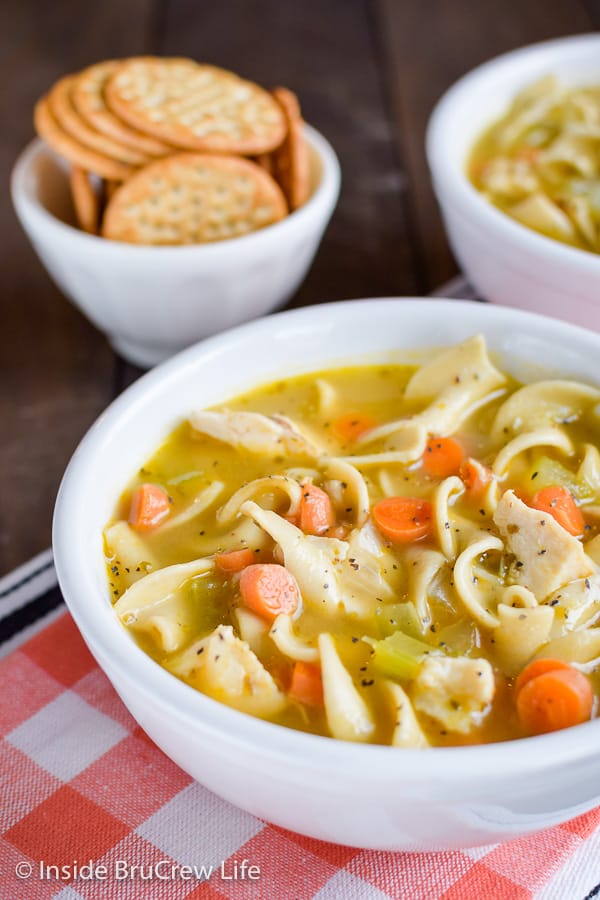 This homemade Chicken Noodle Soup recipe is so easy to make, and it can be ready to eat in about 30 minutes, give or take. I think chopping the veggies is probably the most time consuming part of making this soup.
Once you have that done, sauté them in some oil, add the broth, bring to a boil, and add the noodles. Simple, right?
Chicken Noodle Soup Ingredients:
Onions
Celery
Carrots
Chicken Broth
Noodles
Oregano, Salt, Pepper
Chicken
Pro Tip: Chop the veggies the night before and place them in Ziplock baggies or containers and place in the fridge until you need them. That is such a great time saving tip for when you need dinner on the table quicker.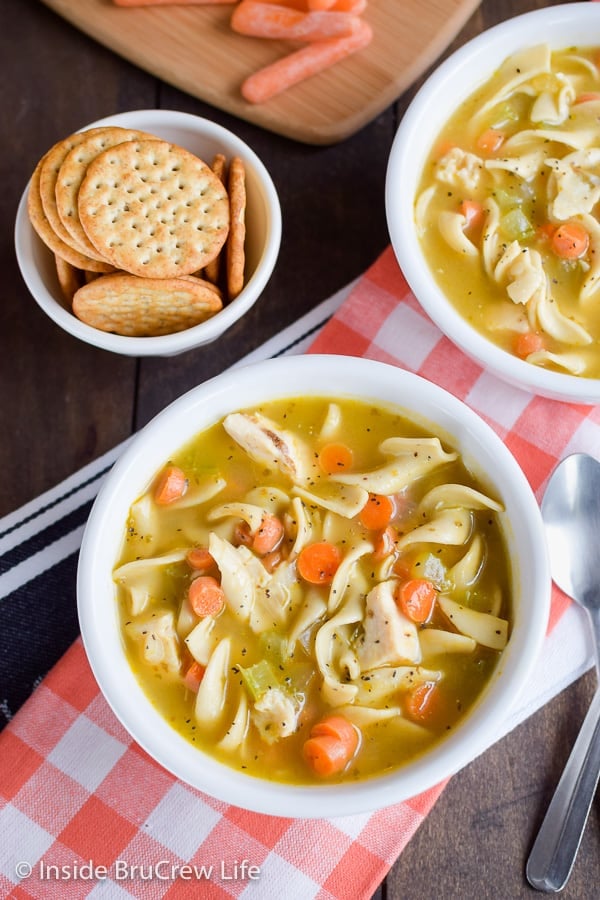 Another way I save time when making this chicken soup is by using a rotisserie chicken from Sam's Club. I usually buy two chickens. One for dinner that night, and one to chop up and freeze for a future meal.
You can use whatever cooked chicken you have on hand. Grilled chicken or canned chicken will work and taste great in this easy soup recipe.
How to make Easy Chicken Noodle Soup:
Chop the onions, celery, and carrots. Sauté them in a big pot with some olive oil until slightly tender.
Pour in the chicken broth and some oregano and bring it to a boil.
Add the noodles and cook for about 9 minutes. The cooking time depends on the type of noodles you use.
Reduce the heat and stir in some cooked chicken.
Season to taste with salt and pepper and serve immediately.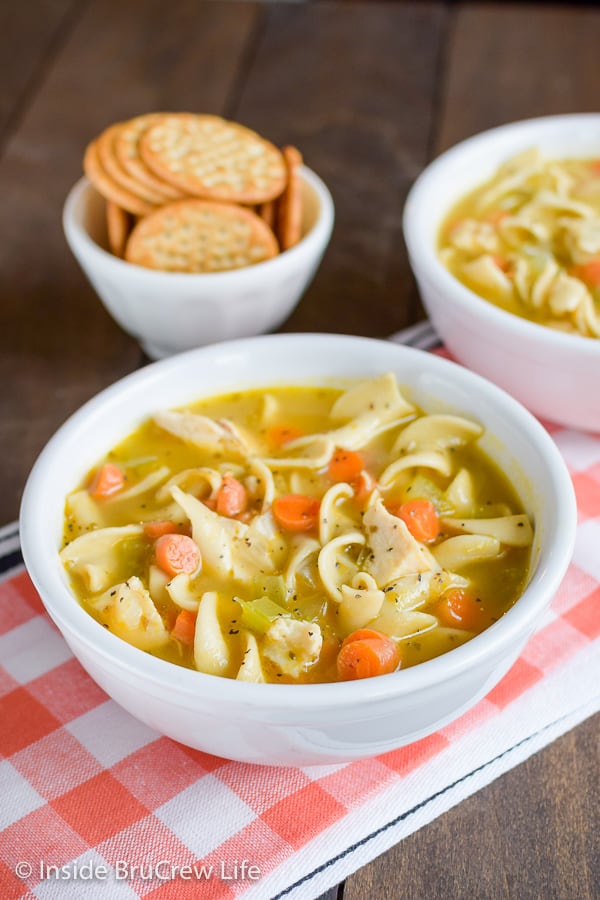 Can you make Chicken Noodle Soup ahead of time?
You sure can. Make it the night before. Let the soup cool before covering the pot and place it in the refrigerator. The next day place the pot on the stove and heat until warmed through.
What can I use instead of the noodles?
Feel free to use rice, cauliflower rice, or zoodles to make it gluten free or keto friendly soup. This Low Carb Chicken Alfredo Zoodle Soup is one of our favorite healthy soup recipes.
You could also use potatoes or gnocchi if you wanted to change it up.
Other easy soup recipes that you may enjoy: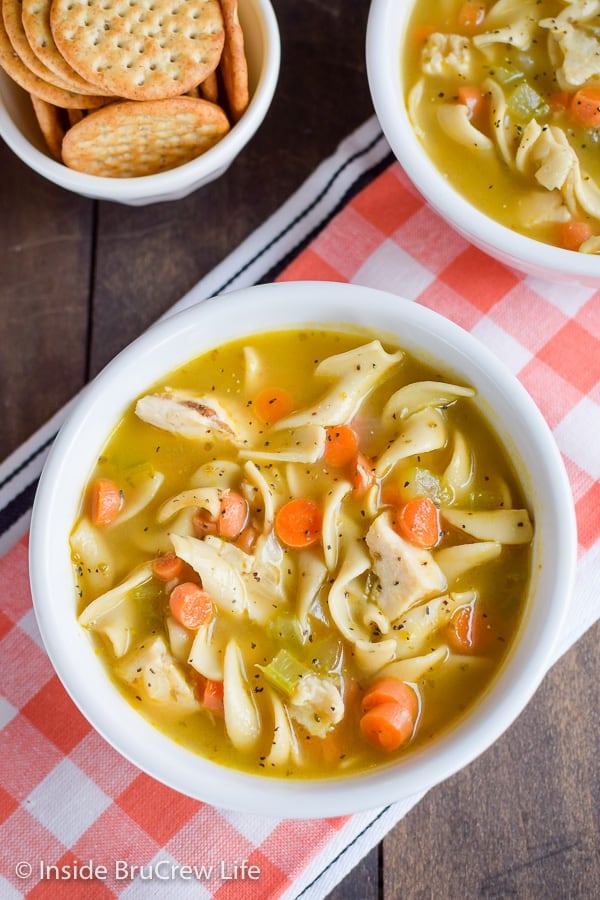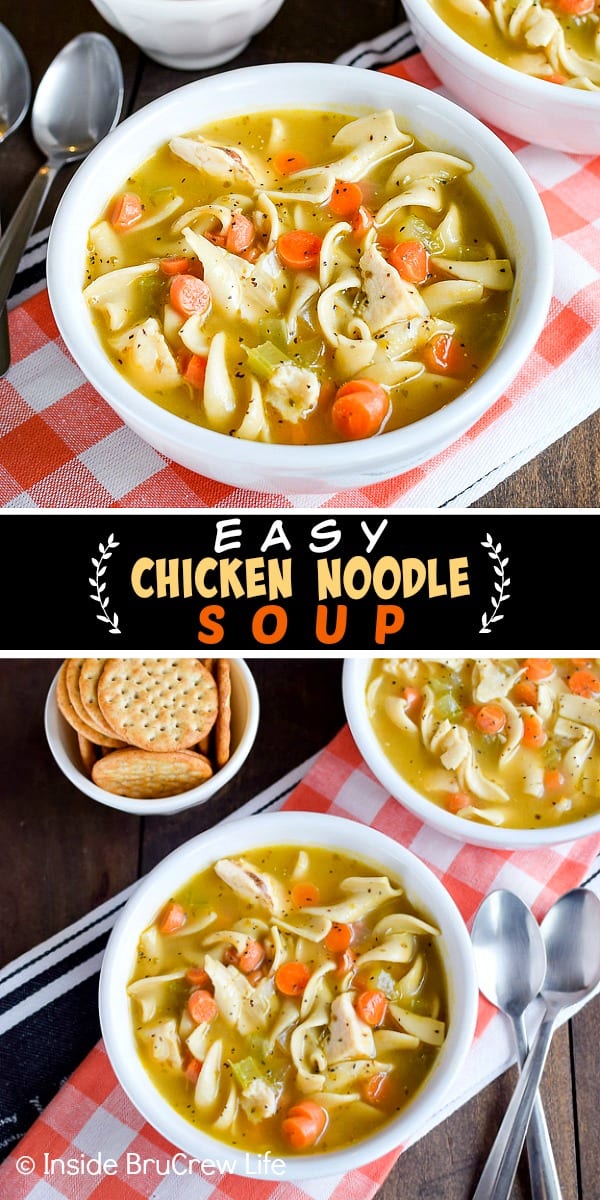 *The post for Chicken Noodle Soup was first published on January 7, 2015. The photos and post have been updated and republished on December 6, 2019.