The dressing on this Sweet and Spicy Coleslaw has the perfect blend of heat and sweet. Sriracha and honey give it a delicious sweet and spicy flair. Add this easy slaw to all your summer BBQ's or taco dinners.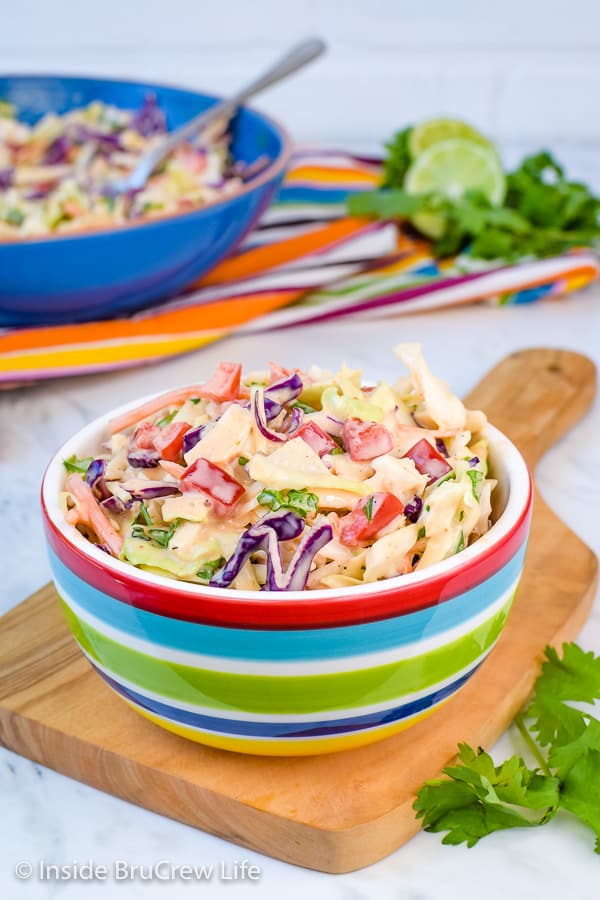 Coleslaw is one of those side dishes that I remember enjoying every summer growing up. It could always be found on tables at bbq's or church potlucks. Now the classic coleslaw that I remember eating was a cabbage blend tossed with a mayonnaise mixture.
My husband has a phobia of white creamy things. Actually, it is really just mayo that he can't stand because he eats sour cream and ranch dressing just fine. So, when I made this easy coleslaw recipe it had no mayo in it because I knew he wouldn't try it.
Although, I use mayo in this Grape Pecan Chicken Salad and these Loaded Bacon Jalapeño Deviled Eggs and he eats those just fine. He says as long as he doesn't see me mix the mayonnaise into a recipe, he can tolerate it. I say he's just cray cray! LOL!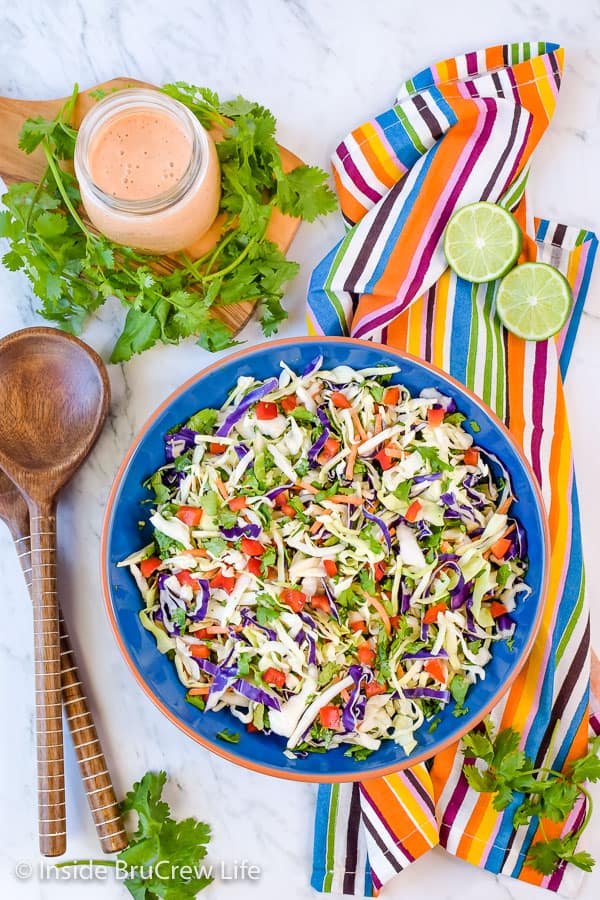 I love making easy recipes that can be put together in no time at all. Coleslaw is one of those salads that is so easy to make. Even if you shred your own cabbage, you can have a bowl of the best coleslaw in your fridge in minutes.
Adding a little bit of diced red pepper and cilantro to the store-bought bag of coleslaw adds a little more color and flavor. Want to know how to spice up coleslaw? Add honey and Sriracha sauce to your dressing.
I would happily eat this Sweet and Spicy Coleslaw every single week. The sweet honey and spicy Sriracha adds such a great flavor to the crunch of the slaw. It's the perfect addition to these Crispy Sriracha Ranch Fish Tacos.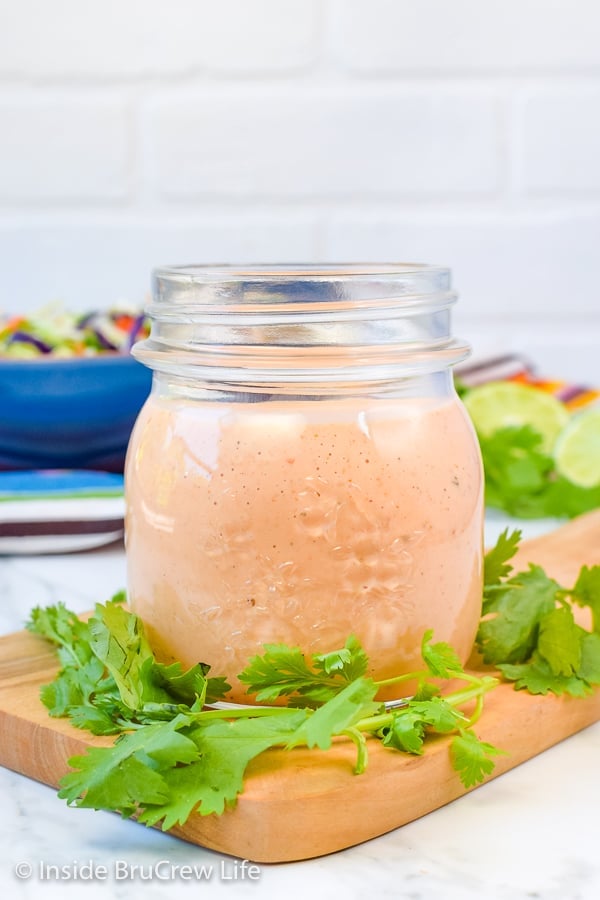 How to make Sweet and Spicy Coleslaw:
Empty your bag of coleslaw mix into a large bowl. Add some diced red pepper and chopped cilantro and toss.
Whisk together the ranch dressing, honey, Sriracha, vinegar, and lime juice. Pour onto the coleslaw blend and stir to coat.
Pro Tip: One thing to remember is that Sriracha is very spicy. We like spicy food, so we can tolerate the heat 1-2 Tablespoons gives this easy coleslaw. If you are not a fan of hot and spicy food, I would caution you to add the Sriracha a little bit at a time and taste as you go.
Add salt and pepper to taste and then refrigerate the coleslaw for a few hours. This helps the flavors blend and meld together really well. Although, if you are short on time, it really does taste great right after you make it too.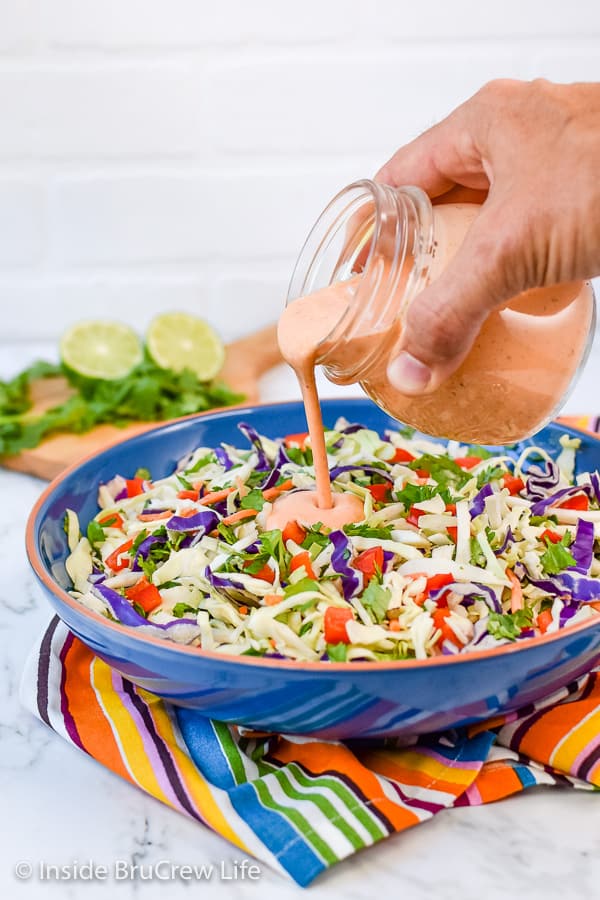 What do you serve Sweet and Spicy Coleslaw with?
I personally love this coleslaw by itself. Just give me a fork and a bowl, and I will go to town on it. It's also amazing added to any pork or fish dinner as a side dish. Here are a few other meals that I love it with.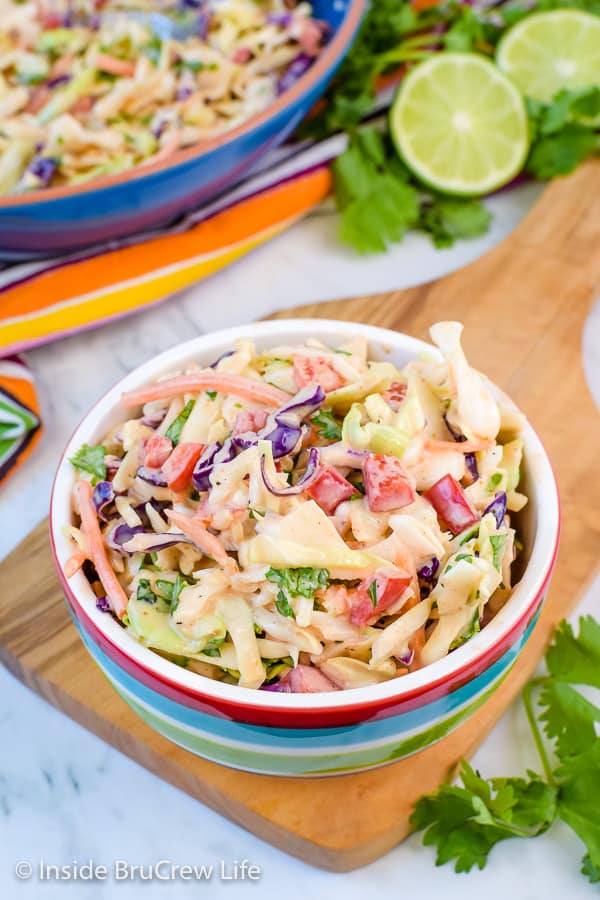 Other easy salad ideas that you may enjoy:
A bowl of this BLT Zucchini Salad is a delicious side dish to add to all your summer picnic and dinner plans. Easy, low carb, and so good.
This easy Italian Veggie Salad is a delicious and healthy addition to your meal plan. Feel free to change it up with your favorite veggies.
Roasted Red Pepper and Bacon Egg Salad is a delicious way to add a twist to traditional egg salad. It's so good on bread, salad, or pitas.
This Mexican Three Bean Salad is delicious all on its own, tossed in a big green salad, or stuffed inside tortillas with grilled chicken or shrimp.
Add a bowl of this pretty Cranberry Zucchini Slaw to your table this summer. Fresh veggies with sweet and salty nuts and berries makes a refreshing side dish.