A pot of this Sweet and Spicy Dr. Pepper Chili is the perfect choice for winter days, chili cook-offs, or game day parties. The hearty and comforting chili recipe gets the sweet and spicy flavor from chipotle peppers and a can of Dr. Pepper.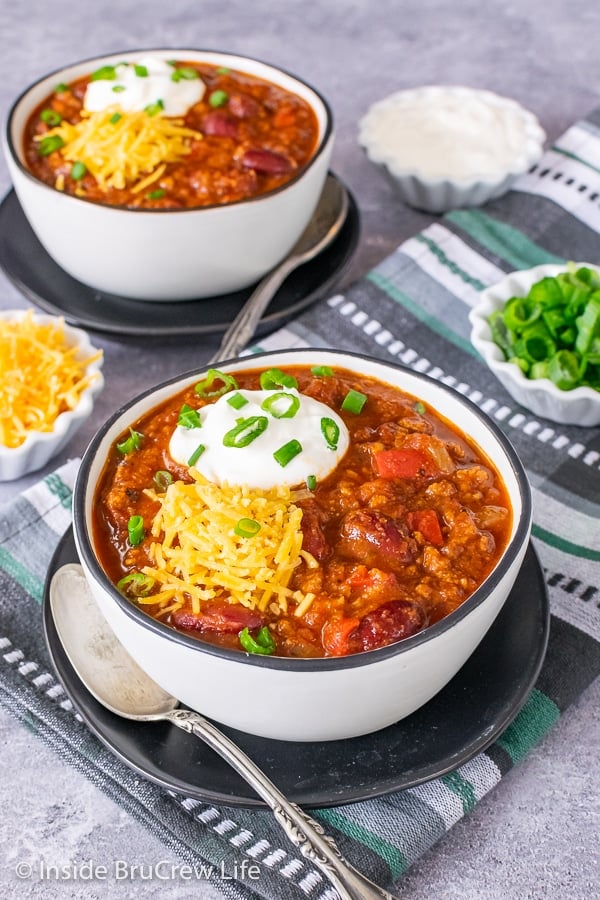 Chili is one of the meals we eat the most during the winter months. Even the winter months in Florida get a little chilly. Occasionally, we even make a pot of this sweet and spicy chili or this Low Carb Keto Chili during the summer months.
Usually, I like to take what I call the cheater chili approach. You know the one right? Open 6 cans of beans, diced tomatoes, and tomato juice and throw it all in a crock pot along with some cooked ground beef. Haha! That's my way of doing dinner.
Thank goodness my husband loves creating and cooking dinners for us because my chili game could use some work.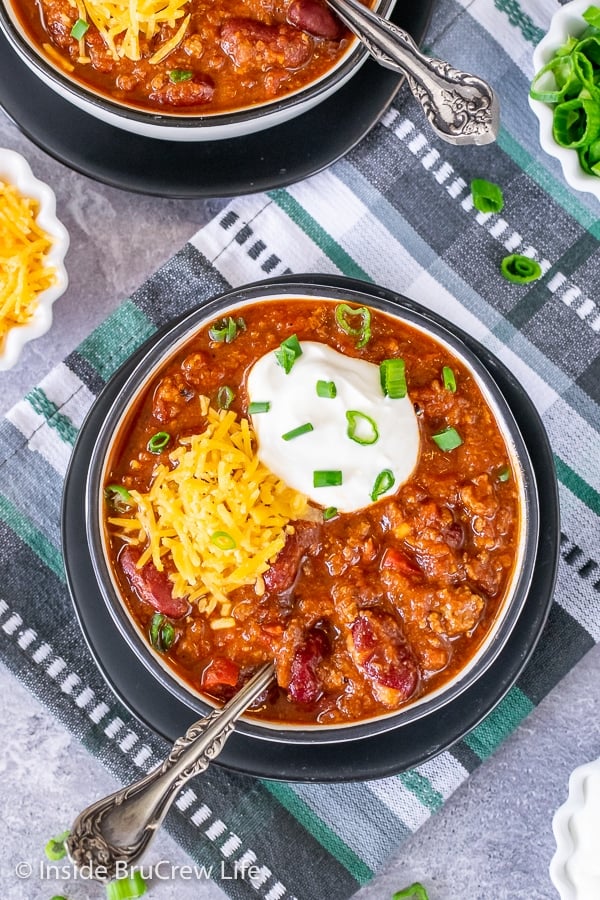 This Sweet and Spicy Dr. Pepper Chili is one of his best creations. He found this Beer Chili online and modified the chili recipe with soda and a few other things to make this a family favorite.
The Dr. Pepper adds a sweet flavor to this chili to balance out the spice from the chipotle peppers. The peppers were actually my dinner idea contribution to the chili. Go me!
Spicy peppers pair so well with the sweet Dr. Pepper making this the best chili ever!!!
Ingredients in Dr. Pepper Chili recipe:
Carrots, Red Peppers, Onions, and Garlic - gives the chili texture and sweetness
Ground Beef - Feel free to substitute ground chicken, pork sausage, or steak in place of all of the meat or use a mixture of your favorites.
Corn Flour - helps to absorb some of the grease from the cooked meat and thickens the chili
Chili Powder, Oregano, Cumin, and Salt - adds flavor
Brown Sugar - adds a little more sweetness to balance out the spicy peppers.
Crushed Tomatoes - if you want a chunkier texture in the chili, use diced tomatoes instead
Kidney Beans - you can also use pinto beans or black beans if you prefer
Dr. Pepper - adds a sweet flavor
Chipotle Peppers in Adobo Sauce - Make sure to dice these peppers very well. They are extremely spicy, so you may want to only use half a can to keep it a little more mild.
Add a side salad and a pan of this Skillet Cornbread to make this easy stove top chili a complete meal.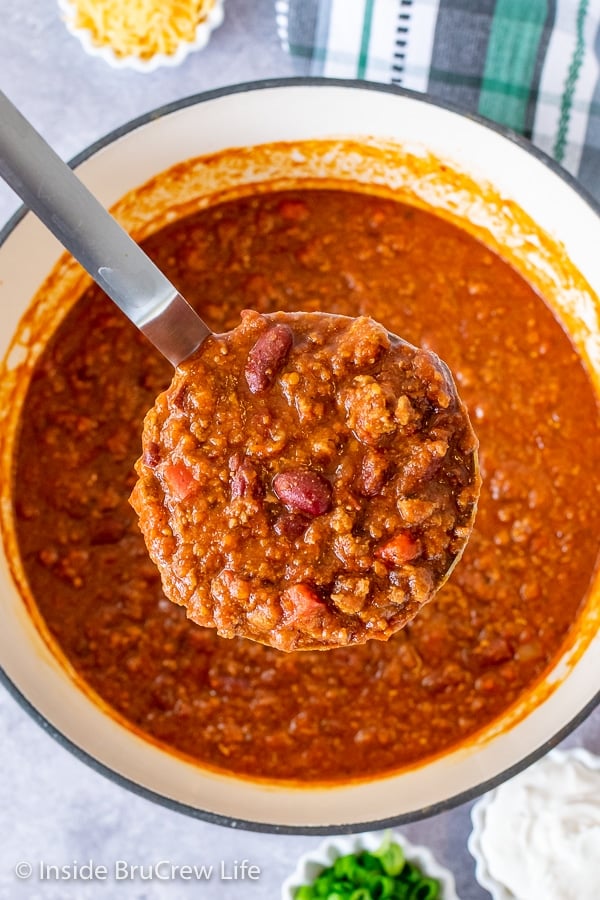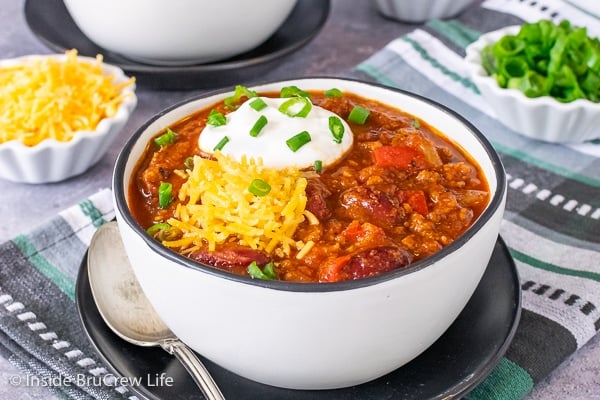 How to make Sweet and Spicy Dr. Pepper Chili:
Sauté the chopped veggies until slightly softened. Add the ground beef and cook until done.
Pour off the excess grease, then stir in the corn flour and spices and cook for 1-2 more minutes.
Add the rest of the ingredients and stir over low heat for 20-30 minute or until reduced slightly and hot all the way through.
Serve hot with your favorite toppings.
Toppings for Chili:
We like to eat our chili with cheese, sour cream, and corn chips. In our house it isn't chili unless those three toppings are served with it. Here are other ingredients we love on chili.
Sour Cream
Shredded Cheese
Diced Onions/Green Onions
Chopped Cilantro
Avocado Slices
Jalapeños
Fritos
Cheese-its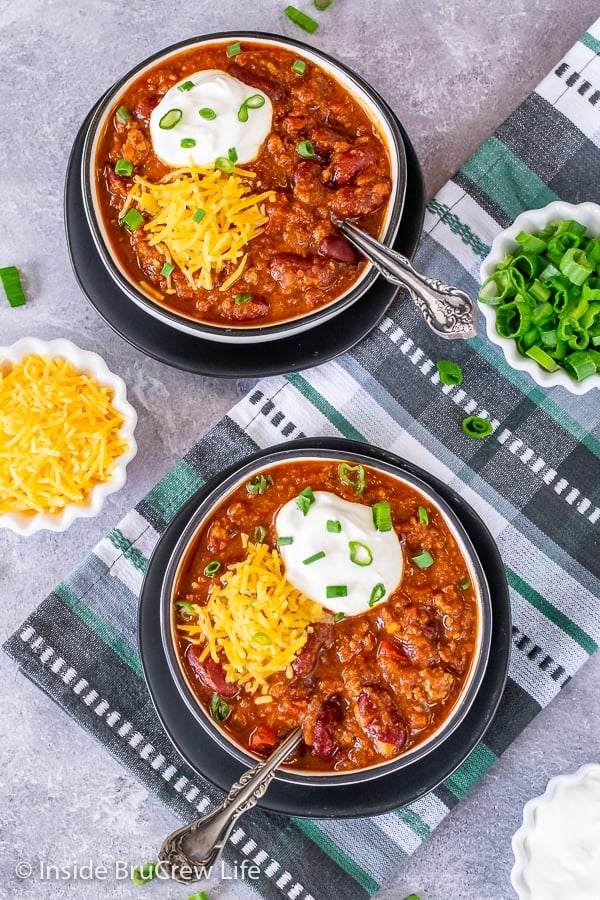 Recipe Questions:
Does chili get better if cooked longer?
The longer you cook chili, the better the flavors blend together. Simmer it over low heat until it is reduced down to the consistency you like. Be careful not to over cook it though, or the beans could get mushy.
What can you substitute for the chipotle peppers?
If you are looking for a milder chili, add more diced bell peppers instead of the chipotle peppers.
Can you use Diet Dr. Pepper in this recipe?
You can...but I do not recommend using diet because of the taste of the artificial sweeteners in it.
Can you make this chili in a crockpot?
Yes. Add the sautéd veggies and cooked meat to the slow cooker along with everything except the beans. Cook on high for 4 hours or low for 6-8 hours. Remove the lid and add the drained beans 30 minutes before serving dinner.
Can this chili recipe be made ahead of time?
Yes it can. In fact, chili gets better after sitting in the fridge overnight, so this is a great meal to make ahead of time. Simply place the pot on low heat until it hot, stirring often.
Can chili be frozen?
It sure can. This recipe makes a pretty decent sized portion. You can freeze the extra chili in a freezer safe container or bag for 2-3 months. To thaw it, remove it from the freezer 24 hours ahead of time and place in the refrigerator. Reheat in a pot over low-medium heat.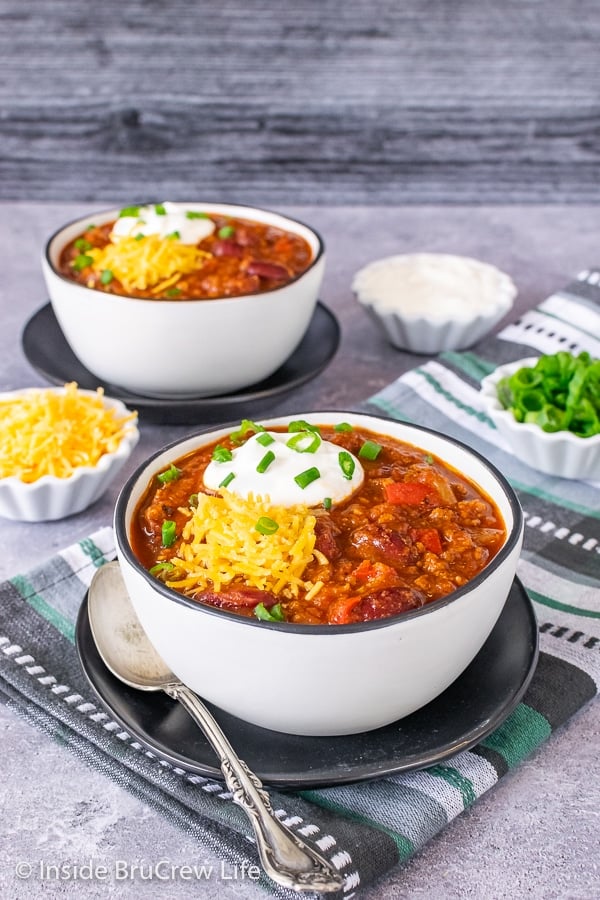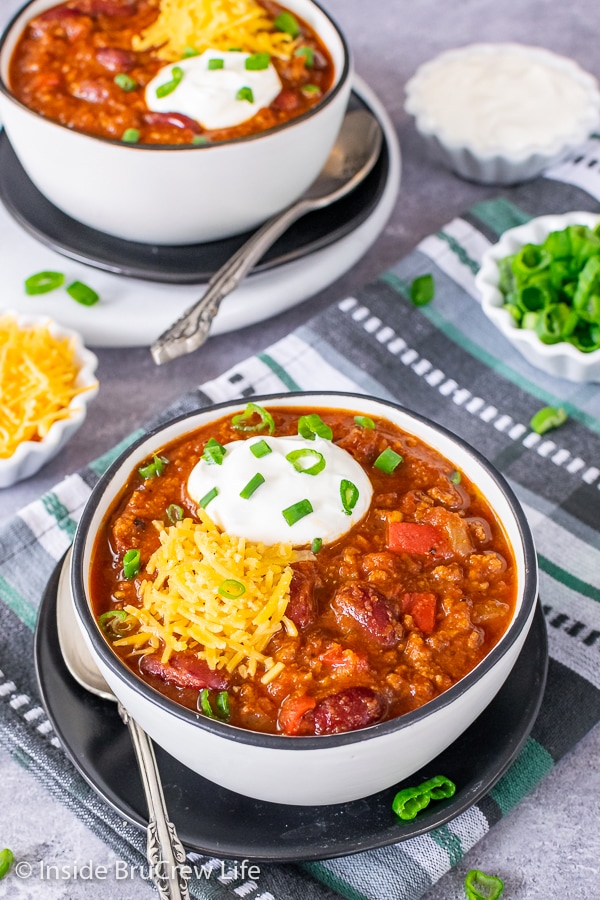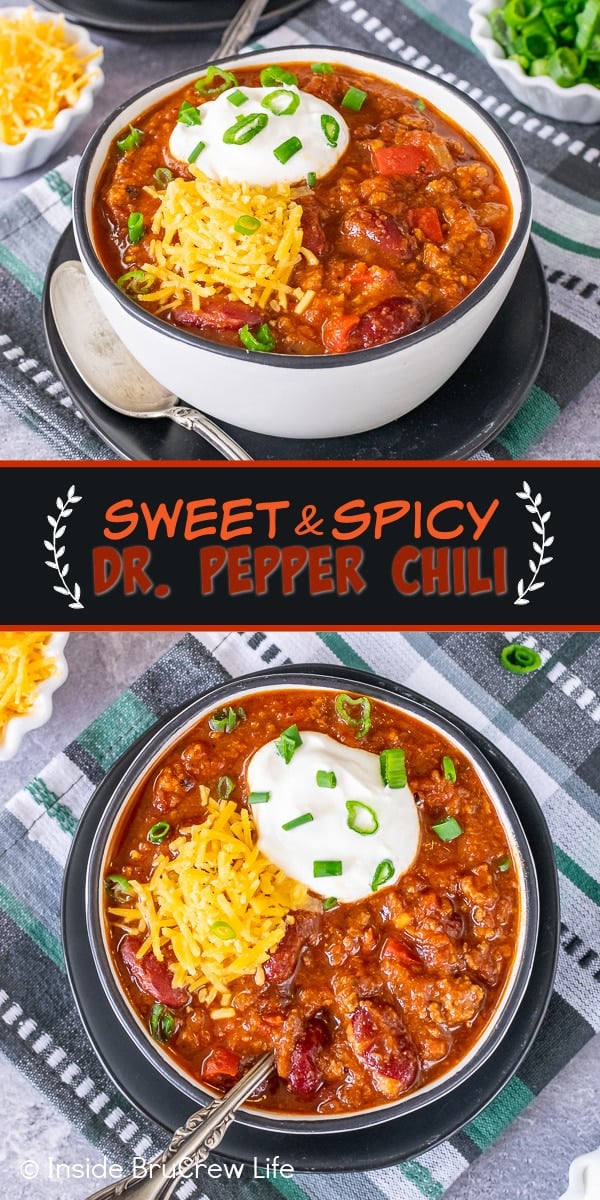 *The post for Sweet and Spicy Dr. Pepper Chili was first published March 12, 2014. The post and photos were updated and republished February 22, 2021.