A creamy coffee filling and a chocolate covered coffee bean makes these Tiramisu Cookie Cups a fun treat to share with coffee lovers.
*I am partnering with Dixie Crystals to bring you this Tiramisu Cookie Cups recipe.*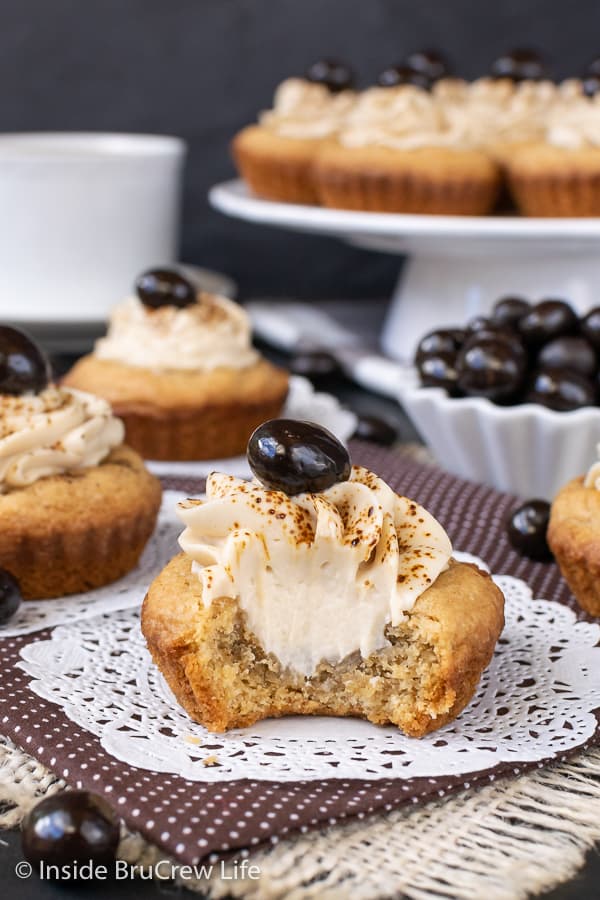 Jump to:
Most mornings you will find my husband and I sitting on our back porch with our cups of coffee while we do some reading. Of course, before actually drinking my coffee I have to take a picture and share it on my Instagram stories.
I don't know why I started doing that, but my husband just shakes his head every time he sees me taking my coffee shot.
He is actually shaking his head at all the cream I use in my coffee not the picture. He says coffee is meant to be enjoyed black, but I do not agree with him.
The only time he wants his coffee to have some cream and sugar in it is when he eats tiramisu. It is one of his all time favorite desserts.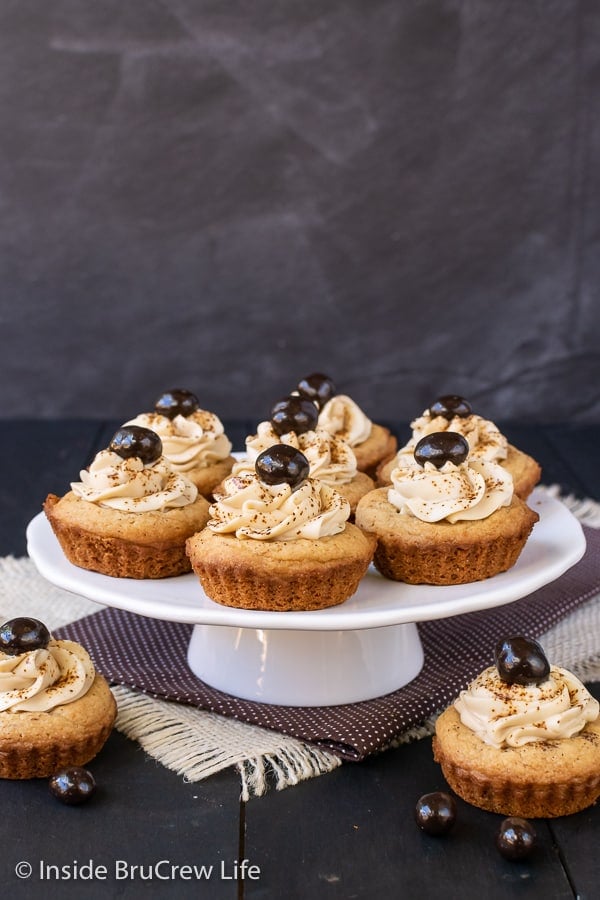 Whenever we go out to eat for dinner, he checks the menu to see if they serve tiramisu. If they do, it's a good bet that we are going to order it and try it for dessert.
Over the years we have had some winners and some not so good ones.
A few years ago, we decided to create a simple coffee dessert for our oldest son's birthday. It was an instant hit, and now this Easy Tiramisu is one of the most requested desserts in our house.
These Coffee Cream Brownies are another favorite. We do love coffee in our baked goods.
I used the recipe for these Candy Apple Cookie Cups and added some instant espresso powder and a sweet coffee filling instead.
How to make Tiramisu Cookie Cups
Beat the butter, cream cheese, and Dixie Crystals sugar until soft and creamy.
Add the extracts and egg and beat again.
Stir together the dry ingredients and slowly mix into the sugar mixture until a soft dough forms.
Roll the dough into 24 even dough balls and place in a greased mini tart pan and bake.
Cool the cookies for a few minutes, then press in the centers of the cookies.
Whip the coffee filling until light and fluffy. Fill a piping bag and swirl in the centers of the cooled cookies.
These easy cookie cups are a fun and delicious way to enjoy tiramisu. Perfect treat to add to cookie trays this year.
Recipe
I am sharing this recipe over at Dixie Crystals today. Click on Tiramisu Cookie Cups to see the full recipe.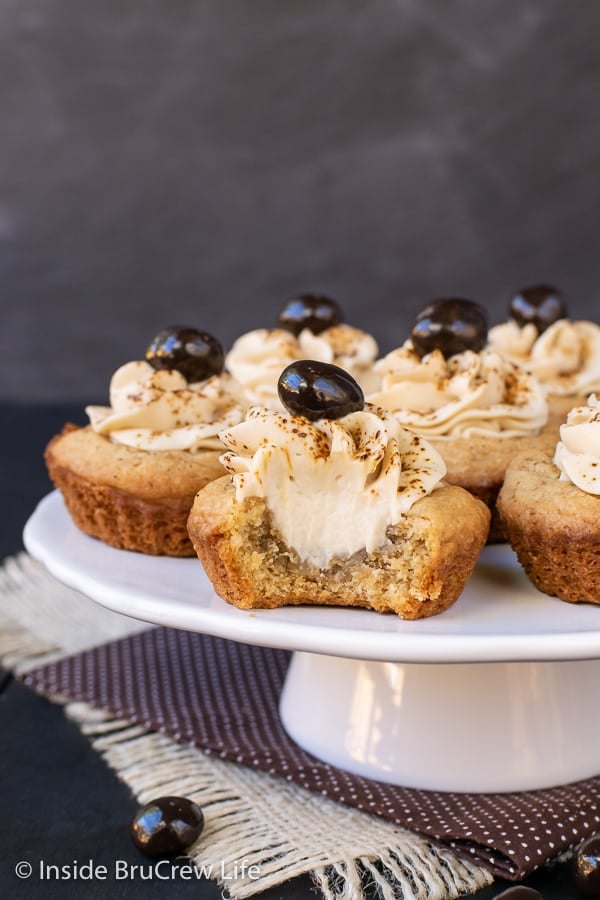 Tips and Tricks
Make sure to spray your muffin or mini tart pan with nonstick baking spray because your cookies will lift out easier that way.
A mixture of vanilla and coffee extract will give you that tiramisu flavor without being overwhelming.
Use a tart shaper to press in the center of the cookies once they come out of the oven.
Set out the cream cheese ahead of time, so it is soft enough to beat into the whipped cream.
Use a piping bag and icing tip 1M to swirl the filling into the cookie cups.
Right before serving add a sprinkle of instant espresso powder and a chocolate covered coffee bean.
How long do these cookie cups last?
The unfrosted cookie cups will stay fresh for 4-5 days if placed in a tightly sealed container. If you add the whipped topping to the cookies, they will keep for 2-3 days in the refrigerator.
Can you freeze cookie cups?
Yes, you can freeze the cookie cup. Do not put the frosting on the cookies. Place the cooled cookies on a plate or sheet pan in the freezer for 30 minutes, then place in a freezer safe bag or container. They will keep for 1-2 months. Remove and thaw in the refrigerator before adding the tiramisu topping.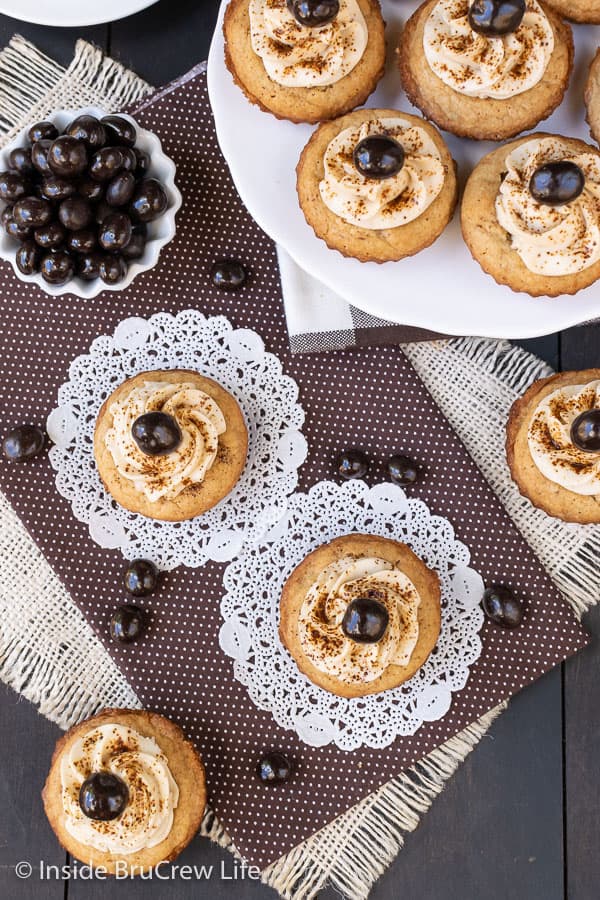 Other easy cookie recipes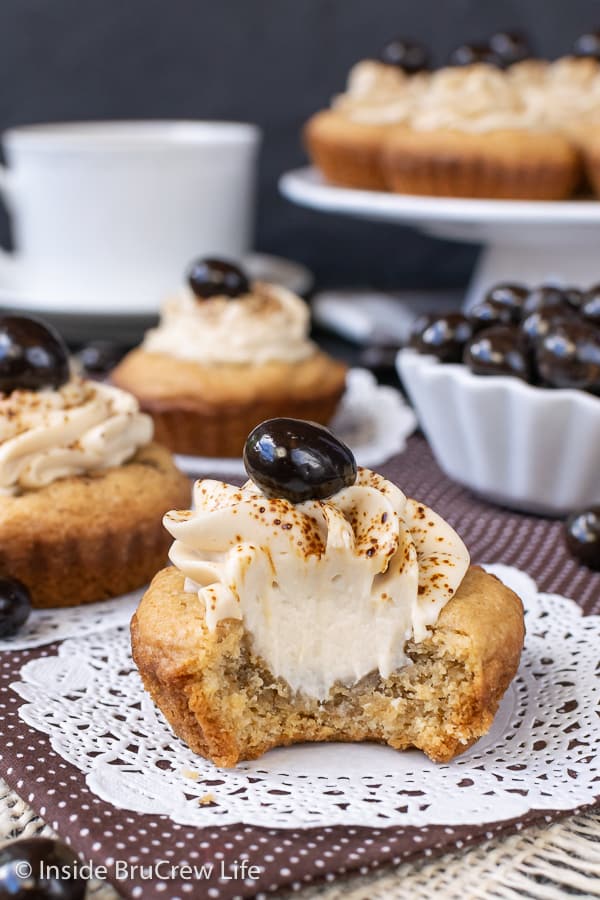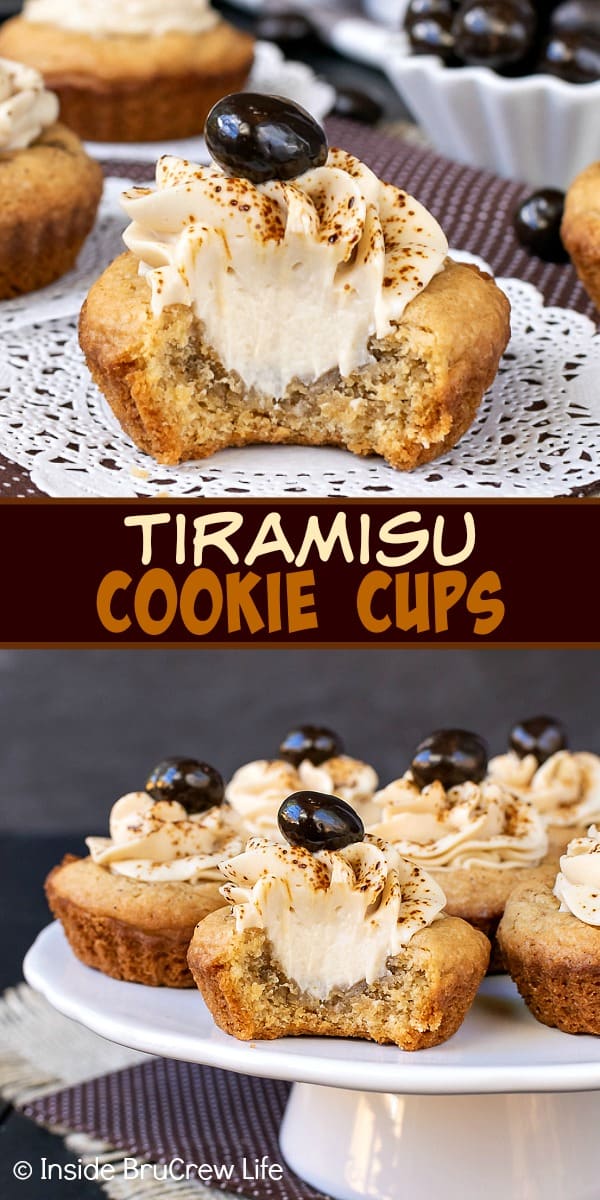 *This recipe was sponsored by Dixie Crystals. All opinions expressed are 100% my own. Thank you for letting me share products and brands I use and love. See my disclosure policy for more information.
**This post contains affiliate links. Thank you for letting us share products this way with you. As always, these free links do not cost you any extra.