Enjoy a pan of this healthy Tomato Basil Cauliflower Rice and Sausage for dinner. This easy 30 minute meal will get smiles from everyone at the table.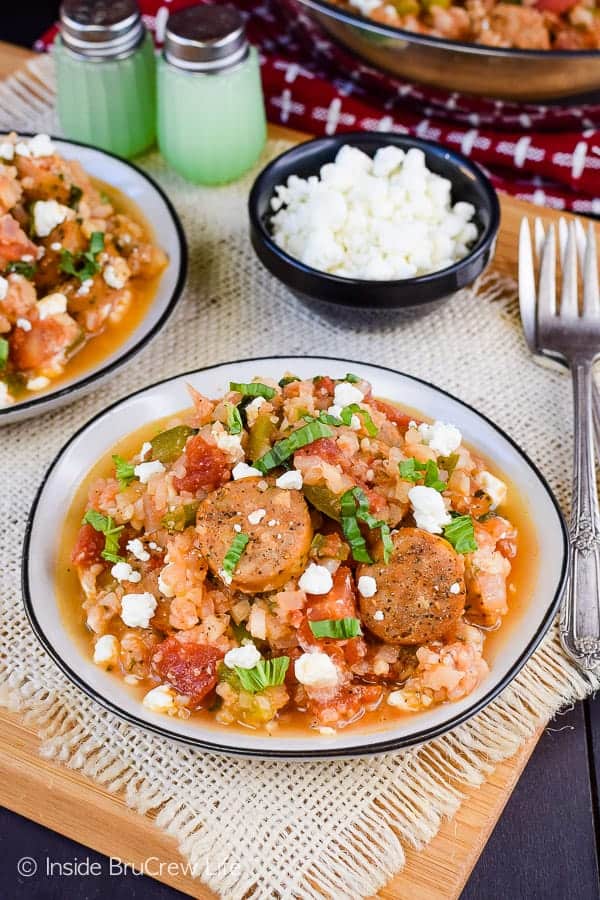 If you would have told me five years ago that I would be making, eating, and writing about cauliflower rice, I probably would have laughed in your face.
I mean, back then I could not get enough cheesy pasta and chocolate cake in my life. Don't get me wrong. I'm still that same girl who adores pasta and cake, but I have learned to embrace healthy eating as a lifestyle now. Those carbs have been given limited
We make and use this Easy Cauliflower Rice all the time. Well, except for the times when I'm being lazy, and I buy it frozen. Thank you Sam's Club for selling big bags of it this time of year.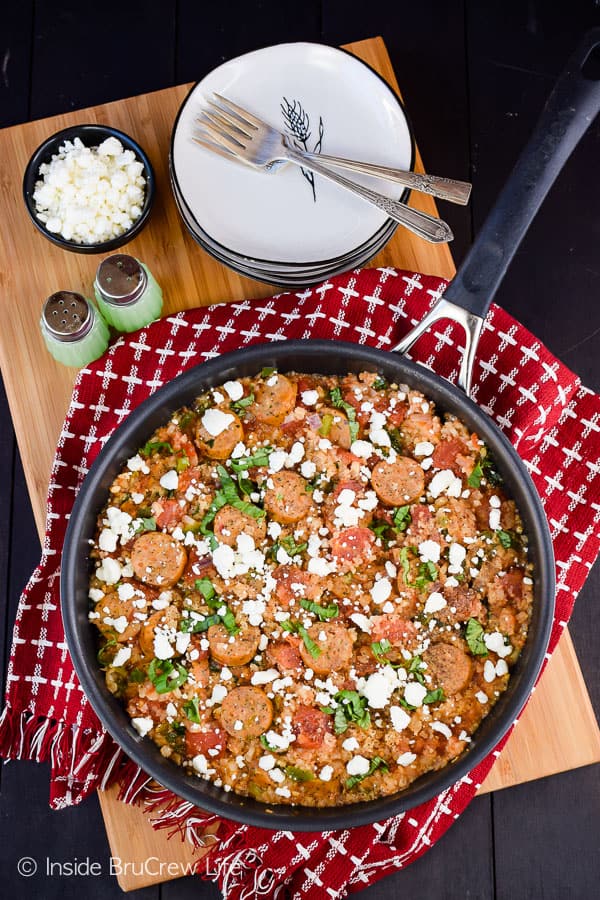 I'm still blown away by how magical cauliflower can be in most dishes. I have been using it in this Spicy Rice and Chicken Soup and these Healthy Stuffed Peppers, and our kids usually can't even tell because it really looks and tastes the same.
The other day I used some cauliflower rice, cheese, and egg and waffled it into a bun for a burger. I know, some of you are probably thinking, "girl, you've lost your mind". Then there are a few of you who probably would love that recipe, right?
All I know is that I have a healthy obsession with using that white veggie and zucchini in lots of dinners right now. And I have my fingers crossed that you guys are loving these delicious lean and green meals that I have been sharing too.
If not, there are plenty of cakes and cupcakes, fudge and candy, and cheesecake recipes here too.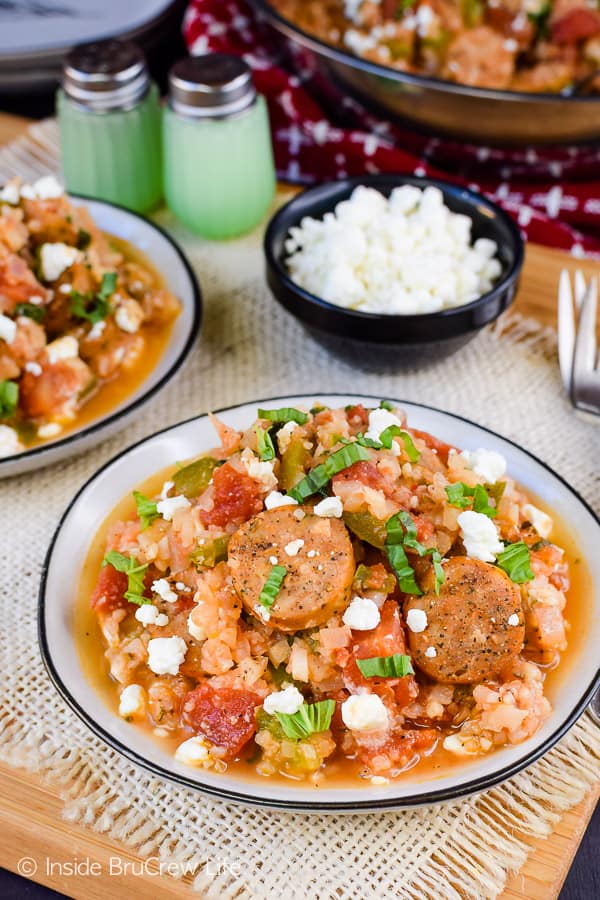 I actually made this Tomato Basil Cauliflower Rice and Sausage a few months ago. It was one of those meals that just kind of happened.
I was cleaning out the veggie drawer and throwing some random things in a pan for dinner one night. It was so good that I recreated the tomato basil rice the next week with just a few minor changes.
Since then it has become one of my favorite one pan skillet dinners to make in a hurry. 30 minute meals are the way I like to do dinner!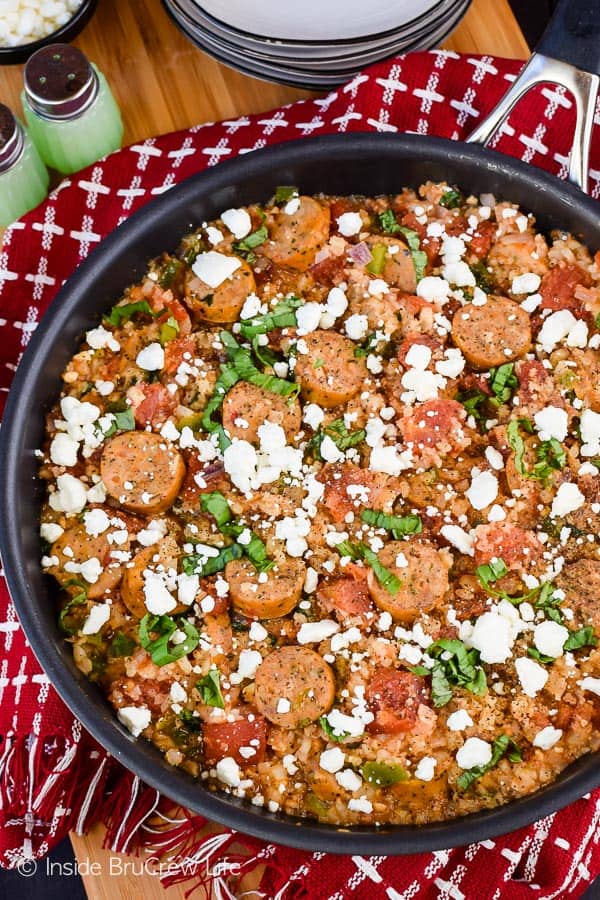 Tips for making Tomato Basil Cauliflower Rice and Sausage:
Sauté the onions and peppers in some oil. Coconut, avocado, or olive oil are the ones we use the most often in our skillet meals.
Add a package of sliced cooked Italian style chicken sausage and cook for a few minutes. If you want, you can remove the veggies first, and brown the meat longer. It's just a preference thing.
Add a can of undrained diced tomatoes, a heaping spoonful of garlic, and some diced fresh basil. Let it simmer for a few minutes until everything is nice and warm.
Stir in a bag of cooked cauliflower rice. You can also use a batch of homemade cauliflower rice if you want to do that instead.
Season with some pepper, fresh basil, and crumbled goat cheese right before serving!
You can also leave the sausage out and just enjoy the tomato basil cauliflower rice as a side dish for any other dinner you are having.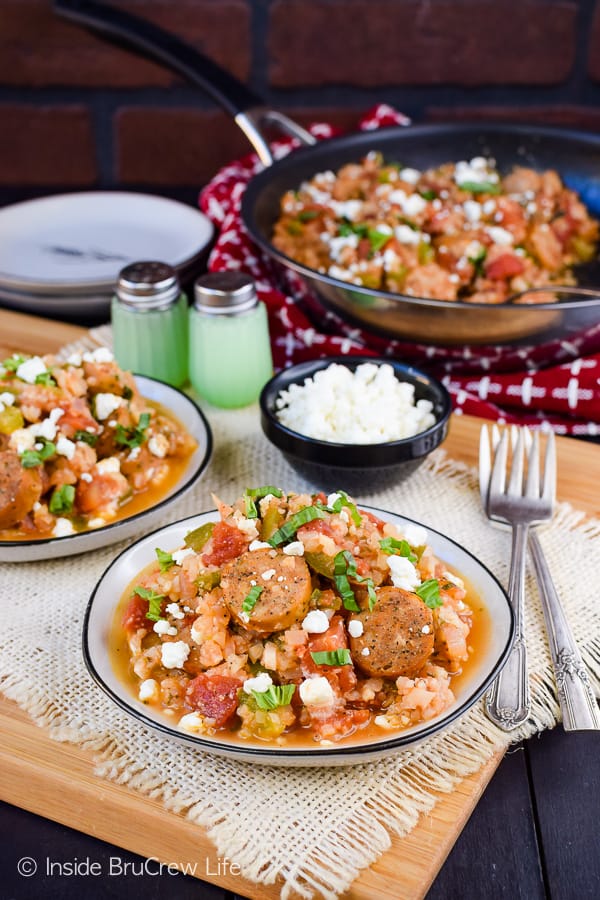 More healthy dinners you may enjoy: