Red Hot Jello Salad - a sweet blend of applesauce, Jello, and red hot candies.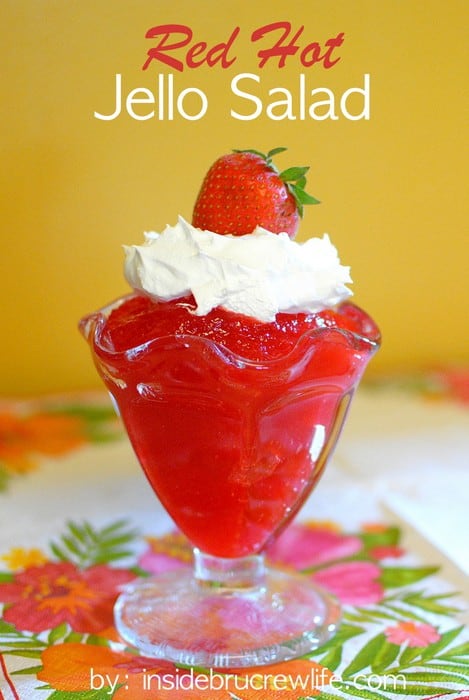 If you add apple it makes it healthy...right???
I thought I would share some of my kid's favorite summer time salads with you.
And of course I like any kind of yum
salad or dessert that I can
serve in my cute parfait glasses.This one is Snickers Salad....
cool whip, snickers, pudding, apples...need I say more? Oh, yea, you might want the recipe!
Snickers Salad
1 (3.5 ounce) box instant vanilla pudding
1 cup milk
1 container cool-whip,thawed
8 apples,sliced and diced
6 Snicker bars,cut up
Mix the pudding with the milk. Stir. Fold in the cool-whip. Chill for at least 1 hour. Add the apples and the Snickers. Enjoy your apple a day!
On to the next somewhat "healthy" salad we love around here.
Red Hot Jello Salad
A refreshing blend of applesauce, jello, and red hot candies!
Hey, I said it was only somewhat healthy.
Both are great evening snacks for when it is too hot to move or cook. Did I just say that?
You know that I cook even when it is 99* out. I just crank the air down to 60 degrees and bake away!