This creamy no bake Lemon Jello Pie is the perfect dessert for summer. It is easy to make in minutes, does not require any baking, and has a delicious lemon flavor.
Love lemon? Be sure to try the best lemon bars! Or make this easy lemon curd and enjoy it as a dip or topping.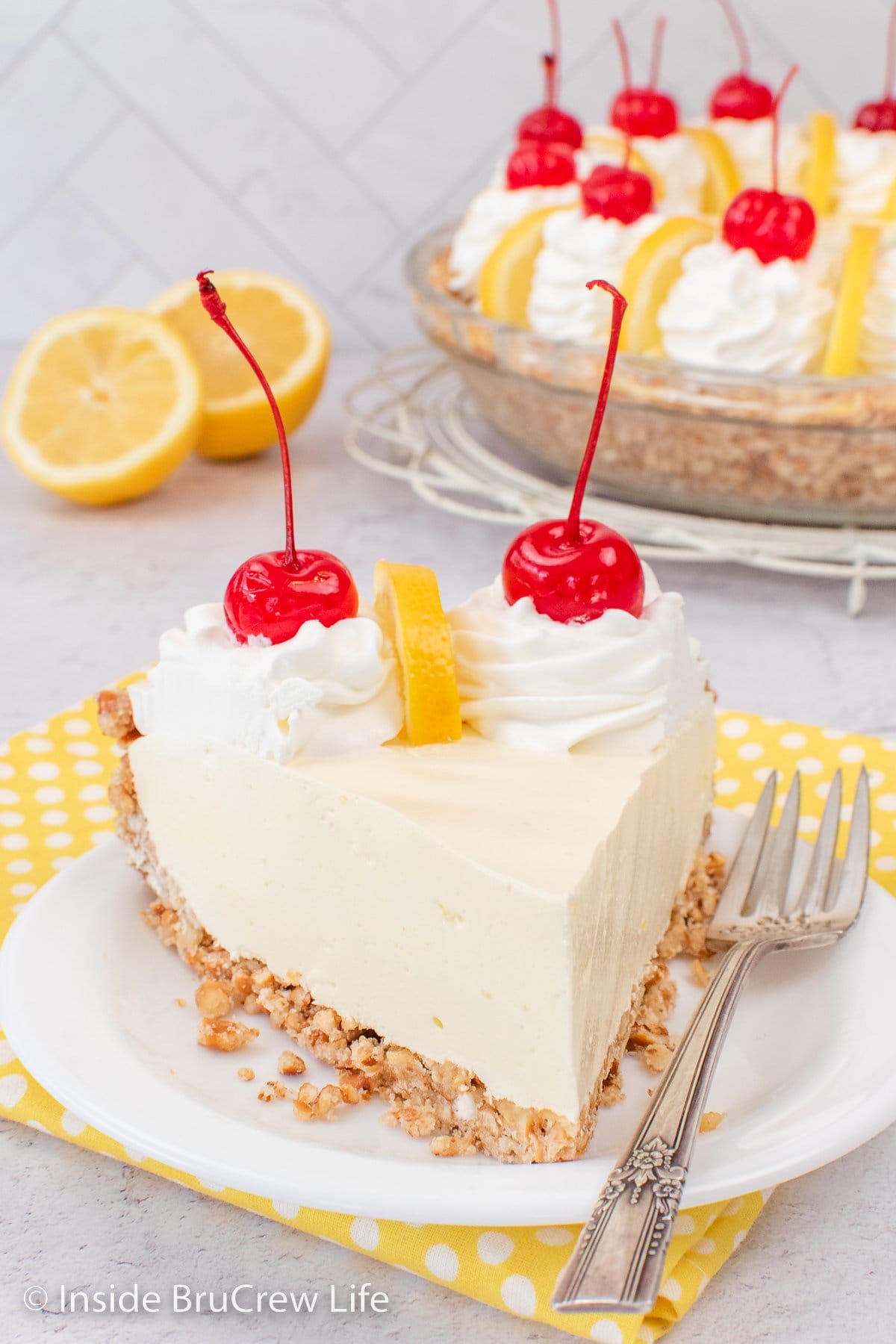 During the summer the last thing I want to do is turn on the oven and make our house even hotter. My solution is to make no bake desserts like this strawberry pretzel pie or this creamy lemon Jello pie.
A no bake Jello pie really is the perfect summer dessert. They only take minutes to make, and they do no require any baking time.
Why This Recipe Works
If you love lemon, this is the pie for you. It is light and creamy with a hint of a tart lemon flavor.
This lemon pie is always a hit at parties and potlucks. Your friends and family will love the contrast of the creamy lemon filling and the crunchy pie crust.
Try this pie frozen. It tastes just like the frosted lemonade from Chick-fil-a. Trust me, it is such a refreshing treat on a hot day.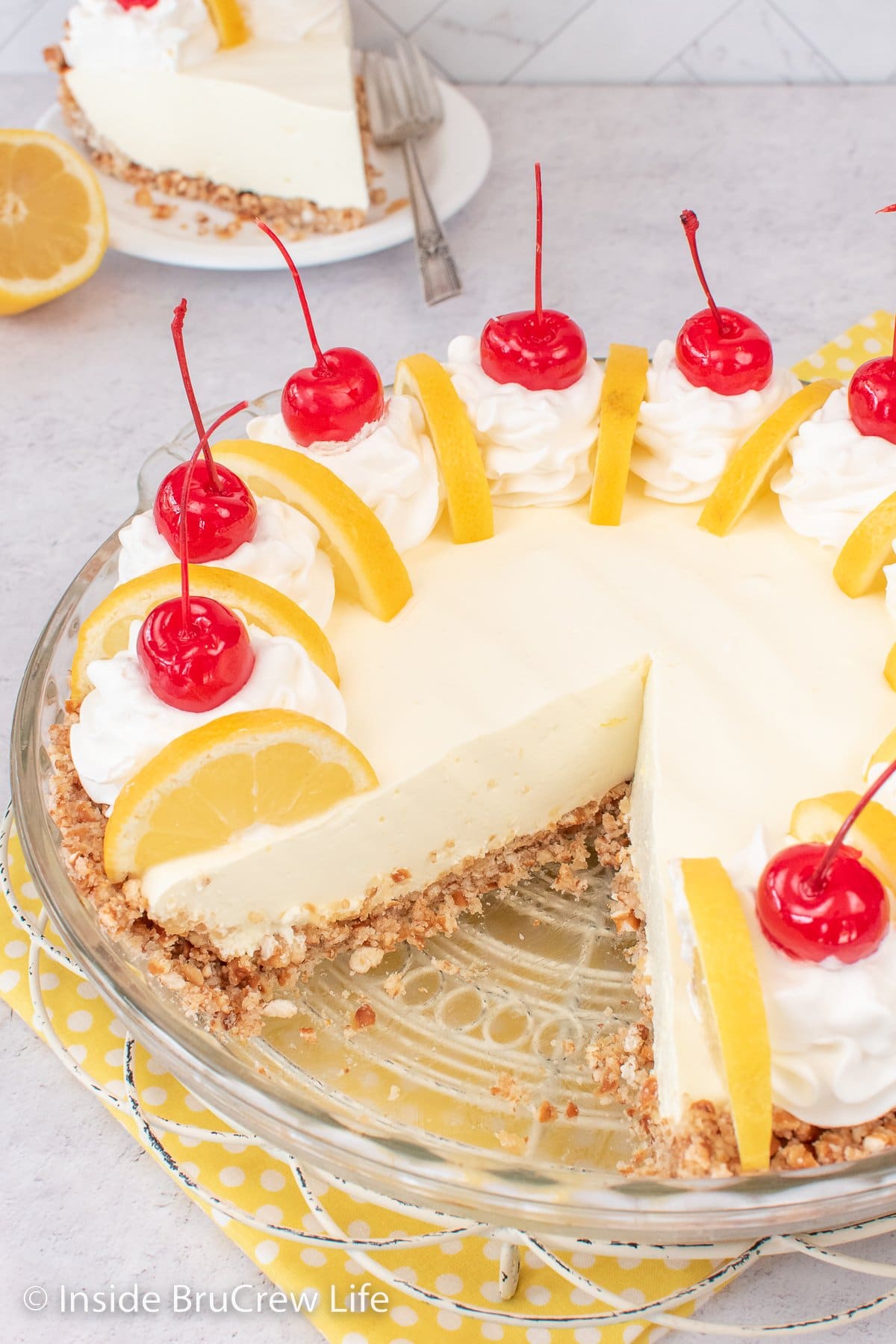 Ingredients Needed
This no bake pie recipe is so easy to make with just three ingredients. Although, technically you will need a few more simple pantry ingredients if you make a homemade pie crust.
Lemon Jello - Make sure you buy the small box of Jello. For this lemon pie, obviously we used a lemon Jello mix. It can be made with any other Jello flavor though.
Cool Whip - For this pie, you will need two 8 ounce containers of whipped topping. One for in the pie and one to decorate the top.
Pie Crust - You can buy a store bought pie crust if you like. We love using this pretzel crust because it adds a sweet and salty crunch to the creamy pie. A homemade graham cracker crust would be delicious too.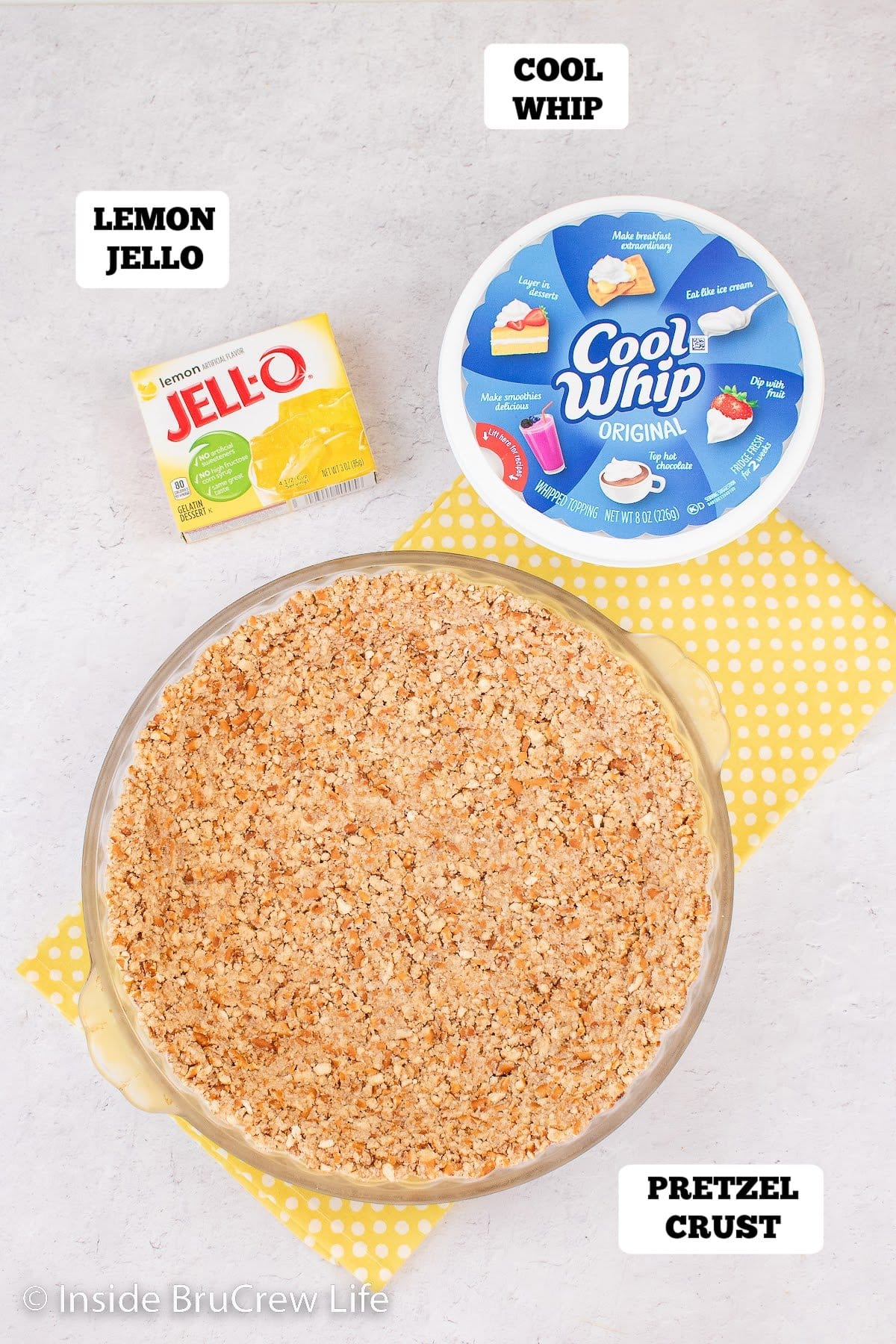 How to Make
You are going to love how easy this no bake Jello pie is to make. Just mix everything together and put it in the fridge. The hardest part is waiting for it to set up.
Serve it cold or frozen for a refreshing dessert that tastes like summer.
Make the pretzel crust and place in the refrigerator to chill for at least 20 minutes.
Stir together the lemon Jello and boiling water in a large bowl until the powder is completely dissolved.
Add ¾ cup ice cold water to a measuring cup, then add a 3-4 ice cubes to it until it measures 1 cup. Stir into the Jello.
Continue stirring until the mixture thickens slightly. You may need to refrigerate it for 10-20 minutes because you want it to have the texture of egg whites.
Whisk an entire container of thawed Cool Whip into the mixture until it is smooth and creamy.
Pour the lemon filling into the chilled pie crust and refrigerate 3-4 hours or until completely set. For best results, make it the night before and let it chill overnight.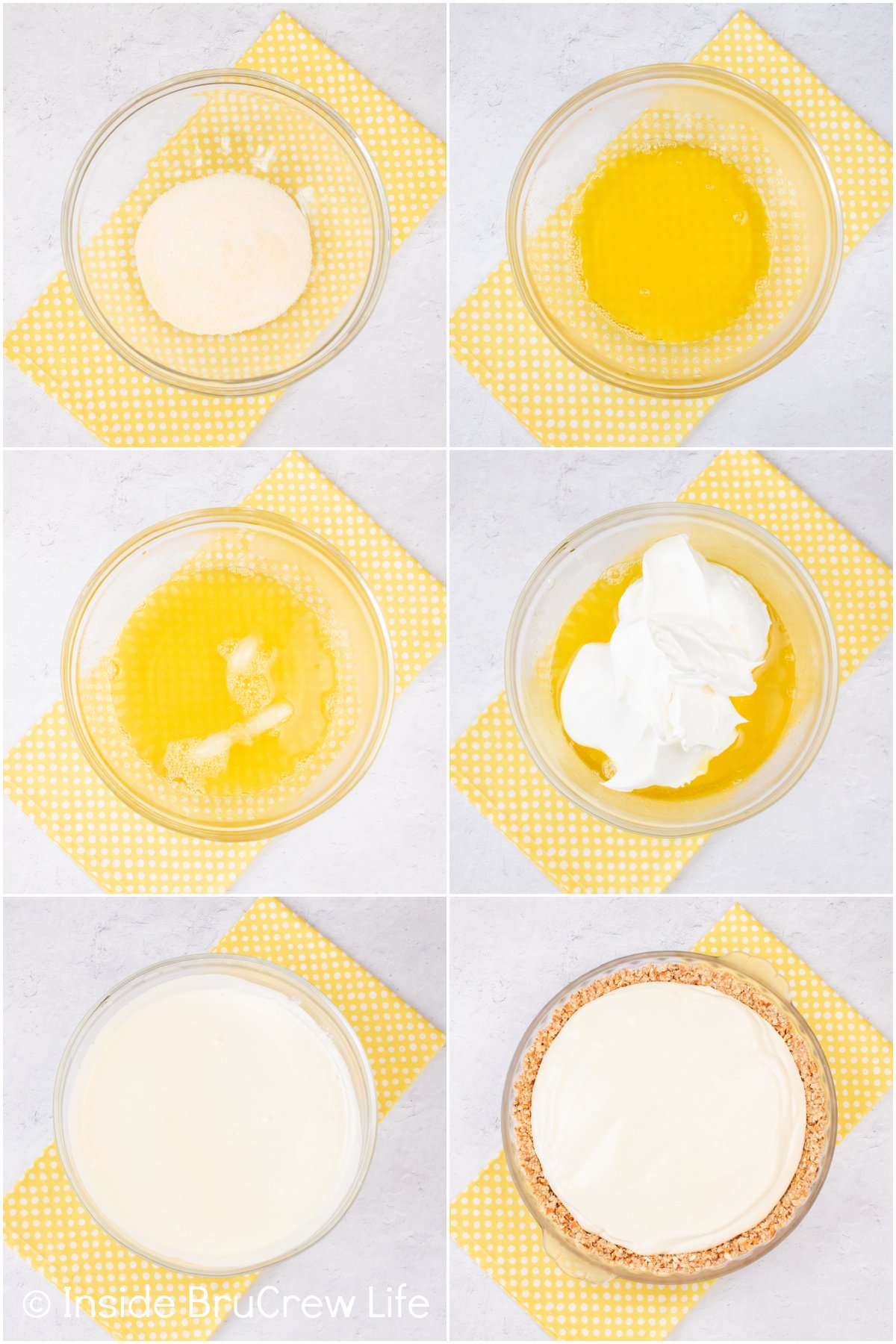 Storage Recommendations
This Cool Whip lemon pie is best served within 1-2 days of making it because the filling will start to soften the crust.
Store the finished pie in a tightly sealed container in the refrigerator. This is a very soft set pie, so avoid leaving it out of the refrigerator for too long.
If you are transporting this no bake lemon pie to a picnic or party, place it in a cooler on top of ice.
Cover the pie tightly with plastic wrap and freeze it for up to 1 month. It makes the most delicious frozen lemonade dessert. The downside is that it has to stay frozen. Jello is not able to be frozen and thawed because it ruins the texture.
Tips and Tricks
Make sure to use a deep dish pie plate because this recipe makes a lot of filling. If you choose to use a store bought pie crust or a smaller pie plate do not over fill them.
Spray the pie plate with a little bit of non stick baking spray to help your pie slices come out better.
Add the zest from one lemon to the filling to boost the lemon flavor.
Want a brighter yellow pie? Add 1-2 drops of yellow food coloring to the gelatin mixture before pouring it into the crust.
Use a large sharp knife to cut the pie into slices. Wipe the knife in between cuts to make them look clean and nice.
You can also serve it with fresh strawberries instead of the jarred cherries.
Want to make a sugar free pie? Use a sugar free Jello mix, sugar free Cool Whip, and sub Stevia for the crust.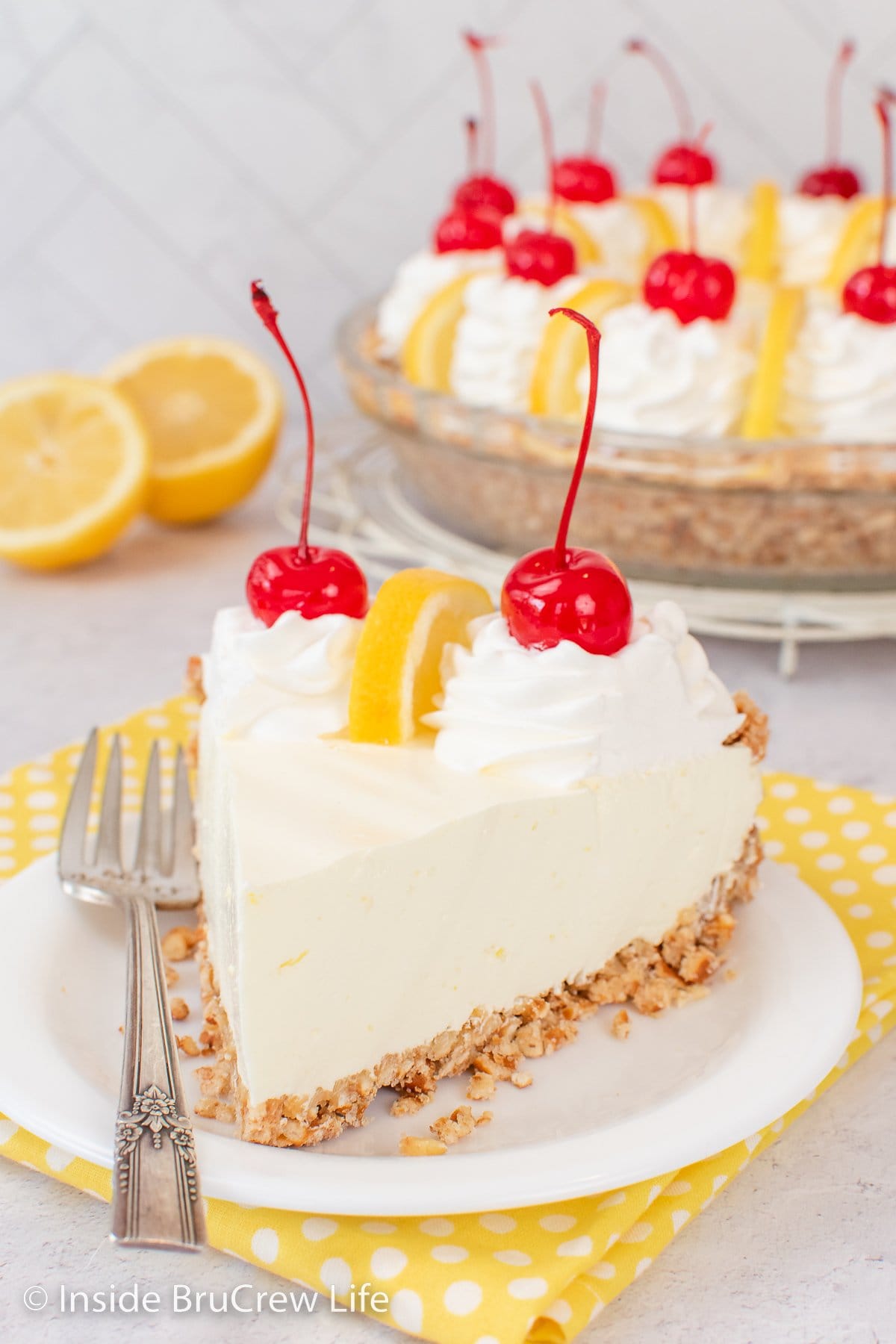 FAQ'S
Can this pie be made in other pans?
This no bake lemon pie can also be made in an 8 or 9 inch springform pan or an 8 or 9 inch square baking dish.
Can you freeze a Jello pie?
You sure can, but once it is frozen it needs to be kept and served frozen. Thawing a frozen Jello pie will end up in a watery mess.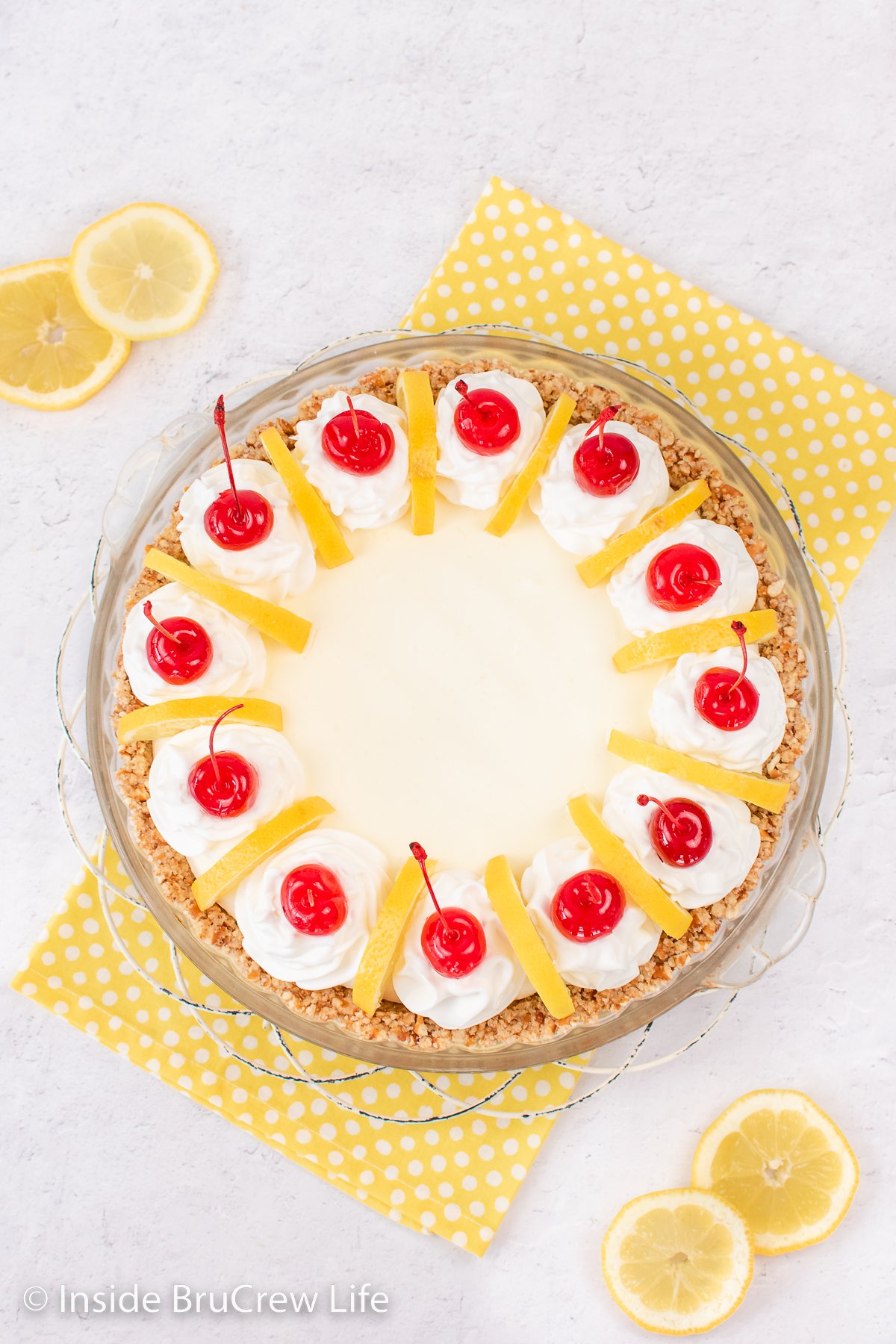 Other No Bake Pies
Do you love a recipe you tried from Inside BruCrew Life?
Please leave a 5-star ⭐️ rating and a review in the comments section below.